May is an enormous opportunity for Ed Carpenter Racing's Rinus VeeKay.
Last year he won the Indianapolis road course race and led 32 laps in the Indianapolis 500, and now with those two races approaching, he's just popped it on pole at Barber for the race beginning May 1.
If he can convert the pole at Barber and/or have a good result at the Indy road course and 500, he'll certainly be sitting pretty in the championship. He's seventh now, the top driver not in an Andretti, Ganassi or Penske car.
It will also re-kickstart the rumour mill of what's next for him. With Pato O'Ward finalising a new contract with McLaren and Alexander Rossi strongly rumoured to be joining him, VeeKay is another option teams may well be clambering to sign up.
It doesn't feel like VeeKay has the stock that Josef Newgarden had at the team before joining Penske for 2017, but there are certainly parallels between the two.
It's the consistency other teams need to see from VeeKay and to start 2022 he's much improved in that department across two street courses and an oval. Scoring a pole on the first road course of the season only helps to show how far he has come in the off-season.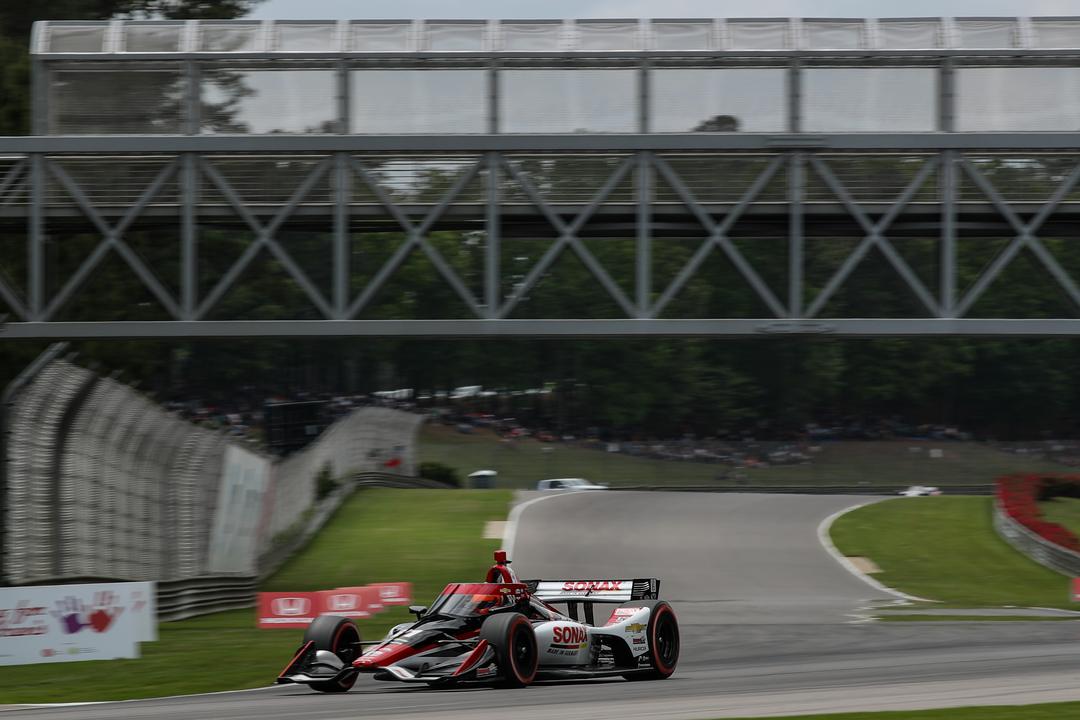 At the very least, a strong May would put him in a position to earn a better deal at Ed Carpenter Racing, where he can leverage the best possible position for himself.
He certainly seems at home in the team, he credited it again for its role in his pole lap.
"In practice two I was fastest, but it was chaotic," he said.
"Some guys didn't get their lap in. I was one of the first guys to go to reds. You never want to jinx it or get too excited. There's always stuff to improve. We were thinking like that.
"For the rest, yeah, I think you got to do the best thing you can do as a team in qualifying to be the best and the fastest. I think we maximised everything with decisions on setup, decision on tire strategy.
"I think everyone, the whole team did a great job and we did it all together."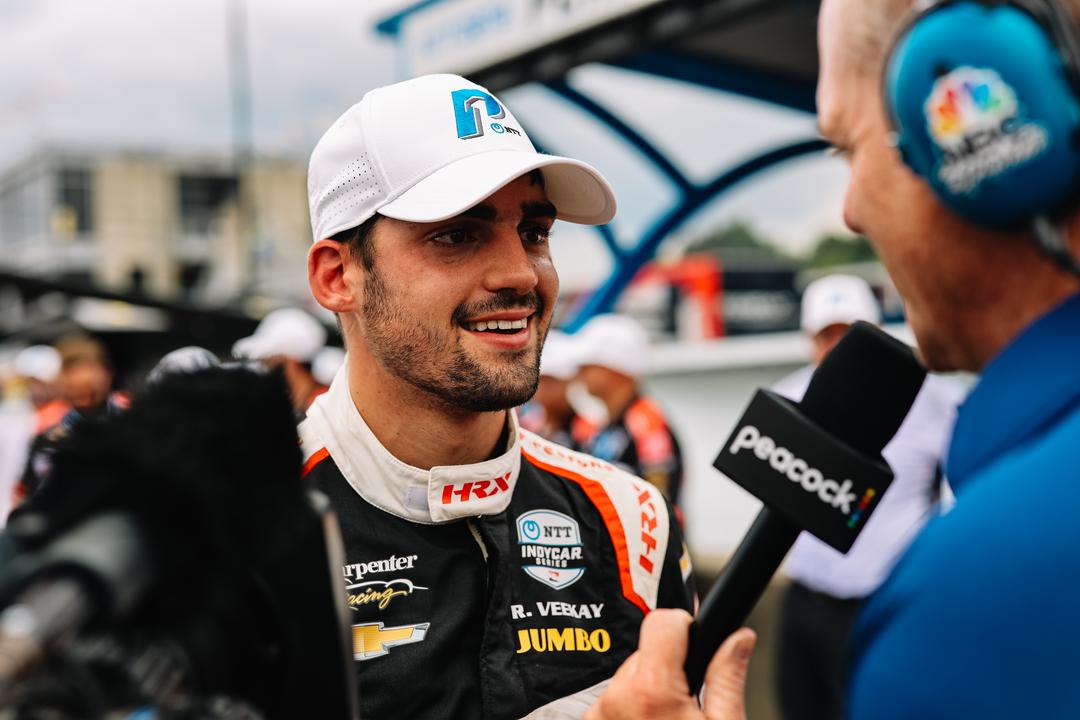 His start isn't surprising for those that believe in his raw talent, but the second half of 2021 felt devastating after a shoulder injury sustained while cycling meant he missed a race then went on a poor run of results whereby for the first time in his IndyCar career he was being regularly beaten by his team-mate.
That's all gone back to normal now though, with the help of a post-season reset.
We covered VeeKay's off-season extensively back in January at The Race, but the highlights are, moving to Florida, brainstorming new set-up directions while staying at his engineer's house in Indianapolis and just working even closer with the team – as well as working on his own mental and physical preparation – to help bump everyone forwards.
He addressed the off-season again in his post-pole press conference.
"Physically I think I was already fit enough," he says. "Maybe I'm fitter [in 2022], but I don't really feel a difference.
"I feel the difference, I can see a difference, with my engineer, with the team. They really know what I need.
"I think we can just feel each other a little better. If I'm talking about something, my engineer really knows what I mean right now.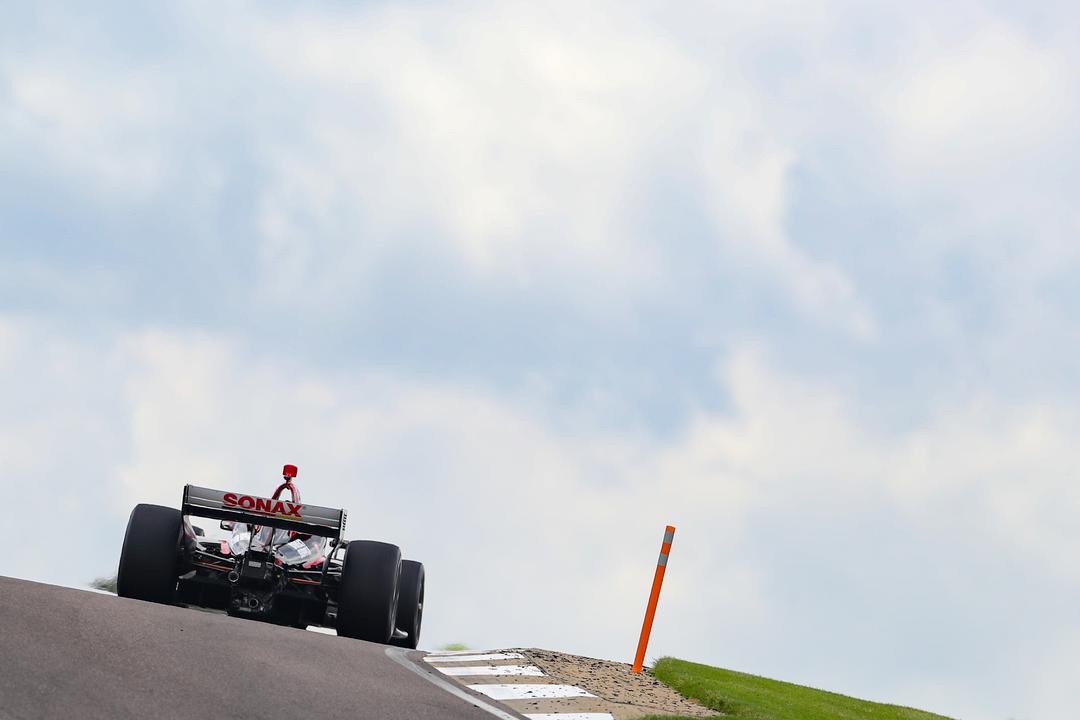 "If I phrase something wrong, he asks me to tell it again. He knows I mean something else, but he just wants to verify. He knows the way I think now. Miscommunications really don't happen anymore. I think within a team, that's really good.
"Yeah, we had a good test here, too. Still from that test until now, we've improved with simulator work. That's definitely a very good sign."
It feels like, even if he knew it before, VeeKay has been reminded that, while it is important to work on yourself, the gains in the car won't come without unlocking speed with your engineer and team. Matt Barnes is doing a great job of developing VeeKay, who we probably forget is younger than many of the 2022 rookie class despite being in his third season.
If he can have a strong May with a win or two and a strong Indy 500 run, it's hard to see how VeeKay's stock doesn't rise to a very high level.
However, if ECR can persuade him to stay, how the pair have worked and developed over the last six months especially, shows good signs for the pair being a longer-term success, too.
ECR still feels like an Indy 500-first outfit, but VeeKay has given it hope that regular road course wins will be possible with VeeKay, perhaps for the first time since it had Newgarden.
Newgarden won three races across five seasons with the team in various guises – incidentally, his first and only road course win came at Barber in 2015 – so VeeKay has a very real chance to match and beat that record in three seasons.
Circumstances are different, but given Newgarden has developed into arguably the most complete driver in the series, VeeKay is treading in big footsteps.
Keep an eye on him and the Ed Carpenter team in May. We might be watching a month where the future of both changes exponentially.