It's still tricky to compute the trajectory Scott McLaughlin has achieved. OK, he was suffocatingly successful in Australian Supercars, but he came to IndyCar with a bit of Formula Ford racing before he'd started in tin-tops as his only single-seater experience.
Now, starting his second season in one of the world's top open-wheel series, he's won his first race. The winner of the first race in the last three seasons went on to win the title!
It's been a spectacular journey for McLaughlin. Ever since moving out to the States, he has been effectively separated from his family and friends due to the restrictive travel rules surrounding the pandemic back home.
He hasn't seen his parents since January 2020 and his sister since October of the same year.
McLaughlin admits his dad usually shouts at the television during his races, and surely those watching along on the TV in Hamilton, NZ will have been thoroughly entertained.
If not by McLaughlin's crushing performance, then by him falling off his car when getting out because his legs had turned to "jelly", or by when he burned his backside on his car or finally by when he did a 'shoey' by drinking a beer from his boot.
Overcome with excitement!@smclaughlin93 takes a tumble in victory lane after his first NTT @INDYCAR SERIES win. pic.twitter.com/JVuN3x02rG

— IndyCar on NBC (@IndyCaronNBC) February 27, 2022
None of that changed the tears in his eyes when discussing his parents and FaceTiming them from victory lane.
"Yeah, I miss them dearly," he said later on in the post-race press conference.
"My mom and dad, they're the ones that got me here and made me believe in myself.
"My mom and dad have been infatuated with the USA for many years, and I guess that put the love of the USA and the want to come over here to the big leagues when I was a young kid, even way before my Supercars success.
"Then obviously I met just a guy named Roger Penske and we kicked it off. I'm tremendously grateful for the position my mom and dad put me in and the position Roger and Tim Cindric [Penske president] put me in."
My @whoop data from the race. Can see my HR peak at the end, then drop on cool down lap. Then picks back up when I'm in Victory Lane falling over 🤪😅 #Thirsty3s pic.twitter.com/odFnUVlPUX

— Scott McLaughlin (@smclaughlin93) March 1, 2022
The race was just on another level for how impressive it was for McLaughlin.
The foundations for the race win were made by phenomenal tyre management. He started on the soft tyres like his rivals but unlike many of them, he maintained his pace well north of 20+ laps, while the chasing pack pitted early in their dozens, unable to keep the soft Firestones alive.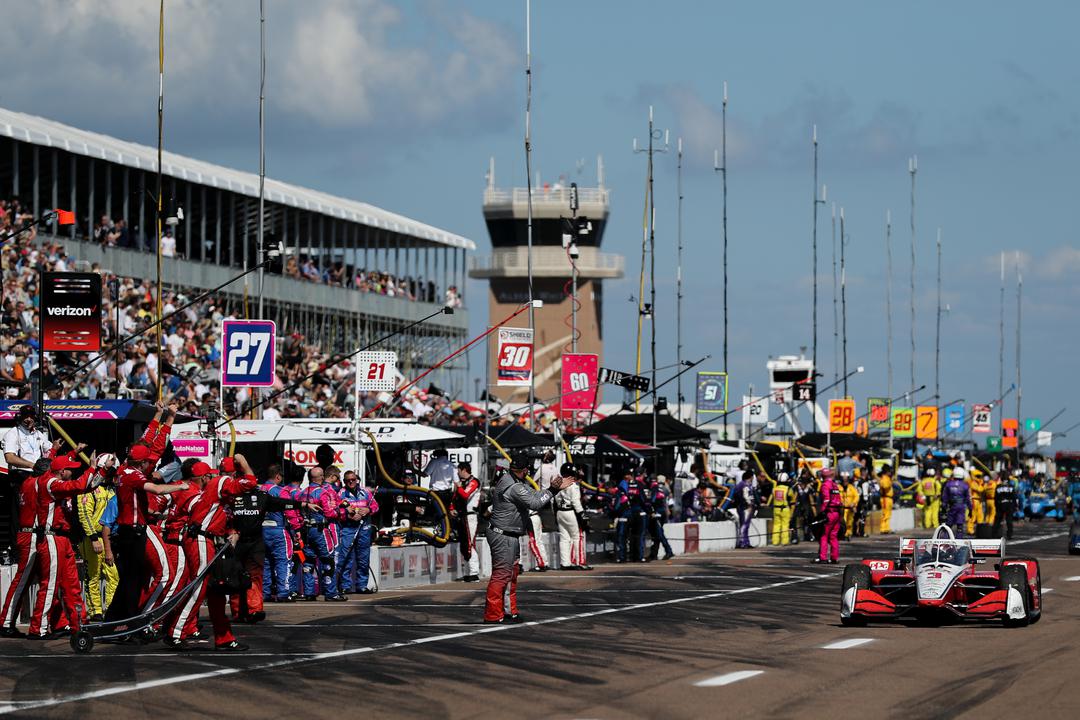 Then, after his second pitstop, came the outlap that sealed the winning strategy. Alex Palou had pitted a lap early and even then the team could have willingly stayed out longer to have more fuel for the end – but McLaughlin pitted a lap after Palou and came out mere yards ahead of him in a tense moment when he rejoined on track.
Then the two-second lead he had built up was erased when he was held up by Jimmie Johnson, and just when it appeared McLaughlin had weathered the Palou storm, he caught Devlin DeFrancesco, who remained ahead for the last couple of laps.
Despite the dirty air and Andretti blockade, McLaughlin was able to hold on against all odds from the charging 2021 champion who's now scored three wins and a further seven podiums in just 31 starts.
IndyCar racing – notably one of the most difficult in the world for its range of strategies and how quickly things can go against you – had chucked everything and the proverbial kitchen sink at the sophomore driver, but he handled all of it.
Controlling races from the front is something McLaughlin was synonymous with in Australia – especially because he was so prolific at scoring poles – but that was a different series and it was interesting to ask McLaughlin whether the circumstances made the controlling of the race natural or if it was harder in more unfamiliar surroundings.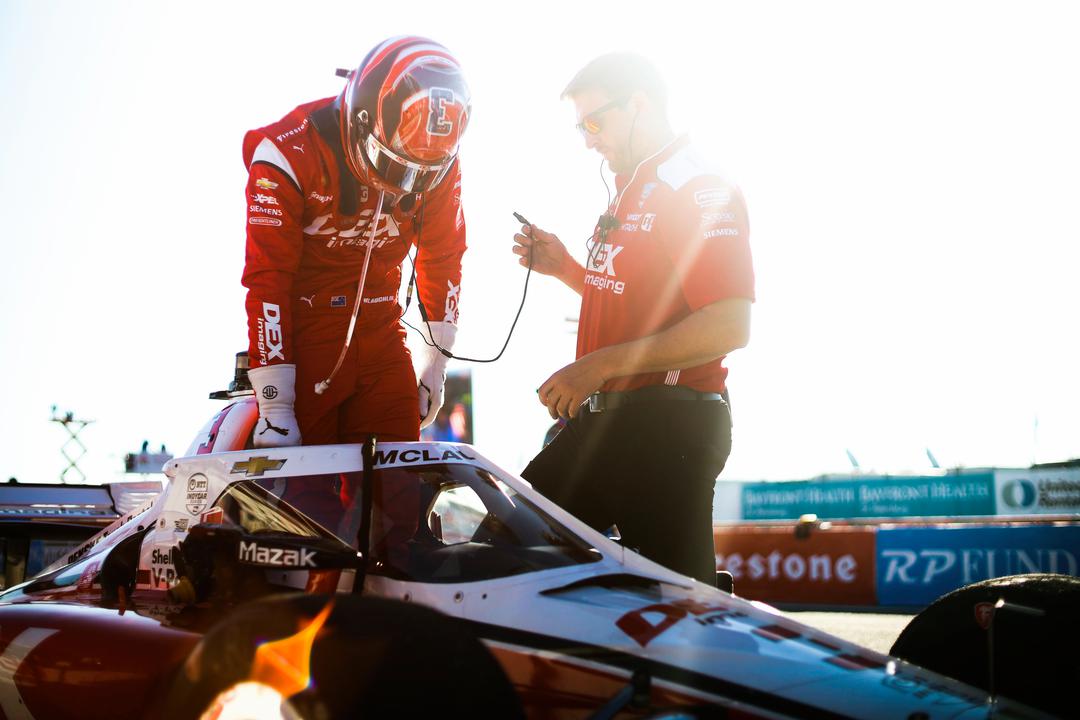 "The last lap and then when we got put in the traffic didn't feel that natural because it doesn't really happen – we have different yellow procedures and stuff [in Supercars]," McLaughlin replied when asked by The Race.
"I felt like at the start, I was like, 'oh, this feels like how it used to not long ago'. But it was very nice at the start being able to control my pace, especially against [Colton] Herta who was very quick, and I knew I had his pace on the reds.
"It was just a matter of hitting my fuel number, which we were doing from the start of the race.
"We just got into a rhythm, and then even when the yellow flag came out and we were back in the traffic there, it was just about me just knowing that – hopefully, if there's no yellows – we were on the preferred strategy, which we were, and it was about bringing it home.
"For me, it's just all about just keeping calm, particularly if you're the leader, just not making any rash decisions – make a move if you can make it, but if not, just relax and count the laps down."
I'm not sure McLaughlin would have appeared as relaxed as that at various points in the race, but he dealt with the pressure and delivered a victory, so he's earned the right to answer the question as he pleases!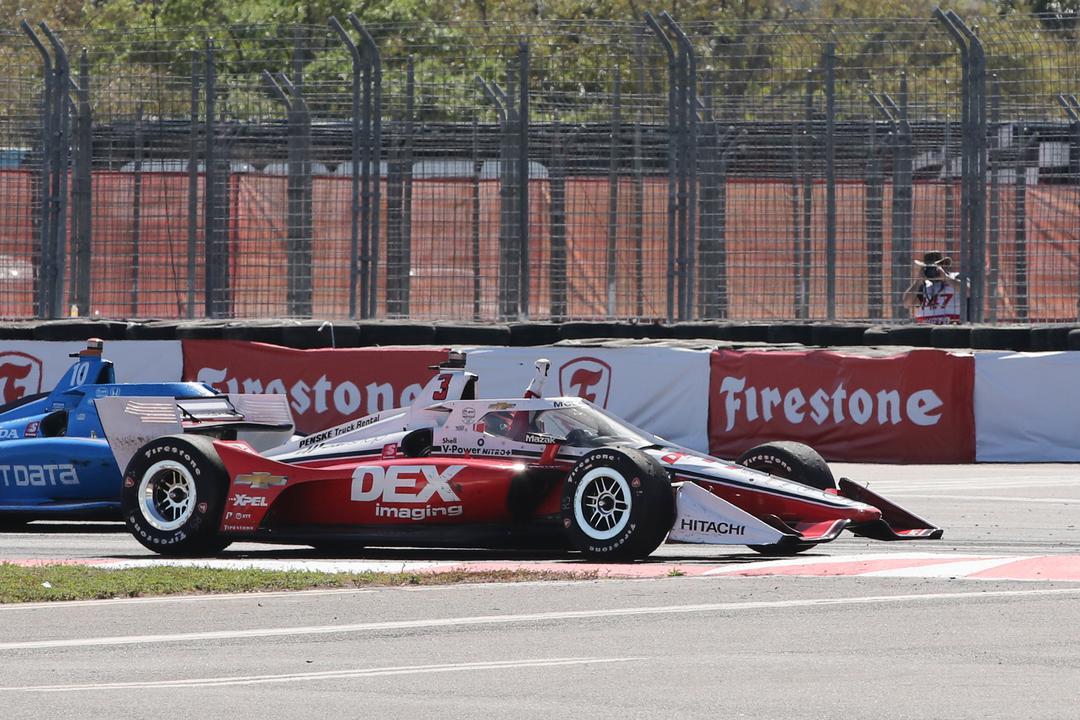 The next race up now is Texas – perfect! He finished second there last year on his oval debut, something which took him by surprise at the time and was a source of comfort when his road and street course form wasn't always as he had hoped.
A quirk of the IndyCar scheduling meant this was his third St Pete start – after the race was rescheduled for the end of 2020, where McLaughlin made his debut, then was the second race of the 2021 season – which gave him a nice buffer of knowledge to underpin the success.
Now, with a victory in the bag and any doubts firmly cast aside, attention turns to whether going to the other races for the first or second time will make maintaining this form difficult.
"I think the way that I've worked with Ben Bretzman, my new engineer, I think we can really start working on what we need," McLaughlin said when asked that question by The Race.
"We know what we want from a street circuit car, which we just showed that it's going to be pretty good, so I'm excited for Long Beach. I'm heading back there for the second time.
"But I'm not kidding myself; I could quite easily be 20th next round. This is what IndyCar is all about. This is why everyone loves it, why it's becoming the world's most competitive motorsport series.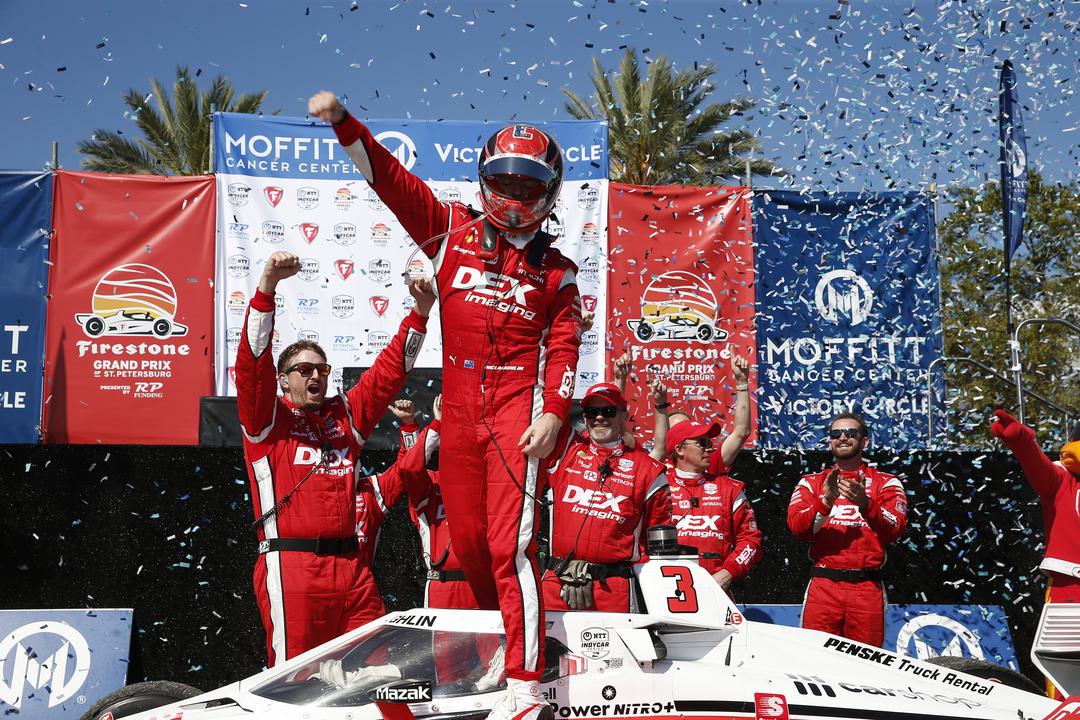 "Proud to be a part of it, but it's all about now – I'll celebrate this, I'll have a few beers, don't you worry about that – but I'll make sure that I get back on the horse, actually back in the simulator on Wednesday and get ready for Texas and then get ready for what's ahead at Long Beach.
"It's going to be hard, but I'm there."
It's certain that McLaughlin is here. He's properly announced himself on the scene and heads to a track next where this momentum could easily turn into an extended period at the top of the championship.
What a story this is developing into, and it's only the first race of 2022!