Britain is famous for exporting all manner of things, but perhaps one of its greatest exports was one that embraced something quintessentially American.
The late Dan Wheldon – who died in an IndyCar crash at Las Vegas 10 years ago this weekend – grew up in something of a golden generation of UK-based driving talent, counting the likes of 2009 Formula 1 world champion Jenson Button and 2014 World Endurance champion Anthony Davidson among his karting and junior racing contemporaries.
But compared to Button and Davidson, Wheldon's career took a different turn – a left one, or several left ones.
Unusually for a driver hailing from Europe, let alone Britain, Wheldon would become a formidable oval racer, all thanks to an innate ability to feel the car and sense what was going on around him.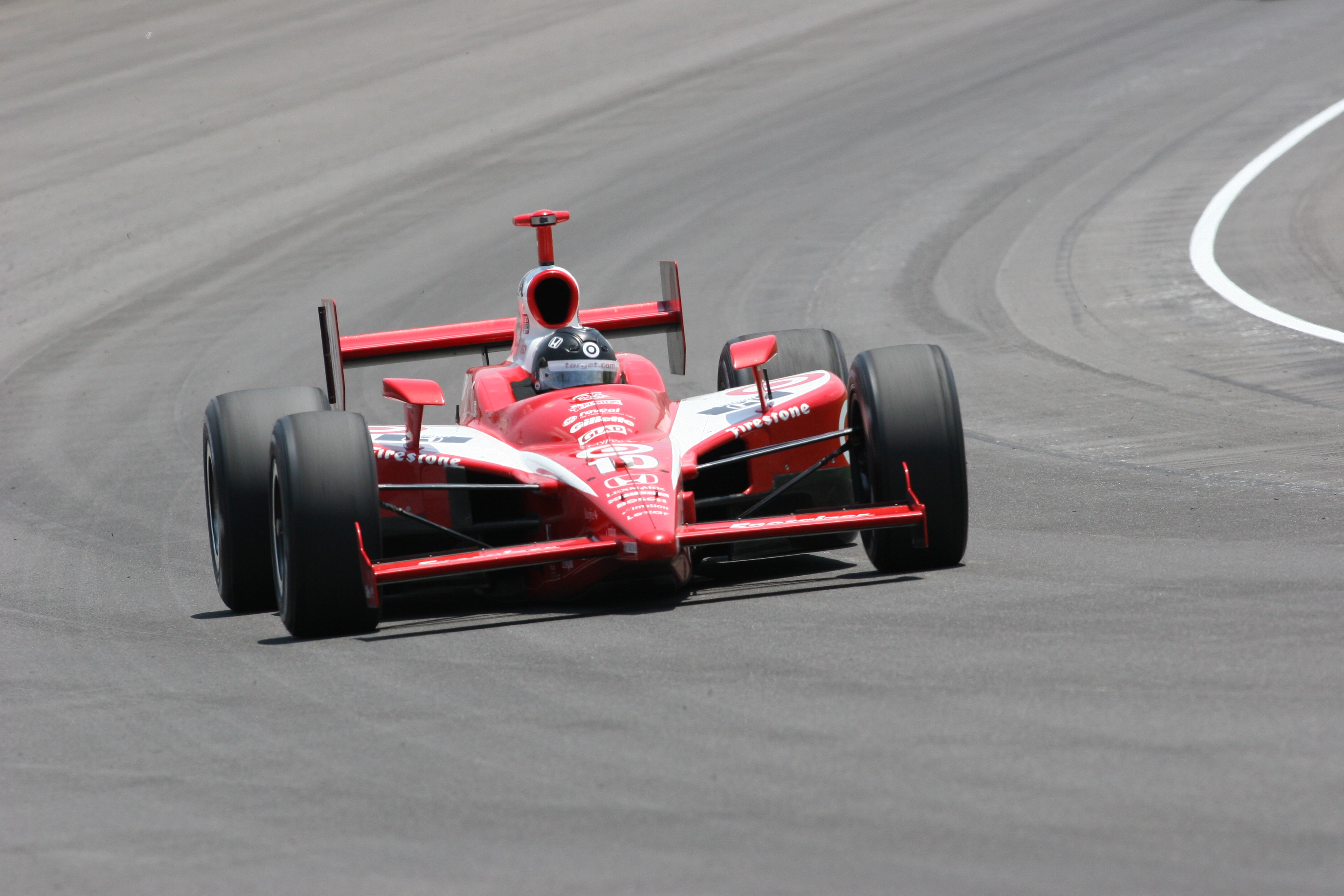 "The superspeedway stuff is something that I'm very strong at," he told the Guardian in a 2006 interview. "I have a good feel for a car.
"In practice I can get a car set up so it's good over a race distance. On the ovals, if you put new tyres on and your car's reasonably close you can be very quick if you're brave.
"The difference between brave and smart is not being quick over a lap, it's being quick over a full fuel stint.
"That's what you have to develop and I've become good at that and that means you can run very close and push the competition to new levels."
The ability to be good at turning left was something that Wheldon developed early in his career. Of course, not used to racing on banked ovals during his rise up the ranks in the UK, his first taste came in US F2000, the bottom rung of what's now officially IndyCar's 'Road to Indy' development ladder. Although he had to work at it at first, it quickly became a speciality.
"Dan finished second, amazingly, but said that it was a hell of a lot more difficult than he thought it would be," Wheldon's Primus Racing team owner Jon Baytos says of his oval debut at Phoenix in the book Lionheart – Remembering Dan Wheldon. "He would never, ever, say that. He obviously made a mental note of it.
"We went to quite a few ovals that year [1999], and the last one was Pikes Peak. He probably should have won Atlanta and Charlotte, but those were really about big pack racing. He got to Pikes Peak and he absolutely dominated – which he needed to do, because he was behind on points at that stage."
Despite harbouring dreams of racing in Formula 1 at the beginning of his racing career, Wheldon was quickly the cream of the crop on ovals, and his resumé certainly reflects that ability too.
Of his 16 IndyCar wins, only one came on a road or street course. But that sole win – on a track with 10 right-hand turns – certainly sticks out.
By the 2005 season, what was then the IRL IndyCar Series had a clear advantage over rival Champ Car in the quality and depth of its field thanks to the calibre of teams that had defected in the early part of the decade.
But up to 2005, the Indy Racing League had stayed true to its 'all oval' mantra – one not necessarily 100% popular with all the teams and drivers who'd joined the grid because the IRL was winning the political war, but craved a more varied calendar. There were clear commercial and fanbase opportunities to getting street and road courses onto the schedule too.
So for 2005, the St Petersburg street course – which had hosted Champ Car as a one-off two years earlier – and NASCAR's road course stalwarts Sonoma and Watkins Glen joined the ovals on the IRL IndyCar calendar.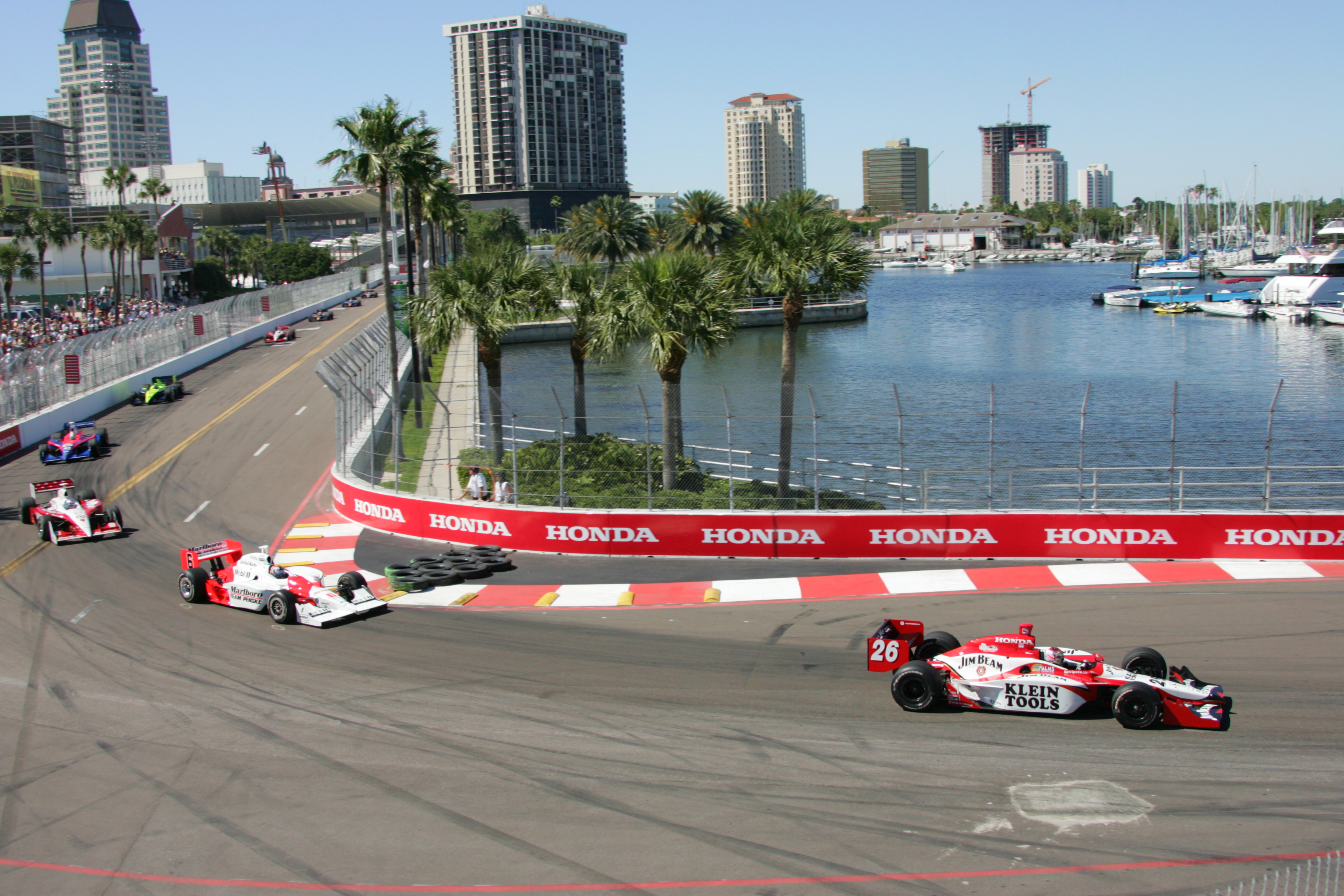 If it seemed at the time another aggressive way of edging onto Champ Car's turf, ultimately it was also one of the factors that got the ball fully rolling for reunification three years later as it removed one of the key philosophical differences between the warring championships.
"We just felt that it was very important for open-wheel racing, to get back on the streets again, and for the IRL," race promoter Michael Andretti told ESPN ahead of the green flag of the first IndyCar Grand Prix of St Petersburg.
"I think it was a big step and hopefully it's going to open it up to many many more events like this around the country."
Unsurprisingly that proved to be the case, with IndyCar over the next decade-and-a-half going from three road and street venues on a 17-round schedule to having just four oval races from 14 in 2020 and three from 16 this year.
St Petersburg was no stranger to motorsport. The city hosted Trans-Am and lower-level open-wheel racing in the 1980s and '90s even before Champ Car's 2003 one-off.
What's more, a number of drivers called the area and the wider state of Florida their home. One of them was Wheldon, who'd settled into Tampa Bay city early on during his time Stateside.
Wheldon's weekend got off to an OK start, as he qualified ninth out of 21, but it was Andretti Green team-mates Bryan Herta (pole), Tony Kanaan (third) and Dario Franchitti (fourth) that held the early advantage.
Penske's Helio Castroneves was among the leading trio of Andretti-Green drivers, but got taken out of contention early on while lapping AJ Foyt IV.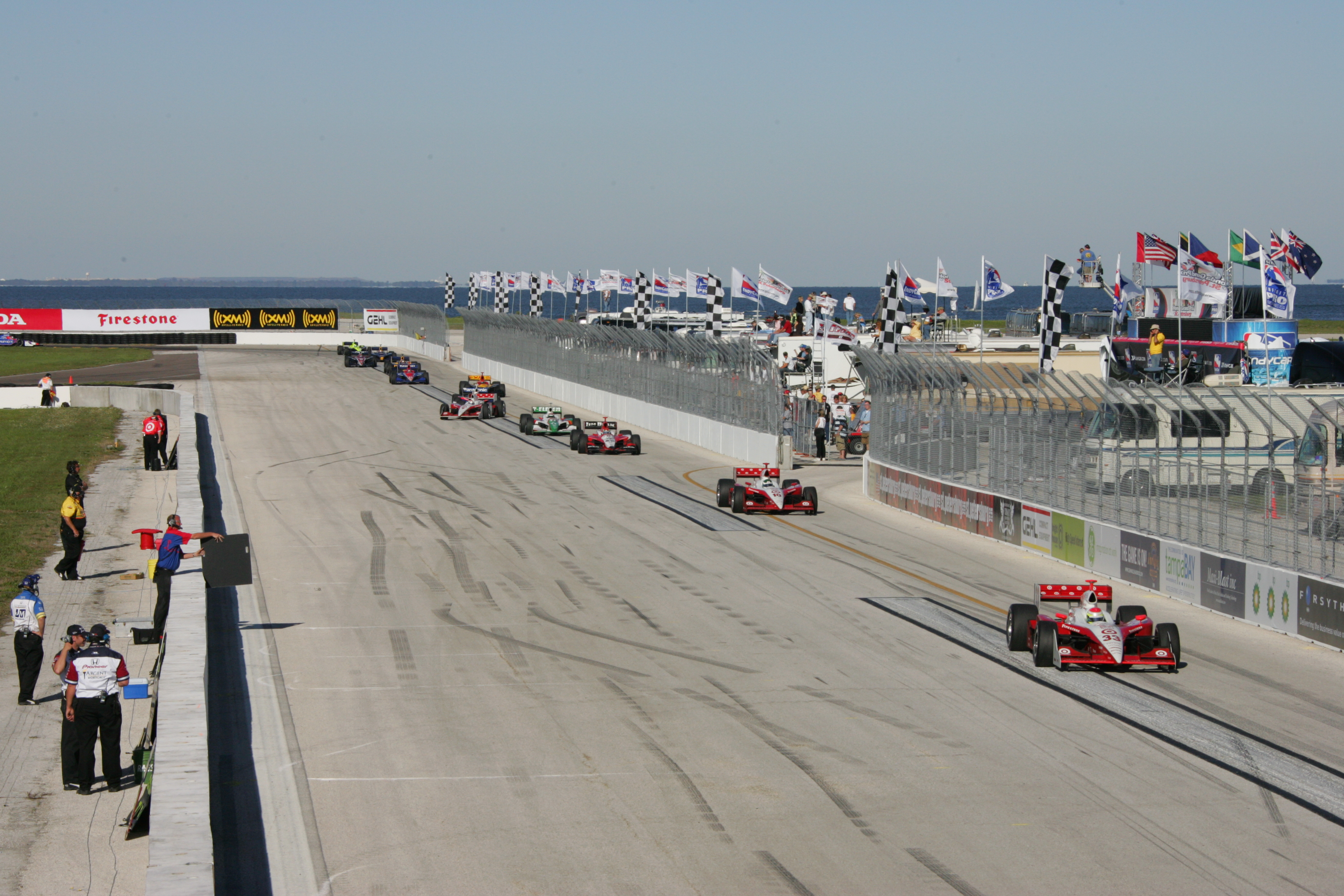 That helped Chip Ganassi Racing driver Ryan Briscoe move to the fore, putting him in prime position to claim an unlikely maiden win, but a late shunt with Kanaan would take him out of contention too.
Wheldon meanwhile had steadily climbed the order. Aided by an attritional race that nine of its starters ultimately failed to finish, Wheldon was in a respectable third going into the final few laps when Briscoe and Kanaan's wheelbanging took the former out of the race, and dropped Kanaan off-line.
Much like for his second Indianapolis 500 win that would come six years later, Wheldon was in the right place at the right time, and capitalised, leading the final 10 laps to claim his second win from three starts at that point in the year as he set course for the championship.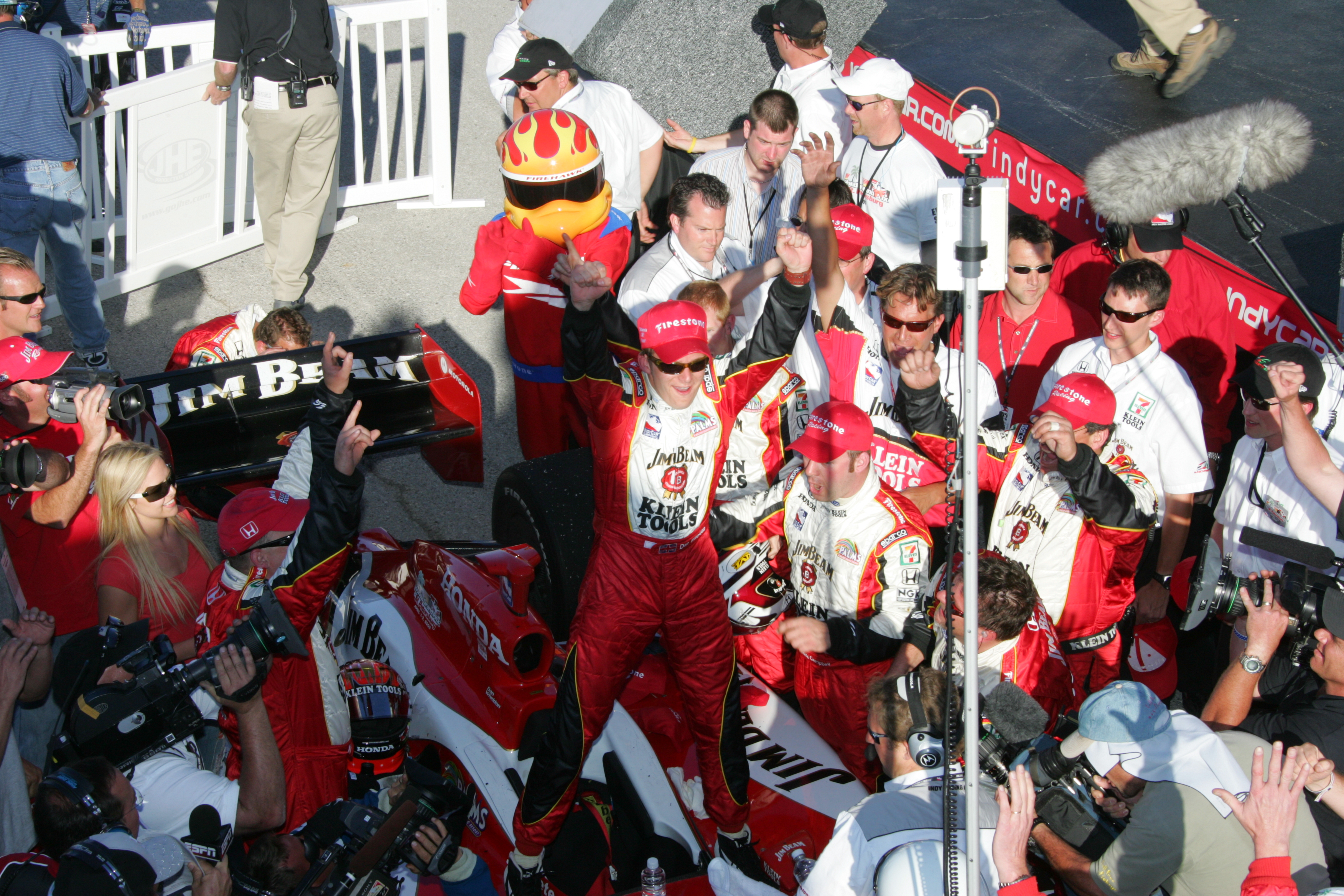 Kanaan clung on for second, with Franchitti and Herta rallying back from refuelling and oversteer issues respectively to round out an Andretti-Green 1-2-3-4.
Wheldon would win again four times in 2005, including the following two rounds at Motegi in Japan and Indianapolis – each being at an oval, just like his victory at the season curtain-raiser at Homestead.
He'd win at Homestead again in 2006 and '07, adding victories at Chicagoland, Kansas (twice) Iowa, and that famed second Indy win in the following years.
Third in Detroit in 2007 would prove to be his next-best result on a road or street course for the remainder of his career. His sole street or road podium appearance after St Pete '05.
Wheldon's driving style just appeared so much more in tune the spec Dallara chassis on ovals than when it had to be hustled around a road or street course.
And having headed straight for American racing before he'd even got to slicks-and-wings level single-seaters in Europe and then got into IRL IndyCar when it was all-oval, he'd never accumulated the road/street course experience in more powerful single-seaters that rivals who got as far as Formula 3000 or raced in CART/Champ Car had managed.
Still that anomalous yet historic win in St Pete left a mark, and following his untimely passing, the city dedicated a road in his memory, renaming what encompasses Turn 10 on the racetrack as 'Dan Wheldon Way'.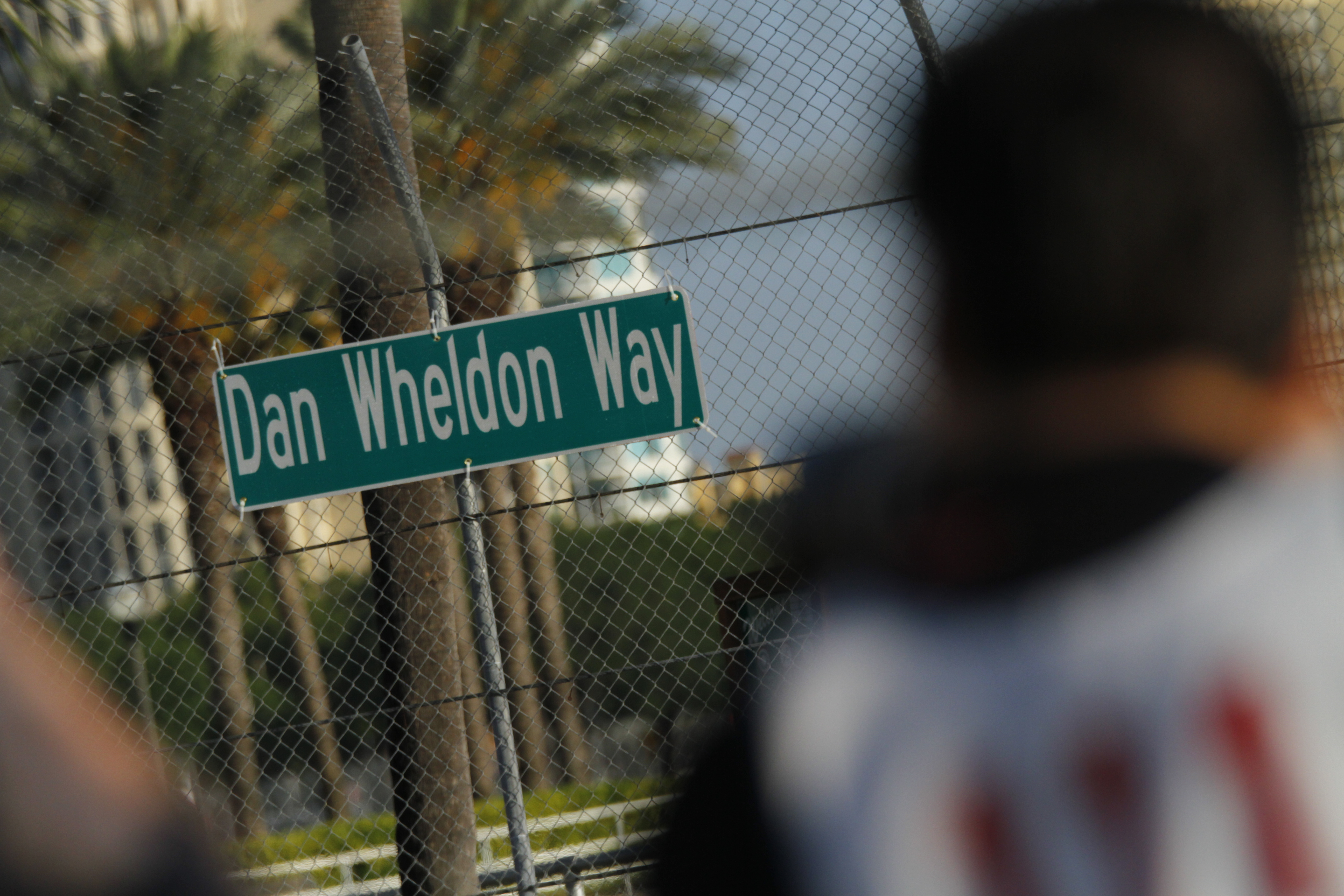 The first race of 2012 (and the first following Wheldon's death) took place in St Petersburg, with the entire field driving the Dallara DW12 car he'd helped develop the year before and was subsequently renamed in his honour.
Castroneves – a driver many had tipped to win that first race in 2005 before his shunt – was the victor, and celebrated with his trademark fence climb, doing it at the sign for Dan Wheldon Way as a tribute to his fallen friend.