Even with the lacklustre Arrow McLaren SP well out of the equation, there were still three Chevrolet IndyCar teams in the top four in qualifying and four in the top 10 at St Petersburg last weekend.
It's been a huge off-season for Chevy – one which you may have already read about on The Race – where it had a lot of work ahead to end Honda's four-year manufacturers' championship winning stretch in 2022.
One of those key changes was to sign Ray Gosselin, who has already made a huge impact in his new role at engine builder Ilmor as VP of motorsports according to teams in the paddock.
Ryan Hunter-Reay's long-time engineer at the Honda-powered Andretti squad, Gosselin brought Honda insider knowledge, a knowledge of Ilmor as he worked there before but perhaps most importantly, a race engineer's mindset.
This is all building towards something Honda has been so good at recently; addressing every aspect of the car alongside the engine. Each marque is no longer just looking for horsepower and torque, they're addressing how the car packages together and how the engine impacts cooling and aerodynamics.
Each marque has a windtunnel all the drivers use, too.
It's fair to say this 'whole car' approach has come a bit easier to Honda, which has all of its departments in house, while Chevrolet has Pratt Miller, Ilmor and Chevrolet Motorsports itself.
Admirably, Chevrolet also reached out and asked its teams where it could improve and asked for help in some areas; something that's not always easy to do for a big manufacturer but something that has undoubtedly aided the programme.
Aside from organisational changes, Chevy has brought a greater selection of engine maps this year. Every year Honda is claimed to have better 'drivability', but in 2022 it looks like an expanded range of options available to the Chevrolet drivers on the steering wheel has helped with on-track performance immediately.
"It's been an absolutely massive step forward Chevy is taking with our drivability in particular, and it's a lot of hard work from them and working with all the teams," said Scott McLaughlin after qualifying on pole, which he'd later convert into victory.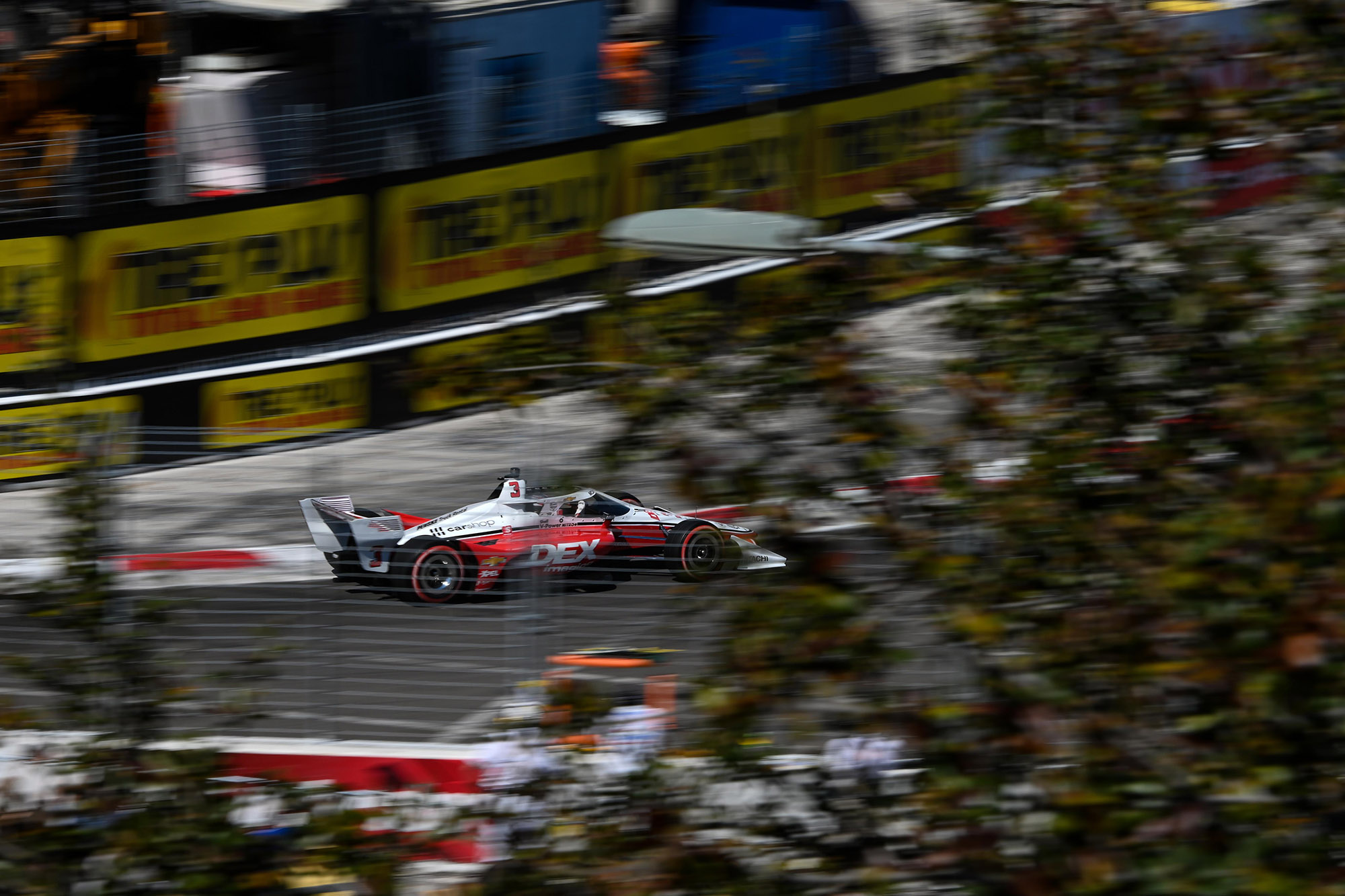 "So certainly feel a lot better, and definitely some of the microsectors that we were slower in over the last couple of years were really good, and the drivability there is a lot nicer.
"To be honest, it's starting to come into my liking a little bit not having to… yeah, I'm not going to into too much detail because there's a Honda guy sitting next to me [Romain Grosjean], but I feel a lot better, and certainly, I think, Will [Power] would say the same."
That McLaughlin had to catch himself from giving away more information only shows how valuable he and the Chevy group feel the advancements have been.
Microsectors are broken down parts of the track used by manufacturers to evaluate performance better, and these are especially important to analyse how fast cars are coming off corners for the engine companies.
There's no doubt, wading through the paddock, that these changes by Chevrolet are no golden bullet. But while things are so close in every aspect of the IndyCar Series, it's another weapon in the arsenal of the Bowtie drivers to help end its relatively barren run.
McLaughlin also credited Chevrolet's fuel mileage after his win. That's another key IndyCar battleground where the manufacturers are tight.
No matter how this year ends, Chevrolet will have more victories in the 2.2-litre era than Honda. But Honda's four-year title run is problematic for Chevy and it's started off 2022 reaping the rewards of a proper rebuilding effort.