Whether it's adapting driving style, having far less testing than most rookies would or just trying to understand the sheer physics of it, there's no doubt last weekend's IndyCar oval racing debut was one of the biggest challenges of Romain Grosjean's career.
Luckily he took that challenge like most he's faced in IndyCar so far, by conquering it head-on.
If his strategy had played out differently there's every chance Grosjean would have had a top 10 finish, and along the way he made some aggressive overtakes that thrilled the fans. It wasn't perfect, but most people's assessment of Grosjean's debut was that it was a big success.
The Race dialled up Grosjean's Dale Coyne Racing engineer Olivier Boisson to dig deeper into the event and get an insider's take on how the weekend really played out.
"At the start of the race I'm sure he was quite nervous and so he took it easy, just trying to learn from it, make sure we don't get caught up in those crashes or anything like that," Boisson tells The Race.
A lot of coaching involved in @RGrosjean's oval racing debut.

Listen to the radio communication between him and the team. #INDYCAR pic.twitter.com/f81ghcbmPe

— IndyCar on NBC (@IndyCaronNBC) August 22, 2021
"And when he got comfortable, after the first pitstop, then he started having fun, and just really bringing it on, having a good time. He showed everybody that he is definitely capable of racing on an oval and had fun doing it."
The condensed schedule was a big talking point prior to the event because normally a rookie making an oval has at least one test in the off-season, more likely two or three, and then a traditional race weekend with multiple days where data can be digested.
Grosjean got half a day of testing at Gateway before rocking up for a one day event that began and finished in the space of nine hours. Given how different a challenge an oval is, that's bonkers.
Even despite the pre-event acknowledgement of that though, there was another factor.
"When we showed up on Saturday [for the race] it was one practice session, the conditions were a little bit different with the winds and temperature than whatever it was at the test," explains Boisson.
"He was maybe a bit less happy. More traffic, more turbulence from having everybody running around, and less time to do everything. But he's a quick, quick learner.
"We made a few changes on the car, we just had to put fires out, basically, you just can't spend too much time looking at data and just think about it overnight, you just have to go for it.
"We had basically two or three changes for the whole practice, by the time you do a few qualifying sims.
"So in two or three changes, you have to make the car better and more comfortable for him, and safe for the race. Not too aggressive, because it's his first oval, you don't want to overdo it and make it too complicated for him.
"So it was a bit of a challenge on our side, but he got up to speed very quick, we made some good changes, he was comfortable with the race car."
One of the big challenges adapting to an oval is using the weight jacker to move weight on the car from left to right, and changing the anti-roll bars. Both of which the top drivers are doing between corners for the whole race, depending on circumstances.
Boisson – who hasn't had a rookie from Europe like Grosjean to engineer for his debut on an oval before – consequently spent the race watching multiple areas of live data including Grosjean's steering input to help advise on driving style and how to use the tools properly.
From the driving side, this is where the route of the difficulty comes, because Grosjean can go to any road/street circuit in the world and be competitive with enough practice. With an oval, the car is set-up totally differently and certain changes will affect the car in different ways to how they would on a road course.
So Grosjean has been learning about the physics of the car on an oval, how changes impact the handling and how the 'tools' in the car can be changed to keep the car in a handling sweet spot.
"Definitely, by the end of the race, he's like 'OK, I understand now what the weight jacker is doing', and that's why the goal of the weekend was to finish the race because in terms of gaining experience and understanding what the tools do in the car and how that affects the handling during the race, there is no better time than doing it for 260 laps," Boisson adds.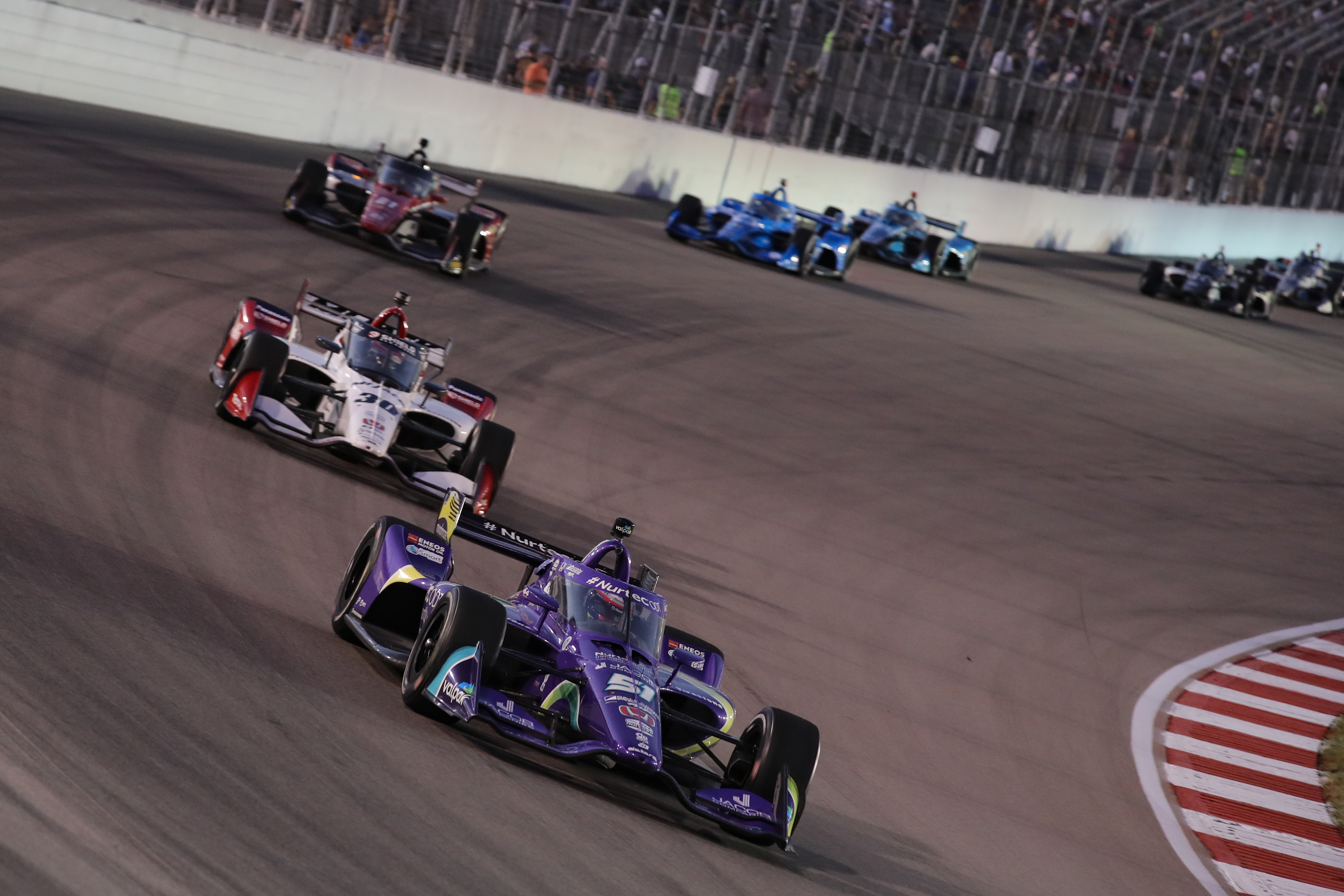 "So I explained to him, I showed him data, how the front bar, the rear bar, the weight jacker affect the handling of the car in the corners, how you have to adjust the car based on the wind direction or the traffic or the turbulence so if you are in clean air or not, so you understand that very well but nothing replaces practice.
"I kept coaching a little bit in the race just to make sure when he was passing cars, to make sure the tools are where they need to be because a few times he got a bit sideways and a bit aggressive with the bars.
"The way that racetrack is, you have to adjust the front and the rear bar pretty much every lap on each straight. So there is a lot of moving tools and his hands got quite tired by the end of the race."
It's interesting Boisson mentions the moves Grosjean was making. It was every fan's dream to see him scything through the pack and going wheel to wheel with drivers who have been racing on ovals forever.
It's @RGrosjean's oval racing debut, but he's looking like an @IndyCar veteran tonight!

Check out some of his passes so far at @WWTRaceway. #INDYCAR x NBCSN pic.twitter.com/nui3F9JXbC

— IndyCar on NBC (@IndyCaronNBC) August 22, 2021
You can imagine though – given the goal was to finish the race and there were five cautions in the first 65 laps – that Boisson was interpreting those moves in a different way!
"The first few passes I was very happy with it, it was fun to watch him getting comfortable and he came on the radio and he was like 'this is awesome'," says Boisson.
"He had a good time. But a few times I saw some steering trace [data] where he got kind of sideways and I'm like 'alright maybe we shouldn't do that'.
"So after a while, I think when he got behind Ryan Hunter-Reay towards the end I was like 'alright Romain, the tyres are getting pretty beat up, we're going to want to just settle in here and maybe wait for new tyres and just not do anything crazy'.
"He had a few times where he ended up in the marbles, a few times the car was kind of sideways, I'm like 'yeah, maybe that's enough!'
"So it was fun at first and it's like 'alright, now we need to focus again. Let's make sure we finish that race'.
"He is so talented that he was [able] to catch a car and not end up in the fence. He just scared himself a little bit, and it's like, 'OK, I don't need to do that again'.
"So all that for him was great, great learning for future."
It's worth noting that JR Hildebrand – speaking on this week's The Race IndyCar Podcast, out soon – was blown away by Grosjean's ability to keep the car out of the wall given the moments he had in the race and paid tribute to Grosjean's fast reactions in the car.
Ultimately for all the ups and downs, the result was 14th and a lap down. The Dale Coyne team admitted to an error in not being able to get Grosjean back on the lead lap after he'd stopped earlier than the opposition in the last round of stops.
But undercut attempts are common on short ovals anyway, and for Grosjean there was a very good reason for it.
"For Romain, being his first oval, I think it was really good experience to just drive flat out without any restriction," he adds.
"Be able to learn, be able to pass people.
"If we had put him in fuel saving mode, he would have just been back in the train and just staying in there and not doing anything.
"So the goal was really to give him the experience. So we gave up that [track position] a little bit, we're like, alright, let's go race hard and see what happens at the end, it might still come our way."
Grosjean has headed back to Europe now after this long couple of months in the States, although in this stint he was able to welcome his family who got to watch him trackside together for the first time.
After his Bahrain crash last year, it's extremely important for Grosjean to have the backing of his family and for them to feel comfortable with him racing on an oval before he commits fully to a whole season of IndyCar in 2022.
Before that though, there are still three races left in the 2021 season. Boisson says there's one big target he'd love to achieve.
"Overall I think what would be a great ending to the season for us would be to try to still fight with Scott McLaughlin for the Rookie of the Year because we are 23 points behind him at this point," adds Boisson.
"Given the fact Romain didn't do Indy and Texas, to be so close to Scott for the Rookie of the Year is very cool. And we definitely want to try to go for it and see if we can give Romain that, that will be very, very special."