IndyCar has now spent long enough without a full-time female driver, so the hype around Tatiana Calderon's hastily arranged IndyCar test at Mid-Ohio on Tuesday is understandable.
Last year's Indianapolis 500 was the first since 2000 without a female driver on the grid, and although IndyCar and the venue would go on to announce the Race for Equality & Change initiative that spurred the female-led Paretta Autosport team, 2020 still hit home a failure to capitalise on what had been a strong decade or two prior for female drivers.
While Danica Patrick's presence had gathered the most headlines, the likes of Katherine Legge, Simona de Silvestro, Ana Beatriz and Pippa Mann becoming series regulars put IndyCar ahead of most other top-level motorsport championships in progress towards gender equality during the 2000s and early 2010s.
Calderon – like most female drivers in motorsport – wants to be treated equally and is a driver first, a competitor just like the other 20 or so on the grid.
But it hasn't always been simple for Calderon being a female in motorsport, and The Race asked her if the series – despite its drop in numbers of female competitors – was a more attractive place to look to race in the future given teams like Paretta Autosport coming along and initiatives like the Race for Equality & Change being founded.
"I definitely think that there has been, historically, more female talent in IndyCar and, as far as a test can tell, I feel very welcomed and people care and they want you to do well," Calderon told The Race in an exclusive interview.
"Sometimes in my career in different series, it has not always been the case and I think here it's more open.
"They care a lot about the show as well, and to give everybody the same opportunity, and I think it can be quite powerful, if you look at it from a marketing point of view, as well, to have a girl in the series.
"So, of course, this all helps, and is more valuable.
"It's nice to know that they care and that they're trying to give us opportunities here as well, so I hope that some other series learn from them…"
Calderon, from Colombia, raced on the Road to Indy (pictured below) – the feeder series ladder for IndyCar – but switched to Europe before getting the chance to race or test in America's premier single-seater category.
She received the chance this week through ROKiT, sponsor of Sebastien Bourdais and AJ Foyt Racing, which also sponsors Calderon in her first season of Super Formula this year. However, due to also racing in the World Endurance Championship and with stringent quarantine restrictions in place in Japan, Calderon has missed the last two SF races.
The IndyCar test went some way to appeasing that disappointment, and came at such short notice that Calderon merely had iRacing to prepare for the outing on a Mid-Ohio track she never encountered on the Road to Indy.
"I just tried iRacing on the sim at home just to try and learn the track, on top of not knowing the car and the team, the track was new," adds Calderon.
"I called [Juan Pablo] Montoya, to get a few tips from him, Sebastian Bourdais and JR Hildebrand were there to help me just get up to speed and we really spoke quite a lot before the test about how it would feel.
Tatiana did an awesome job today. Her approach was that of a pro, making gains every lap and never being overwhelmed. Enjoyed helping you find your way around @Mid_Ohio, @TataCalde! https://t.co/GDygpHzt0D

— JR Hildebrand (@JRHildebrand) July 6, 2021
"I was quite impressed with the brakes on this car. The power is really nice as well, like you feel the kick, and you feel the 700bhp for sure on the exit.
"The brakes are really quite impressive, I have to say.
"Of course it's a heavy car and you have much less downforce than Super Formula for sure. But it was a nice experience.
"And the power steering of course, it's a difference but I quite like not having the full power steering, because then you have a bit more feel for the car, and learn a little bit more about these tyres as well. It was nice to talk to JR about it."
Calderon IndyCar test images courtesy of Action Sports Photography
Calderon impressed the team – perhaps most with her approach to the day and how she tackled firstly shadowing the team through the Mid-Ohio race weekend prior, but then also preparing for the test.
She produced competitive laptimes, with the deficit coming in the high-speed corners where "a little bit more time to trust and to explore the actual limit of the car" is required.
"It definitely helps to have had the weekend before, to have some really good data from a guy like Bourdais who has a lot of experience and he knows how to drive any type of car," Calderon says.
"Of course every single day is different, the track is different and the grip, because it was only me and another Indy Lights car running so it's not really fully comparable. And the tyres, we ran the blacks [harder compound] that are allowed to test for the rookies.
"But I think it was, at times, comparable and the team told me that they were quite impressed with the laptimes, with the approach, with the progression, so I think that's the most important thing.
"I think in the low-speed [corners] I was like, really up there. Maybe with more confidence in the high-speed, it would come, being the first time on the track as well. I think I can be happy with the times and the progression."
Given it was a one day test in a new car, with new tyres and on a new track, it was a good start to Calderon's IndyCar 'career'.
Calderon has garnered a strong fanbase from her time in Europe in GP3 and F2, and then through becoming an Alfa Romeo Formula 1 junior.
Opportunities in F1 cars have been sparse, but at least a switch to Super Formula this year – albeit with a truncated schedule and in effectively a one-car team – has allowed Calderon to reach a proper, elite senior single-seater series.
Of course, those back in South America would love to see Calderon follow in Montoya's footsteps and race closer to home in IndyCar, but Calderon says the test is just that, a test – for now.
So proud of @TataCalde today doing her @IndyCar test. #WeAreROKiT #family pic.twitter.com/X9xVp4pPTz

— ROKiT (@rokit) July 6, 2021
"Initially it was all about getting the experience to drive one of those cars," says Calderon.
"I think a lot of people were probably very jealous and I really, really appreciate this opportunity. And you've got to take every opportunity you get to drive one of these cars, and to do it in a good way, it's always good to have a good result at the end of the day.
"At the moment I'm focused on finishing my 2021 season with the WEC, the best possible way with Le Mans, and Super Formula of course in Japan, still three rounds left so I want to focus on that and we'll see what what the future holds. But of course it always helps when you've done well to get more opportunities, hopefully in the future."
There's one link that could well help Calderon, and that is that Alex Palou – the current IndyCar points leader – came from Super Formula in 2019. He scored poles and a win – and was firmly in title contention until a last-race collapse – before making the IndyCar switch.
Perhaps he offers solace in that the championship is a great breeding ground for racing in IndyCar in the future.
Indeed, double champion Josef Newgarden has marked out Palou as the most complete of the younger drivers coming through the series right now.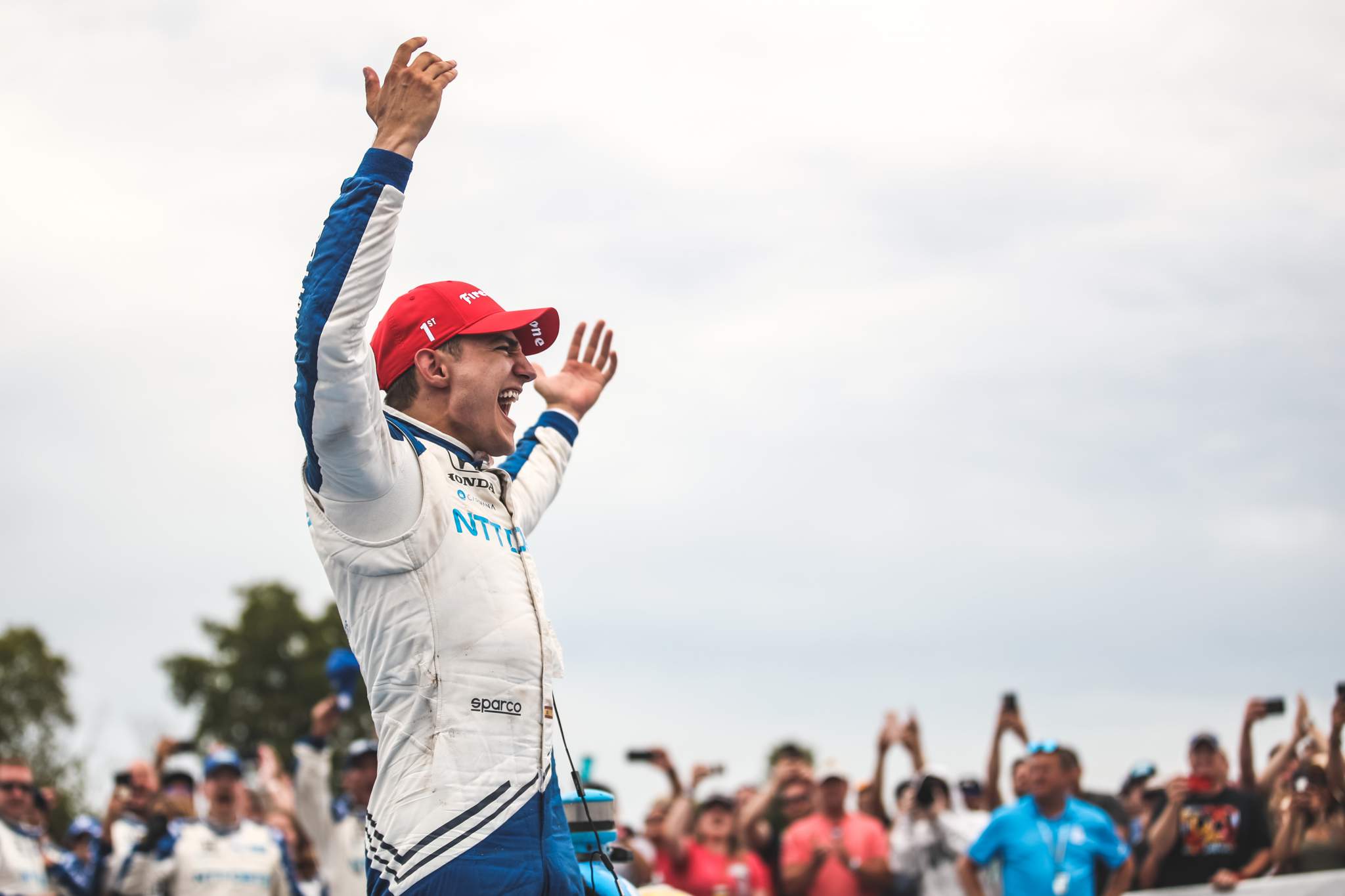 "Sometimes people don't give enough credit to the championship because maybe it's a bit far away in Japan but it's an amazing series and I think as a driver, there could not be any better preparation for either if it was IndyCar or Formula 1," confirms Calderon.
"Super Formula is a great place to learn.
"And if you can be competitive and on the pace there, I think you can drive any car really. So that gives me a lot of relief as well, that, what I'm doing there, sometimes I've struggled because I'm the only driver of the team.
"I'm learning a lot, and this is one of the most competitive championships in the world in single-seaters so for sure I look forward to getting back in that car and with my team for the rest of the season.
"But it also gives me this good feeling of 'OK, I'm doing things right by sticking to it, and working my way up there because then you can be competitive elsewhere'."
Calderon is hopeful she'll be able to race in two of the three remaining Super Formula rounds but commitments at Le Mans and in the WEC are tricky around the moving goalposts of Japanese entry rules and quarantine periods.
The only thing perhaps more uncertain at this stage than the possibility of what will happen in terms of being able to race in Japan is IndyCar's silly season, but you have to believe that if Calderon sets her sights on wanting to compete in IndyCar, she'll be able to make it happen.
Calderon is likeable, polite and humble when it comes to speaking to the media. It feels like the partnership of Calderon and IndyCar could be a slam dunk.
She's certainly impressed AJ Foyt Enterprises, and she'll be another driver teams take a more serious look at over the next couple of months as silly season ramps up.