Spectacular onboard footage has revealed how close Colton Herta came to hitting the spinning Will Power at over 200mph in Indianapolis 500 testing, and the avoiding action Marcus Ericsson had to take.
Power was the third driver – alongside Alexander Rossi and Helio Castroneves combining for six Indy 500 wins between them – to spin coming out of the pits, and as he came up onto the racing line out of control, Herta showed incredible reflexes to avoid him at the apex of Turn 1, then crashed into the outside wall himself.
Close calls today…. @12WillPower owes me a beer. pic.twitter.com/mcBOePnI43

— Colton Herta (@ColtonHerta) April 21, 2022
"I wasn't really sure what exactly happened at the time," Herta told Peacock.
"I saw Will, I wasn't sure how far up the racetrack he was but I knew I had to go a little wide and yeah, unfortunately just not really any grip out there and the car got loose, but happy that it wasn't terrible.
"I got out of the car, I was pretty mad when I crashed because I thought I just ruined my great race car that they made for me for the month.
"Looks like the attenuator took a bulk of the damage and maybe a little bit on the left rear but underwing (floor) is fine.
"A lot of the aero bits that you kind of want to stay in shape are good. So I'm happy about that.
"Happy that Will's fine, because like you said it could have been a lot worse. If he slid up the track just a little bit more…I was close to having nowhere to go. And luckily, we kind of got away with that one a little bit."
Power's onboard gives a fascinating insight into the incident. Usually, drivers spinning coming out of the pits is attributed to driver error but the onboard tells a different story.
In most cases, such an incident would come with the application of the throttle, but Power is working his way up the rev range in the long second gear when the car just immediately snaps out of control with absolutely no warning.
A driver's worst nightmare is spinning up off the apron into 220mph traffic.. Didn't see this one coming.. glad no one was hurt. pic.twitter.com/YrYjJFcUyP

— Will Power (@12WillPower) April 21, 2022
"Man it just lit up, like I didn't really have much lateral in it," Power told Peacock.
"I was in second gear. I was full throttle but it has a very tall second gear. I'd already done a lap so I had rear tyre temp, I thought.
"Scared the absolute daylights out of me.
"I feel terrible for Colton because he crashed because I spun, but I had zero warning. Zero.
"I'd been super careful all day because Rossi, he spun first and I'm like man, I've been taking it easy on the aprons for that reason and it's just testing – you never want to risk going quick on an apron to end up on the track when other cars are at speed.
"Scary. It's like my worst nightmare, something you always think about as drivers.
"You've seen it, you saw what happened to [Alex] Zanardi and it's just something you're aware of and you're cautious during practice and I just couldn't believe that caught me out."
Incidents where a car comes up onto the race track from the pit exit usually remind IndyCar onlookers of Zanardi, who lost his legs when he spun and was hit at Lausitzring in 2001.
Luckily the drivers involved here were able to escape without serious injury.
Ericsson was quite a way back from the incident but Herta's damaged car snaked uncontrollably across the race track and veered into Ericsson's path at the last moment, and Ericsson had to dive left at what his telemetry says is over 100mph too.
🎙 "code brown, code brown" 💩😅 @IndyCar @IMS #ME8 #INDYCAR pic.twitter.com/fB5TPL7pnO

— Marcus Ericsson (@Ericsson_Marcus) April 21, 2022
"I'm pretty sure we were both looking at each other," Herta laughed, describing Ericsson coming towards him.
"Because I saw, he was going left and right, he wasn't sure [which way to go]. And my brakes weren't quite locked up yet so it wasn't really clear which direction I was going and then I locked them up and luckily he's a heads up driver and got out of the way."
Rossi had avoided a serious crash but Castroneves – who won't drive on Thursday due to the damage to his car – went up into the Turn 2 wall after his spin, as part of a spate of unusual incidents.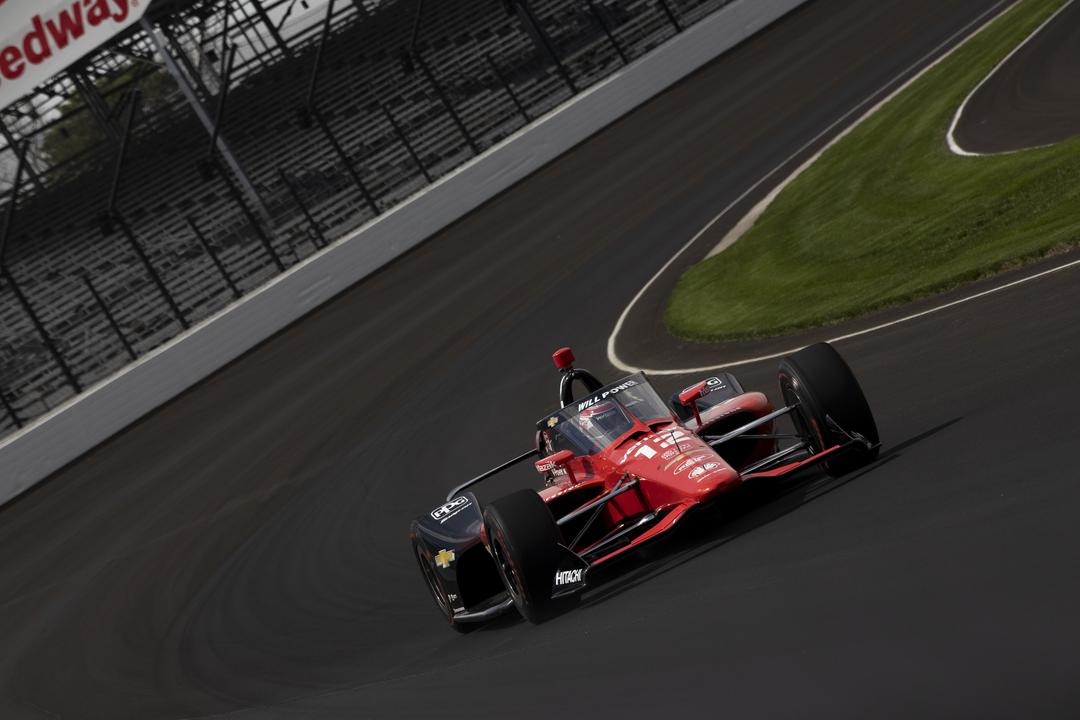 Power and Herta's crash ended the Thursday afternoon session 30 minutes early although all drivers who had incidents in the day were cleared to drive again.
Track president Doug Boles told Indy Star he believes the lack of grip has been caused by an unusual reaction to a sealant, which usually increases grip as well as its primary function of protecting the Brickyard's asphalt from harsh winters.
The Race understands that the sealant company, track workers and Firestone spent time late into the evening at the pitlane exit and warm-up lane cleaning the surface and analysing the grip levels, which were believed to be below normal although because that part of the race track isn't used often, past data is sparse – something also reported in the Indy Star's article.
With rain given around a 50/50 chance for the 10am ET start of Thursday's session, it may be some time before a decision is made on if the overnight changes have worked, although warmer temperatures are expected later in the day.
Rain also affected the first day of the test, which took place with 32 cars and Penske Entertainment CEO Mark Miles stated he could "pretty much guarantee" a 33rd entry to keep the 500 at its traditional number.
He also said he wouldn't rule out a 34th car, although The Race's sources indicate this would be unlikely.
Scott Dixon – the 2021 polesitter at Indy – topped the first day of testing with a 227.187mph lap, while the driver who led the most laps in last year's event, Conor Daly, was second.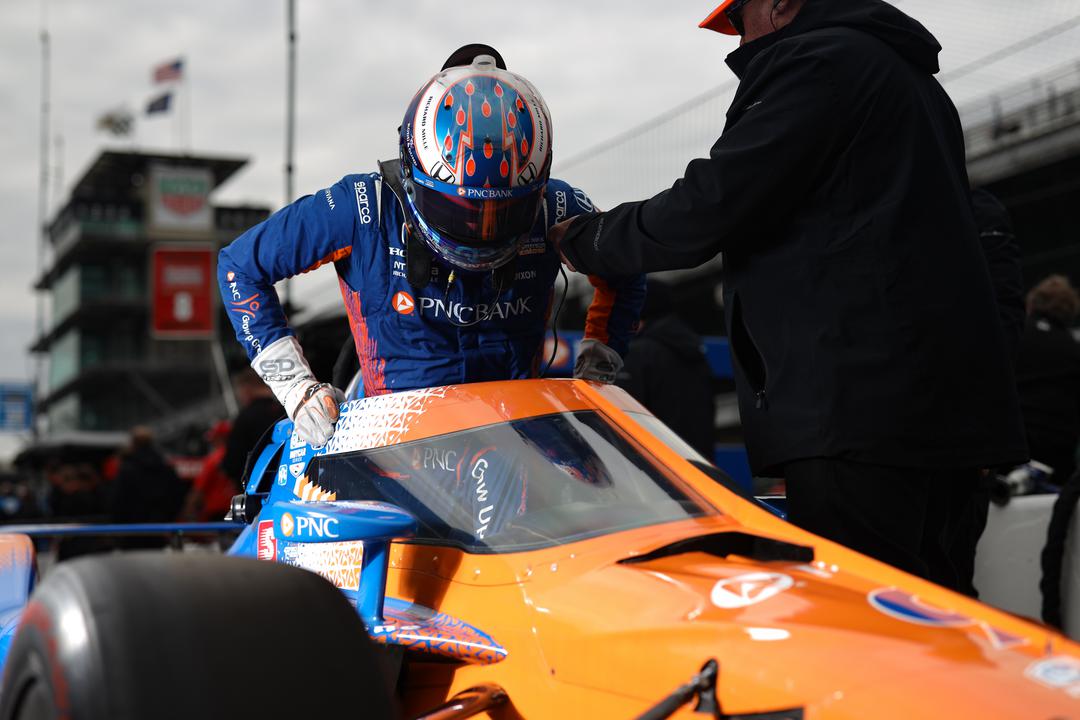 "I think the conditions are always pretty ideal when you run this time of year," Dixon said. "The car feels really good. A lot of it depends on track placement and how much confidence you have in the car, and how big a tow you can get. I guess we lucked out on that today.
"We still have a bit of a test. We didn't get through too much of it because the session was kind of fragmented, then obviously finishing early," said Dixon.
"Still a lot of work to do I think for the tomorrow. Maybe we'll get a bit of a time extension tomorrow depending on conditions.
"All in all, I think all the drivers were really confident with how the day went and how the cars felt. But I think that's maybe across the board because of conditions."
To echo Dixon's point, Josef Newgarden – who announced the birth of his first son Kota on Tuesday – was fastest in this test last year but immediately the Penske team was in trouble when it came to the start of practice in May.
Behind Dixon and Daly on Wednesday, rookie Callum Ilott was a surprise third for Juncos, the team returning to the 500 for the first time since it knocked Fernando Alonso out of bump day and consequently the Indy 500 in 2019.
Ilott, along with all of the other rookies and drivers needing to do a refresher orientation, passed those tests so they can hit the ground running in practice next month without needing to do more tests/refreshers.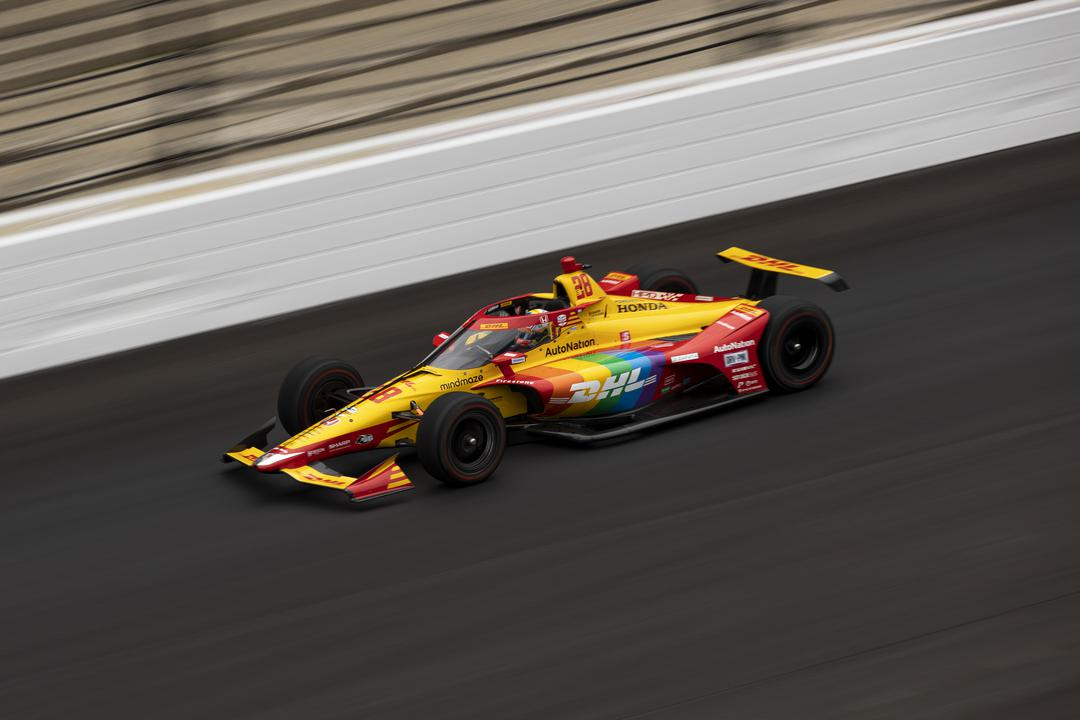 Among the star rookies, Romain Grosjean – now running a pride-themed livery for the 500 as part of his car's sponsorship with DHL – was 15th quickest in the afternoon.
Seven-time NASCAR champion Jimmie Johnson was slowest of the drivers in the afternoon session that chose to run more than a lap but appears happy and confident with his race car and only a fraction slower than some of the race's heavy hitters who were clearly on similar programmes.
Of the drivers caught up in the session-ending crash, Ericsson was fifth fastest, Herta ninth and Power was 19th.