Rarely does a team go from 25th on merit to rightfully fighting for a pole and missing out by just 0.0193s.
But that's exactly what Callum Ilott and the single-car Juncos Hollinger Racing team achieved from last year's Laguna Seca IndyCar race to this.
When Juncos returned to IndyCar for three races last year ahead of a full schedule in 2022, there was plenty of promise but also lots of doubts.
The personnel it used for those races was temporary. Unlike other teams with big technical alliances, the squad merely acquired some parts and intelligence from Carlin (pictured below), another effectively one-car team which hadn't been successful in IndyCar for the majority of its stay.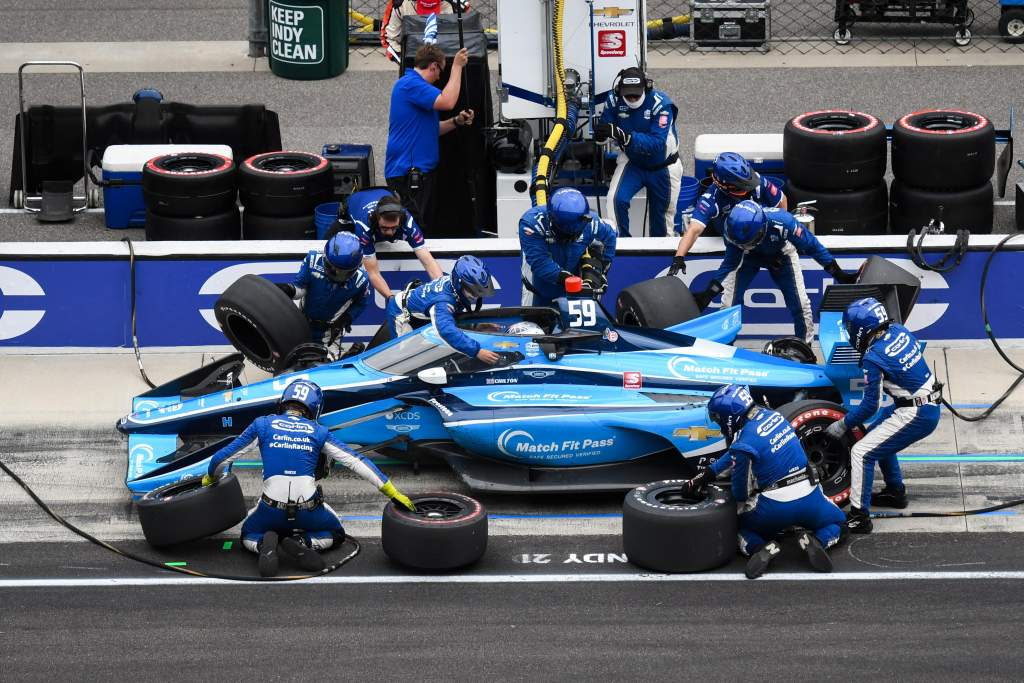 With a new crew for 2022 and Ilott still learning the tracks, little could really have been expected from Juncos despite bringing Brad Hollinger onboard – which made sure the team was well-backed.
Now the team is capable of top-10 appearances in qualifying on a regular basis and is a perennial top-15 contender. When you consider Andretti, Arrow McLaren SP, Penske and Ganassi combined field 13 cars and there are more teams than that with greater resources than Juncos, it's no mean feat.
But to stick it on the front row at Laguna Seca – where the lack of grip presents a huge challenge for teams – is extraordinary.
"It shows what we can do with what we have in a certain way," says Ilott.
"I mean, we started the season with two and a half sets of dampers and one of them is for ovals. We finished with, I think, three and a half, and they're not much different to the first one. We just bought another version of the first set and adapted them a little bit.
"That's what happens when you work with what you've got and you optimise it.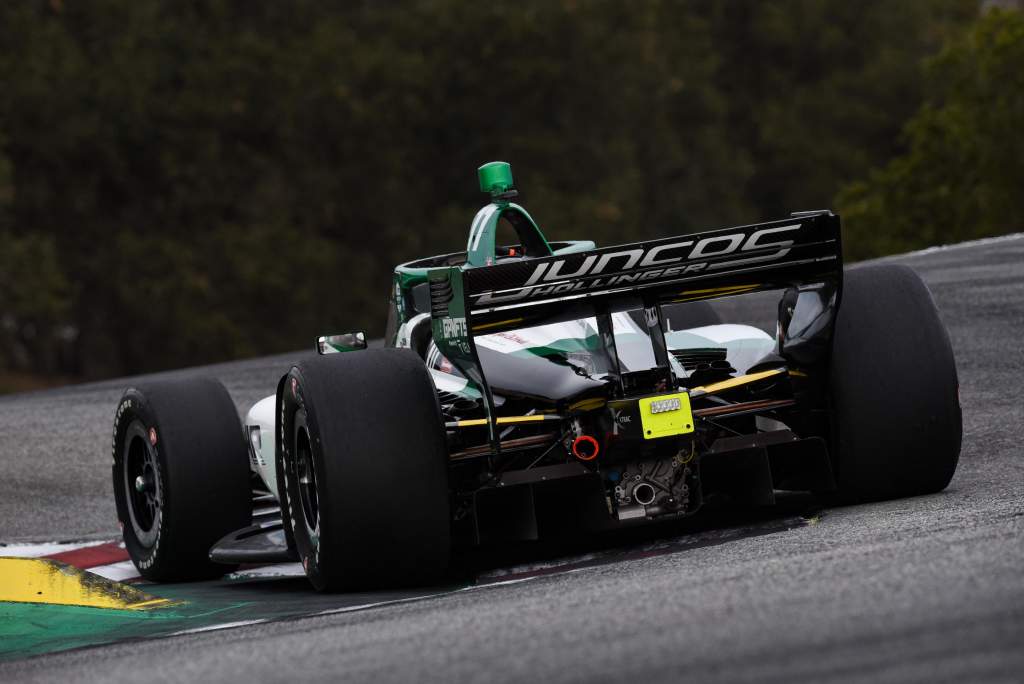 "Our terms of development this year have been what we had to start with, and again, just fine-tuning it.
"Whether it's me and the driving and the experience, we've just been chipping away and trying to do a good job with that, and yeah, it's been tough, especially with no team-mate to anything to use or learn from.
"To get to this stage and have a result like this, I think they're all super chuffed, and yeah, amazing job.
"At the end of the day even if it's just one lap at the end, it's great to do it, finish it like this, and gives us so much more motivation in the off-season when they get some time to really digest everything and work on it."
Ilott has been liberated by his initial contract for this season and a further extension which has given him a level of security (though it also may have taken him out of a silly season he may have otherwise have played a role in), combined with team boss Ricardo Juncos being a driver himself and giving Ilott free rein to make mistakes.
It's an environment where Ilott isn't constantly fighting for his motorsport future – unlike previous years – and it's allowed some really high-level performances this season.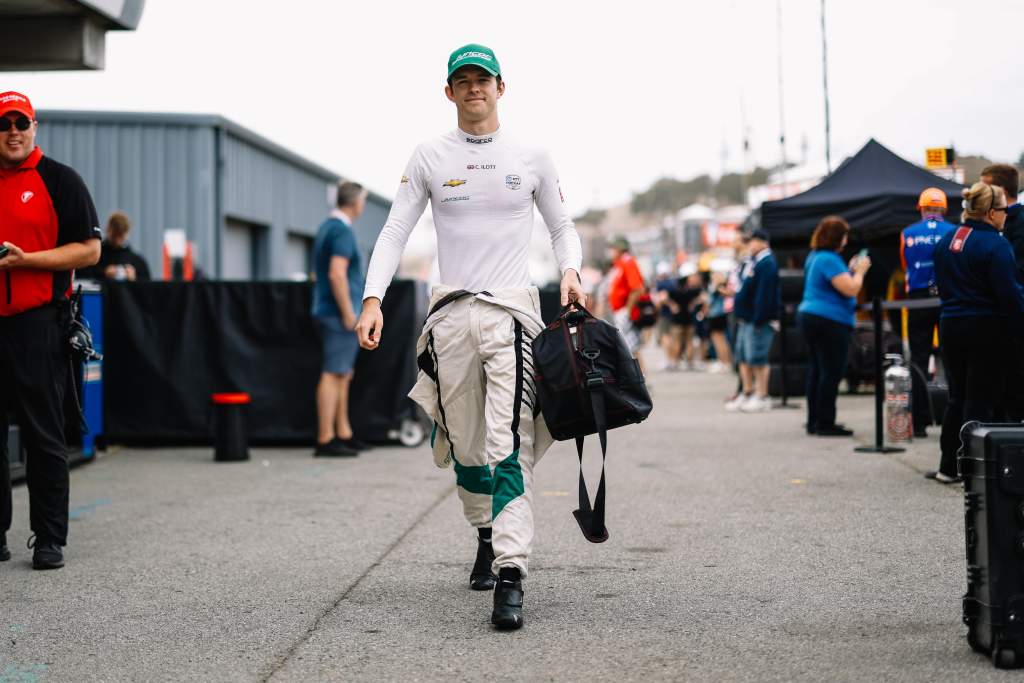 Working with new engineer Yves Touron, who has so much experience, has helped, and he and the team have just chipped away at every weekend developing a car and a set-up that works for them.
All of this has combined into a huge overachievement for the team, the likes of which Ilott didn't expect this year.
"I learned very quickly that it was going to be a hard year and a long year," he adds.
"I think the first one where we kind of clicked and got it right [was Barber] and that was P11 in quali, and then from there it was getting closer and closer.
"But it's so tight, and just having that edge when you put everything together, getting the tyres in, not having yellows or even here like guys just chucking dust up out of Turn 3 and then ruining your lap… yeah, it's not easy, and it has to all come together.
"I didn't think after the first couple races we'd get there, [maybe] probably towards the end of the season.
"But yeah, we got there, and I think everyone is super pleased with that."
He joked that had he skipped lunch he might have taken pole such was the size of the deficit, and added that – when asked how hard he'd race polesitter Will Power, who's going for the championship – he'd talk to Power later and that he "likes steak".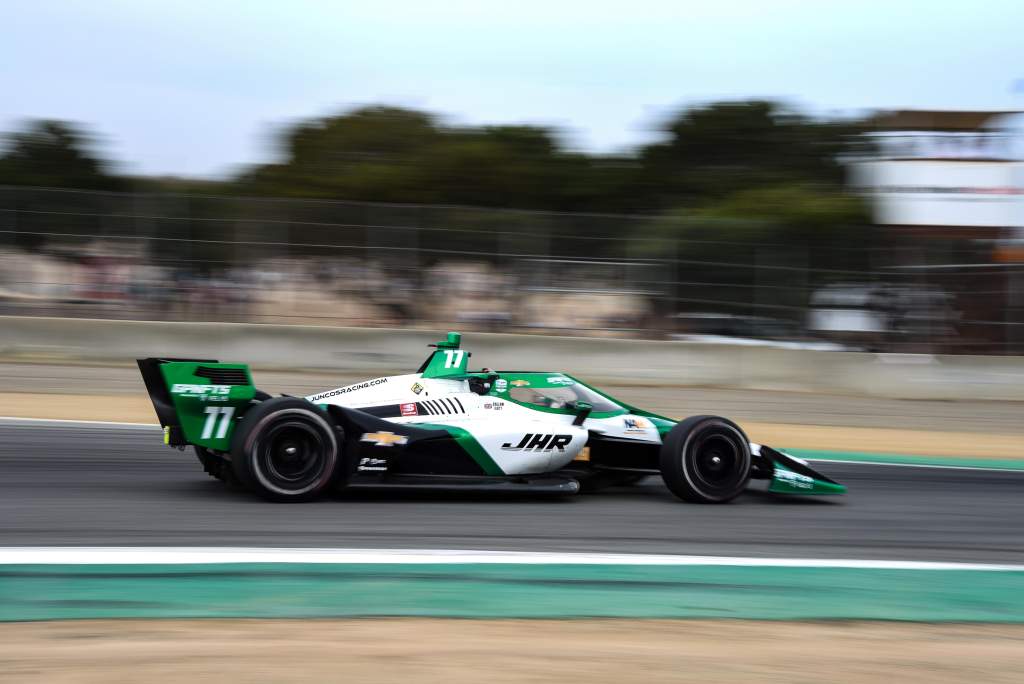 The American media and fans are beginning to see more of Ilott's heart-on-sleeve nature and his fun and bubbly personality, which is sure to make him an even bigger hit as he gets dragged into the conversations of being linked with bigger teams in the future.
And without his significant Juncos contracts, he would have been a bigger player in this crazy silly season as teams were interested but unable to extract him.
That said, if Juncos can keep up this level of development the team itself going to be a force to be reckoned with. It has already announced that it will expand to two cars next year and the latest driver to be linked to the team is Felix Rosenqvist.
Ricardo Juncos is known to want to test out multiple options and Ilott's Maranello room-mate from his Ferrari Academy days Marcus Armstrong could be next to test after Indy Lights race winner Benjamin Pedersen did recently.
This qualifying result gives a bit of legitimacy to the gains Juncos has been making and its flashes of pace. This feels like it has something to show for it now, and Ilott has a huge role to play in that.