A re-energised and rapid Romain Grosjean has taken IndyCar by storm this year, and it has resulted in a high-profile switch to the Andretti Autosport team for 2022.
There's been everything from RV road trips to fire department t-shirts and pole positions to first-lap calamity.
One thing that is certain is that there hasn't been a dull moment. The Race recaps the best and worst of Grosjean's year.
His best
Debut at Barber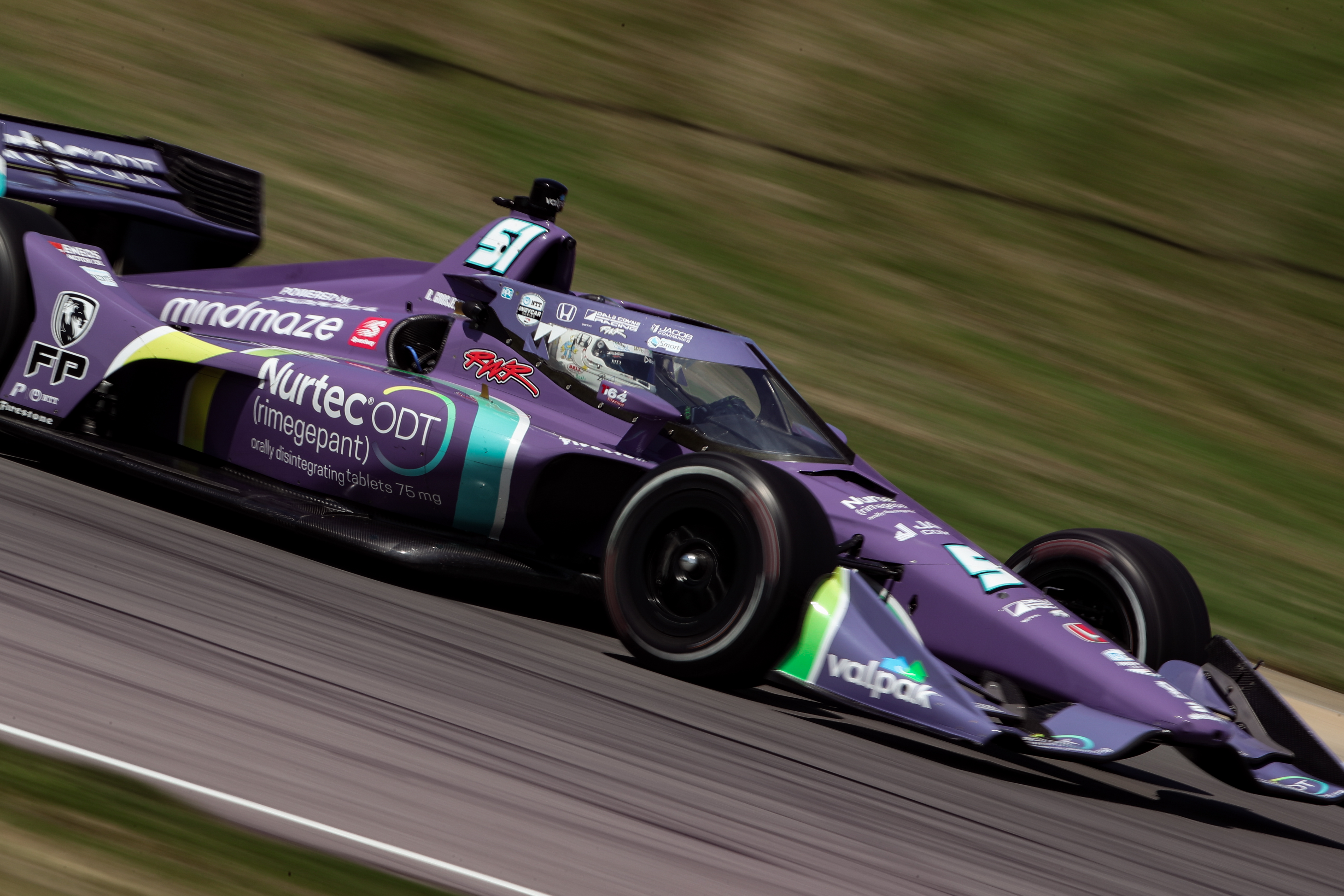 Many will have already forgotten Grosjean's crash in the pre-season test at Barber and that his hand was still too damaged from his fiery Bahrain crash in F1 only months before that he had to delay his maiden outing in an IndyCar from January to have extra time to heal.
That, combined with the minnow Dale Coyne team having struggled for success the year before, and 2021 looked like it was shaping up to be an extremely difficult one for Grosjean and crew.
But his performance at Barber in qualifying helped alleviate that.
He went second fastest in his group to make it through to the second part of qualifying, which from there the top six would go on to fight for pole.
Eventually, on his last run, Grosjean was bumped out of the top six by Alexander Rossi, by the tragic margin of just 0.069s.
The result announced Grosjean on the scene as someone who could adapt quickly and would be a factor in the top 10 all year.
In the race, he got a first-hand glimpse of IndyCar road course strategy playing out with an early pit three-stop versus a two stop, but he held on despite a mechanical issue to finish 10th.
Indianapolis pole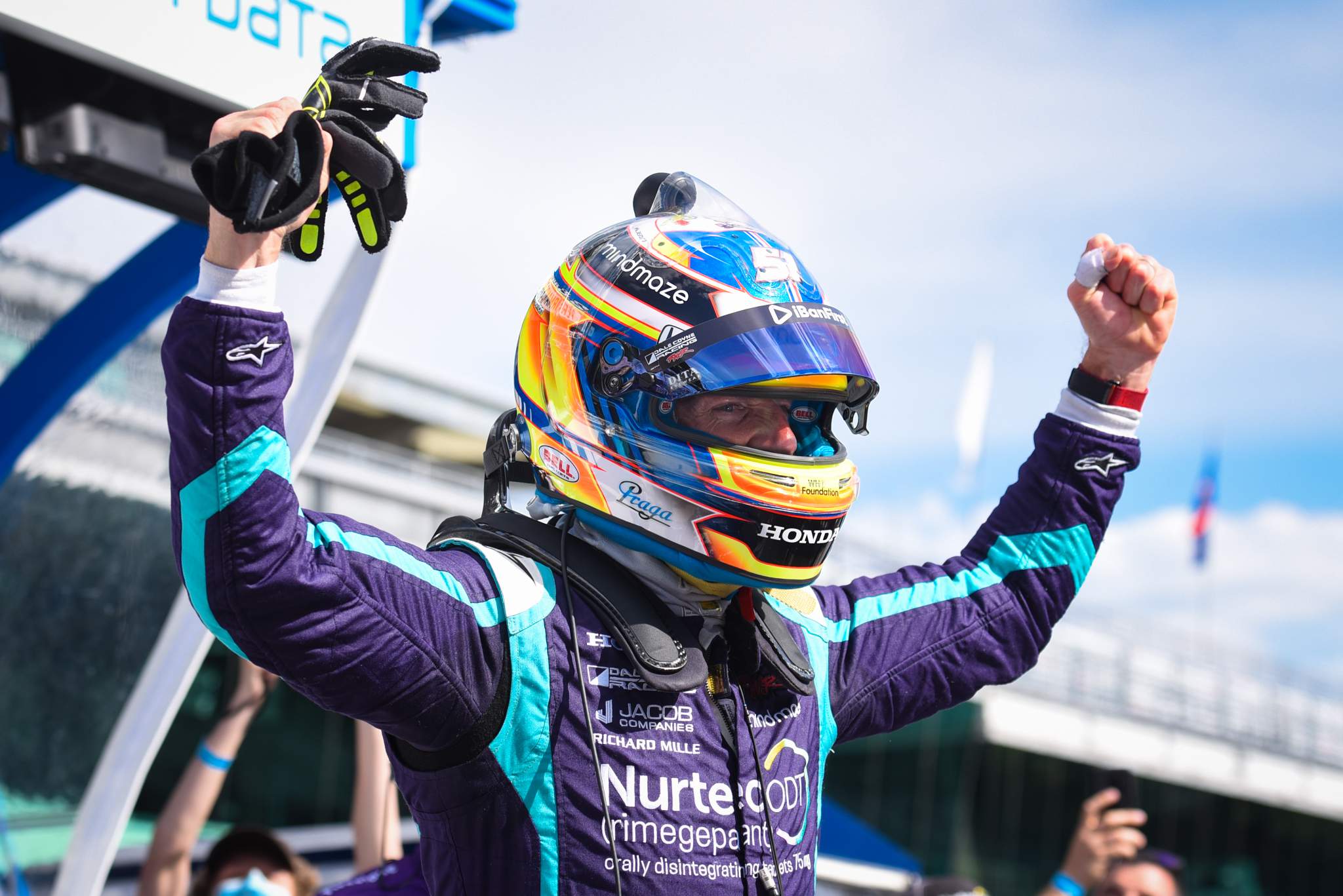 After the high of his Barber debut came the low of St Petersburg where Grosjean got a dose of reality and a sign that IndyCar wasn't going to be immediately easy for him.
Street courses are notoriously difficult and some changes to the car and a couple of on-track mistakes led to a disappointing 13th place.
Fast forward to Indianapolis, where Grosjean had been cycling and using the gym as he travelled back and forth between the States and Europe, and faith in his season was restored.
The road course at the Brickyard is quite European in style and drivers from that region almost always do well there.
No one expected Grosjean to rock up and put it on pole in his third race though. That was sublime.
In the race, he was caught out by traffic and beaten by Rinus VeeKay, but still took his best result of the year in second and repeated that in the race later in the year at the same track.
The reaction the crowd gave him after his pole and race win is something Grosjean reckons he will remember forever.
Road America breakthrough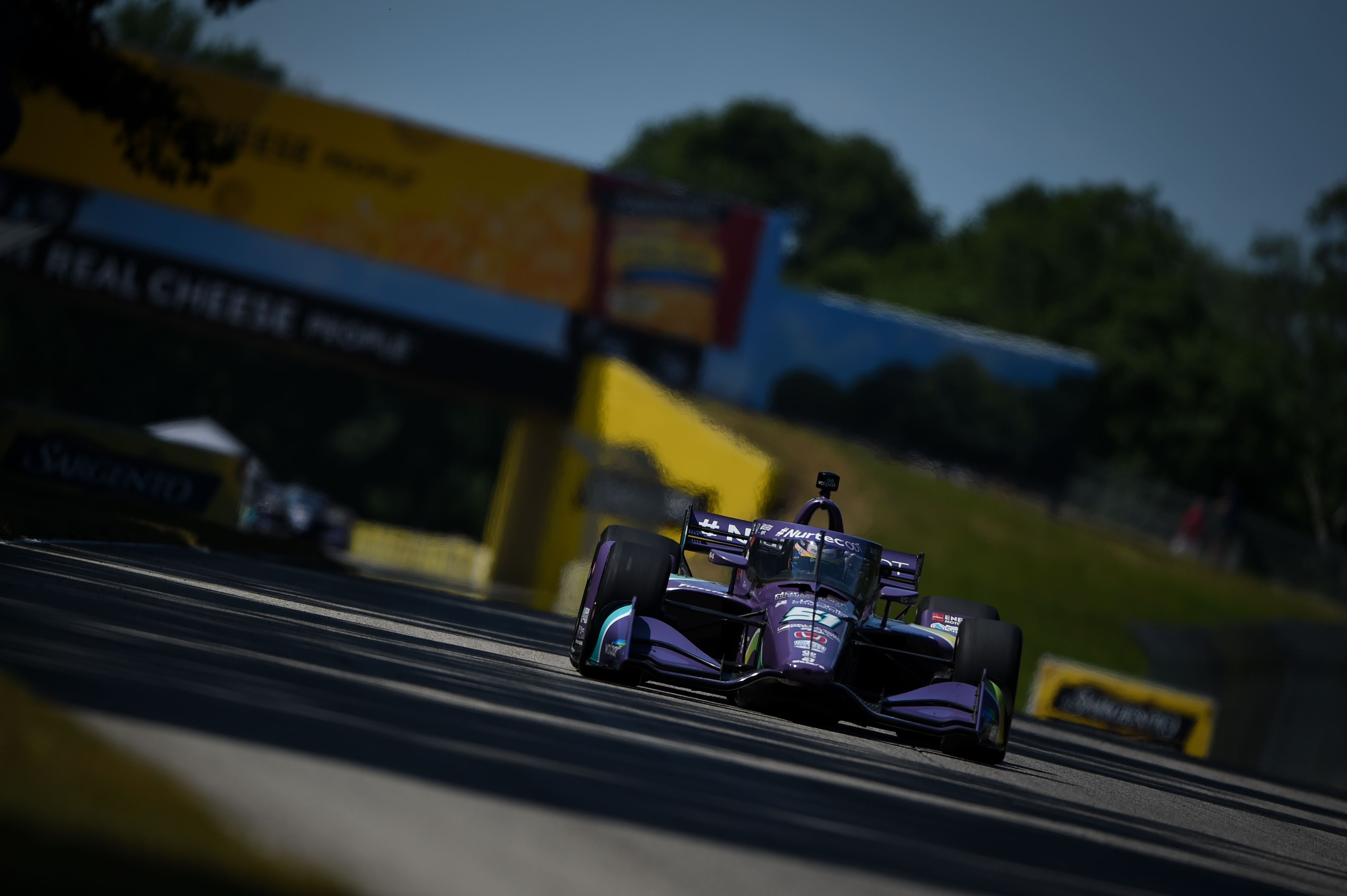 Alright, fifth place might not be necessarily something to jump around and shout about, but this race was more significant for what happened on track during the race.
It was here Grosjean delivered his first overtaking spree that became more common across the second half of the season, but it was the fundamentals of these overtaking moves that impressed The Race IndyCar Podcast host JR Hildebrand.
"For me, Romain was the driver of the race," said Hildebrand.
"He was super exciting to watch throughout the event.
"He kept his composure throughout, he obviously had a very opportunistic attitude throughout the event in terms of where he was making passes, but it never looked reckless in any way. It was very assertive, he knew what he had underneath.
"It's often as drivers that you say that the braking is really the last thing that you completely come to grips with about a new race car.
"It's the first thing that you do in the corner but it's kind of the last thing that you really gain that final bit of sensitivity for in terms of what can the car actually do.
"There's so much about the way the tyre works, that it all sort of goes together. It's managing so many things about the way the car works.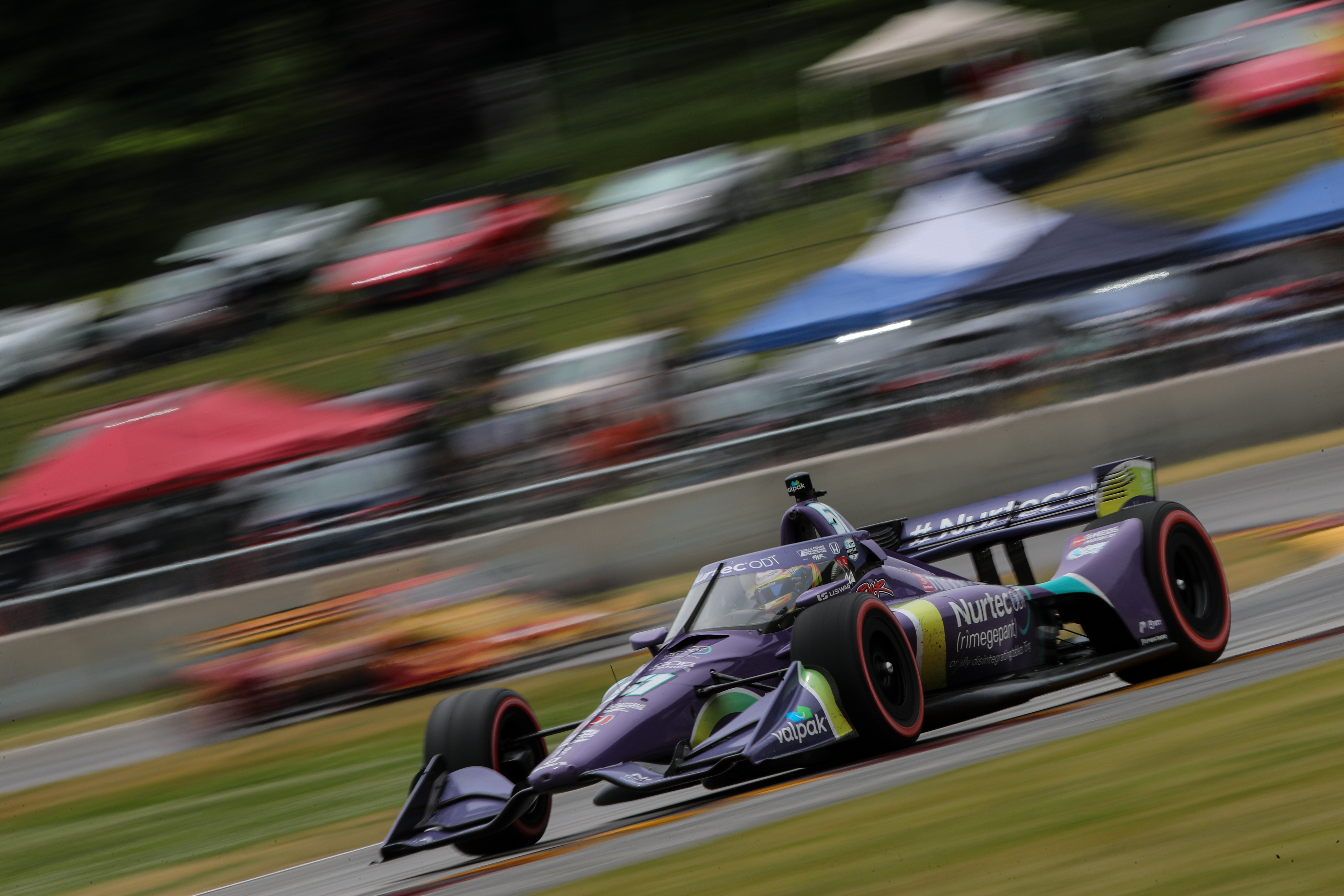 "And so to me, it was just apparent watching this race that OK, I feel like he's got a pretty good feel for it now."
One pass in particular on Graham Rahal caught onlookers' attention, and from this race forwards Grosjean has gone on to become one of the series most daring drivers on the brakes.
"That was pretty cool!"@RGrosjean gets by Graham Rahal and continues his pursuit toward the front. TV: NBCSN #INDYCAR pic.twitter.com/1x4FesAHQb

— IndyCar on NBC (@IndyCaronNBC) June 20, 2021
Oval debut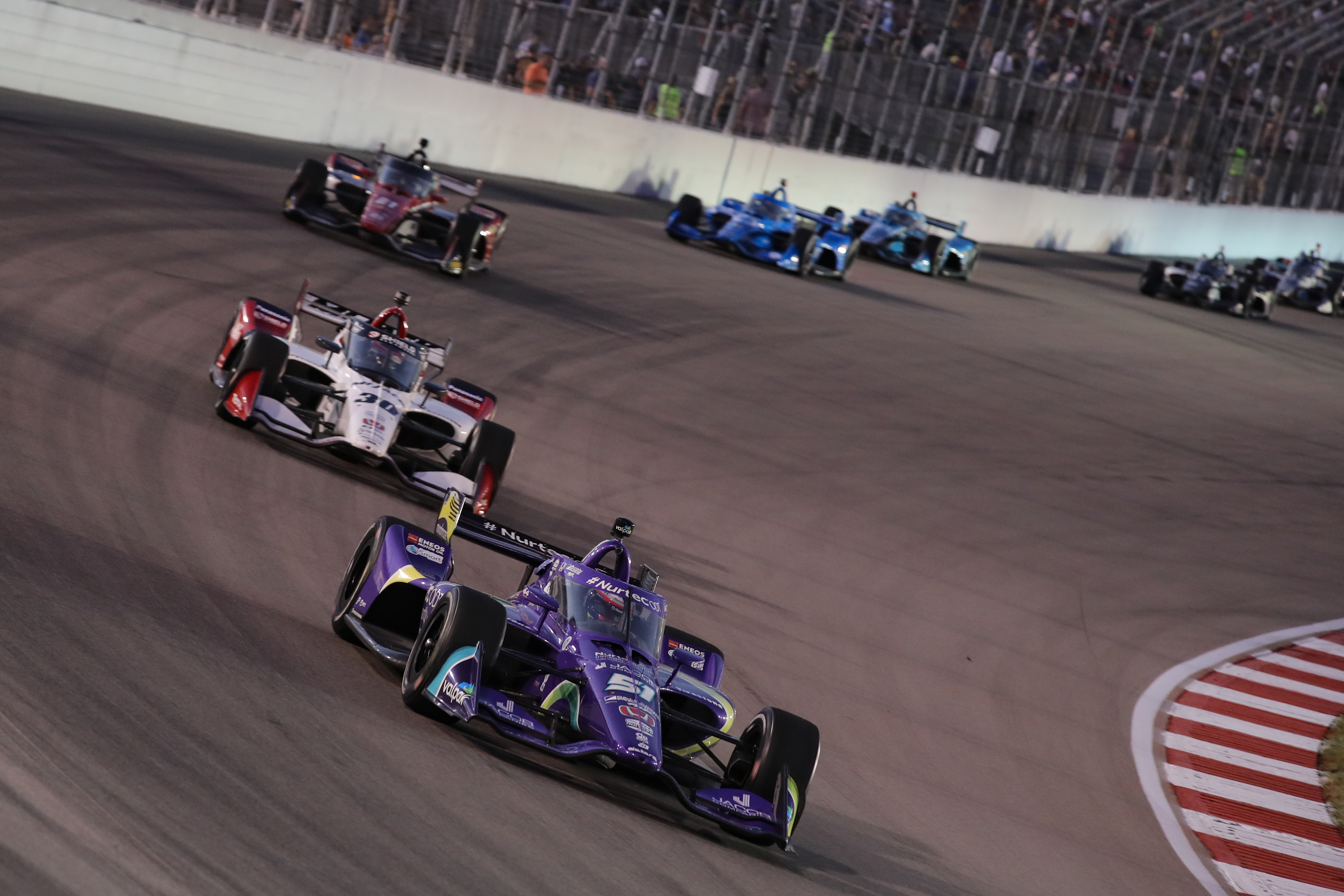 Alright, 14th might not be that impressive, but it was really a strategy call that cost Grosjean a top 10. His pace deserved it.
Grosjean started conservatively but after the first pitstop it looked like he was the subject of a video game and had comically turned the difficulty rating down as he passed cars right and left with some epic moves.
He'd only had half a day of testing and a quick practice and qualifying as part of the one day event at Gateway, but ran as high as eighth before losing a lap through strategy later on.
All in all, despite some shaky moments where he got into the marbles, he looked like an oval veteran and there's no doubt he'll be successful only turning left in the future.
Laguna Seca podium
This had a bit of everything, didn't it? He missed out by 0.0078s on the second round of qualifying but had a brilliant start to move up to 10th from 13th, and from there the overtaking didn't really stop.
Perhaps the thing this performance proved most though was how Grosjean is learning to apply the lessons he has learned this year in new ways. He was a pivotal element of changing the strategy from a short first stop to having two long middle stints, after identifying on his first set of softs that he would be quick at the end of the race.
It proved Grosjean's no longer fully reliant on the people around him because of adapting to a new series, now he's present in every sense.
Plus, he overtook Scott Dixon at the Corkscrew and came from almost outside of the top 10 to third in a dramatic sprint to the end of the race.
If all of that doesn't say 'you're an IndyCar driver now, Romain', I don't know what does.
Worst
Detroit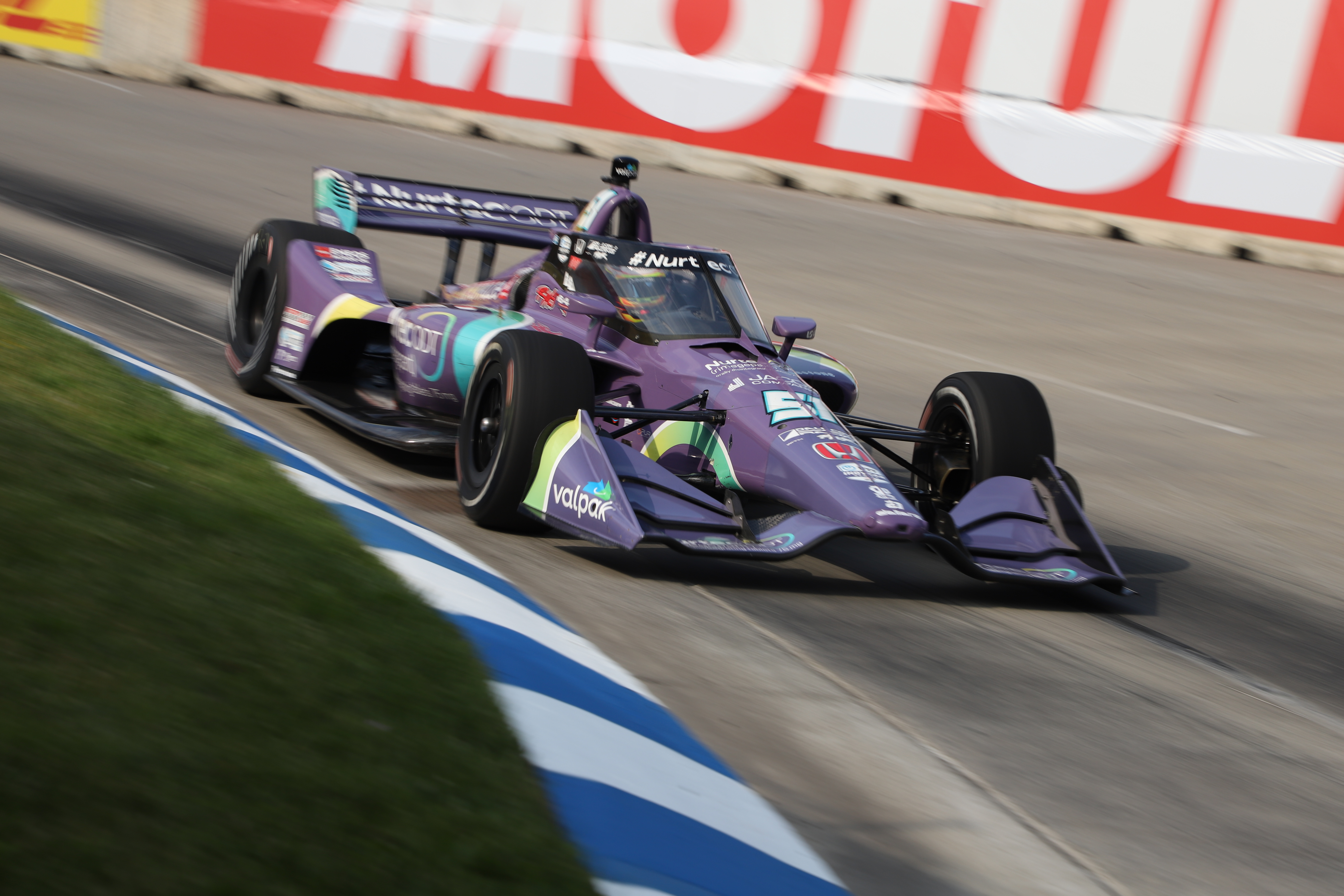 There was absolutely nothing lacking pace wise for Grosjean on his first visit to the bumpy and awkward Belle Isle street track as he qualified third for race one and fifth next day.
But perhaps more than any other round this year Detroit proved to be a harsh lesson in the idiosyncrasies of IndyCar tracks, tyre wear and strategies.
Despite briefly leading the opener, Grosjean's day ended with a heavy late crash while in the midfield and then he retired the next day with his brakes on fire.
His race pace and soft tyre conservation hadn't been great but what was perhaps most striking was how tentative and unsuccessful some of his passing moves were (and it led to some ending in contact).
It felt like he was still assessing what he could do wheel to wheel and under braking with the IndyCar. By Laguna Seca three months later he'd certainly figured that out. – Matt Beer
Portland brain fade
Turn 1, Lap 1 at the @Portland_GP proved to be treacherous once again. #INDYCAR pic.twitter.com/NE8fklPRrN

— IndyCar on NBC (@IndyCaronNBC) September 13, 2021
Whenever a racing driver says sorry, you know something has gone properly wrong.
I'm sure people had warned Grosjean about Turn 1 at Portland which goes from very wide to very narrow, but he totally misjudged the race start and caused a multi-car accident.
He did make his apologies, but it was just such a shame because he would later set the fastest lap of the race.
Clearly, he and the Dale Coyne Racing team had a strong car, and we didn't get to see how that race would have played out. It also cost him dearly in the rookie of the year standings which he may have won had he stayed out of trouble here.
Jimmie Johnson crash
WHOA, @RGrosjean and @JimmieJohnson!#INDYCAR pic.twitter.com/10825PTKyK

— IndyCar on NBC (@IndyCaronNBC) September 19, 2021
I thought Grosjean got off very lightly with this one. Obviously his overtaking at Laguna Seca has been well documented elsewhere in this piece, but this stupid lunge had the chance to undo all of his hard work, and Jimmie Johnson's in what happened to be his best performance of the year.
I laughed at the people on social media suggesting that Grosjean should have retired from the race because 'if that was an F1 car it would be broken'. The current IndyCar is much closer to a tank than an F1 car in its durability when crashing into things including other cars.
But earlier in the race, modest contact – for the lead no-less – between Colton Herta and Alexander Rossi led to a partially bent wheel for Rossi and put him out of contention.
That should have been a warning signal to take things a bit easier that Grosjean didn't heed.
I think the real reason for Grosjean's ill-judged move was revealed after the race when he questioned IndyCar's lack of blue flag rules saying that the three cars between him and Alex Palou in second shouldn't have been there.
Unfortunately, though, you can't drive a race based on what you think the rules should be, and this was an error in judgement that should have been punished more significantly.