Yesterday, the news coming out of Lithuania's capital city Vilnius probably centred around its ongoing support for Taiwan which has seemingly angered China to the point where Lithuania has pulled some of its diplomats out of the country.
Today though, hopefully, the news in Lithuania will be about IndyCar-bound David Malukas joining Dale Coyne Racing – his family trucking firm HMD joins as co-owner of the entry in place of Vasser Sullivan – after his runner-up season in Indy Lights.
Malukas is American-born, but from Lithuanian parents, Henry and Daiva.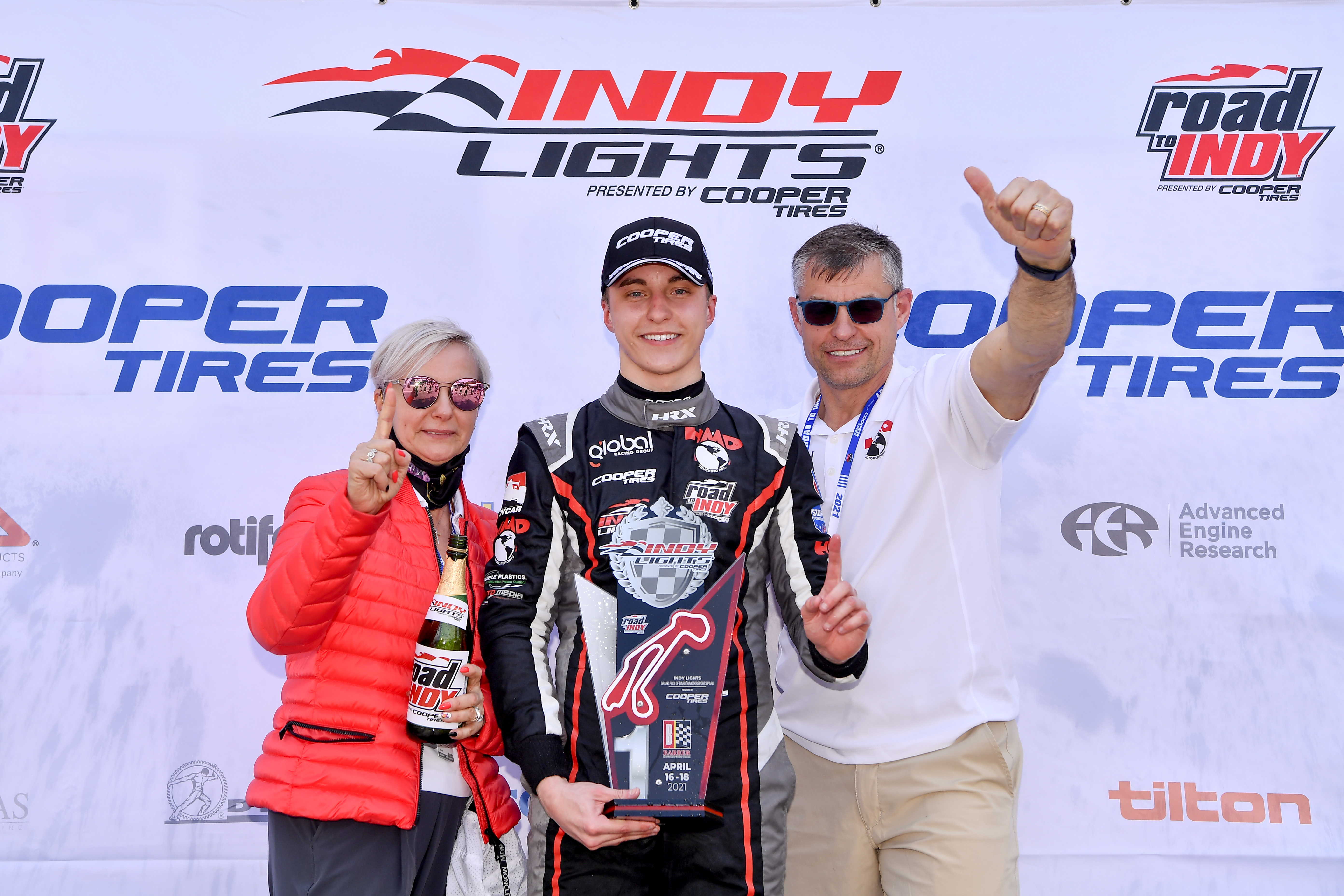 "Ever since he was a kid, my dad has been in love with racing, cars and just anything about it," Malukas tells The Race in an exclusive interview.
"But at that time, he was in Lithuania, and during his period, it was under the Soviet Union. So he never had the capabilities to go racing, it was more just kind of trying to survive over there. Just trying to get rations.
"So he did what he could, but as soon as the Soviet Union collapsed in '91, he came to the US, and, him and my mum, they built a very strong business and they were very successful.
"And so now he kind of lives his childhood through me. Of course, I love racing too. He's the one who introduced me to it and it's kind of just been my whole life since then."
Malukas races under the American flag for his birth country and "for the opportunities that we've been delivered" as well as the Lithuanian flag to mark his parents' heritage. He has each flag on either side of his helmet and on the belt of his overalls, and a split design on his engine cover.
"In Lithuania, '91 is still not that long ago. Now they're doing much, much better than back then," David adds. "But you don't really have many people from Lithuania that are in the racing community and doing these great things, racing in IndyCar.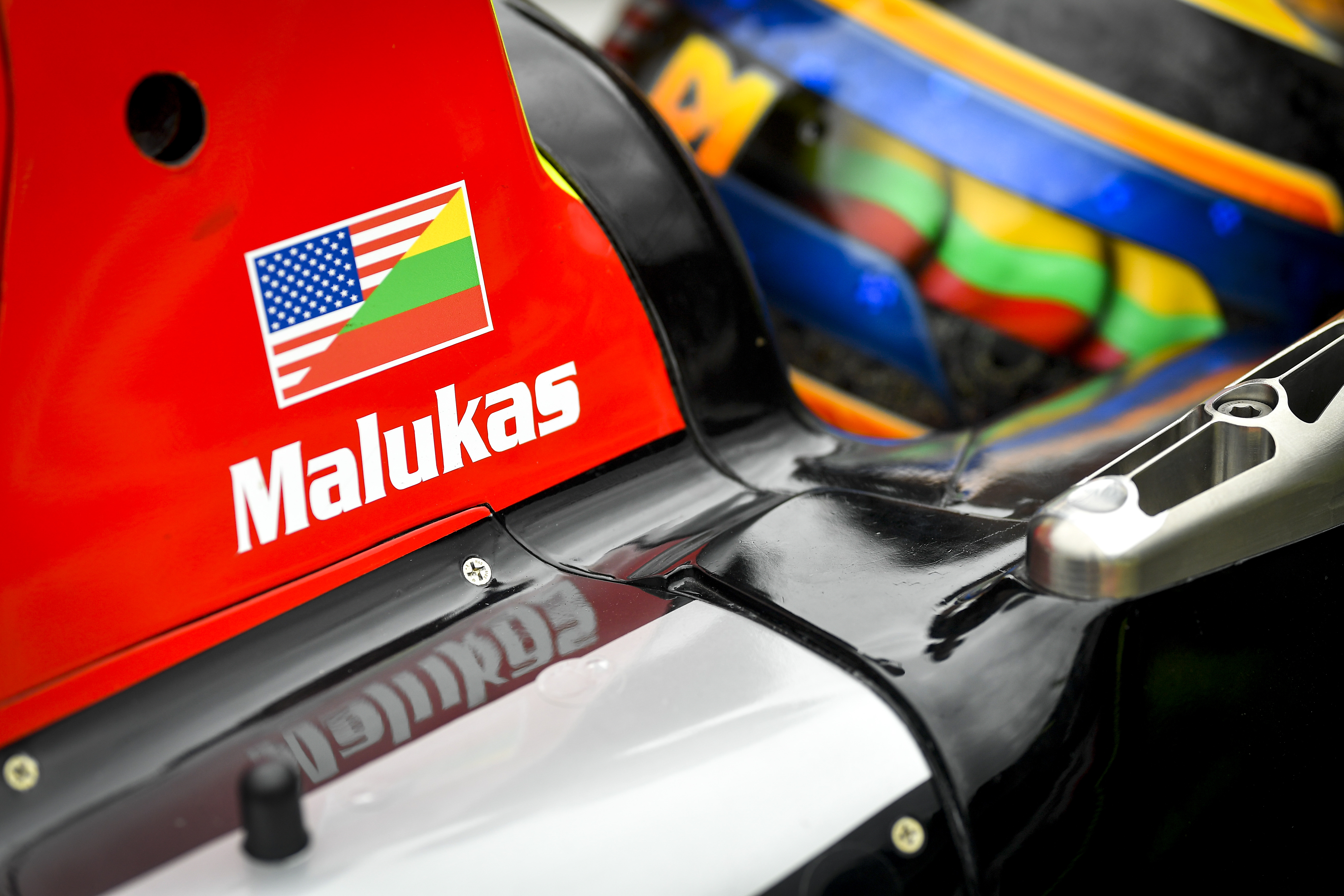 "So for us to represent the Lithuanian people, represent the flag and show, kind of bring this little country back out into the world and for people to be like, 'wait, who's that?' It definitely feels really good for my parents' side as well."
Asked if perhaps his IndyCar move is a chance for him to become a role model to inspire the youth of Lithuania – not generally as poor today as they would have been in David's father's day – to prosper, he adds: "I didn't even think about that.
"Imagining some little kid just looking up to us and then following that path. That would be, what's a word that's more than cool?!"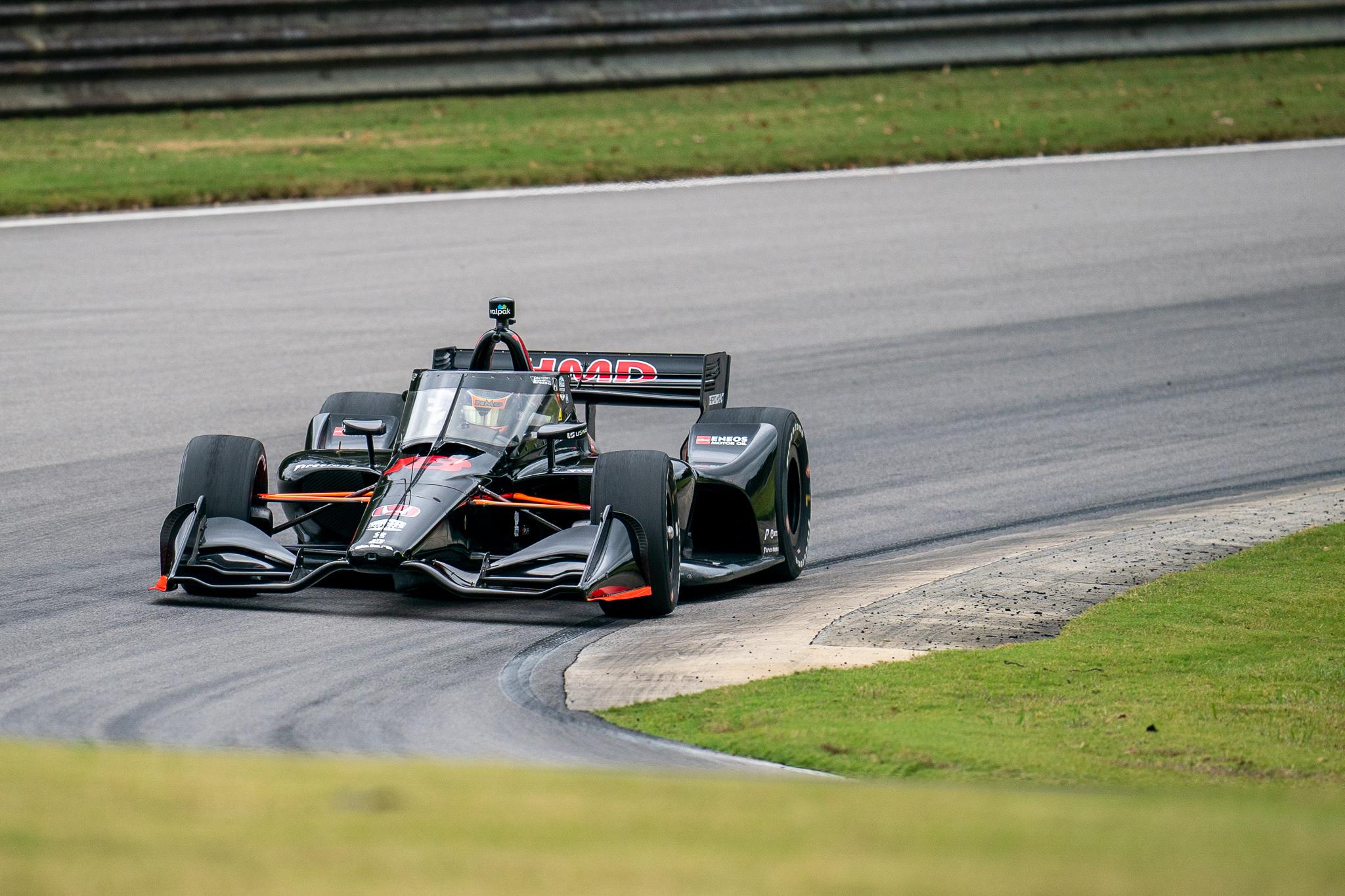 Not thinking about that impact probably shows off Malukas's relatively humble mindset given he comes from a wealthier background certainly than his father was able to grow up in, and a mindset that has led to a great following and many admirers in the States.
It's a brilliant story for the Chicago-born Malukas, who competed outside of the US in karting and briefly in UAE Formula 4 before returning to join the Road to Indy ladder.
He netted 10th in his first USF2000 season before moving straight into Pro Mazda where he finished fourth. For 2019 he jumped into Indy Lights and finished sixth, while he and his backers realised that trying to take on the might of the likes of Andretti and Juncos would be difficult in the small team which was once BN but now HMD, in the name of Henry Malukas's trucking company.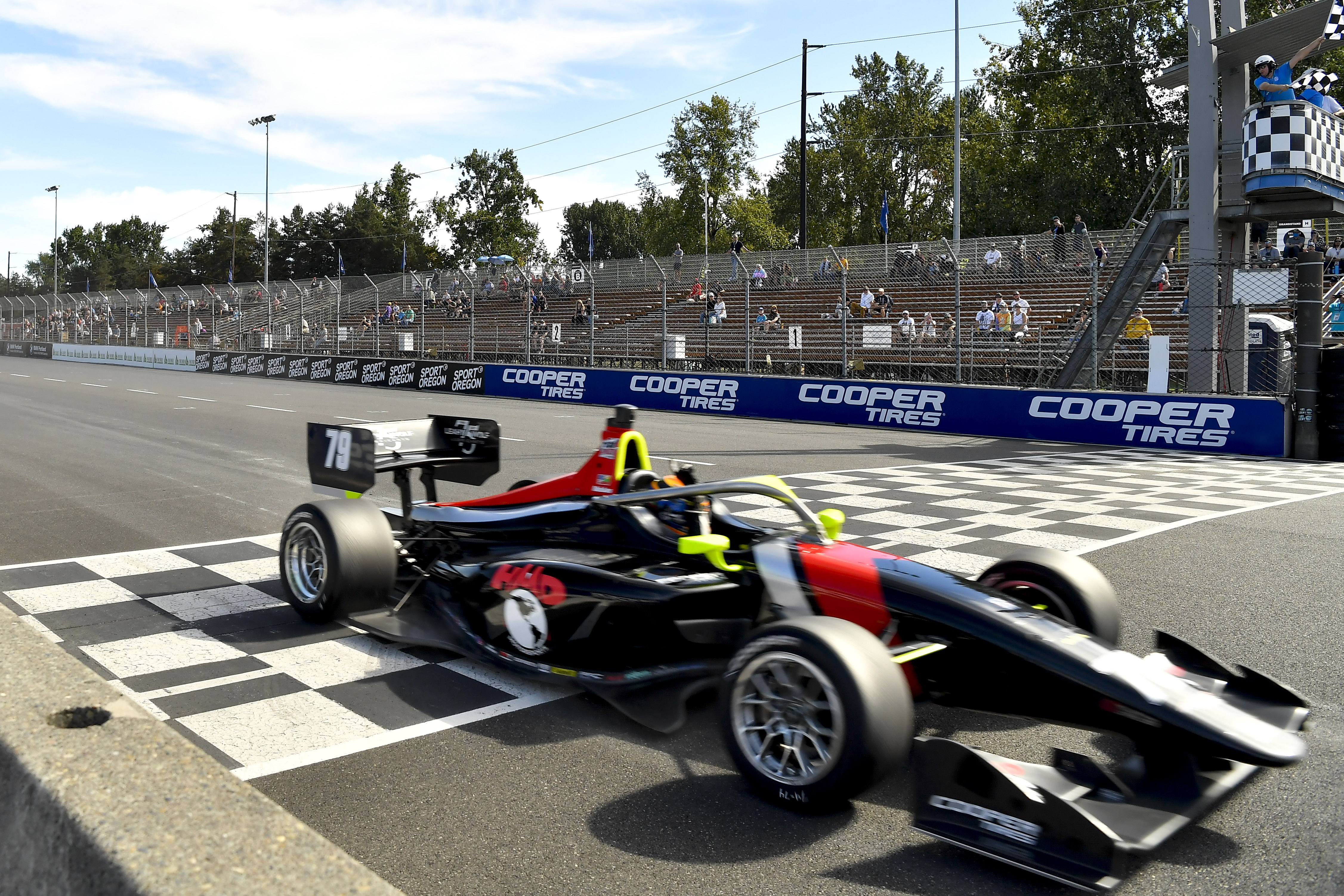 "Going into 2019 we didn't have any goals," Malukas adds. "We knew Indy Lights was going to be tough and it was a brand new team, with many of us not knowing anything about ovals. It was just a little bit of a, let's say, a chaotic disaster.
"That season wasn't great.
"The team had almost 100% turnover with the mechanics, the engineers and from top to bottom, and it just shows what having the right people can really do to a team and to myself."
Sadly Malukas never really got to show that change immediately as after one practice session at St Petersburg ahead of 2020, coronavirus hit and the season was postponed.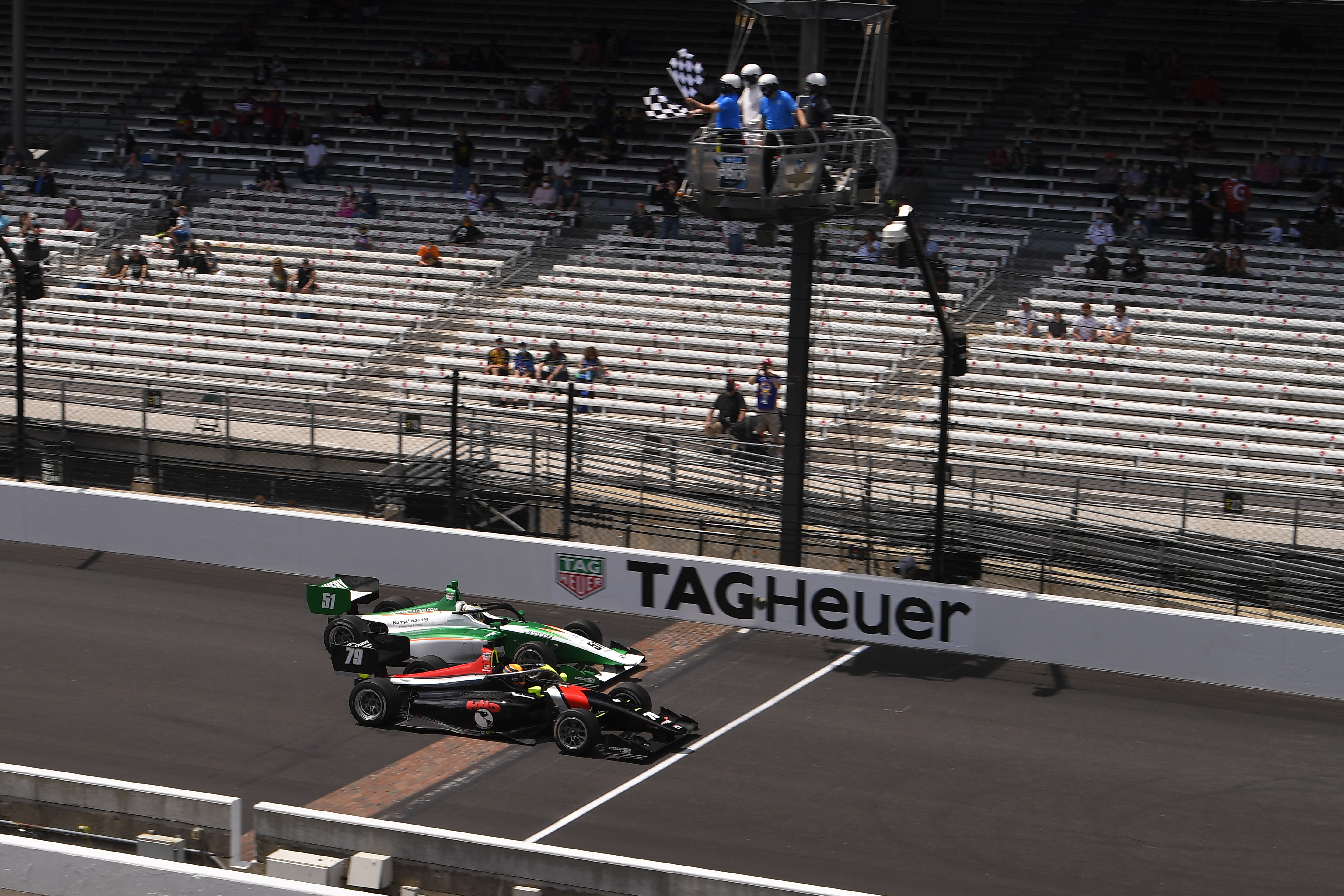 That did allow HMD the chance to make the most of picking up Juncos's old Indy Lights engineer, and the team tested through the second half of the season. Unbeknown to some given Malukas's relatively unimpressive resume up to this point and the team's lack of experience together, it was going to be a big challenger for all the spoils in 2021.
Indeed Malukas planted HMD on pole for the first race at Barber in 2021 but was taken out at the first corner by Kyle Kirkwood. It was the start of a ding dong battle where each driver would trade dominant spells.
Kirkwood may have cost Malukas the title, but was arguably the best thing that could have happened to him in 2021. Here's Kirkwood, who has now won each Road to Indy title in his rookie season and has an astounding victory rate of 31 in 50 on that ladder. Now he's off to AJ Foyt's squad in IndyCar.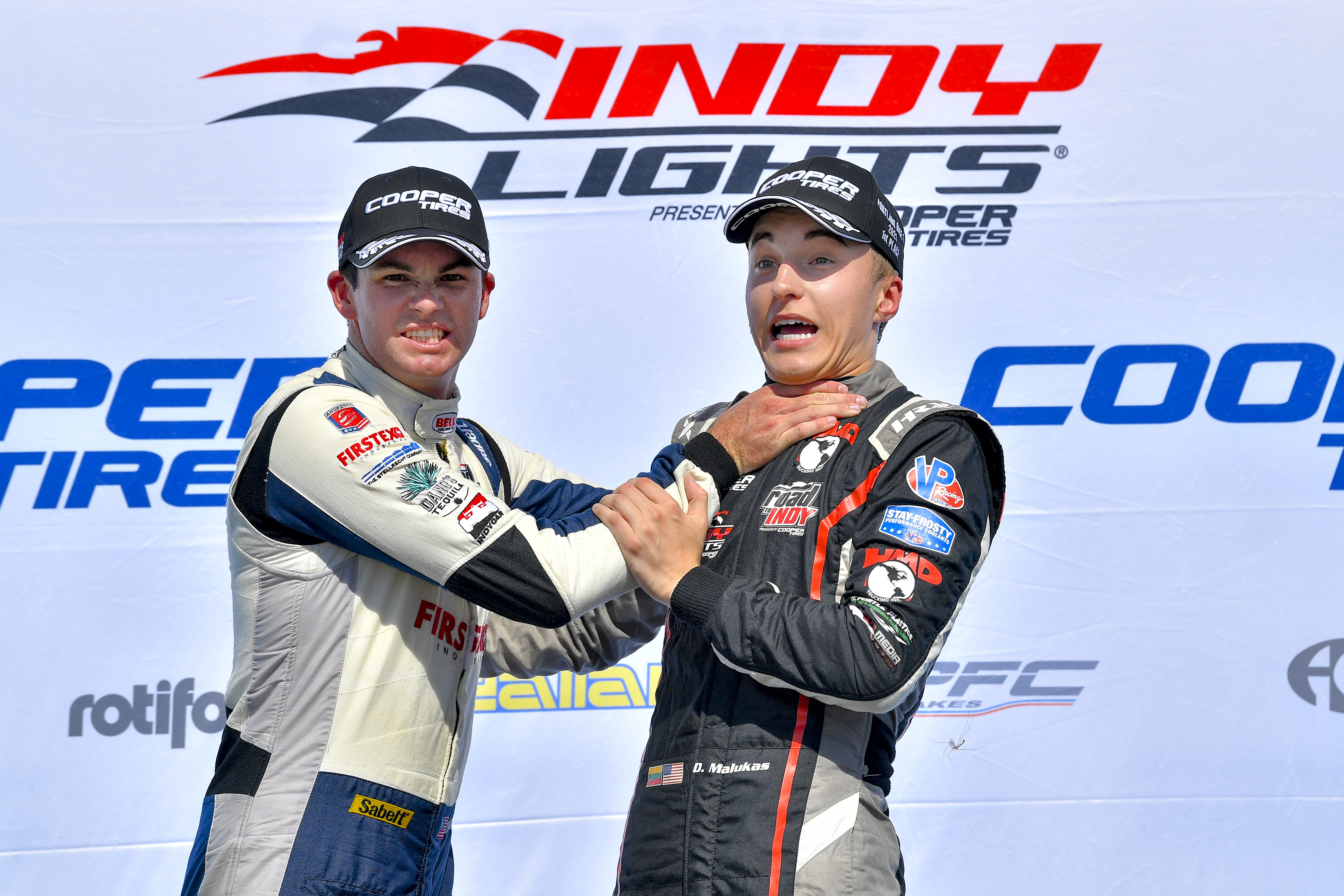 This season Kirkwood did indeed claim the title, but Malukas fared well, winning seven races (Kirkwood: 10), seven poles (equalling Kirkwood), had more podiums (nine) and finished only 13 points behind Kirkwood in the championship.
Malukas finished in the top five in all but two races, at Barber where he was last after the incident with Kirkwood and at Road America where he was clipped while making a good move for the lead at Turn 1 on the opening lap.
He was fourth in the Detroit opener and fourth in the first race at Laguna Seca, otherwise he finished the rest of the 16 races in the top three.
Given the new nature of the team against the Andretti powerhouse, and Malukas comfortably edging his highly-rated team-mate Linus Lindqvist – albeit in his rookie year – it was a brilliant season even if it was Malukas's sophomore attempt.
Kirkwood is the real yardstick though. He'd been linked to IndyCar seats at Andretti and a Formula E drive all year long, but Malukas pushed him all the way down to the wire.
"If Kyle wasn't in the scenario and we would do 2021, then maybe we would have won the championship," Malukas explains.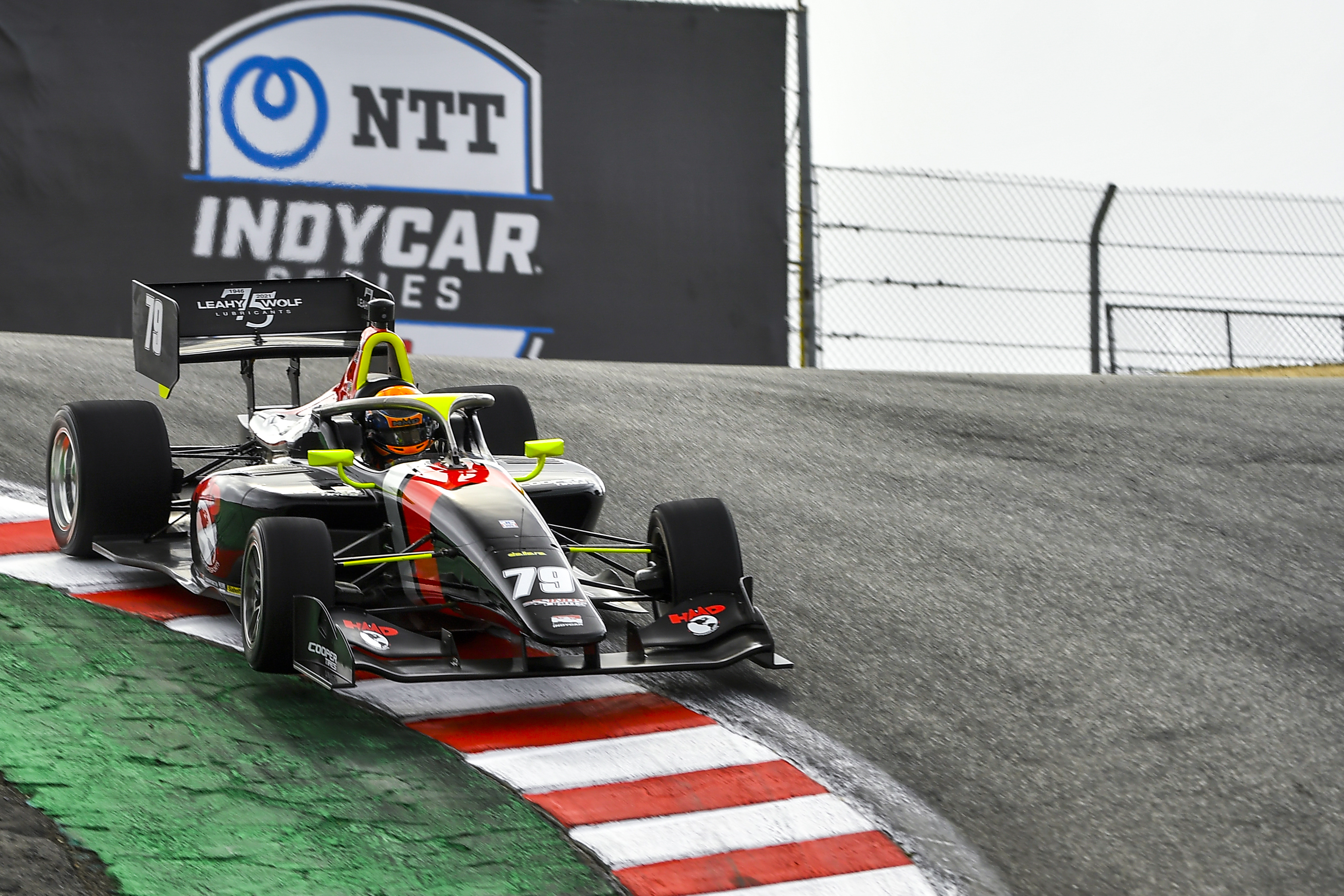 "But I look at it as if Kyle wasn't there, first of all, he's also given me a lot of representation because everybody knows Kyle is a very, very good driver.
"For him to come here into Indy Lights and then to see that I was a bit of a struggle for him, it really kind of brought my name out and everybody was like 'wow, OK so this kid seems to be pretty decent. He's given Kyle a run for his money'.
"And not just that, but I think Kyle has helped me push for every single race. I think we helped push each other. The championship was always so close."
Now Malukas joins the Dale Coyne team, having tested with it at Barber last month for his first experience of driving an IndyCar.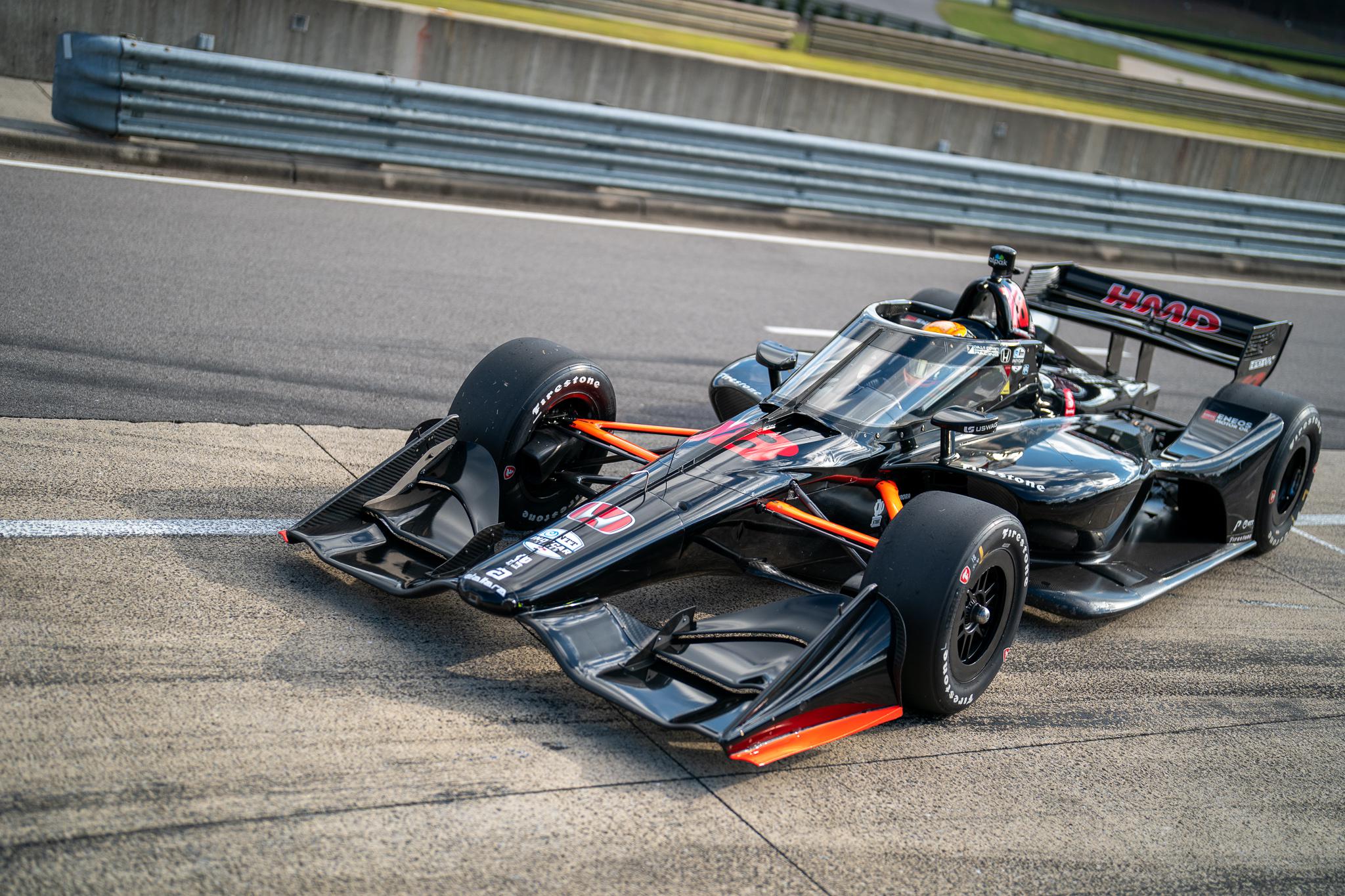 For a driver that has always had his own backing within a team, Dale Coyne makes perfect sense with its close-knit atmosphere.
But also, it's no slouch and proved this year what a team with limited resources can do with the help of a top driver in Romain Grosjean.
"If you look even further back from Grosjean they've had so many good drivers there, that are now in bigger teams, and they started at Dale Coyne," Malukas adds.
"We just thought as a new and upcoming driver I think Dale Coyne is almost the best option out of everybody.
"They're just so friendly to me. As soon as I went in there, I felt like I was at home, they made everything easy and if I was overthinking or a little bit nervous about something they really kind of just put me at ease and just said like, 'it's just a bigger car, that's it'.
"I did a test, everything went smoothly. I fell in love with the car, fell in love with the team right away. It was an incredible experience."
---
What next for Vasser Sullivan?
Dale Coyne with HMD Racing ushers in a new era, as Dale Coyne's partners Vasser Sullivan part ways.
Since the start of the 2018 season Vasser Sullivan has run a Dale Coyne entered #18 IndyCar, first for Sebastien Bourdais for two years, then for one with Santino Ferrucci and finally an ill-fated year with Ed Jones.
IndyCar champion Jimmy Vasser and James Sullivan have long been rumoured to want to start their own team, and Malukas's family business allowed the perfect scenario for all parties involved to take the next step for them.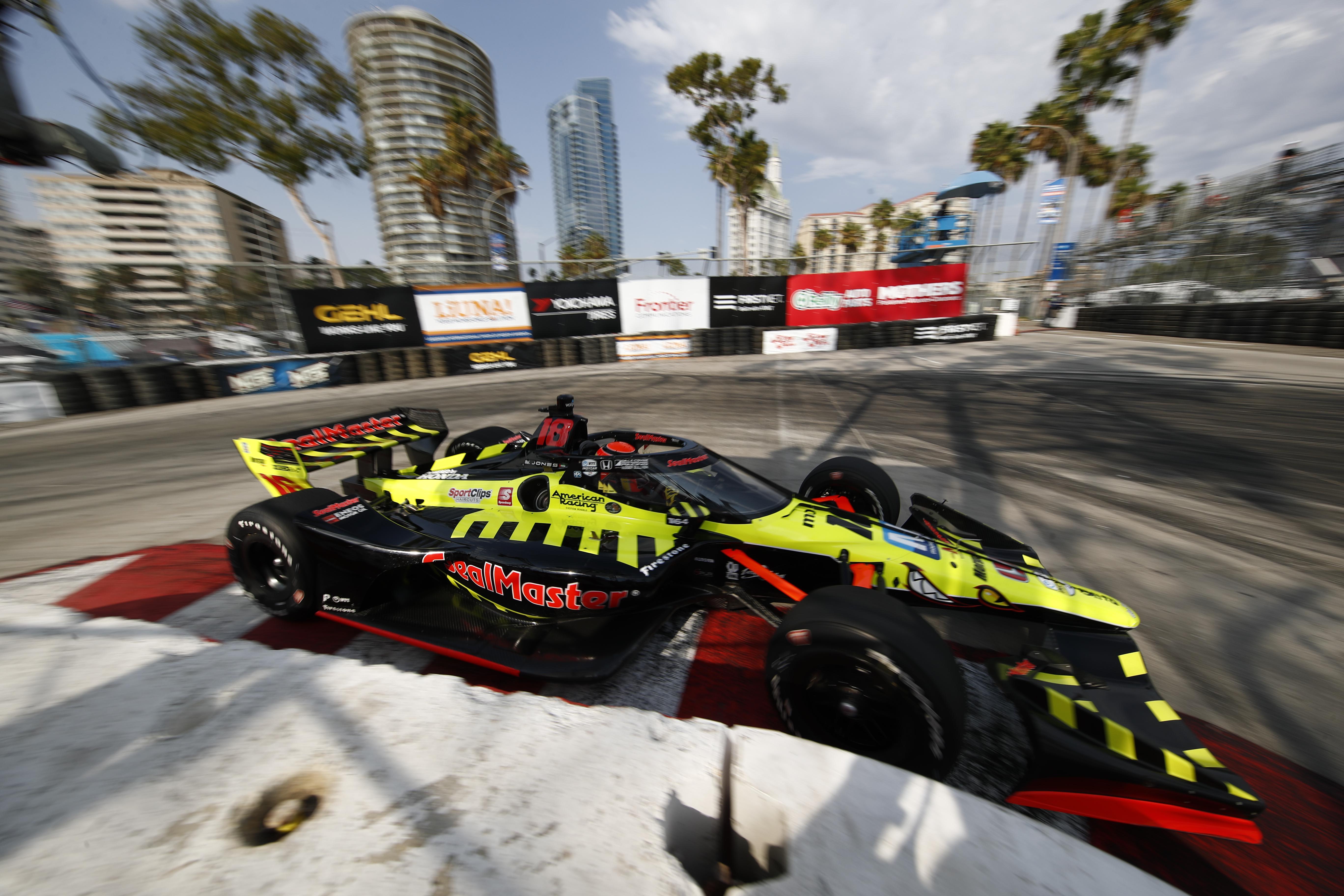 Vasser Sullivan already has a successful IMSA GT team and has much of its own equipment. It could still link up with a team for 2022 but more likely perhaps a standalone entry in late next year or 2023.
The team won its first race, with Bourdais at St Pete in 2018, and scored two further podiums but could only finish 19th with Jones in 2021.
---
Part of the reason Indy Lights drivers can prove to be so successful in IndyCar is because the Lights car is notoriously on a knife edge and you really have to grab it by the scruff of the neck, "balls to the wall", as Malukas puts it.
That means he feels well prepared for the still aggressive but not quite as 'Indy Lights' IndyCar he'll race next year. For Malukas, he's less worried about his driving and more worried about making sure he's well prepared physically, adding he'll either be "like John Cena going into it, or not prepared!".
There's no doubt the fans and sponsors will take quickly to the likeable 20-year-old, and all that's left is to see how quickly he can adapt to IndyCar.
If 2021 is anything to go by, the series has another fun, competitive and aggressive driver for the American market in IndyCar to get behind, and the Lithuanian people have a rival for Indiana Pacers basketball player Domantas Sabonis as its most-loved sportsman in Indianapolis.