Now that the Andretti to Formula 1 talk seems to be over, perhaps the team can turn its total attention to its IndyCar form, which it hopes to turn around in 2022.
The foundation for that has already been laid as it signed Romain Grosjean and rookie Devlin DeFrancesco in a bid to freshen its driver line-up with Ryan Hunter-Reay and James Hinchcliffe exiting.
It really was a shake-up that was needed as some might not realise just how far Andretti has slipped at the sharp end of the IndyCar grid.
Despite anticipation over slimming down to four cars in 2021, which it was expected would help refocus and find better results, it had the worst average finish of the IndyCar 'big three' across its four cars in 2021, with an average race finish of 13.8.
That compares with 10.7 for Ganassi and 10.9 for Penske, the other two teams in the traditionally dominant trio.
To make matters worse, title contender Arrow McLaren SP (12.35) and consistency king Rahal Letterman Lanigan (11.05) had better average finishes across their two cars than Andretti's mega operation.
---
'Big 5' team stats in 2021
Wins
Ganassi 6
Andretti 3
Penske 3
AMSP 2
Rahal 0
Poles
Penske 5
AMSP 3
Andretti 3
Ganassi 2
Rahal 0
Podiums
Ganassi 10
Penske 10
Andretti 4
AMSP 3
Rahal 1
Average finishing position per entry
Ganassi 10.7
Penske 10.9
RLL 11.1
AMSP 12.4
Andretti 13.8
Average points score per entry
Ganassi 393.25
Penske 389
Rahal 356.5
McLaren 346
Andretti 315.75
---
The more well known key stats you're probably already aware of; no title since 2012, no Indianapolis 500 win since 2017.
It's important to highlight we're not flagging these results and statistics to be hyper critical. Those working at Andretti know these are not the results the team is capable of and they themselves hold their own performance and that of the team to a higher level.
I don't need to tell you that it's not good enough, the team and drivers already know. And any criticism is par for the course when it comes to working for or racing for Andretti.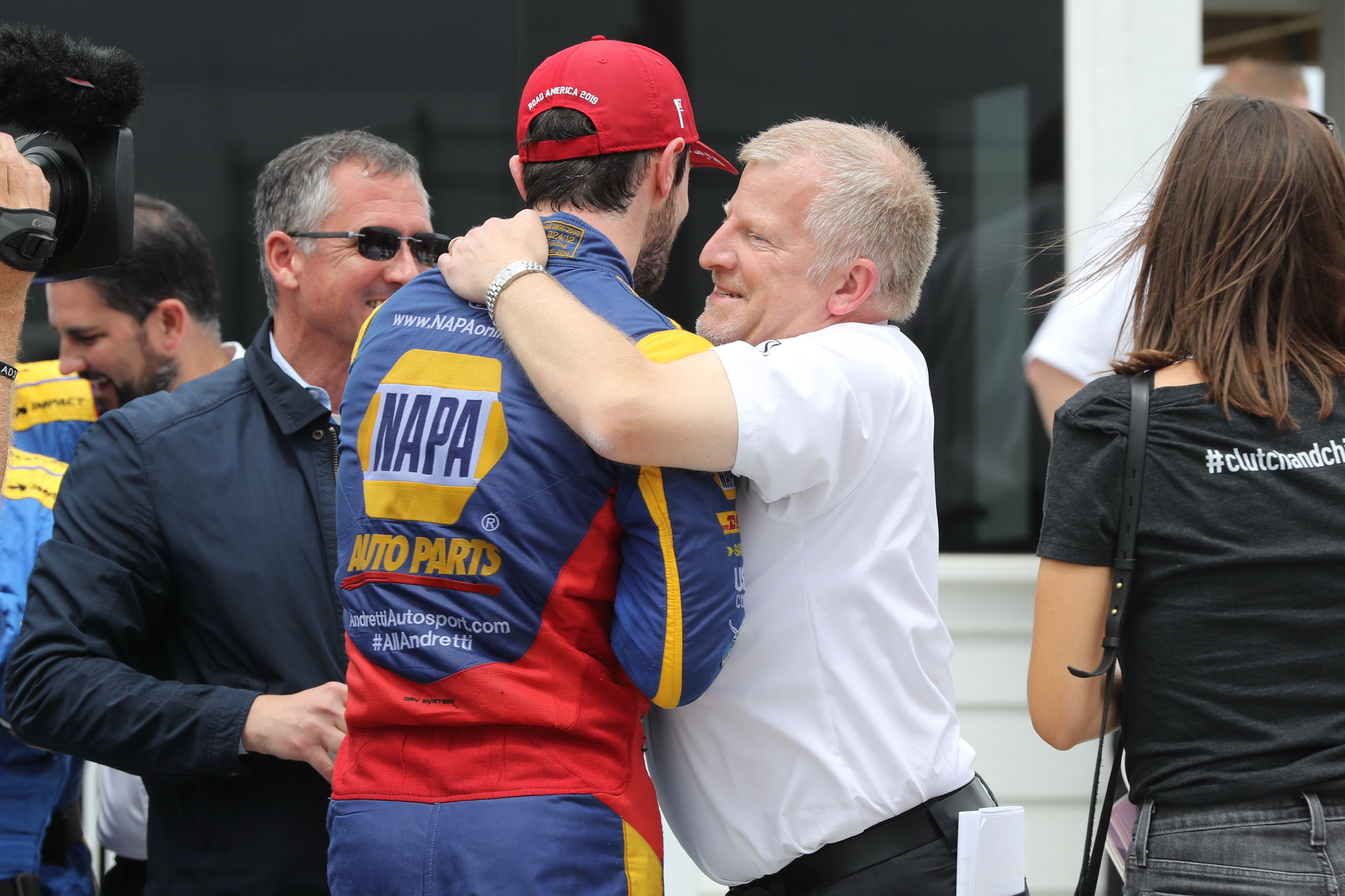 "When you work with Andretti there's expectations of the name, and everything else," Andretti Autosport chief operating officer Rob Edwards (hugging Rossi above) tells The Race in an exclusive interview.
"So when you're not achieving the success, the pressure is on, the pressure is on to deliver."
The team's recent form can be outlined like this; the introduction of the aeroscreen in 2020 threw a curveball at the team as it struggled to adapt its set-ups to the added weight high up and at the front of the car. It took until the end of the year when it was absolutely rapid over the last five races to break through and really challenge with all of its cars.
In 2021 people expected that form to be carried through, but it just hasn't worked out. Hunter-Reay and Hinchcliffe had dire seasons, while Alexander Rossi was 10th in the points and Colton Herta was its only real shining light as misfortune was the key theme of his year. Countless top fives slipped away and he's undoubtedly ready to fight for a title. Links to an F1 move were warranted, even if team owner Michael Andretti couldn't make it happen.
As with anything in modern IndyCar racing, people are looking for the golden bullet, the one thing that will fix the team's fortunes. But that is a myth, and when the teams are so tightly packed as they are in IndyCar, there's never any one reason for a lack of success.
Perhaps, and this is especially true in the case of Rossi – Edwards knows this better than anyone as his strategist – a change in philosophy can help with one of its biggest struggle areas: executing in a race.
"That's what makes IndyCar both so enjoyable and so frustrating all rolled into one, it's so competitive," says Edwards.
"The cars and the knowledge and everything have converged so much over the last few years with a relatively stable set of rules that we're all working to.
"Although the aeroscreen was added in 2020, the essential aerodynamic configuration of the cars has been the same since 2018 now.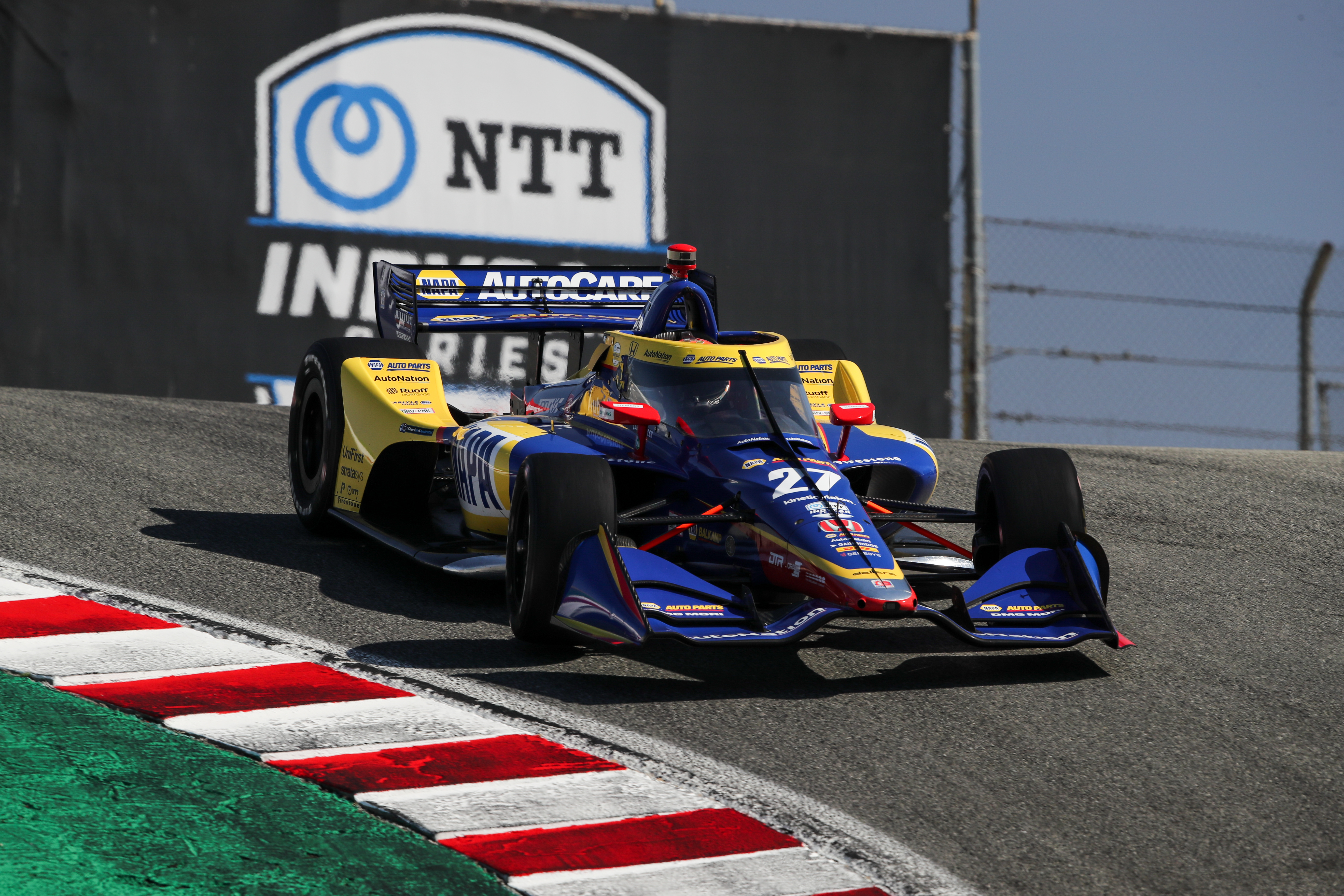 "So a bad weekend can be because you didn't progress out of your group in qualifying by half a tenth of a second.
"That's what makes it challenging, frustrating, fun all rolled into one.
"I think part of that is just making sure that you have consistency, that even on a bad weekend you minimise the damage if you will.
"So if you do miss out on that progress in qualifying, accept that it's not necessarily going to be a race win for you, but make sure it's a top five and make sure that you keep putting those points on the board.
"That's historically what someone like Scott Dixon has done so well, whatever is available on a given weekend, take what's available.
"I think that's maybe a little bit more philosophically where we need to get to.
'@AlexanderRossi is OFF!

Racing with teammate Colton Herta from second place! #INDYCAR x NBC x @peacockTV pic.twitter.com/mltI6RQbXq

— IndyCar on NBC (@IndyCaronNBC) September 19, 2021
"Maybe we've been very focused on that we want to win every race and of course you do because that's why you're in the business, but also [you need to] accept when it's not those days, then you need to take what you can take and think about the big picture."
The big picture is winning the championship and the 500, and anything less is a failed season for Andretti. Arguably the stat about it not winning the 500 since 2017 is moot as a car it engineered – run by Meyer Shank Racing – won the 2021 race. But it was Meyer Shank executing on the race strategy and pit stops, so I think the point stands.
At the 500, Andretti qualified on the front row with Herta this year but for the second year in a row it let the race performance slip away.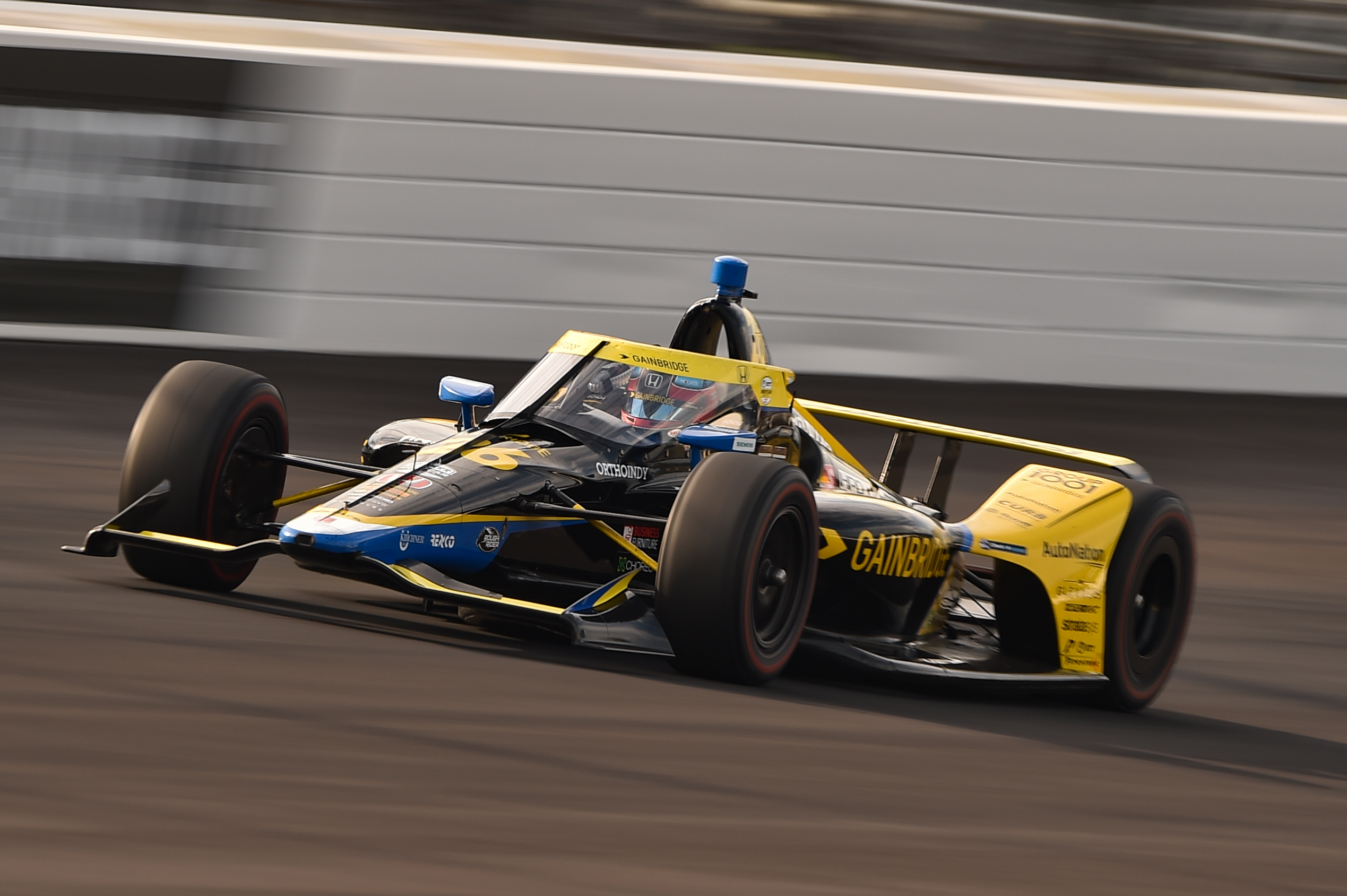 That's not the biggest issue of the event for the team though.
"The 500 is always important," adds Edwards.
"Our challenge there is the number of cars that we run. We work every year on trying to close up the tolerances so that all five cars are within the tolerances we set for performance both on aero performance and mechanical performance. By the nature of doing that, I think we move all the cars forward.
"I don't think there's anything particularly special when it comes to where we go next for the Indy 500, we understand what we need to do there.
"For a couple reasons this year, in the race, the results weren't what they should have been, based on the speed, but at the end of the day, it was an Andretti-engineered car that won the race so I don't think we need to do anything different, when it comes to how we're prepping the cars.
"I think maybe just in terms of the execution in the race of, to some extent, when the yellows come is an important part of that, you can't necessarily control."
The team will have at least two rookies come the Indy 500 in 2022, with Grosjean and DeFrancesco.
Grosjean was obviously a huge signing for the team on and off the track as he was one of the stories of 2021 with what he was able to do at the Dale Coyne team that has a fraction of the resources of Andretti.
His aggression on the brakes in particular stood out last season, and that's something his engineer Olivier Boisson confirmed is something he, Grosjean and Andretti will be working on in the background. Indeed, Andretti was asking Boisson about what they were doing at Coyne with the car.
It's here Grosjean might be absolutely vital in 2022, as the very area he excels in most is the area Edwards has highlighted as Andretti's biggest weakness heading into next season: road courses.
"At the end of each year we look at which type of tracks do we need to do the most work on," Edwards says.
"We looked at the end of 2020 and we felt we needed to do work on the on short ovals so like Gateway in particular was a track we highlighted that we needed to improve at from 2020 to 2021 and I think we did.
"Although the ultimate result wasn't there both Colton and Alex were certainly capable of a podium if not winning the race there, so we felt we found what we needed to there.
"Interestingly in our assessment of points we need to progress on, permanent road courses is probably the area we feel we have the most work to do.
"Which, given Alex's background in F1 before he came to IndyCar, and Colton's very much a road course racer, maybe makes it kind of surprising.
"But I think that's where having Romain onboard can help us there.
"From an engineering point of view that will be the focus this year: is trying to improve performance on the permanent road courses."
Ultimately it's difficult to sum up where Andretti has fallen short, but executing in races, adapting to track changes and mistakes from drivers have all been key issues that need to be addressed.
Especially when you look at the strength of Ganassi, which has a driver line-up that can put three cars in the top five every week, and the fact that Rahal and Arrow McLaren SP are what feels like minute steps away from becoming even more significant contenders.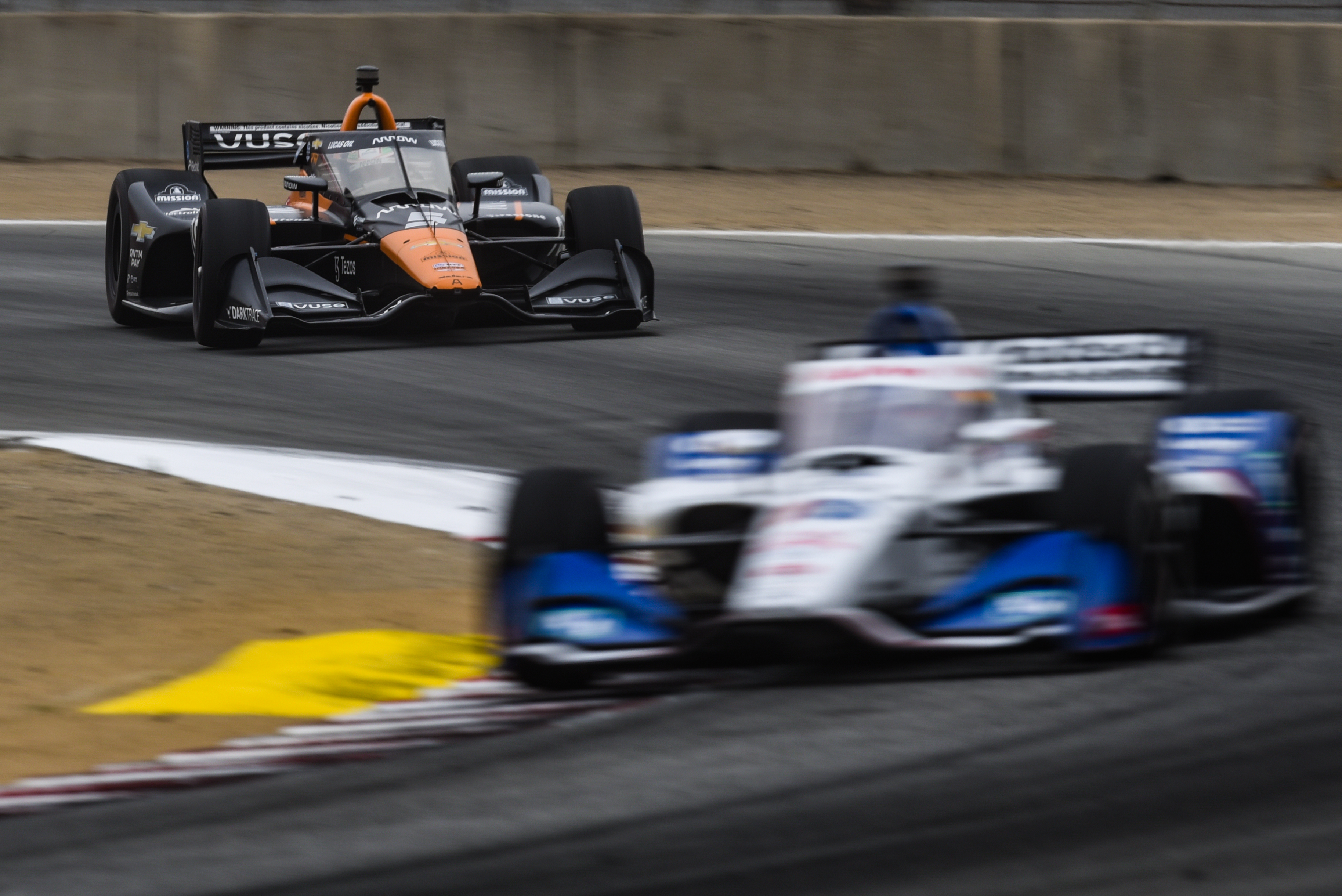 At least Andretti has followed Ganassi's lead in the driver department – arguably it's on par now – especially if Rossi can turn his fortunes around.
After being linked with a Penske move for 2020 he stuck with Andretti but has been winless ever since, having a nightmare 2020 and a marginally better on the results sheets 2021. Both years have followed a similar lineage with a much better second-half of the season making up for earlier struggles.
"I would say it's the same thing I talked about with the team as a whole," adds Edwards in where he and Rossi are looking to progress.
"If I look at the last half a dozen races this year, there were probably at least two if not three podium finishes that were there for us to have that really got thrown away through trying too hard to get second when third was the right result, or even when second was the right result.
"I think very much in Alex's case, the thing that he and I talked about a lot is, if you're in the top five every week or in the top three every week then the wins will come.
"While however many races it is now without a win is a big monkey on your back and you're trying to get rid of it, it's more likely to take care of itself if we just do what we know we can all do and not say it has to be this week or has to be this week.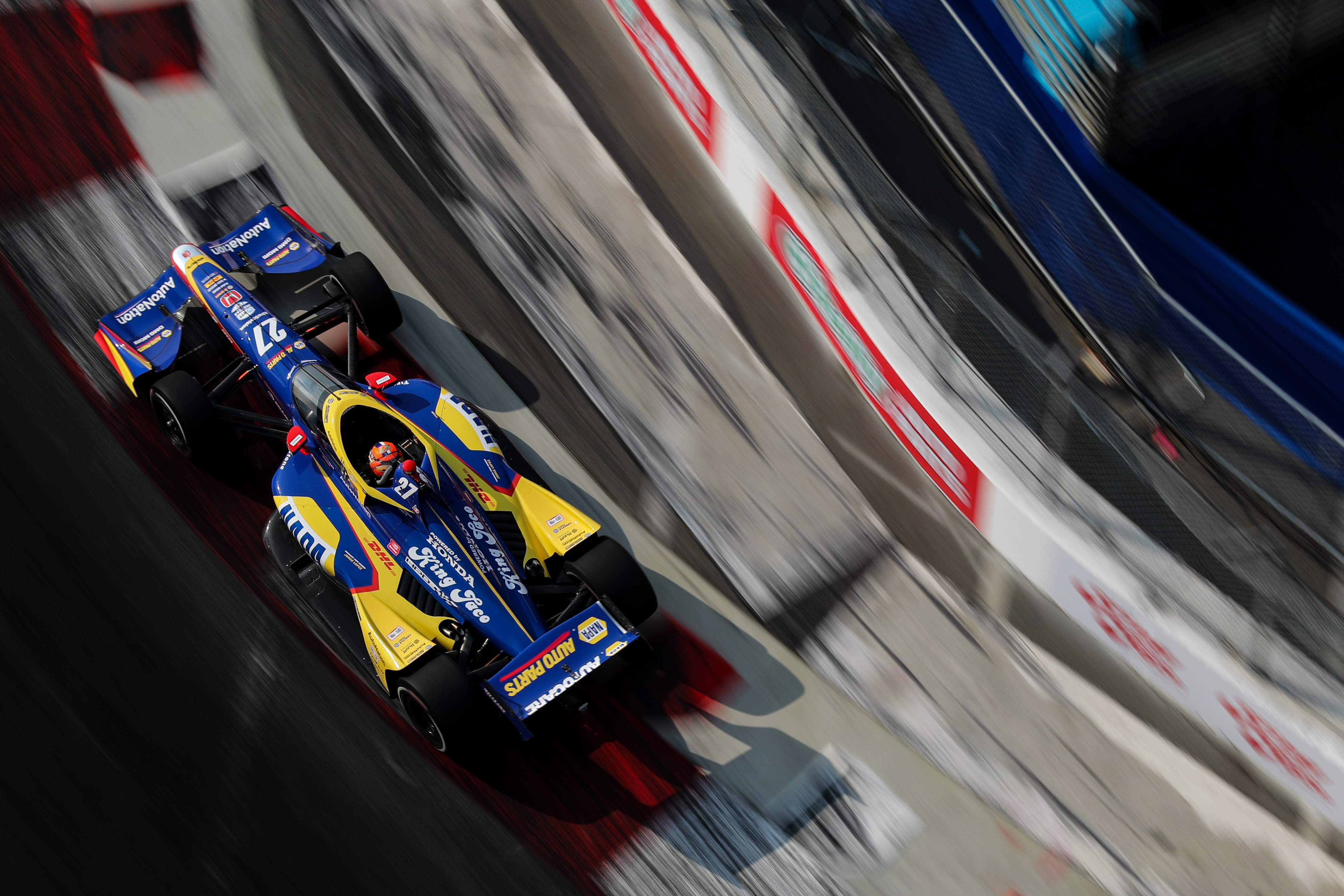 "I think that's partly why we've got into the hole we've got into. There's certainly been at least two if not three races that we easily should have won just by executing from where we were.
"We need to focus on not stretching too far would be the short version of everything."
One of the reasons Andretti's slump is so difficult to understand is because it appears everything is there for success on paper. It just hasn't come together in the way that it should have.
Significant changes to the driver line-up and personnel behind the scenes, coupled with a new Dixon-like philosophy, better race execution and stronger road course set-ups, and it looks like you are on to a winner.
The problem is, many of its rival teams are in a similar, precipice-like position on paper, and they may make a bigger step in the off-season such is the closeness of the teams and competition.
That's what makes the current IndyCar Series so entertaining, and the fact that smaller teams can compete on different weekends only complicates matters for the big guns further.
Like last season, Andretti has addressed many of its weaknesses heading into 2022. Whether it has made a big enough step, is what we all want to know the answer to.
At least the season starts early in February so we won't have to wait long to find out.