Do you know the last time a team-mate beat Scott Dixon? It was nine years ago! And that was Dario Franchitti, wrapping up his fourth IndyCar title.
That means anyone coming in needs to realise that getting anywhere near the freshly-crowned six-time champion is going to be extremely tough.
Alex Palou knows that. Following his switch from Dale Coyne Racing to replace Felix Rosenqvist at Ganassi for his sophomore year, he knows it's an uphill struggle.
But as an underfunded driver first forging a path to Formula 1 and then embarking on an IndyCar dream he thought would take much longer, you need a 'David and Goliath'-type attitude of always being positive and casting aside the doubters.
"Obviously, there's only one negative, and the negative is that it's gonna be super tough to beat him [Dixon] because he has so much experience and he just won the championship," Palou tells The Race shortly after his first test with the team at Barber last week.
"So he's the best at the moment. It's always gonna be challenging to beat the best. But I think that's the only negative.
"At the same time, it's a positive. I'll be able to learn from the best, from a guy that has almost, or maybe already has 20 years of experience in IndyCar, six championships, 50 race wins.
"I'll be able to see the data, the onboards, to talk with him, to chat with him, to learn everything I can from him – so I think it is a big opportunity that I never had before, to compare myself to the champion, and this year it's going to be possible.
"So yeah, I can't wait to really go out on track and learn from him. Also during the race weekend because we did some testing but obviously when it goes to a race weekend it's gonna be a lot different."
Palou had sort of bounced around middling teams for most of his junior career in various F3 formulae and F2. But a full-time switch to Japan in 2019 was where his path to IndyCar began with the help of Le Mans winner Team Goh, and team boss and ex-IndyCar driver Roger Yasukawa.
Three poles, a race win and third in the championship was enough to persuade all parties involved including Honda that Palou was ready for a bigger challenge, and after impressing Dale Coyne at Mid-Ohio and with funding from Team Goh, he reached IndyCar.
He's approached everything very sensibly and there have been many highlights throughout the season. However, ultimately he was beaten by his team-mate Santino Ferrucci and finished 16th in the standings.
Bear in mind Palou's job is to replace Felix Rosenqvist – one of the most respected drivers outside of Formula 1, and one who finished two spots behind Dixon in his rookie IndyCar year in 2019.
Given the results and the size of the task at hand, The Race asked if Palou felt he had earned his chance – after all, joining a title-winning team has come ahead of the schedule he and his partners had laid out when coming to America.
"It was a tough year, I think I did things that we were able to shine in almost every race," explains Palou. "Maybe in qualifying, maybe during the race or maybe during free practice that we were able to really do good stuff with the car.
"But obviously the results were not the ones I wanted or the team wanted. But lucky, lucky me that there's a guy that owns the biggest team that thought that I could win with his car, and that's Chip [Ganassi]. And I think that's what matters, right? If he believes in me.
"He believes that I can do really good stuff for the team. I know I already believe in myself, I think every driver believes so much in himself. But knowing that one of the big guys really trusts in you and gives you one of the most historical cars in the field, it's amazing."
There are a number of interesting coincidences in this Palou move. Firstly, he'll take over the number 10 car, which was Palou's first racing number in karts.
Did you know No.10 was the first number I raced with? 😳#ThrowBackThursday pic.twitter.com/VUtKKpeX04

— Alex Palou Montalbo (@AlexPalou) November 5, 2020
Secondly, he knew of Ganassi's motto – Chip likes winners – even before he came to IndyCar.
"The thing about Chip – this is going to sound crazy – but, it was the idea I had already from before coming into IndyCar [to drive for Ganassi]," adds Palou.
"I don't know why but I saw a documentary, and some interviews about Chip. He has a motto, that he likes winners, and I had a connection where I was like, I need to drive for this guy. He loves racing so much and that's his only business, right? I was at the shop for two days and he was there, just asking the guys for stuff and so he really likes racing a lot.
"He was a target for me, to go there, and it's going to be a target to win."
Ganassi has showed a lot of faith in Palou. The Indy 500 weekend was a big turning point in teams taking a look at the Spaniard but really the deal to switch to Ganassi wasn't done until Rosenqvist revealed he was leaving for Arrow McLaren SP in the build-up to St Pete.
While Team Goh are still backing Palou, he's not paying for the seat outright and the part-funded drive is a huge opportunity few get in current IndyCar.
Wins will be tough. Palou didn't really get close this year, but then again he was driving for one of the smallest teams on the grid. He took just three races to score his first podium, set the fastest lap in the build-up to the Indy 500 and qualified in the top seven five times in 14 attempts. That's no mean feat given that there are three Ganassi cars, five from Andretti and three from Penske to fight each week.
Qualifying is actually where Ganassi will likely be working hardest this off-season. It's certainly what Dixon will be prioritising. His average finish was the best in IndyCar (not always the case for the champion with double points for some races) in 5th, but his average start was 9.1 and he hasn't scored a pole since the 2017 Indy 500.
Palou has also marked that out as a place to improve. The softer-compound Firestone tyres in IndyCar are notoriously difficult to coax into the correct window and it's always one of the things rookies struggle to get their heads around.
Where your F1 rookies usually come from F3 and F2 that use a similar degrading Pirelli, IndyCar's second tier Indy Lights uses a different make of tyre as Cooper helps fund the Road to Indy.
"For sure, qualifying is gonna be one of the big things to work on, just because as soon as you start on, second, third row, or obviously first, the race is way easier for everybody, for you, the team, the crew," Palou says.
"I think that's going to be our main focus. And obviously, Scott, he's maybe not like a superhero in qualifying – he's always qualifying good – but then he's the superhero of the races.
"Like if he starts, say, 12th, he makes the tyres work longer than everybody, the fuel last longer than everybody and he's always putting himself in the best position possible. So I need to learn about that.
"Lucky me, I'll be able to see everything he does. I'm gonna ask him, I'm gonna see him tomorrow at the workshop and I'm gonna ask him like, 'hey Scott, how are you doing this?!'. Hopefully he's in a good mood and he tells me!"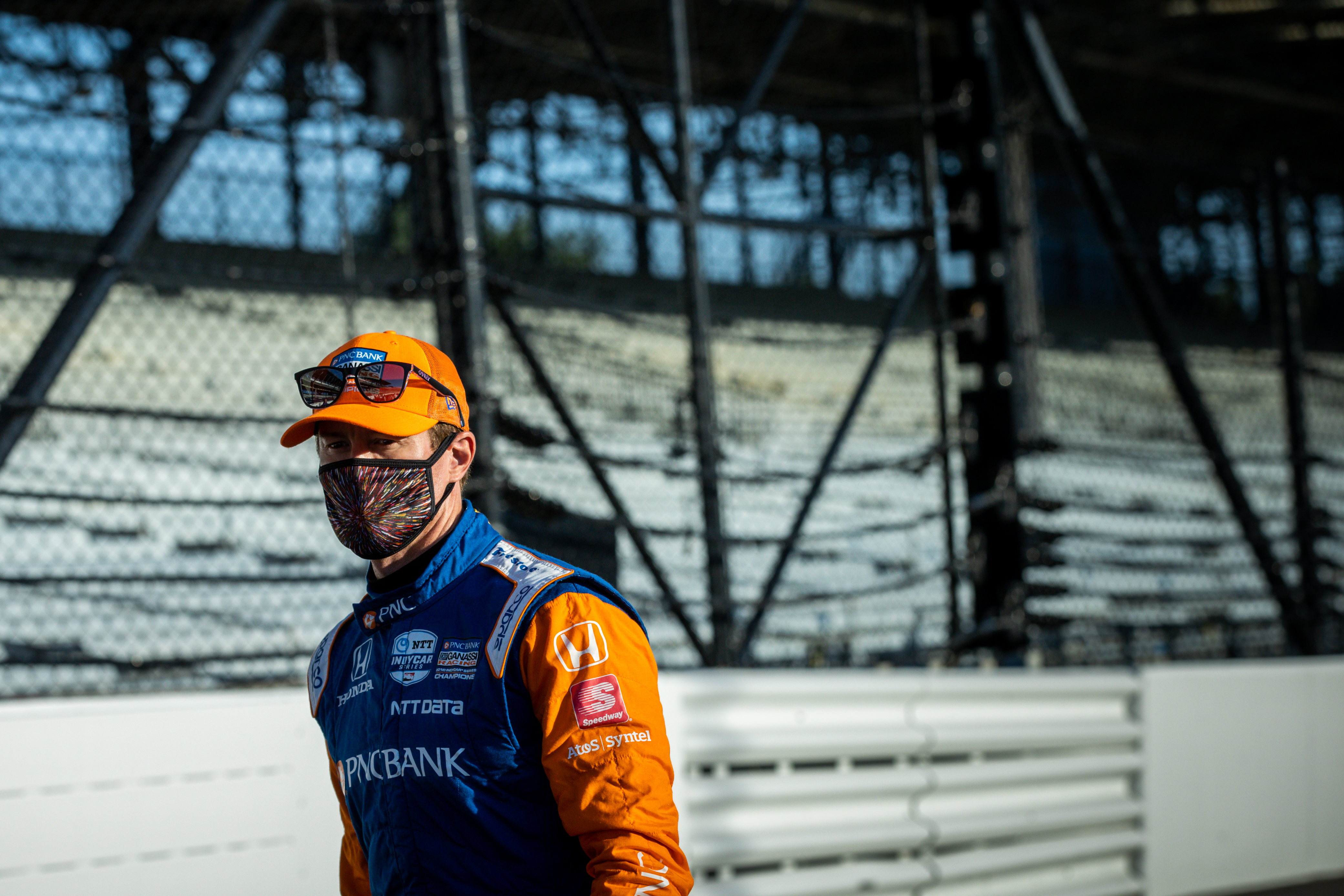 Working alongside Dixon and having access to his data is not a surefire route to success though as his team-mates' previous record has shown. A fair bit of the journey Palou will have to work out on his own. He's already made a good start with that.
The Barber test last week was the first step and he returned to the cockpit of the number 10 this week at Laguna Seca – another track which suffered a cancelled IndyCar race this year and therefore another Palou hasn't raced at.
And the Laguna Seca outing is likely to have proved just as important as Barber owing to the conditions at the latter.
Mom, I made it to The Corkscrew. 😛#IndyCar pic.twitter.com/SXrIuYiRT2

— Alex Palou Montalbo (@AlexPalou) November 10, 2020
"I still need to really test the car in, let's say, tough conditions because [at Barber] it was like super cold," adds Palou.
"Obviously when it's so cold you get so much downforce, everything is running so smooth that you say 'oh my God, this car is amazing. It has a lot to do with the weather that we had that day.
"I think it was a good day for me just getting used to the car, to the track as well. I never ran that track so that was interesting as well.
"I'm getting used to working with so many people because I was used to working with one or two guys and now it's like I'm working with 10 people at the same time! It's like, okay, if I want to say something, who do I have to talk with?!"
Moving to the States was always something Palou wanted to do regardless of racing in IndyCar and now he's found a home away from home – the latter being his Girona cafe, where he was when he was racing in the pre-season iRacing series on a simulator. He'll move from Texas, where he has lived this year, to Indianapolis to be closer to Ganassi's workshop.
It's all change for Palou and he has a monumental task ahead. Even if he can channel the flashes of brilliance he showed at minnow outfit Dale Coyne and in the F1 breeding ground that is Super Formula, he'll still have to beat the seemingly untouchable Scott Dixon.
One step at a time though. A top-10 finish in the championship is an achievable and sensible goal in his first season. Developing consistency in one of motorsport's most competitive series will be key to that.