There is little doubt that new Formula E champion Mercedes' peculiar decision to exit Formula E as a manufacturer just a few seasons into its programme rocked the all-electric championship last week.
Whatever the true reasons for the decision, and it looks increasingly like it was a convoluted mix of boardroom dust-ups, personality clashes and budget allocation squabbles, the final answer to the equation was never going to be pretty reading.
That is to say that, quite explicitly, Formula E started the season with four prestige German OEM's and ended it with just one.
The shockwaves are already subsiding though as the 'what now' questions are already starting to be answered in their own way, and quickly.
Mercedes EQ team principal Ian James had barely shrugged off his well-deserved title winning hangover when he spoke to The Race last Friday after a night on the tiles with his team to celebrate the 2021 double title success.
The buoyancy in that conversation was obvious.
Much in the same way that the corridors of Brackley shuddered in November 2008 when Honda dropped its F1 exit bombshell, the liferafts were already being deployed as opportunity replaced dejection.
Back then a merry band set sail and discovered new fairytales as Brawn GP and then became the all-conquering Mercedes F1 entity, which has excavated and heavily edited the record books ever since.
Could we then be heading for history repeating itself in a small way via a Formula E context in the coming months?
Some coincidences abound.
In 2009 Ross Brawn's eponymous team oversaw some aero and chassis consultancy work for the little known Formulec all-electric car which went on to complete a test programme with the late Jules Bianchi later that year. This was the pre-Formula E 'big bang' of sorts, a kind of genesis that caught the eye of Jean Todt and subsequently Alejandro Agag, who used the car as he honed his Midas touch.
History has a funny way of intertwining narratives, and as such, James is now looking to forge a phoenix-from-the-flames scenario. The goal is ensuring that what has and is being built on-site at Brackley has a permanent future in Formula E, albeit without the Mercedes-Benz name upon it.
"I think it's actually quite exciting now to be able to take a look at the different options that are available to us," James tells The Race.
"That can range from being a 'full-fat' manufacturer competitor as we are today with everything under one roof development, the team itself, and so on and so forth; as a customer team, in the same way as Venturi or Envision Virgin; then in between there are different ways of structuring in terms of how you do the development, how much you outsource and so on and so forth.
"Those are all of the options that we're now looking at but the decision has only been recently made.
"So what's helpful for me now is the fact that we've communicated officially, so that we can start to engage with interested parties and make sure that we're ready and hitting the ground running for season nine."
The Race has learned that Mercedes EQ's principal partners in the Formula E programme, Vestas and NEOM, were approached informally at Berlin about interest in continuing in some capacity into Gen3. The response, according to one insider, was wholly to the positive.
The work on the Gen 3 programme has gathered pace in recent months as the technical team has attended several technical working groups, and plans to bring over several engineering and operational staff from HWA are set to go ahead.
The staff, including new engineer Steven Lane, who was recruited from Envision Virgin Racing earlier this year, and Nyck de Vries' engineer Albert Lau, will all be blended into the Brackley team office in the coming weeks.
Those milestones are already set in stone. The ones after that, which include the future of the team, will be more far-reaching beyond the final full Mercedes campaign in 2022.
"If we're to continue as a 'full fat' manufacturer, with all of the development in house, then speaking openly, you really need to know that towards the end of this year, and have it all confirmed and wrapped up in order to keep with those development timelines," says James.
If that's not possible then that will also "not be the end of the world", according to James.
"You could have a sort of a bridging solution as a customer team at the beginning of Gen3, as well.
"All of that's going to be evaluated over the coming weeks, and then we'll take the decisions
"I'm pretty clear on what decisions we need by when. But if we haven't got the right solutions in place, or something that we believe is going to be the right solution for season nine by the end of this year, it doesn't necessarily mean that we have to stop at that point."
Right now there is clearly an intention for the manufacturer registration to be continued. But there is no precedent in Formula E history for one being re-purposed or re-named. In fact there seems to be little in the way of clarity on if a 'Team Brackley' of the future has to re-register.
While that is in the hands of the FIA the original manufacturer registration has not been retracted, at least not yet.
The Race understands that the next sitting of the technical working group will be in early October. Manufacturers will then have to place orders for development test cars and race cars for 2022 before the end of December.
There is a current expectation in Brackley that they will place orders for those new Gen3 cars, so in this sense the clock is ticking briskly.
The problem with motorsport programmes at this level, and especially with a new rules set on the very near horizon, is that you need a clear path and a clear scoping out of plans.
Whatever 'Team Brackley' may decide for its future this month's news will have a knock-on effect to future performance, and it is going to have to compromise somewhere.
Whether that's in testing, whether it's in design time, whether it's in cost (because they just have to pay twice as much to get stuff done in in a short timeframe), all are potential hurdles for the future.
Yet at the same time there will not be any panic just now, just mild concern. This is because should a customer model be preferred manufacturers are always reticent to offer their hardware to other manufacturer-related businesses.
Should the Gen3 entry materialise, and in whatever form, the team will still always have super close affiliations with Mercedes, not least as it is based in the same location.
On a similar level but a more existential topic, and looping back to where we started with Brawn GP, could the team follow a similar path in bridging one manufacturer to the other?
This is where some 'join the dots' thinking has conjured up rumours of a potential Lagonda entry in 2025.
Aston Martin's F1 team is based four miles down the road from Brackley and the links between Toto Wolff and that manufacturer are well-known in that he made a private investment in Aston Martin in April 2020.
Wolff acquired more than 14 million shares in the company, representing a then 4.4% stake. This though was reduced to 0.95% when more shares were issued to raise finance.
Additionally, Mercedes-Benz AG became one of the company's largest shareholders later in 2020 after a stated "expanded and enhanced technology agreement" was signed with Mercedes-Benz AG.
Mercedes-Benz AG's equity stake was noted as being "increased in several stages up to a maximum of no more than 20.0%", according to information publicly issued at the time.
Does this all point towards Wolff orchestrating scenarios to fit his own racing agenda? Probably not, but the fact remains that he has a possible decent asset on his hands with a Formula E team licence for the future.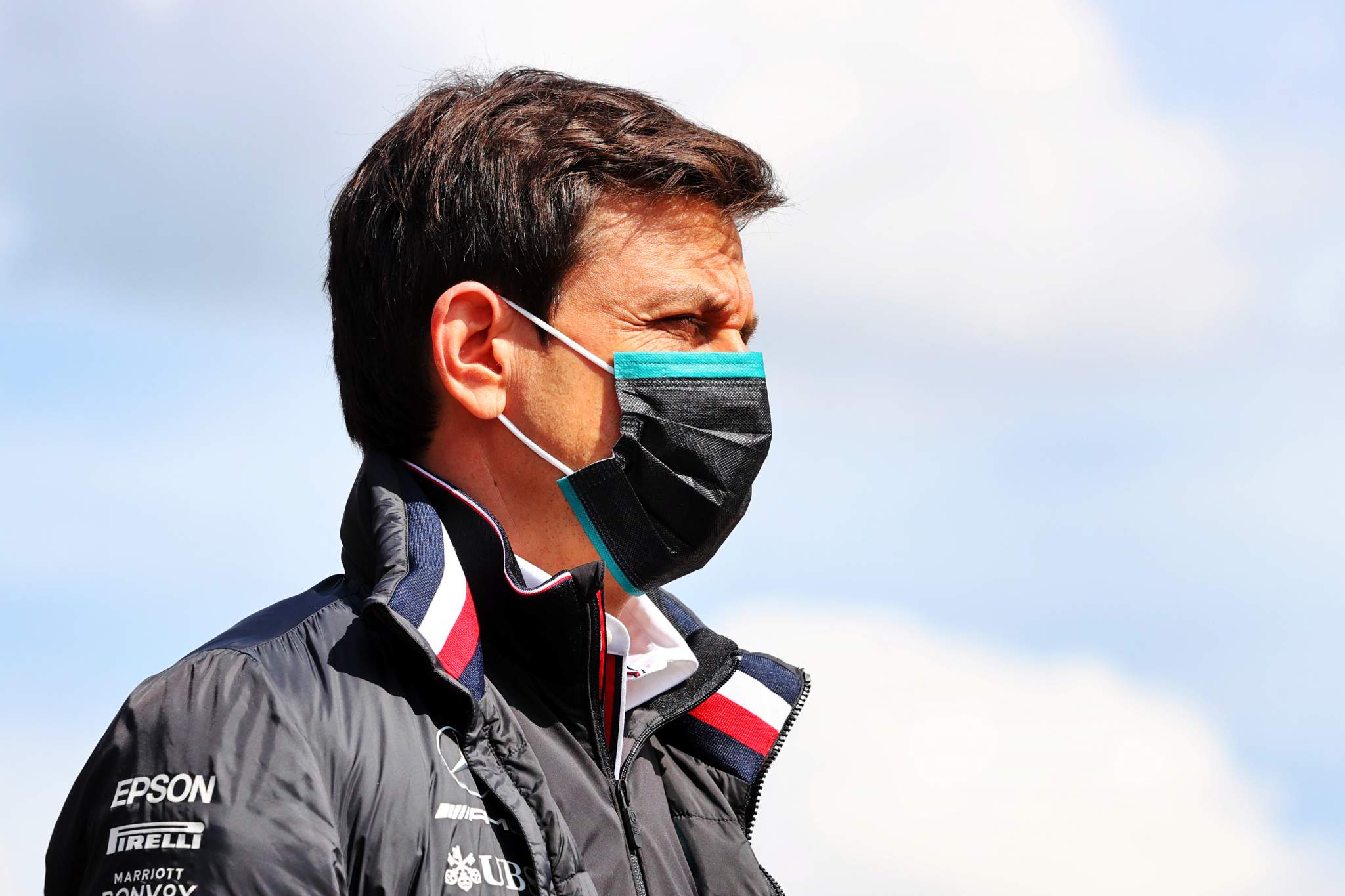 But that still depends on how the slot will be carried on. It didn't work out well for Audi earlier this year when it was forced to relinquish it back to Formula E after a sell-on deal faltered.
That slot is still fallow and highly unlikely to be filled for the 2022 season. So there are currently no givens for mutually beneficial transactions to take place.
The racing thirst, which was evidently so lacking within certain executives at Daimler, is at least there with the likes of Wolff and James around and for that Formula E must rejoice.
There is faith in both of them, certainly from a team point of view that the future, while not having the shine of silver upon it, can at least gleam with a similar lustre as Formula E enters its third epoch.