Antonio Felix da Costa has ransacked the rest of the Formula E grid in Berlin so far and it has earned him the title after a dominant start to the season finale week.
Never before has a Formula E title been won with two races to spare, so Sam Smith looks at five key reasons why da Costa achieved the feat.
Bumpy Start Triggered Turnaround
It was Jean-Eric Vergne, a driver da Costa had known since they raced together as teenagers in Formula Renault 2-litre a dozen years ago, who made an approach to da Costa over coffee at the Le Mans 24 Hours in June 2019.
Although Andre Lotterer did not officially notify DS Techeetah he was leaving for Porsche until after the Bern E-Prix a week after Le Mans, Vergne had already used some of his power in the team to help choose his next team-mate.
While da Costa agreed to become a DS Techeetah driver just before the New York E-Prix in July last year, he could not officially be announced or test for it until September.
A decent amount of testing time was utilised but at Riyadh last November a brake-by-wire issue in qualifying meant a poor start and limited him to a low-key 14th place finish on his DS Techeetah debut.
The next day it should have all come together for a first podium with his new team but a collision with an attack zone diving Sebastien Buemi earned da Costa a penalty and confined him to just a single point.
Did da Costa leave Saudi Arabia doubting his decision to move teams? He'd have been justified thinking so as while the hitherto unseen reliability problems played out at his new team, his former team-mate at BMW Alexander Sims took a brace of poles, a win and the points lead.
Then came Santiago and a mini post-race radio rant. Some tough love to and from his engineering team got dished out that day.
That came because of what he felt were mixed messages received from his engineer, David Ladouche. The post-race debrief was as animated as the radio messages but the comments were constructively used for the next two races.
His title foundation was really built in Mexico and Marrakesh where a hard-fought second and a breakthrough win in Morocco were accomplished.
Da Costa's confidence was up, and it set the scene for him to focus in the enforced interval and paved the way for him to hit the runway strongly at Tempelhof.
Location, Location, Location
Da Costa waltzed into arrivals at Tempelhof, executed a perfect take-off and then simply checked-out to leave his rivals scrambling for the departure lounge.
Formula E put on the Berlin residency with curveballs aplenty. Three different track configurations, washing the track and, as revealed by The Race, reducing the minimum tyre pressure after the first double-header.
None of this fazed da Costa, who proceeded to smash his rivals to pieces in qualifying and superpole for the first race. He was high on enjoying a previously unheard of 0.3s advantage over Vergne and just under half a second on anyone else.
The races were won at a relative canter and the shockwaves destabilised Vergne, who knew that for any hope of a hat-trick title he had to win at least one of the first races to even consider a chance.
The Tempelhof residency has definitely fast-tracked the title for da Costa, who ironically had often struggled at the venue before. His previous best result was a fourth last May.
Why the venue helped so much
Technically the DS E-TENSE FE20 is the most efficient car and the team had worked some brutal hours in the run-up to the races.
"We have done everything we can possibly think of to prepare and be prepared and it has been exhausting and draining," DS Techeetah team manager Nigel Beresford told The Race ahead of arrival in Berlin.
"If we don't win it will not be for want of effort or application."
DS Techeetah prizes the teams' title highly, perhaps more so than the drivers'. To win that back-to-back is a supremely impressive achievement that was cast by the team but moulded via da Costa.
Instinctive Feel
The unusual surface at Tempelhof perhaps combined in delivering a very narrow performance zone that da Costa proceeded to hit time and time again in the first four races.
The suspicion in the team is that he has such a natural feel and confidence in his talent that his driving style can find performance from the Michelin all-weather rubber like no one else.
It appeared to equate to around 0.2s at least over a lap in the first double-header and it ensured that no one had an answer.
When he and the team provided a similar advantage at the anti-clockwise track this current weekend, mouths were agape. The deal was complete and the title was pocketed.
Apolitical Approach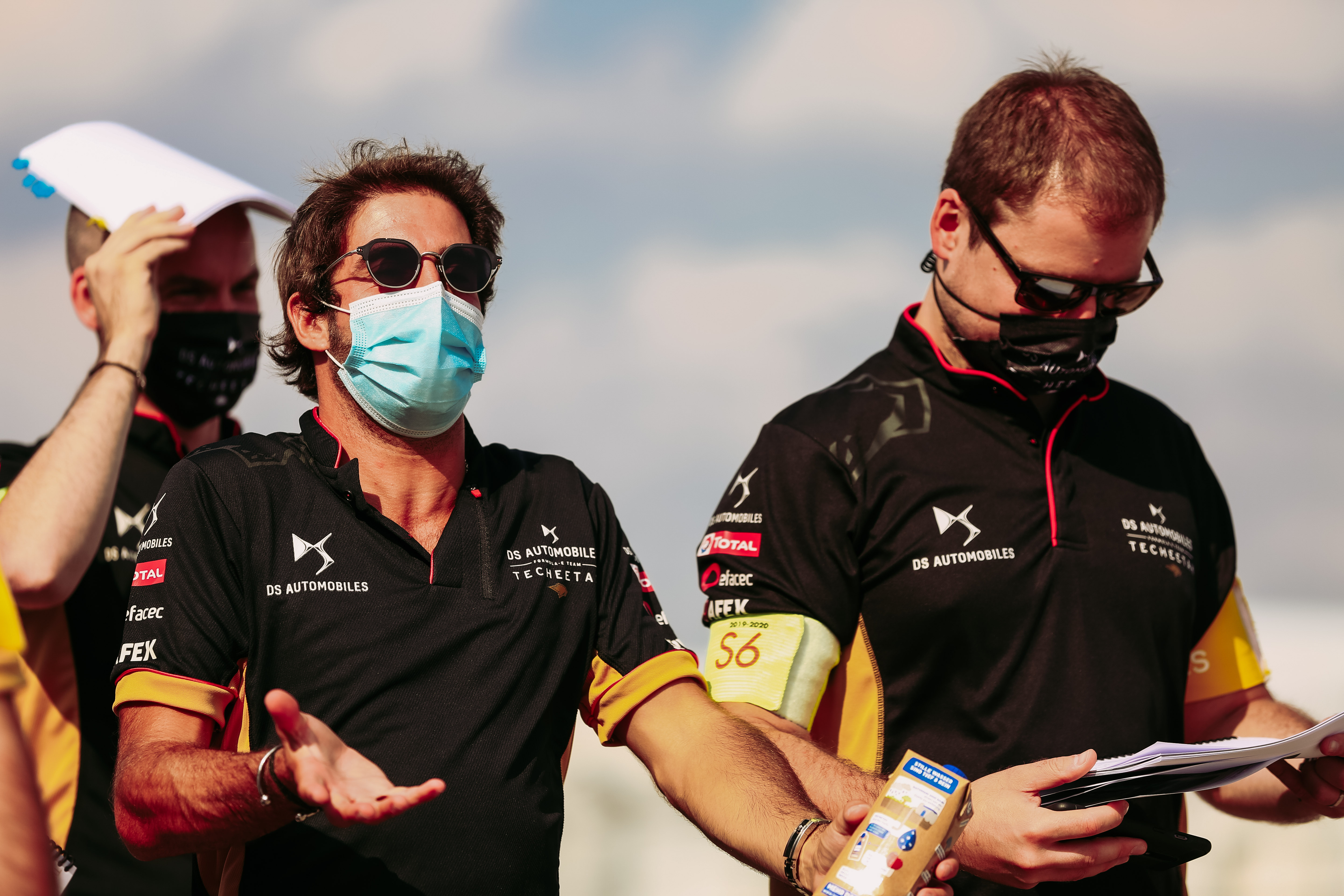 "Reverse psychology," said commentator Dario Franchitti almost instinctively when da Costa radioed through to vent a tiny amount of frustration as he again momentarily topped the times in superpole for today's race.
Maybe the three-time Indianapolis 500 winner was onto something here? Could da Costa be a 'Smiling Assassin'? Surely not.
You'll do well to find anyone who has anything bad to say about Antonio Maria de Mello Breyner Felix da Costa.
Affable and informal, he's a pleasure to interview, and the same is said of his professional relationships within teams.
It is perhaps natural that from the slightly stiffer environment of BMW, he flowered at DS Techeetah – which has a completely different make-up.
But as he's grown as a professional driver and seen the seams on the inside of the manufacturer canopy, maybe he's subconsciously used his personality to disarm his opponents.
It's possible, even if he is doing it without a plan, but this is very different from playing overt political games for personal gain – which he categorically does not do.
Da Costa is really smart and consistent, he's also got lots of brainpower that allows him the extra capacity to twist the dials, push the knobs and read the numbers, all of which are critical skills in Formula E.
For the Love of the Game
This may sound trite but Antonio Felix da Costa just loves to race.
Of course they all do, but there is actually something very pure in his joy for going fast in a racing car.
I was reminded of this in May 2019 when the 6 Hours of Spa was held in arctic conditions with sleet, hail and hell raining down on the drivers.
After the race I happened to be in the BMW pit. For the previous 10 minutes or so several drivers talked of dangerous conditions and the ludicrous lack of visibility.
Da Costa, flush of cheek, was in high spirits.
"Man, that was unbelievably cool, snow! Did you see the snow? It was amazing out there."
That kind of approach is underpinned by a pure love of the sport that sometimes, not always, can bring you a few tenths in itself.
DS Techeetah gained an incredible talent last summer but more importantly it gained a driver just ready to become a champion.