The 2023 edition of Formula E's Monaco E-Prix – largely as wild as predicted before being neutralised by a pair of race-altering safety cars – marked the season's first championship lead change since Diriyah, as Pascal Wehrlein finally ran out of points buffer versus momentum man Nick Cassidy.
Cassidy is, of course, high up in our winners' list, while Wehrlein's Porsche team figures among the losers. But both have plenty of company.
Winners
Nick Cassidy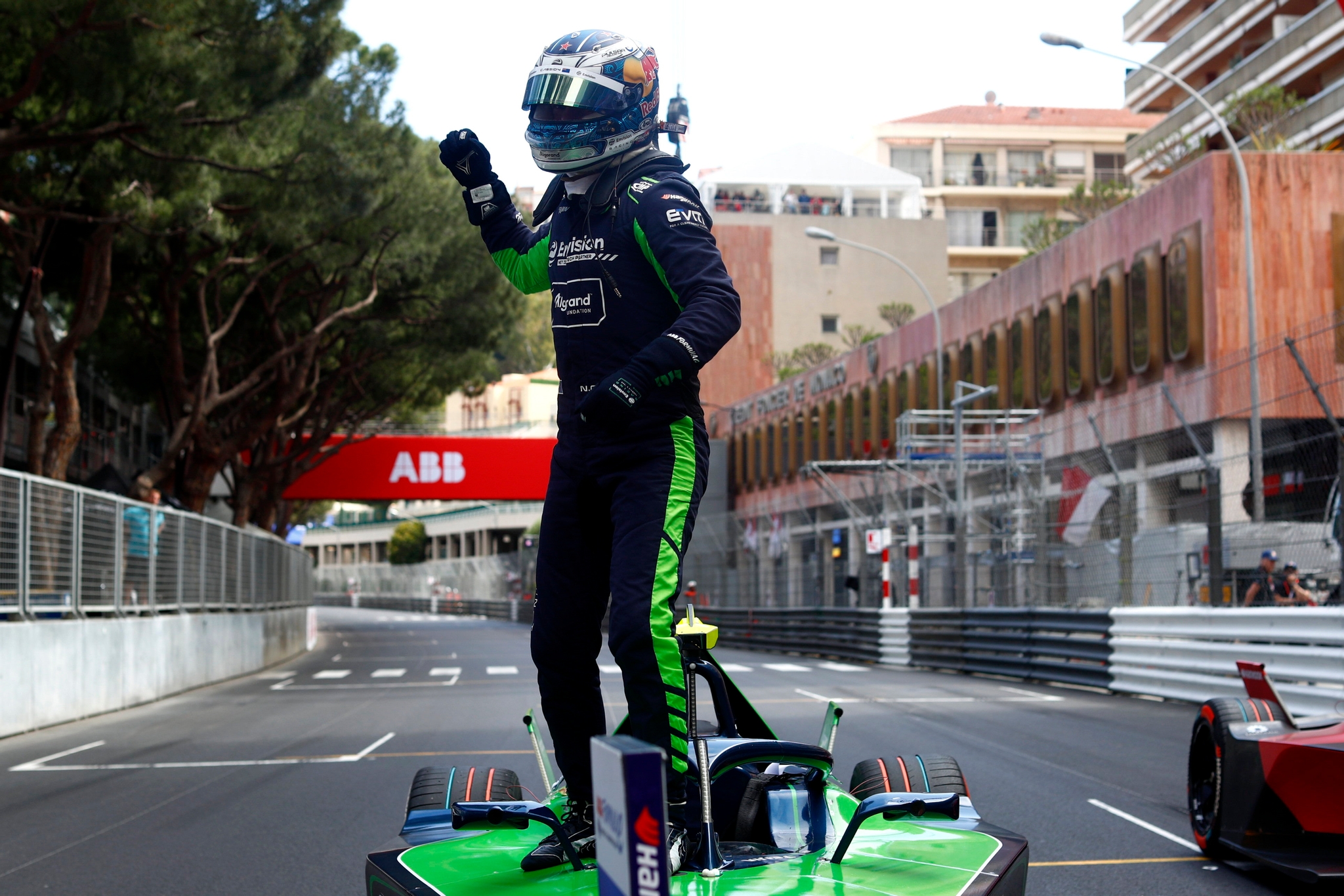 Has Cassidy been a total revelation in the recent races, or were the signs there all along that he is a championship challenger?
If they were then they were initially subtle pointers. But the fact remains that since Hyderabad, six races ago, his average points score has been an astonishing 18.5!
3 in 1 😮‍💨 @NickCassidy_ is on a charge through the pack and currently in SECOND! #MonacoEPrix pic.twitter.com/89uCgpUCzI

— ABB FIA Formula E World Championship (@FIAFormulaE) May 6, 2023
In any championship that isn't just champion-elect form, it's an unstoppable title steamroller.
History tells us that type of scoring simply can't last in Formula E. Yet, what his rivals need to be concerned about is that the Kiwi is getting more and more at ease with the ultra-strategic complexities of 2023 Formula E pack-racing.
The man himself is effervescent with quiet confidence right now, and counter-intuitively he's not needing another race next weekend to keep the flow going.
"We have some weeks' gap now, which is nice," he says.
"Look, I just really want to enjoy this moment. In Berlin, I got on a flight, one stop via Munich and home. Seat 25A.
"Looked out the window at the rain.
"And that was probably not the best celebration, so we'll do something better here."
If anyone deserves a hangover this morning, it's Nick Cassidy.
Mitch Evans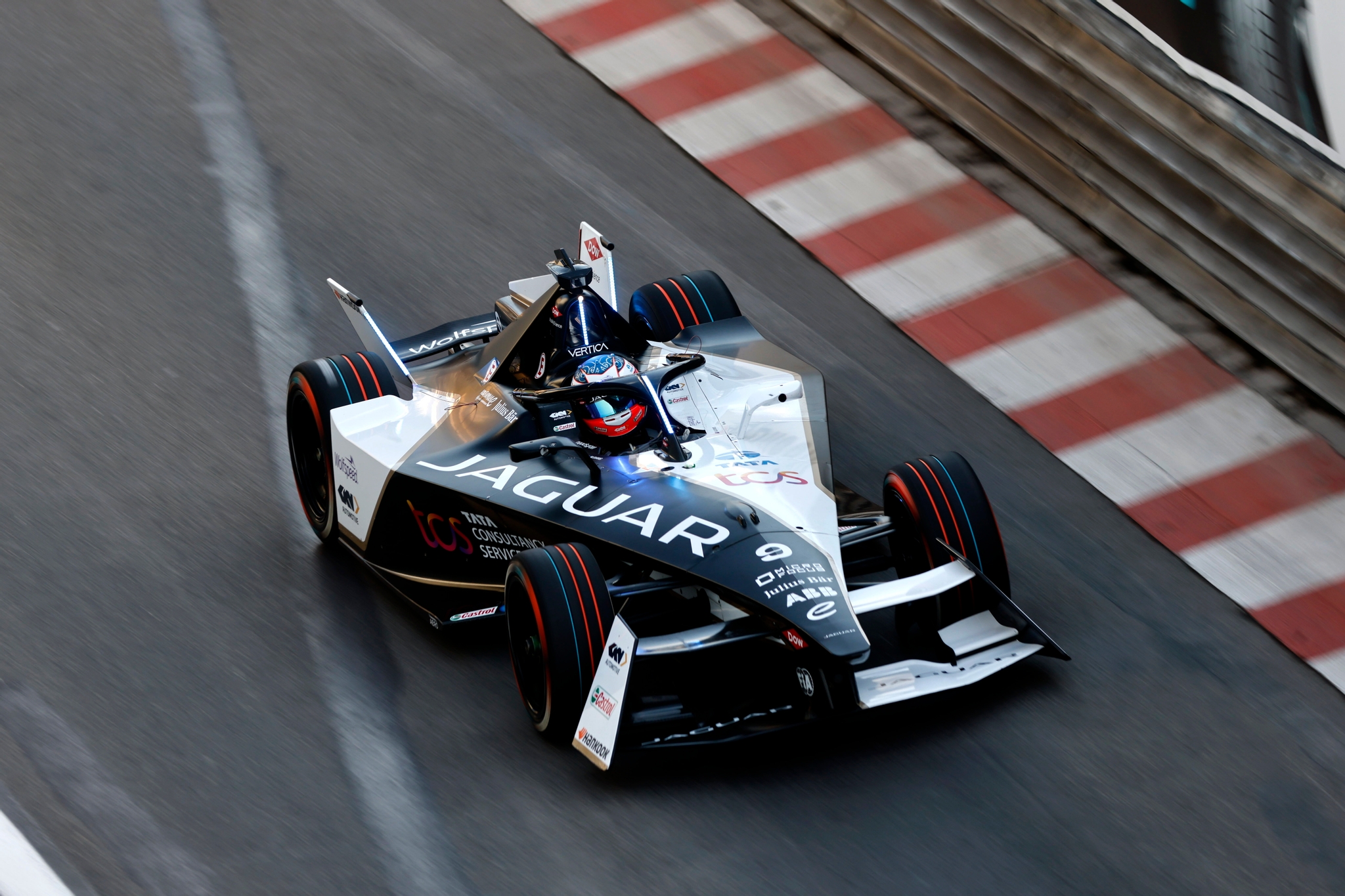 Again the bridesmaid at his adopted home race, Evans was left with a second runners-up position in as many Monaco races.
Throughout the majority of the race, he looked a likely winner. The only problem he had was a rich in-form fellow Kiwi, born just seven weeks after him and in a car structurally identical.
Crucially Evans picked up small wing damage when in battle with a stubborn Dan Ticktum. He didn't illustrate it pointedly but it did unsettle him slightly.
Still, as strategies adapted and Evans had to be patient it became clear in the final half of the race that his only real rivals were Cassidy and Jake Dennis' Avalanche Andretti Porsche.
Despite the image of Formula E being an easy overtake-fest at Monaco, the truth really is that outside of strategic lift-and-coasting moves, pound for pound it's still very tough in a genuine fight.
"I think if I did keep him [Cassidy] behind for a couple of laps, after that it would have been a different story," said Evans.
With his energy target starting to get "a little bit too high" and the lift-and-coasting points getting "a little bit too short" Evans' chances started to diminish. Then ironically his own team-mate Sam Bird inadvertently hammered the final nail when he nudged off Nico Mueller at St Devote to ensure the race ended under safety car.
"I had a few goes at Nick but he positioned his car well.
"Another almost for me this year, but I have to look at the bigger picture; 18 points is better than risking it all and there is still a long way to go in this championship."
Jake Dennis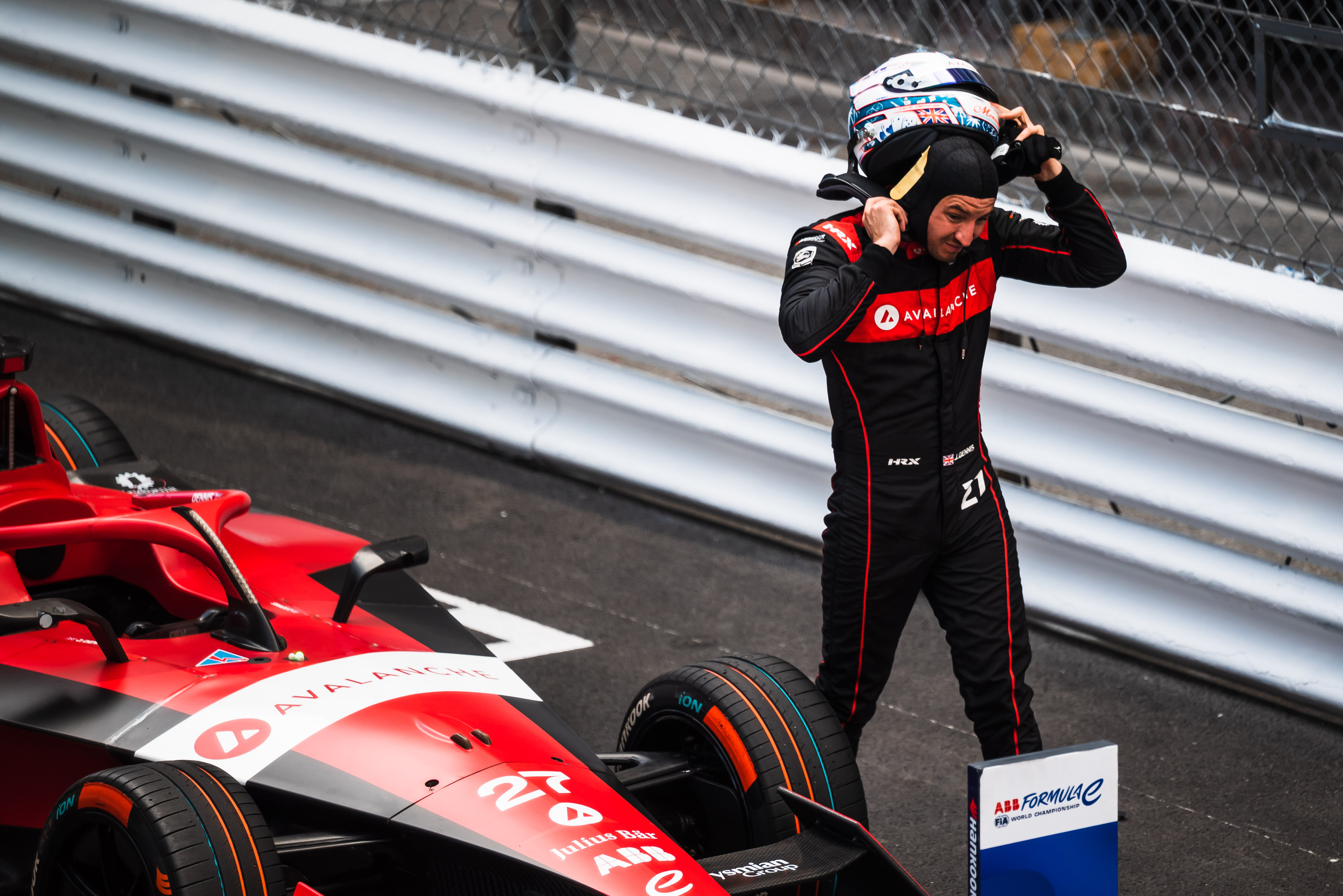 Dennis kept himself in the slipstream of the title fight with another excellent run, as clearly the best and most comfortable of the Porsche-powered quartet in the principality.
After a couple of clumsy mistakes recently, Dennis again looked bulletproof at a track where he'd never looked particularly comfortable before.
He acknowledged this when he said that he had previously "always struggled to deliver the lap in qualifying when it mattered".
That looked to be a trait continuing when he glanced the wall on his first push lap of qualifying.
But he didn't panic and from 11th he made progress quickly, staying clear of what he described as "some wacky strategies out there, like [Oliver] Rowland who was moving forwards very aggressively".
An "instinctive" second attack mode move seemed to play out well and Dennis was potentially in line for a crack at the two Jaguars in front of him as the race became a flat-out sprint. Conservatism then came into play.
"By the end of the race it was all just too fast to make the move and way too high-risk so it was a pretty much guaranteed P3 as long as there weren't  any collisions anywhere," Dennis said.
Dan Ticktum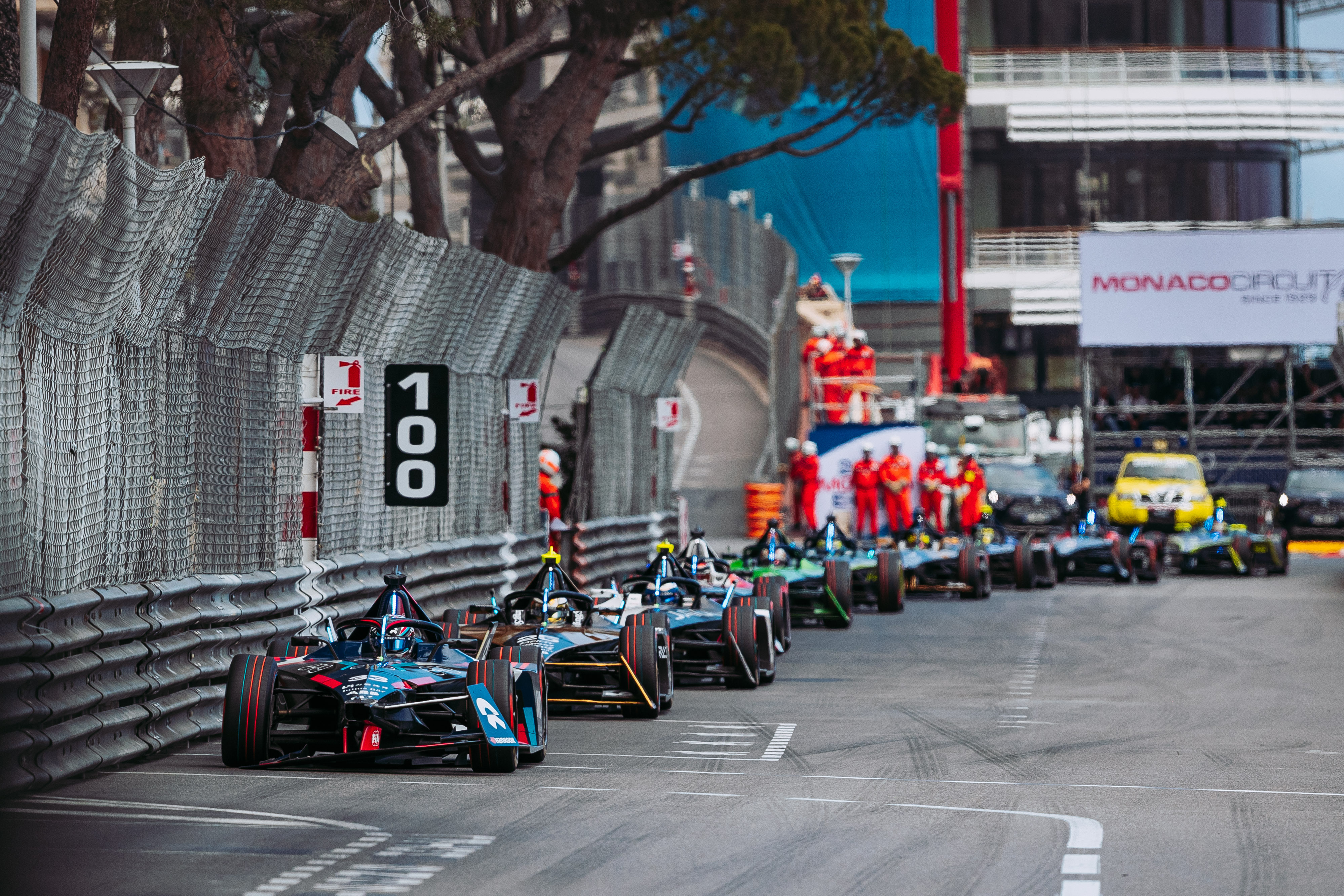 As Dan Ticktum a race as there has ever been in Formula E.
Brilliant cameo laps, plenty of crunching of bodywork, post-race recriminations from a rival and a clutch of hard-earned points. But overall, a driver that is able to put a car in places it really ought not to be, again.
That's precisely why Ticktum is a man in demand right now with at least two rival teams looking at him for their driver line-ups for 2024.
He extracted pretty much everything from his qualifying runs to reprise his Berlin heroics and led for a while as he tossed his and NIO 333's dices on to the roulette wheel with relish.
But there was also cunning to go with the devil-may-care, and at Monaco he probably produced his best ever E-Prix.
"I think what's good is, once I had the damage, I kept going, even though the wing can go under the car," Ticktum told The Race.
"That's quite scary as a driver, you could have a big crash, but at the end of the day the cars are quite safe so even if that happened I knew I'd probably be alright, so I thought 'stuff it, I'll just keep going'."
"It paid off, then we had the safety car and I was able to hit some kerbs and put the wing in a place where it wasn't hindering me as much."
The first safety car inevitably helped Ticktum but his drive, despite the messy but inevitable contact with Evans, Sacha Fenestraz and Maximilian Guenther, was of exceptionally high quality.
Günther 💥 Ticktum

This is how the race ended for the Maserati MSG Racing driver and brought out the Safety Car 🚨 #MonacoEPrix pic.twitter.com/pd7I55yDJ7

— ABB FIA Formula E World Championship (@FIAFormulaE) May 6, 2023
"I think once the targets get higher, which they were towards the end of the race because everyone is saving at the beginning, it's very hard to overtake once the targets get high.
"Maybe I could have held [fifth] position but I think, either way, I would have been in the points [even] without luck, completely on merit, which I think is very good for us."
That didn't mean Ticktum was completely satisfied, as he juggled a feeling of "the glass half-empty version" of his race.
"It's just so frustrating because, if we did have some efficiency, we see people like Cassidy, Jake, coming through – even if we had half their efficiency, I think we'd be on podiums, I really do.
"Our car is so good mechanically, on one-lap pace we're really strong."
Nissan and McLaren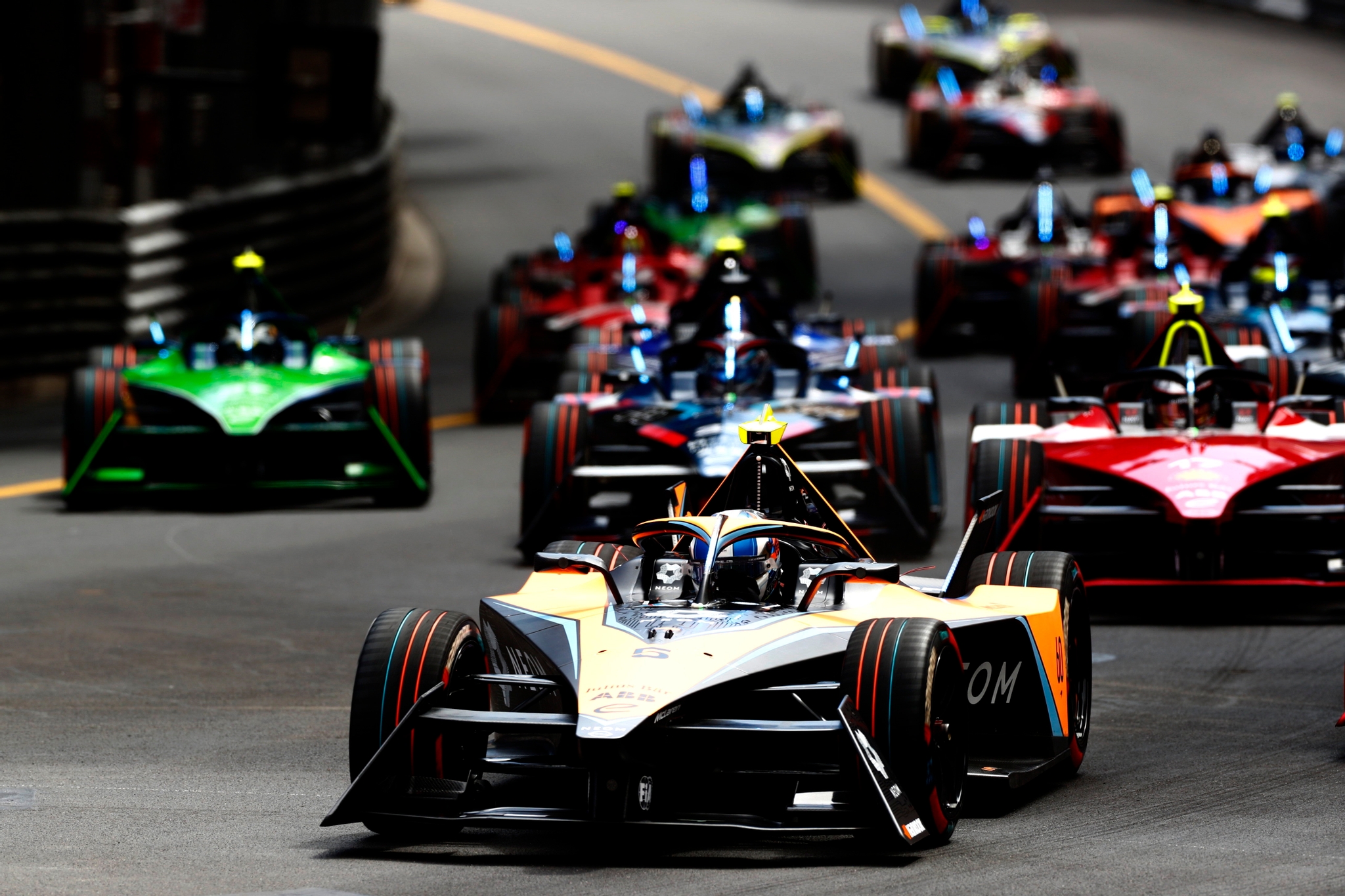 Nissan had a disastrous test at the Calafat circuit last month when a scorched DC-DC system impacted on their preparations to introduce updates for the Berlin E-Prix, on a track which it was always likely to be on the back foot anyway.
It played out badly as all four cars from Nissan and customer McLaren floundered.
In the words of Nissan team principal, Tommaso Volpe, before the Monaco weekend the rookie test in Berlin provided a chance to "try something to validate it".
Those updates, allied to the way Nissan treated its tyres in qualifying, proved to be revelatory.
Fenestraz took a moral pole but Hughes claimed the practical one after a power over-spike on the Franco-Argentinian's cars.
The race saw Fenestraz reprise his Cape Town heroics with a cultured drive to fourth place just ahead of fellow front-row starter Hughes.
"I think we should have started to push earlier and some other strategy early in the race, should have been a bit different and maybe we could have scored our first podium of the season," Fenestraz told The Race.
"We were coming from Sao Paulo and Berlin, which was horrible for all of us, to a pole position with a Nissan powertrain in the qualifying, and in the race we score our best points of the season, so we should be happy."
One person who was not happy was team-mate Norman Nato, who pinballed down the order with what was described to The Race as "a strategy that didn't work for him". He also suffered damage after being drop-kicked at Rascasse in the regular sketchy accordion incidents.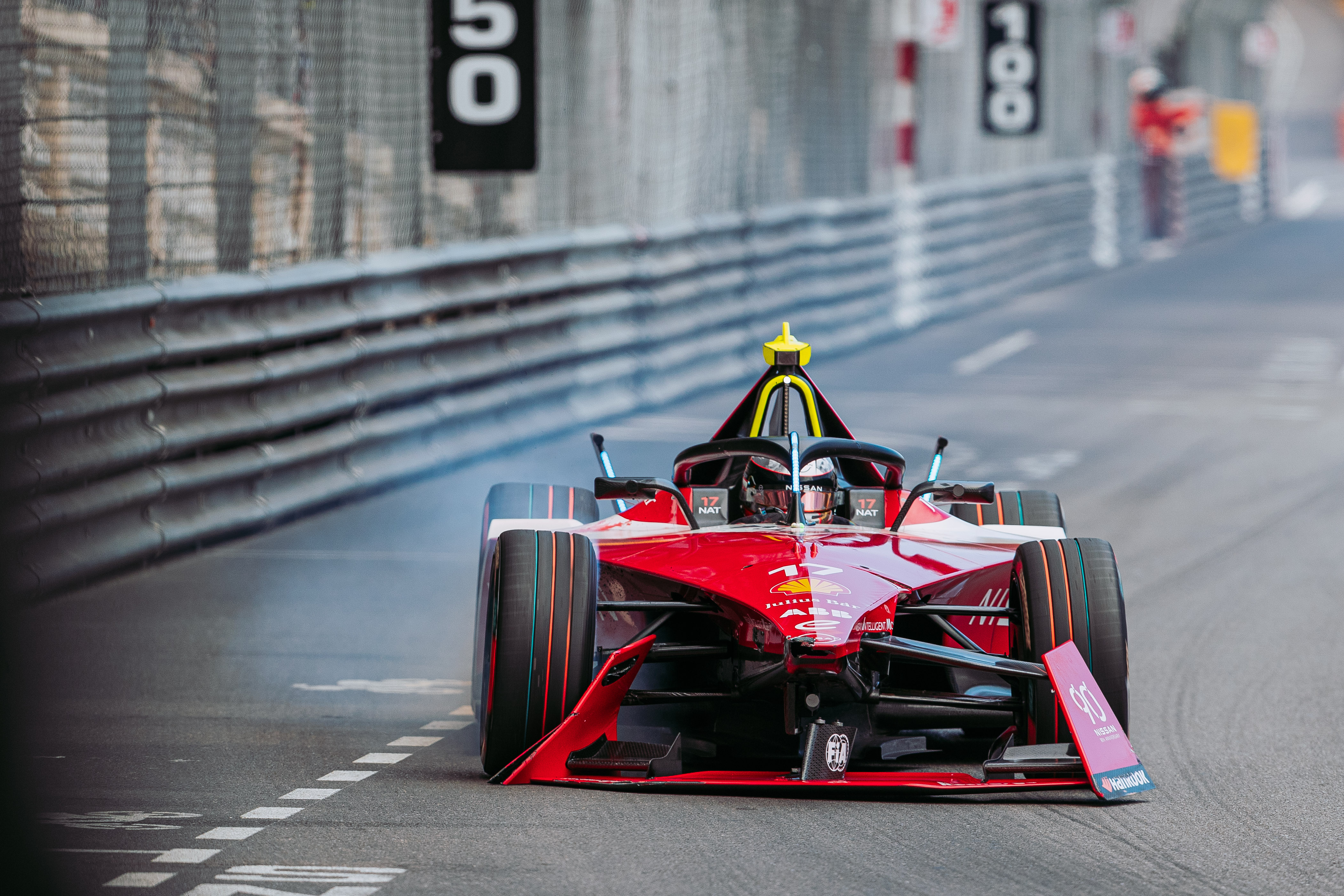 For Hughes his best result since Diriyah three months ago was welcome.
"We know for us that our qualifying position makes a big difference to our race finishing position prospects," Hughes told The Race.
"We definitely didn't have the race pace of the Jaguar- and Porsche-powered cars. But we were not far away.
"Considering that I led the race for the first nine laps and I was 2% down after that point and managed to catch back up on efficiency, we were in a much happier place today."
Losers
DS Penske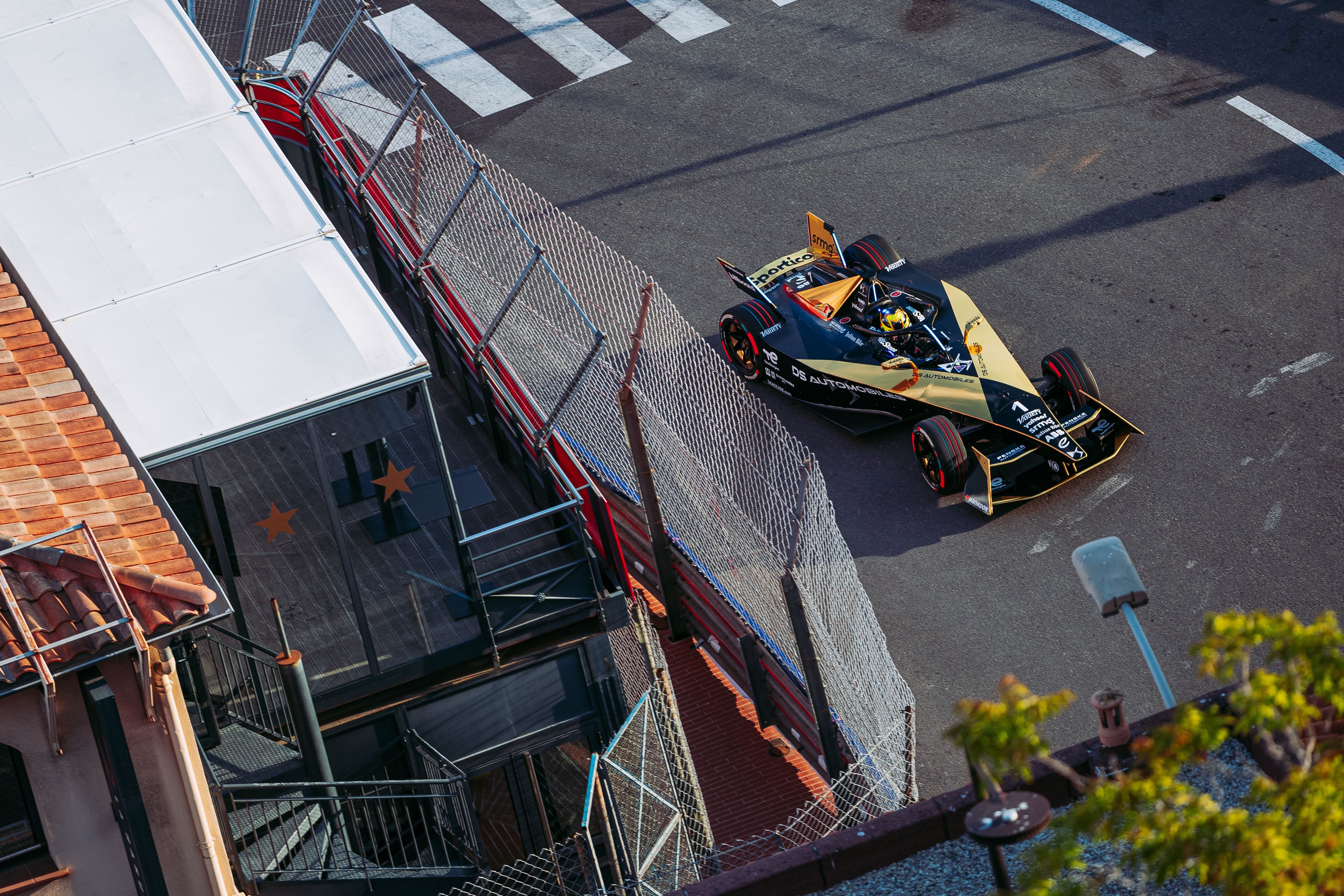 Kind of bit-part winners in the sense of from where they started on the grid – but there was no hiding the fact that DS Penske tossed away a prime chance to challenge the Jags at Monaco.
It all came down to some wandering clouds on the Col de Turini high above Monaco that shrouded the track from the sun just before the qualifying period began.
The team overestimated the compensation needed for the change in weather conditions and was over the 1.20bar stipulated by the smallest measurable margin.
That meant a back row start for visibly-frustrated Jean-Eric Vergne and Stoffel Vandoorne.
It must have been therefore even maddening for that pair to know that they had a car more than capable of attacking the Jaguars on Saturday afternoon. It was an open goal horribly missed.
Both drivers cut through the field impressively. "A win was possible," reckoned Vergne, who said all but three of the positions he'd gained came from genuine on-track overtakes.
"Clearly being able to come back with the pace that I had, and still having a lot of energy it shows the great car that we had in the race.
"Definitely a win or at least the podium. So, it's definitely an opportunity that went missing today."
Porsche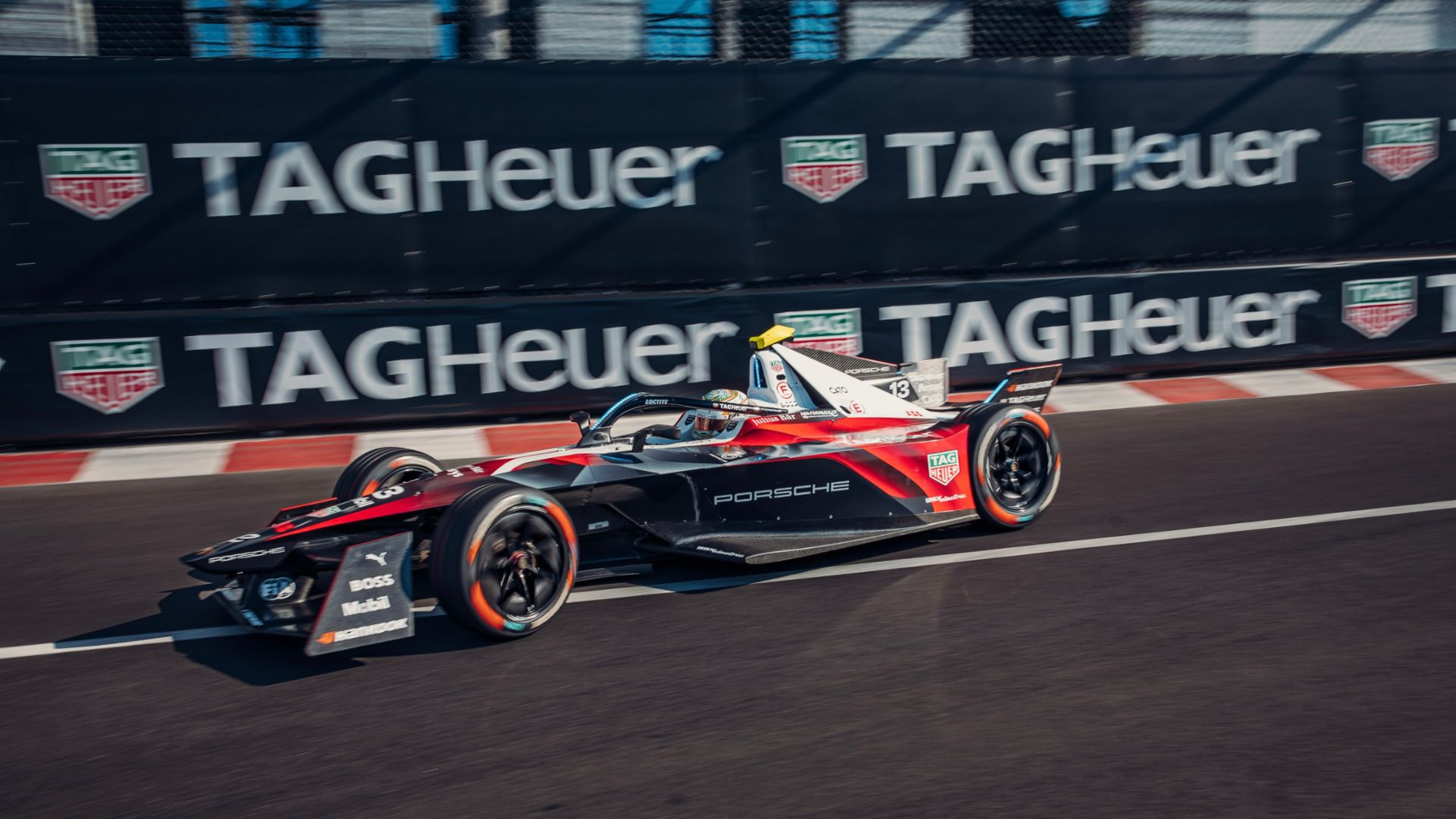 Porsche showed worrying signs that its Gen3 powers were fading at Monaco but in reality it was always going to struggle after a software issue lost both Pascal Wehrlein and Antonio Felix da Costa crucial track time in first practice.
The race saw Wehrlein never look like competing for major points, although da Costa could have snared fifth place had it not been for a fluke cutting of his tyre via Hughes' McLaren Nissan.
Despite the dearth of points team chief Florian Modlinger believes that any comparison to Porsche's dramatic 2022 slump is misplaced because the team has "restructured a bit several topics internally and my feeling is we have the ingredients".
"We've showed on different race tracks how competitive we are, and we need in the upcoming races to bring everything together and we will work hard to give them a hard championship fight, that's clear."
Wehrlein was clearly disappointed at the end of the race, saying: "Our pace in qualifying was not great but then in the race we could not progress as much as we could in the past.
"We need to see, analyse, and regroup, work hard and come back stronger."
Maserati MSG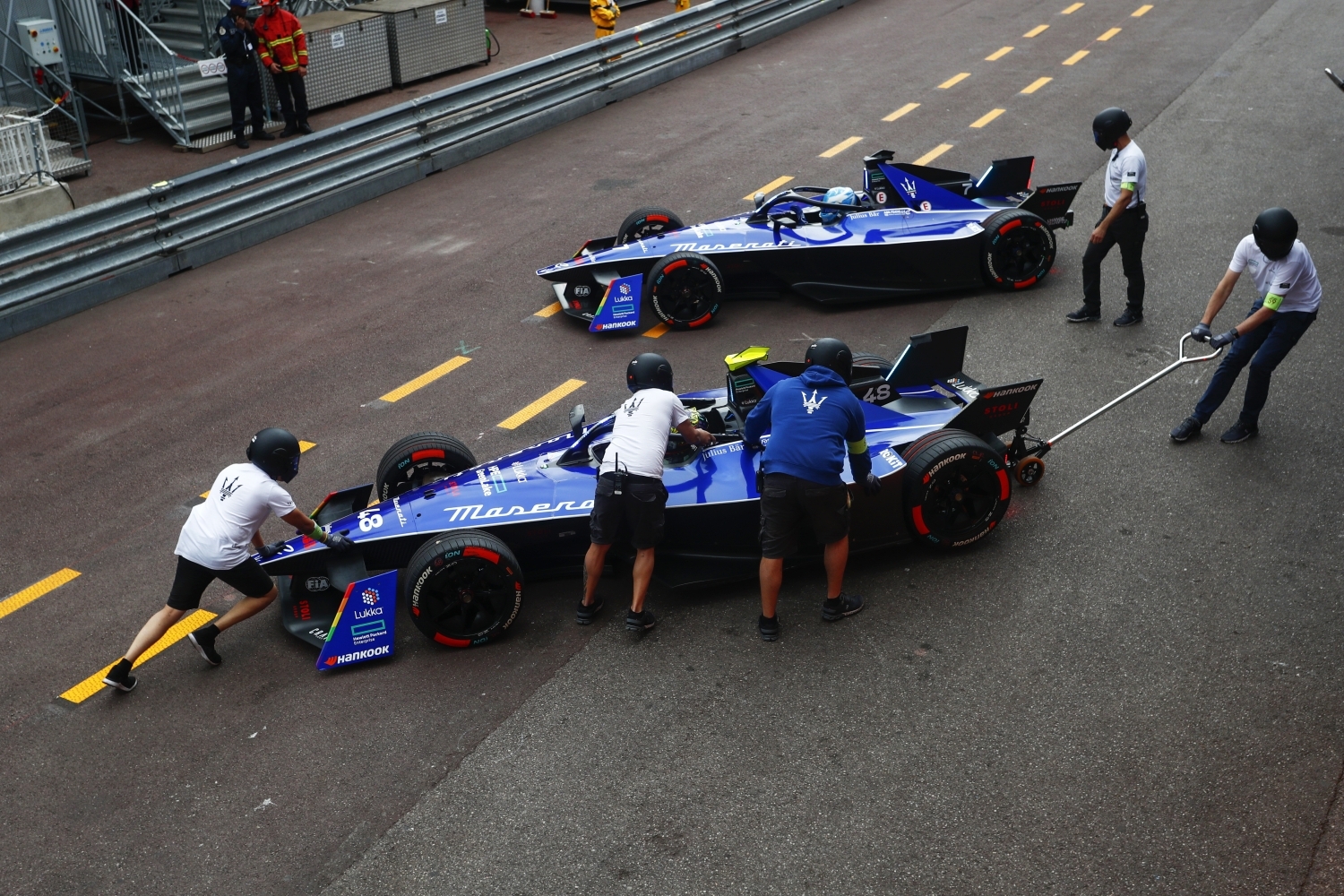 Again, it all looked so promising for the blues. A fourth and seventh place grid start looked kind of ideal but yet again Guenther and Edoardo Mortara's races ended in a blitz of carbon-fibre shrapnel.
Guenther had built a decent race and blended his usual aggression with some intelligent placement of his Maserati Tipo Folgore.
Whether or not he should have used similar patience when encountering a battle-scarred Ticktum exiting Ste Devote on lap 22 is probably something he and the team will be ruminating upon in the coming days.
His team-mate Mortara had a familiar race in the context of 2023. Another quick but messy drive that added nothing to his paltry tally of five points.
Sam Bird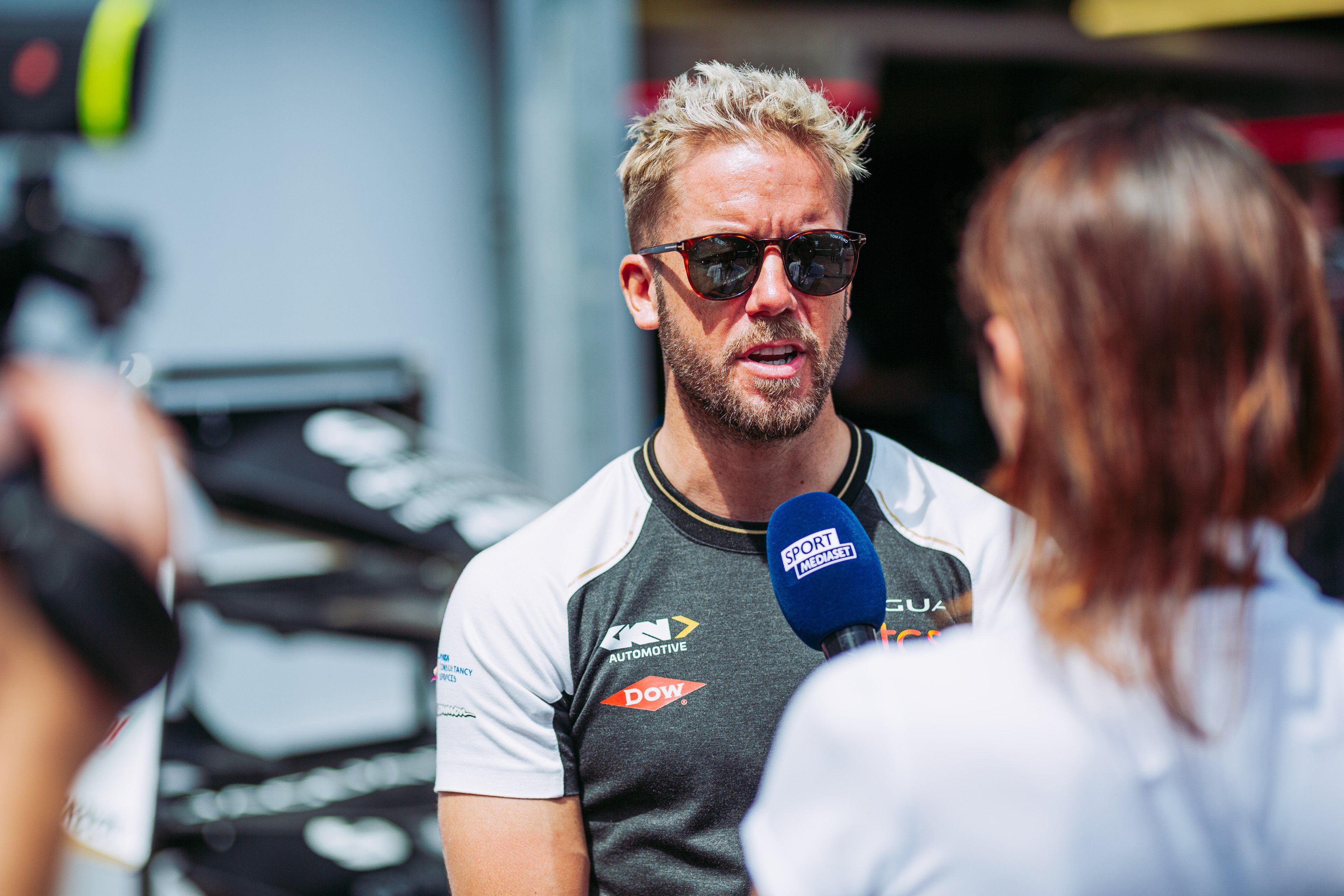 Bird cut an equally forlorn figure as he did 12 months ago when he crashed out of the 2022 Monaco E-Prix. This time he had an equally messy experience.
A 16th-place start due to not getting a preferred set-up nailed in quickly-evolving track conditions outfoxed he and his team. This was followed up by an initially-patient race where he got in to the lower points positions.
It could have been a little more but he missed a late second attack loop and then got dragged into a scrap with Mueller for ninth place. That ended with the Swiss in the wall and the end of his race and everyone else's.
The fact that Bird rightly got penalised and lost a point underlined a scrappy day all-round.
Rene Rast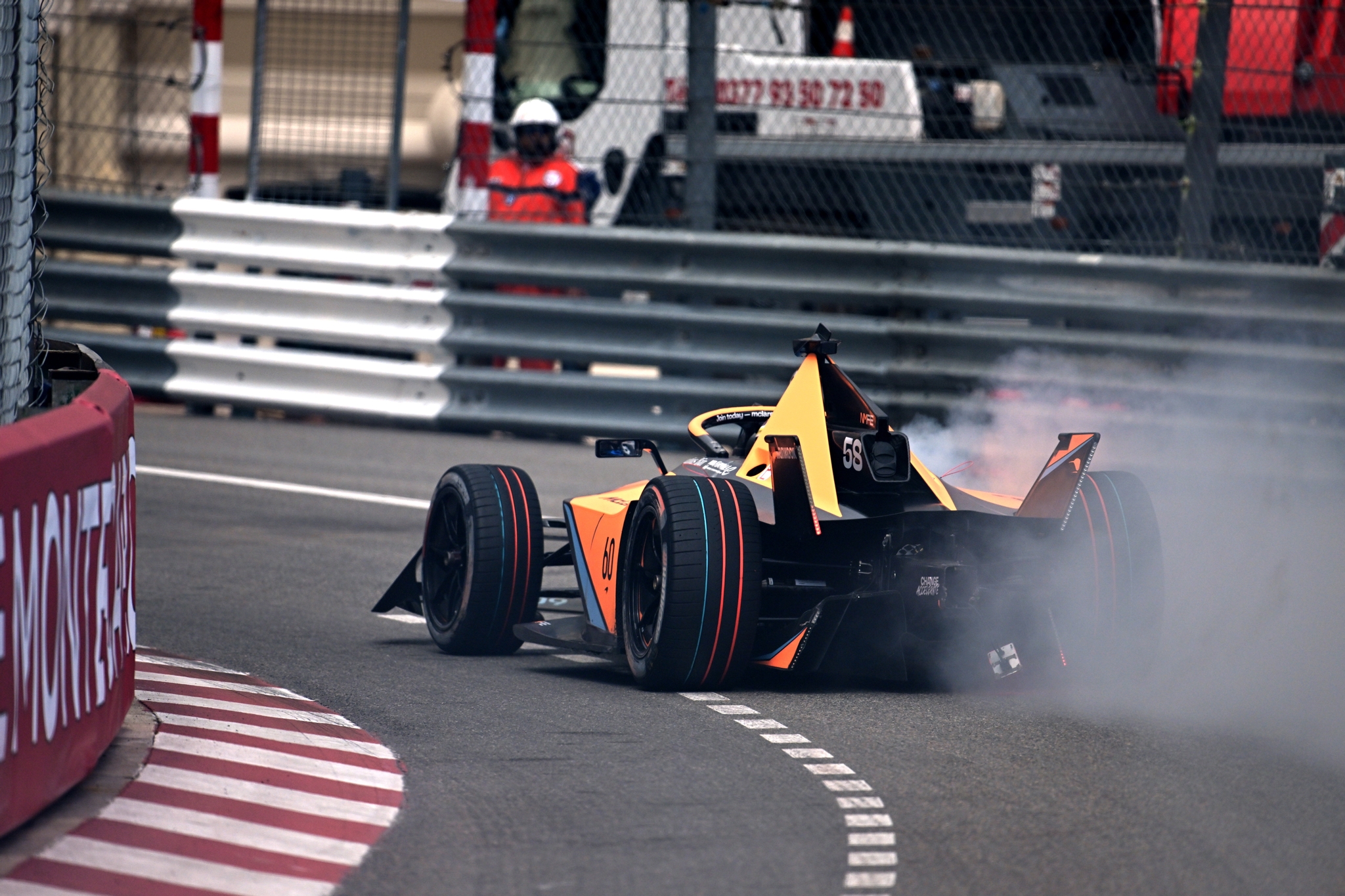 Rast's day started promisingly in the first practice session but come qualifying he struggled, going the wrong way on tyre strategy and rooting himself to 14th. That stuck out as the three other Nissan-powered cars enjoyed a 1-2-3 and a clear one-lap pace advantage.
There was no doubt that Rast wentin to the race with an aggressive mindset as he attempted to first stabilise and then progress.
He took advantage of Andre Lotterer getting boxed in by Sergio Sette Camara's NIO 333 at Rascasse, then repelled Lotterer's advances to go side-by-side at Antony Noghes corner onto the pit straight – and the Andretti driver ended his race in the pitwall.
Rast then had further contact with Rowland and was forced to pit for a new nose box. Despite the safety cars there was no prospect of joining team-mate Hughes in the points.
Put in the context of what Fenestraz and Hughes achieved, Rast and his team will view the Monaco E-Prix as a huge opportunity to score their first points in three races comprehensively wasted on Saturday afternoon.