Formula E's return to London didn't disappoint and produced plenty of drama and controversy across the double-header weekend at the unique ExCel Arena venue.
The first London E-Prix of the weekend featured a superb victory drive from Jake Dennis, while Alex Lynn took an emotional maiden FE win in a controversial second race on Sunday.
Sam Smith and Josh Suttill – both witnessing the action first-hand at the part-indoor, part-outdoor circuit – deliver their verdict on the performances of all 24 drivers:
DS Techeetah
Antonio Felix da Costa – 7
Finished: 8th/DNF
Championship position: 5th, 80 points
Like so many others, da Costa's continued frustration with the qualifying format reached a peak before the first race when he was among those compromised again – but this time by the weather.
He still did a stellar job in ensuring a 17th-place start considering the huge disadvantage in track conditions.
Da Costa then managed to clear Mortara and Wehrlein early doors and drove a solid race to eighth position despite losing significant time – and as a consequence more points – stuck behind a potentially over-defending Joel Eriksson.
Sunday began with a disappointing 22nd in qualifying and it ended with a scary slam into the start-finish straight wall from Andre Lotterer, who da Costa labelled a "sore loser".
.@afelixdacosta is out of the race 😱

LIVE updates here 👉 https://t.co/ba1DSigEtk

🇬🇧 2021 @Heineken #LondonEPrix pic.twitter.com/qnXnhVhLzy

— ABB FIA Formula E World Championship (@FIAFormulaE) July 25, 2021
But in-between was a mesmerizing charge through the field that – without Lotterer's stubbornness – would have surely yielded enough points for da Costa to be leaving London within a handful of points of de Vries.
Jean-Eric Vergne – 5
Finished: 12th/12th
Championship position: 12th, 68 points
Although his New York City grid failure issue was identified pre-London, DS chose to take a fresh inverter after gathering data to try and identify a root cause in free practice.
This meant a converted grid penalty for Vergne, who had to stop for 10 seconds on the second lap of the race.
From then on he was on a fact-finding mission but raced hard and was able to catch and pass the Dragons, Oliver Turvey's crocked NIO and also a penalised Robin Frijns to take 12th.
Vergne went missing on Sunday, qualifying in 23rd – only faster than a wall-clouting Turvey – and in the race he finished in 12th again, in part thanks to a slew of incidents and time penalties for those behind him.
Nissan e.dams
Sebastien Buemi – 6
Finished: DSQ/13th
Championship position: 20th, 20 points
Buemi was able to cultivate one of his best showings this season but failed to reap any of the rewards after a post-race penalty.
This was applied for a software recalibration error – a miscalculation from the team on the amount of usable energy both Buemi and Rowland had to play with.
It was a shame as Buemi had qualified a strong third and then raced to a solid, if rather unspectacular, fourth, unable to catch an equally pace-zapped Lynn for a crack at a podium. But it was probably a mercy considering the disappointment to come post-race.
He qualified 11th for race two but his race unravelled when he ran into the back of Rene Rast's Audi and then collided with him twice more.
10 second penalty for @Sebastien_buemi following this collision with @ReneRastRacing…

LIVE updates here 👉 https://t.co/ba1DSigEtk

🇬🇧 2021 @Heineken #LondonEPrix | @Nissanedams @audisport pic.twitter.com/U1IfYC8fcq

— ABB FIA Formula E World Championship (@FIAFormulaE) July 25, 2021
The stewards slapped him with a 10 second stop and go penalty that ruined any chance of Buemi lifting himself any higher into the top 20 in the drivers' championship.
One of his best races of the season followed by one of his worst.
Oliver Rowland – 6
Finished: DSQ/ 18th
Championship position: 16th, 59 points
Rowland lost 1.5s in the final sector in qualifying and, combined wetter conditions in group one, this anchored him to an uncharacteristically low 21st place on the starting grid.
His race was therefore going to be a long one but he made decent progress, battling hard with Wehrlein and Mortara in the closing stages.
This should have been rewarded with at least a point after Nato's final-lap energy breakdown, but like Buemi, Rowland watched his efforts tossed away with disqualification from a provisional 10th place due to the software/usable energy error.
On Sunday, Rowland delivered a superb superpole lap to come within 0.041s of beating Vandoorne to pole, and he was right in the mix when he made a small error with big consequences in the race.
He was a self-described "passenger" when he locked his brakes into the Turn 10 hairpin and slammed into Vandoorne.
Before the shunt, it was an impressive drive from the departing Rowland, who was surely delighted that his future employer had one of its best weekends in recent years.
Mercedes EQ
Stoffel Vandoorne – 8
Finished: 7th/15th
Championship position: 13th, 63 points
Vandoorne clawed his way back into the points after a disastrous start to Saturday when he aquaplaned his Silver Arrow 02 into the Turn 10 wall.
Once patched up, the car showed some strong pace – foreshadowing Sunday's performance – but he delivered a slightly cautious qualifying lap to place 14th.
From there though Vandoorne built a fine race and made a strong start before clearing the Dragons and then Nato's Venturi. He wasn't able to make an impression on the Audis however and came home in eighth, which then became seventh after Buemi's disqualification.
Vandoorne then delivered a beautifully committed lap to take his second pole of the season for Mercedes on Sunday.
But much like his Rome pole, his race thereafter would come underdone through no fault of his own as an apologetic Rowland tapped him out of victory contention.
Vandoorne said he was "cruising" prior to the incident and it's hard to disagree. This should have been a deserved and dominant second win of the season for the Belgian.
Nyck de Vries – 10
Finished: 2nd/2nd
Championship position: 1st, 95 points
De Vries took to the ExCeL track instantly and was determined to make the most of the clear inherent pace of his Mercedes Silver Arrow 02. He did just that with a strong qualifying lap set in the very damp group two session and beaten only by di Grassi's Audi.
It placed him ninth on the grid, from where he drove a sensational race, taking full benefit of a late attack mode strategy and Andre Lotterer's transponder loop mistake to emerge fourth for the final half of the race.
He then made excellent moves on Buemi and Lynn to take an excellent second place and grab his first significant points haul since winning in Valencia.
FULL LOCK! @nyckdevries moves up into P3 👏

LIVE updates here 👉 https://t.co/ba1DSigEtk

🇬🇧 2021 @Heineken #LondonEPrix | @MercedesEQFE pic.twitter.com/9Nf17bAo1t

— ABB FIA Formula E World Championship (@FIAFormulaE) July 24, 2021
On Sunday, he claimed fourth on the grid from group one, took full advantage of his team-mate Vandoorne and Rowland's collision to move into second behind di Grassi.
De Vries lost second place (effectively first with di Grassi's penalty) to a fanboost-assisted Lynn but considering de Vries had slightly bent steering for the majority of the race, he did a sterling job to finish on the podium and come within six tenths of the win.
A points haul of 36 – the second-highest of any driver this season at a double-header – hauls de Vries into the lead of the championship with just two races to go and gives him a solid chance of becoming Formula E's youngest champion.
Envision Virgin Racing
Robin Frijns – 8
Finished: 13th/4th
Championship position: 2nd, 89 points
Frijns acknowledged that the Envision Virgin Audi didn't have the pace for a big points score on Saturday but reckoned breaking into the top six was a possibility.
This was despite another lowly grid position (22nd) impacted to group one conditions. Prior to that he'd picked up cosmetic nose damage in free practice two but otherwise was comfortable with the package beneath him.
In the race he again made good progress following team-mate Nick Cassidy through the field. He was penalised five-seconds for a tawdry wheel-banging odyssey with Eriksson and despite being quick had lost so much time in the traffic to kill any notion of a points score.
Sunday was much better for Frijns, who was within a tenth of making superpole from group one in eighth place.
He drove an effective race despite knocking his front wing at the first corner, and he survived the chaos to bag 12 crucial points for his championship.
Nick Cassidy – 6
Finished: 11th/7th
Championship position: 7th, 76 points
Cassidy cut a frustrated figure on Saturday as, like team-mate Frijns, he started an artificially low 20th on the grid and struggled to clear much slower cars in the race largely due to their belligerence in fighting for positions that were never going to stick.
Cassidy picked up a small amount of damage after contact with Wehrlein's Porsche and then elbowed his way past Eriksson's 'cork in the bottle' Penske. But like for Frijns, there was never really a sniff of a point and after penalties he ended up with an 11th-place classification.
More frustration followed on Sunday with Cassidy describing it as "one that got away from me", although he still charged from 18th to seventh place amid the chaos to carry on his strong late-season points burst.
BMW i Andretti Motorsport
Maximilian Guenther – 6
Finished: 18th/6th
Championship position: 15th, 62 points
Guenther's Saturday was one to forget after he clouted the wall on his qualifying lap, forcing the team to change the powertrain and battery, incurring an 80-place grid drop which was converted into a 10-second stop/go penalty.
This he took on the second lap and then began what was essentially a test session for the newly re-built car. But once he caught the end of the train he had contact with Turvey's NIO333 at Turn 11 and was given a 10-second penalty, which left him the final classified runner in 18th position.
Guenther began to make amends with a superpole appearance on Sunday and finished where he started, in sixth place.
He survived a whack from Evans but it was a reasonably underwhelming weekend as a whole, especially when compared to his New York and Dennis's performances this weekend.
Jake Dennis – 9
Finished: 1st/10th
Championship position: 4th, 81 points
Dennis was determined from the very start of the running and quickly got into a sound rhythm to find a promising balance on his BMW iFE.21.
He was just beaten to pole by Alex Lynn but had an air of supreme confidence from the very first lap of the race. He stayed mostly patient as Lynn began to suffer with his tyre wear before simply driving away once he had a gap to keep the lead after taking the second attack mode.
The harsh reality of running in group one hit home on Sunday, but he was still third-quickest among the top six drivers in the championship to qualify in 17th place.
He caught up to his team-mate in the race and was running in eighth place before he had to serve a late-race drive-through penalty for an energy infringement.
Dennis still emerged with a point from arguably his finest weekend in FE to date.
Audi Sport ABT Schaeffler
Lucas di Grassi – 7
Finished: 6th/ DSQ
Championship position: 14th, 62 points
Di Grassi drove arguably the best lap of qualifying to take seventh on the Saturday grid from the partially wet group two.
He almost got compromised in the opening laps but held it together and then repelled an aggressive Sette Camara to run sixth. Di Grassi though felt he and the team didn't make the most of their attack mode deployment and generally got stuck without significant progress for a potential crack at the podium.
Some team choreography came into play with the inevitable mixed results and di Grassi was largely unhappy with this aspect of a race which brought only sixth place behind team-mate Rast, who had started from 13th.
And we all know what happened on Sunday. Unfortunately it was di Grassi's small error in not stopping in his pitbox for a fraction longer that prevented Audi and him from stealing the victory in fiendishly clever fashion – a decision that di Grassi had a significant role in.
It's a shame, because when he took the race lead he never looked like relinquishing it and a win would have sprung him into second in the championship.
UNSEEN FOOTAGE!@Lucasdigrassi almost pulled off an audacious move after nipping through the pitlane to grab the lead during a safety car period.

But it was ruled he didn't come to a stop before exiting the pit and was black flagged for declining a drive-through penalty. pic.twitter.com/DeXEI11K0V

— ABB FIA Formula E World Championship (@FIAFormulaE) July 25, 2021
Instead, di Grassi will need a monumental effort in Berlin if he's to give Audi a farewell title or two after an impossibly hard to rate effort in the London double-header.
Rene Rast – 7
Finished: 5th/DNF
Championship Position: 10th, 72 points
On Saturday, Rast came from 13th on the grid after a sketchy qualifying lap in the damp group two to again prey on others and grab an excellent fifth place finish.
He had several contacts in the opening-lap skirmishes but made up two positions and then made an excellent opportunistic move on a squabbling Sette Camara and Nato to vault into seventh. This put him onto the tail of team-mate di Grassi, who he passed when the Brazilian grabbed his final attack mode.
He wasn't quite able to get past the Porsche of Lotterer despite a slight energy advantage but nevertheless he ran a fine race and also scooped his customary fastest lap point.
Sunday was less successful for Rast, who qualified in 12th but had his race ended in brutal fashion by three separate collisions with Sebastien Buemi in rapid succession at the Turn 10-11 hairpins.
Jaguar Racing
Mitch Evans – 7
Finished: 14th/3rd
Championship position: 8th, 75 points
Evans had a solid qualifying to start 11th and made a reasonable start before being caught up in the knock-on concertina shunt on the first lap.
This damaged his front wing, which broke off shortly after and necessitated a pitstop. Then it was a frustrating run to a lowly 14th. It was a devastating blow for the Kiwi, who would likely have been able to achieve at least a top-six finish and claw his way back into title contention.
Sunday provided him with a chance to do just that and an error into Turn 1 lost him more than his final deficit to pole.
Instead it was a fifth-place start and in the race, he made what he labelled as a "silly move" on Guenther, which he initially thought ended his race.
He survived the contact, missed the attack mode activation but still delivered a gutsy drive to hold onto the final place on the podium – his first since Monaco.
Sam Bird – 5
Finished: DNF/DNF
Championship position: 3rd, 81 points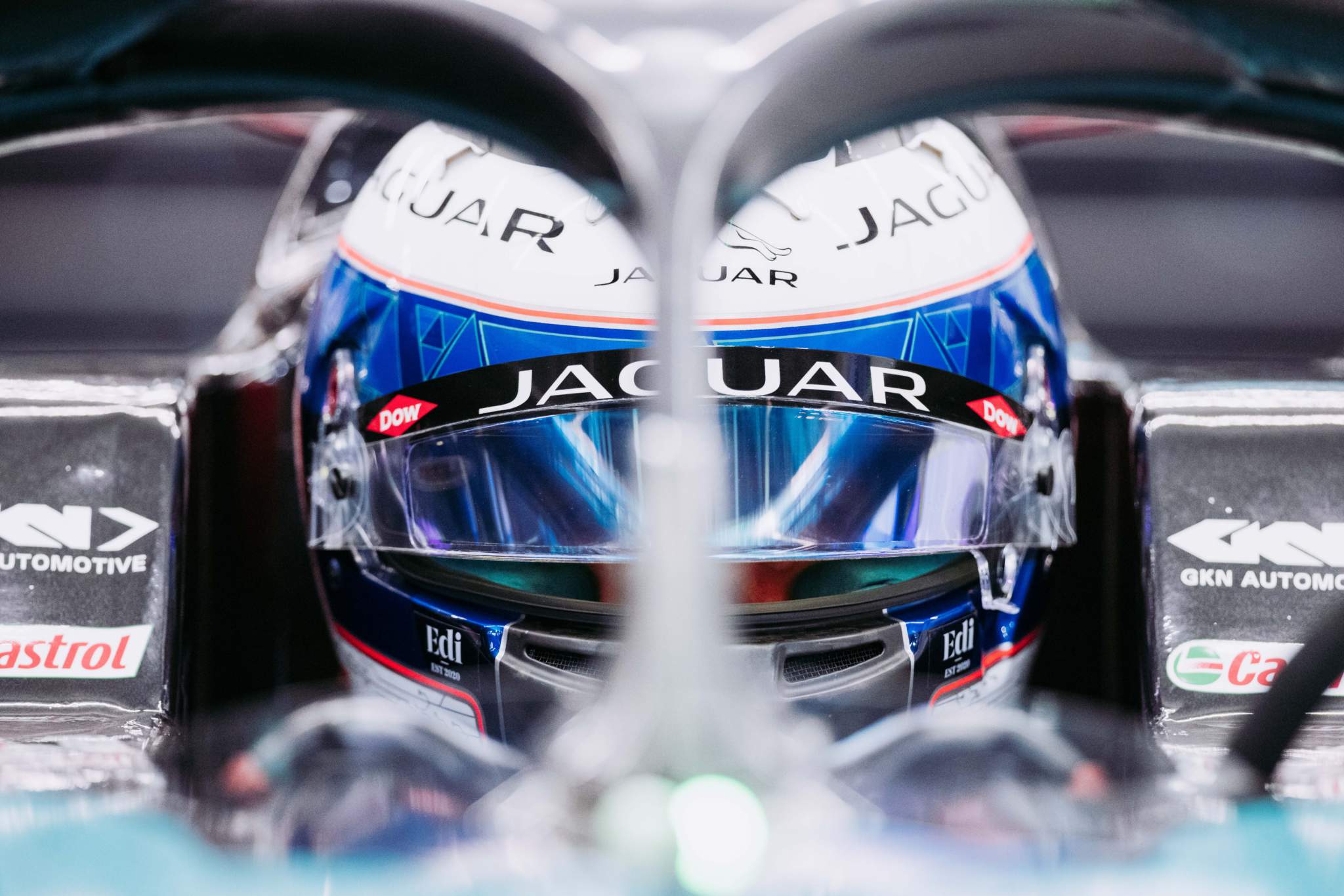 Bird's second consecutive Saturday disaster played out when he was the unlucky recipient of damage from the same mayhem that affected team-mate Evans.
The team was able to straighten out the damaged suspension but Bird declined to rejoin after losing almost two laps, electing instead to save his tyres for Sunday.
He remained in the championship lead prior to Sunday but that quickly proved to be vulnerable with a lowly 20th place in qualifying.
Bird had fought his way up to 11th place and was about to break into points-paying positions before he instead ended his and Norman Nato's chances of points – an incident that prompted the stewards to give Bird a three-place grid penalty.
This race… 😱@sambirdofficial and @NatoNorman collide!

LIVE timing here 👉 https://t.co/ba1DSigEtk

🇬🇧 2021 @Heineken #LondonEPrix pic.twitter.com/soWQJUvdhq

— ABB FIA Formula E World Championship (@FIAFormulaE) July 25, 2021
A horrific home weekend is a far cry from the highs of New York, but Bird is still only 14 points adrift of the top of the standings – although the combination of running in group one and having a grid penalty in Berlin will be painful.
TAG-Heuer Porsche
Andre Lotterer – 6
Finished: 4th/ 17th
Championship position: 17th, 45 points
Lotterer stitched together an impressive qualifying lap that included a mighty second sector on the increasingly drying track.
His challenge for a podium position in the race was ultimately compromised when he missed the second attack loop while busy defending from Nyck de Vries' Mercedes.
He was still able to finish fifth after a fraught battle with Rast's Audi and this was elevated to fourth after Buemi's exclusion.
Lotterer was unable to repeat his strong qualifying performance on Sunday, with only the 16th-fastest time. He made steady progress in the early laps to move into 11th but a questionably aggressive drift pushed da Costa into the wall and earned himself a penalty.
.@Andre_Lotterer picks up a penalty for this incident which took @afelixdacosta out of the race 💥

LIVE timing here 👉 https://t.co/ba1DSigEtk

🇬🇧 2021 @Heineken #LondonEPrix

— ABB FIA Formula E World Championship (@FIAFormulaE) July 25, 2021
It ruined a decent chance of some points after a solid Saturday and completed another frustratingly hero-to-zero weekend for the three-time Le Mans winner.
Pascal Wehrlein – 6
Finished: 10th/5th
Championship position: 11th, 71 points
Wehrlein was largely anonymous on Saturday, with a rain-compromised qualifying lap rooting him to 12th.
The race brought little in the way of positivity and he was mired in midfield, seemingly unable to get his elbows out and move forward in what can only be described as a limp display.
Wehrlein properly arrived on Sunday, just missing out on a place in superpole in seventh before driving a deliberately conservative but effective race to fifth place.
Mahindra Racing
Alexander Sims – 5
Finished: DNF/16th
Championship position: 18th, 44 points
Sims' qualifying lap was reasonable but was eclipsed by team-mate Lynn's effort, and he started eighth – which was still a decent foundation to build with.
It all came to a crushingly disappointing end when he suffered a broken suspension amid a myriad of first lap contacts, his race ending on the spot.
It feels harsh to give Sims' weekend a rating as in race two he was once again the victim of an opening-lap shunt that compromised his race.
This time he did rejoin the race via a pitstop but any chance of matching his team-mate's superb weekend was limited to the two qualifying sessions – where he was eighth and 19th compared to Lynn's first and third.
Alex Lynn – 10
Finished: 3rd/1st
Championship position: 6th, 78 points
Lynn continued to show his impressive one-lap pace, grabbing his first pole since his memorable debut top spot at New York back in July 2017.
He started well and was able to conduct the pace in what looked to be a mini-reversal of the second Valencia race where he tracked Dennis's BMW.
This time though it was Dennis who was forced to be patient and it worked against Lynn who lost out largely because of overheating rear tyres. His average race pace was so off the other front runners that he was unable to also resist de Vries who picked him off easily and demoted the Mahindra to third.
Lynn's one-lap speed carried over into Sunday and he took a fine third place on the grid, losing out on a double pole only after a slightly too conservative final sector.
In the race, Lynn finally claimed a well-deserved and highly emotional victory on home soil with a car that Saturday showed wasn't quick enough to win a race.
But he nailed the safety car restarts and used his fanboost to perfection to re-pass de Vries at the same corner the Dutchman passed him on Saturday to put himself in prime position for when di Grassi was disqualified.
ROKiT Venturi Racing
Edoardo Mortara – 6
Finished: 9th/11th
Championship position: 9th, 74 points
Mortara topped the wetter first qualifying group with a typically dynamic lap that garnered him 16th on the grid.
He drove a strong race with some feisty battling through the midfield, especially with Sette Camara, and took the chequered flag 11th but inherited two points after the Nissans' disqualifications.
On Saturday, Mortara qualified 20th on the grid but stalled at the race start with a technical issue. Mortara rejoined the race and drove solidly to almost nick a point in 11th place.
His stunning Puebla weekend must be beginning to feel like a distant dream for Mortara and Venturi.
Norman Nato – 6
Finished: DNF/DNF
Championship position: 21st, 17 points
Nato took reasonable advantage of the final group track conditions to make it through to superpole for the third time this season.
There was some feisty battling in the lower half of the top 10 but he seemed genuinely unlucky to get a five-second penalty for a shove on Sette Camara.
His race though was ultimately doomed because the team made a catastrophic error on its software calculation, meaning that Nato was one lap short on energy and parked his car disconsolately just before the chequered flag.
Before then, he managed to build a big enough gap to negate his penalty but it all proved meaningless with the software miscalculation.
Nato was a disappointing 13th in Sunday's qualifying session and dropped as low as 17th in the opening laps.
He darted between the chaos at half distance to break into the top 10 and he was hanging onto the final point until Bird knocked him out of the race.
Ultimately a double points finish was possible for Nato, and on neither day did he deserve to lose it.
Dragon Penske
Joel Eriksson – 6
Finished: 16th/10th
Championship position: 25th, 1 point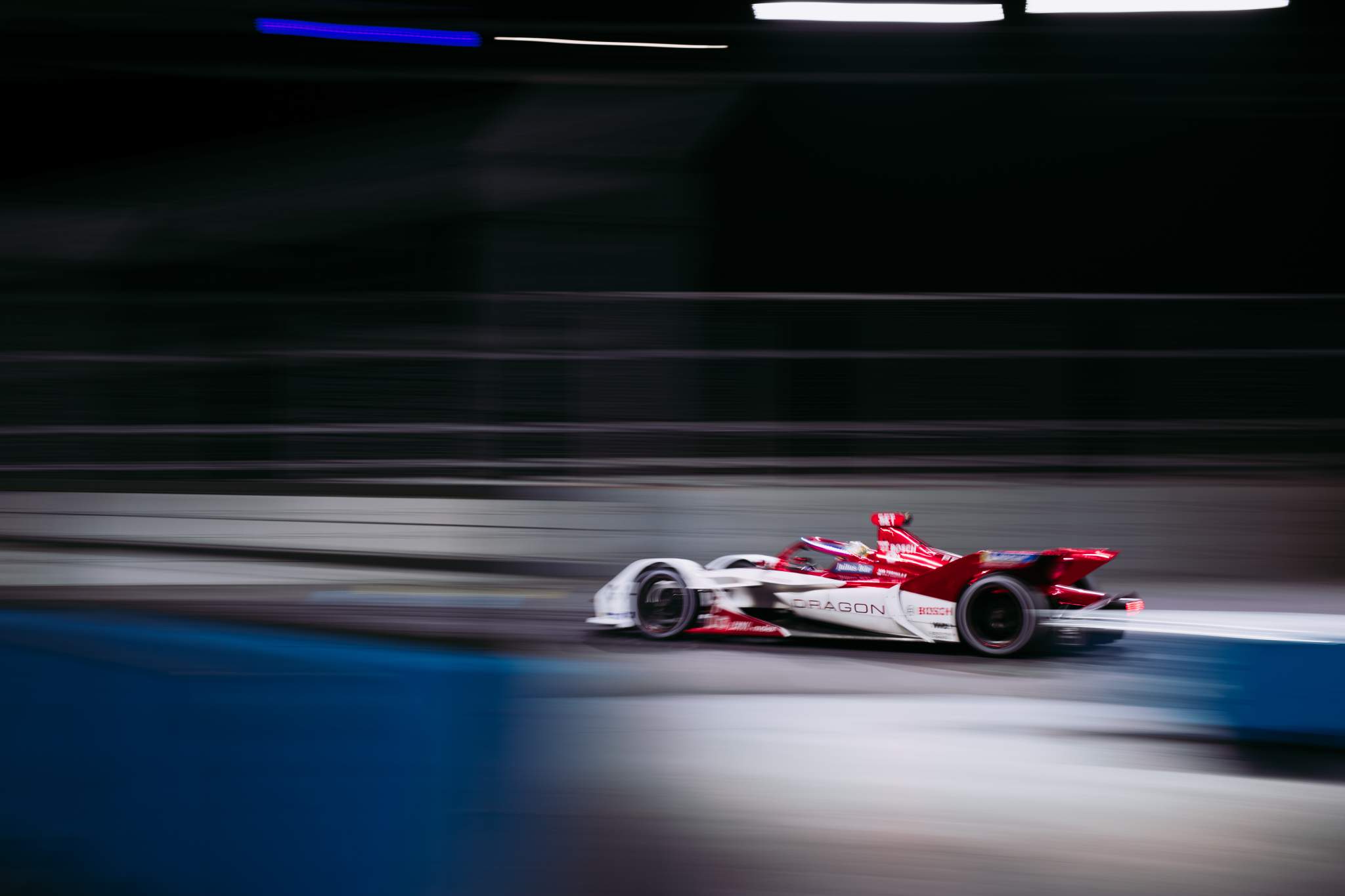 Saturday was another frustrating race for the Swede, despite it initially promising a reasonable amount after a first-ever top-10 grid start.
He ran comfortably in 11th but soon had a train of cars behind him that were clearly quicker.
He was one of the less popular drivers in the paddock after the race for his defending techniques but it would be overly harsh to criticise a rookie trying to build a race for himself in a car that clearly degrades over a race distance.
After the midway point of the race he dropped further down the field and was classified a dejected 16th, just ahead of team-mate Sette Camara.
Sunday was no less scrappy and he yoed-yoed back and forth from his 15th place on the grid. Eriksson ultimately finished in 11th place but di Grassi's disqualification handed the Swede his first Formula E point.
Sergio Sette Camara – 7
Finished: 18th/8th
Championship position: 22nd, 16 points
There was another spectacularly reflex defying qualifying effort from the Brazilian, who performed his usual miracles to ensure his Penske EV-5 registered a second consecutive superpole appearance.
A fourth-placed grid start was a mighty result and despite losing a position to Lotterer at the start he looked like he could build a strong race.
That was compromised initially when he received damage after re-joining from his first attack mode activation when di Grassi squeezed him at Turn 17.
The steering damage dropped him to the rear of the field and he came in an undeserved 17th.
He couldn't make it into superpole in race two qualifying with group four's usual advantage absent due to scattered rain showers.
Sette Camara still qualified in ninth place and stood his ground in the race to finish in eighth place after the Nato/Bird clash and di Grassi's DSQ.
NIO333
Oliver Turvey – 6
Finished: 15th/14th
Championship position: 23rd, 13 points
Turvey endured a tremendously difficult Saturday in which he suffered with both software inadequacies and contact in the race, which contributed to a difficult 15th-place finish.
It was a shame as he'd made up three positions at the start but a bent track courtesy of contact with an unknown assailant in the opening exchanges stymied his pace. When a penalty recovering Guenther also hit him late in the race it bookended a difficult day.
Turvey clipped the wall in the second qualifying session, grounding him to 24th on the grid, behind many of the key championship protagonists.
He ultimately finished in 14th place, between the penalty-hit Buemi and the collision-hit Vandoorne on a chaotic day that could have provided a rare points chance for the NIO333 team.
Tom Blomqvist – 6
Finished: DNF/19th
Championship position: 24th, 5 points
Blomqvist's luck was even worse than Turvey's as he saw a 15th-place Saturday grid slot ruined when he was hit on the first lap, probably by Bird, and forced to pit for a replacement rear track-rod.
This put him out of contention but he and the team elected to re-join to gain additional data, eight laps down and not classified.
It was a similar story on Sunday, his hard work to get 14th on the grid undone when he picked up damage on the opening lap and had to pit. He ran as the last car on the road thereafter and finished down in 19th place and one lap down.