The Jaguar Formula E team made changes to its works cars and customer Envision's to tackle the issue that caused Mitch Evans' crash on an in-lap after the end of opening Mexico City practice on Friday.
But it suffered another problem on Sam Bird's car that led to him missing most of second practice early on Saturday morning.
Evans ploughed straight on into the barriers at the Turn 12 right-hander that leads into the stadium section while heading back to the pits following the chequered flag yesterday. He was unhurt.
"After an investigation into the accident that took place during free practice one in Mexico City, the team identified the cause being related to a non-manufacturer perimeter part on Mitch Evans' car," said a Jaguar statement.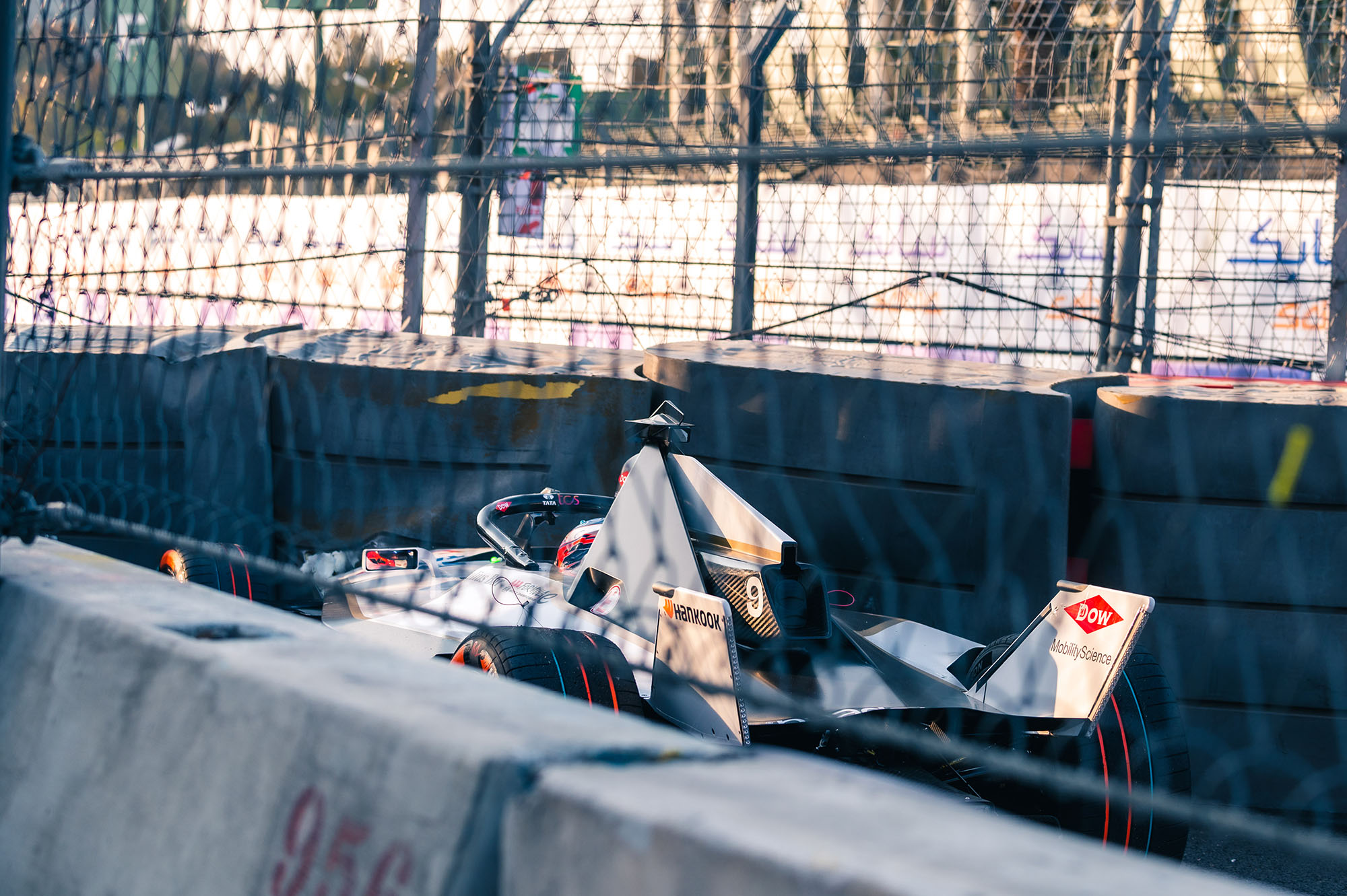 "As a result, the team have replaced all of the related hardware to avoid the reoccurrence of the issue and a software update to mitigate against similar occurrences."
The software change is likely to be an effort to ensure any repeat of the component problem does not lead to a complete failure of the kind Evans appears to have suffered.
Friday's crash was the fourth incident involving a Jaguar since the Gen3 cars began their testing programme – though in this instance it was a non-manufacturer issue.
Bird had a substantial crash in private testing at Calafat and Envision pair Sebastien Buemi and Nick Cassidy both had incidents caused by failures in last month's Valencia test.
Evans had a seemingly trouble-free run in practice two and was fourth fastest.
But Bird slewed into the stadium run-off area on only his fourth lap while already going slowly and with error codes showing on his dashboard. He parked there for some time before making it back to the pits, where he stayed until the final minute of the session.
Edoardo Mortara was also in trouble during practice two, clipping the barrier when he got sideways at the final corner. He tried to get his crabbing Maserati back to the pits but had to park it. Maserati will only have just over an hour and a half to effect repairs before qualifying.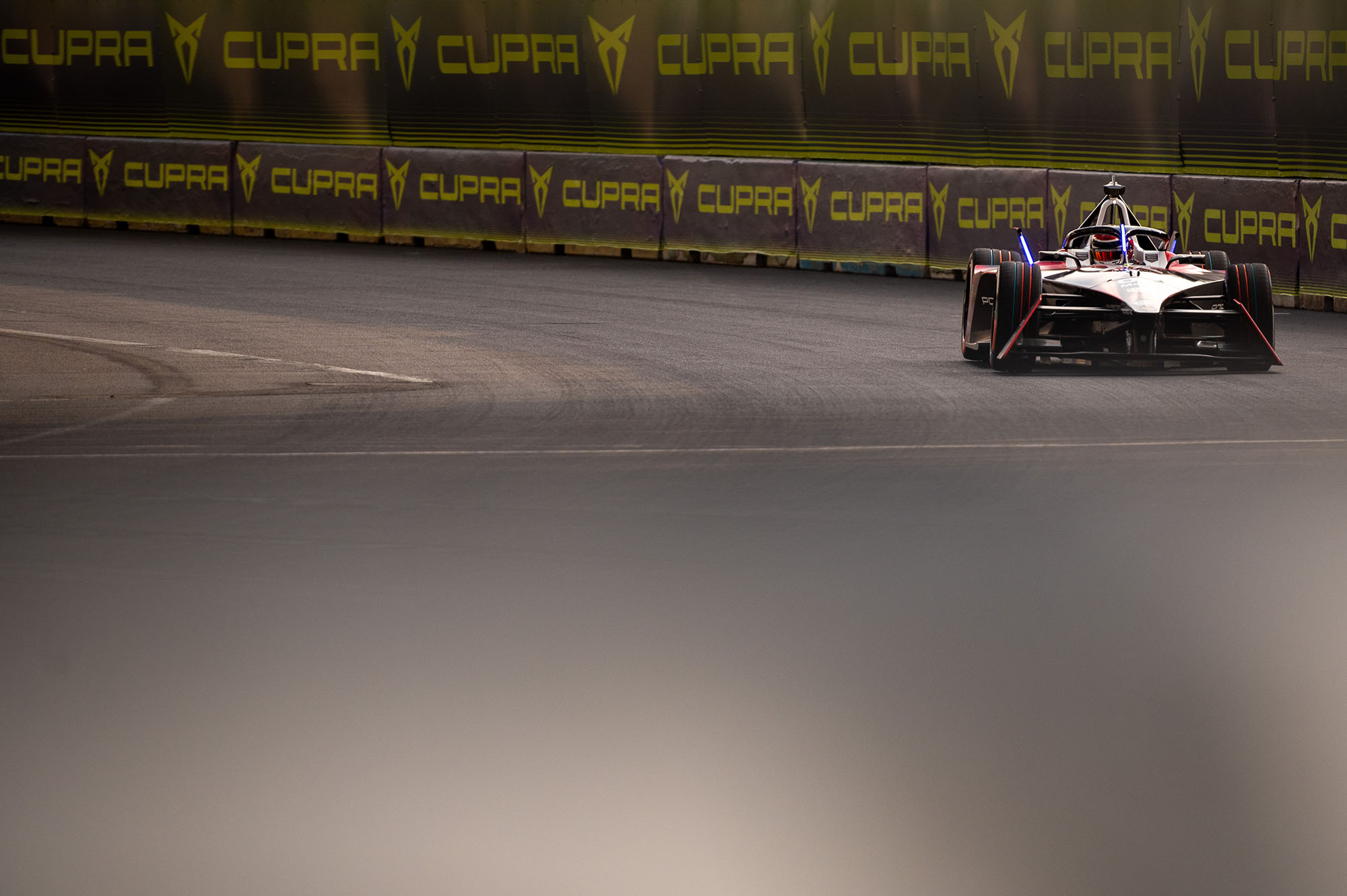 Last year's Mexico winner Pascal Wehrlein was fastest for Porsche in practice two – at least once a lap by Andretti driver Jake Dennis was deleted for a track limits infringement.
Jean-Eric Vergne's DS Penske was only 0.004s in second, with Sergio Sette Camara continuing NIO 333's strong form in third and just 0.010s from Wehrlein.
McLaren was fastest for much of the session with Jake Hughes before ending up sixth.
Practice 2 Results
| Pos | Name | Team | Car | Gap Next | Gap Leader | Best Time |
| --- | --- | --- | --- | --- | --- | --- |
| 1 | Pascal Wehrlein | TAG Heuer Porsche | Porsche 99X Electric | | | 1m13.496s |
| 2 | Jean-Eric Vergne | DS Penske | DS E-Tense FE23 | +0.004s | +0.004s | 1m13.5s |
| 3 | Sérgio Sette Câmara | NIO 333 Racing | NIO 333 ER9 | +0.006s | +0.01s | 1m13.506s |
| 4 | Mitch Evans | Jaguar TCS Racing | Jaguar I-TYPE 6 | +0.042s | +0.052s | 1m13.548s |
| 5 | Stoffel Vandoorne | DS Penske | DS E-Tense FE23 | +0.063s | +0.115s | 1m13.611s |
| 6 | Jake Hughes | NEOM McLaren | Nissan e-4ORCE 04 | +0.004s | +0.119s | 1m13.615s |
| 7 | Jake Dennis | Avalanche Andretti | Porsche 99X Electric | +0.017s | +0.136s | 1m13.632s |
| 8 | Sébastien Buemi | Envision Racing | Jaguar I-TYPE 6 | +0.052s | +0.188s | 1m13.684s |
| 9 | António Félix da Costa | TAG Heuer Porsche | Porsche 99X Electric | +0.026s | +0.214s | 1m13.71s |
| 10 | Lucas Di Grassi | Mahindra Racing | Mahindra M9Electro | +0.007s | +0.221s | 1m13.717s |
| 11 | Daniel Ticktum | NIO 333 Racing | NIO 333 ER9 | +0.063s | +0.284s | 1m13.78s |
| 12 | Norman Nato | Nissan | Nissan e-4ORCE 04 | +0.015s | +0.299s | 1m13.795s |
| 13 | Nick Cassidy | Envision Racing | Jaguar I-TYPE 6 | +0.137s | +0.436s | 1m13.932s |
| 14 | Sacha Fenestraz | Nissan | Nissan e-4ORCE 04 | +0.072s | +0.508s | 1m14.004s |
| 15 | André Lotterer | Avalanche Andretti | Porsche 99X Electric | +0.162s | +0.67s | 1m14.166s |
| 16 | Maximilian Günther | Maserati MSG Racing | Maserati Tipo Folgore | +0.102s | +0.772s | 1m14.268s |
| 17 | René Rast | NEOM McLaren | Nissan e-4ORCE 04 | +0.093s | +0.865s | 1m14.361s |
| 18 | Oliver Rowland | Mahindra Racing | Mahindra M9Electro | +0.177s | +1.042s | 1m14.538s |
| 19 | Edoardo Mortara | Maserati MSG Racing | Maserati Tipo Folgore | +0.103s | +1.145s | 1m14.641s |
| 20 | Nico Müller | ABT CUPRA | Mahindra M9Electro | +0.737s | +1.882s | 1m15.378s |
| 21 | Robin Frijns | ABT CUPRA | Mahindra M9Electro | +0.148s | +2.03s | 1m15.526s |
| 22 | Sam Bird | Jaguar TCS Racing | Jaguar I-TYPE 6 | +4.329s | +6.359s | 1m19.855s |