It's mantra-like.
In Formula E sporting working groups, commercial sessions or any other of the myriad get-togethers and think-tanks that executives, teams and partners attend at racetracks and away from them remotely, it is often almost chanted: 'Races in the US and China are the priority.'
After all, those two territories account for just over 60% of global car sales, and EV sales in the US doubled in 2021 with the growth reinforced by a 24% increase in EV model accessibility, and by a rise in production of Tesla models, which accounted for 50% of US electric vehicle sales.
As things stand, Formula E definitely won't race in China in 2023 and may well not visit the USA either.
While the difficulties of racing again in China next year are still substantial with massive security, logistic and administrative challenges, North America just has to be even more of a priority, and a focus for Formula E both short- and long-term.
Quite apart from those gargantuan reasons to be there, Formula E has significant US investors in Liberty Global plc and Discovery Communications Inc.
Guests from that latter behemoth were in New York in July, where, at a specially arranged forum held by Bloomberg at the New York City E-Prix, Formula E CEO Jamie Reigle said that he would personally be "very surprised if we don't have a US race next year".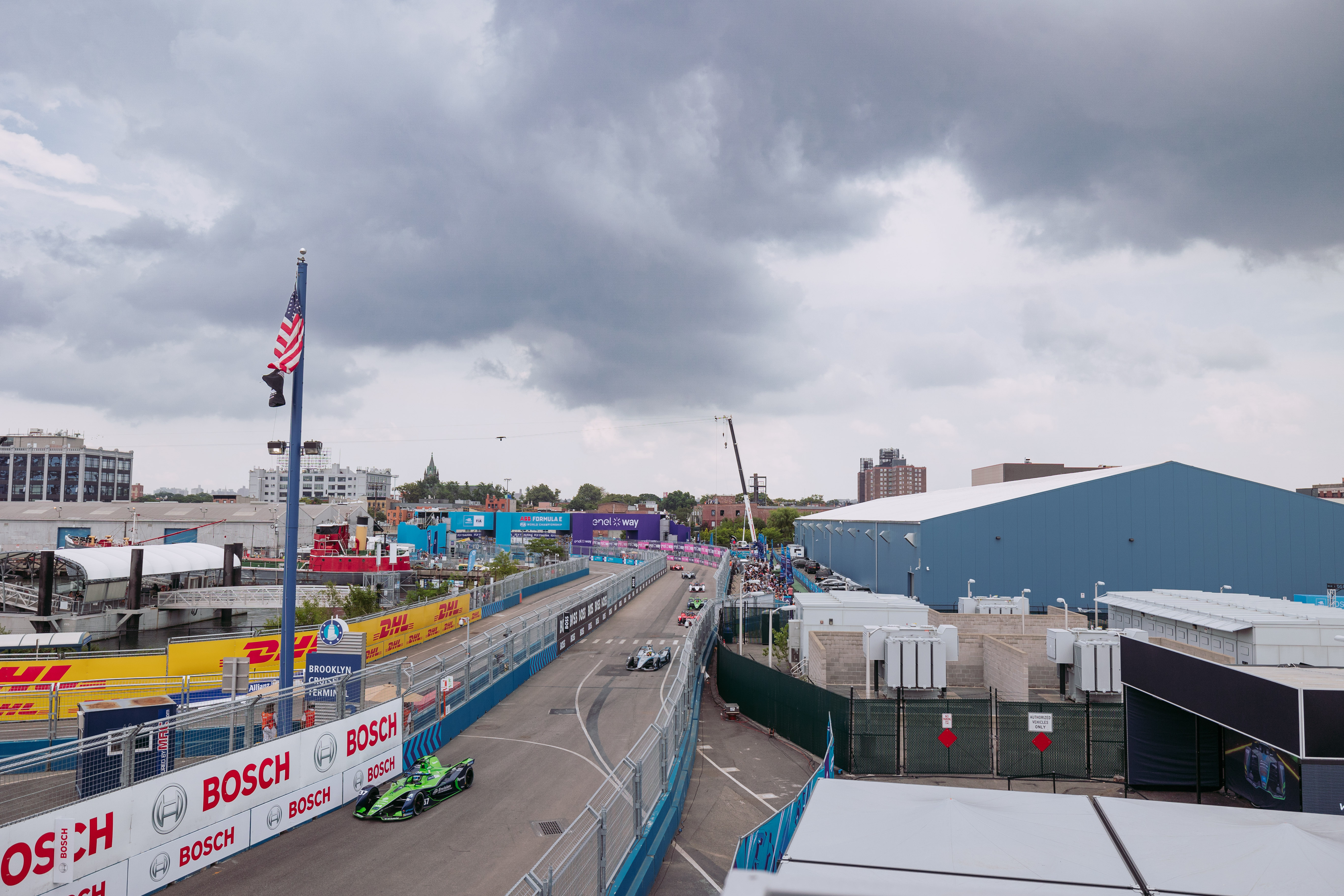 Reigle caveated that with a "can I look you in the eye and definitively say, 'it's going to be here [in Red Hook]? I can't".
"That's why we put it as a TBC [on the provisional calendar]. But yes, there's a lot of work going on the background to make sure that we have a race in the US because it's just the biggest sports market in the world and we want to be here."
CBS broadcast last year's E-Prix races and the buzz at the Red Hook venue in New York has always been seen as having lots of potential. But ultimately, while Formula E lit up the Empire State Building, the event itself, although popular with teams and media, didn't appear to be illuminating the Big Apple itself.
The localised noise around the event didn't translate to downtown Manhattan where I and plenty others in the Formula E paddock choose to stay while in the Big Apple.
On Wall Street, where a decade ago Reigle posed with the Manchester United-owning Glazer family while working for Manchester United FC, there was no evidence the races were taking place.
Then, when a cloudburst triggered a red flag and the NYC E-Prix was stopped and then a bizarre decision not to restart it was taken, viewers were left hanging.
One fan made his displeasure totally clear via Twitter, as seen below.
No Motorsports should air on CBS. CBS gave the Formula E race exactly 60 minutes then cut away.

Coverage not moved to CBS Sports Network, Showtime, Pop, https://t.co/XMDNXOvW81, CBS Sports App, or Paramount+ just dumped "Look up the results online" #ABBFormulaE #NewYorkEPrix pic.twitter.com/ov7jNsz2vb

— Eric Sturrock (@EricSturrock) July 17, 2022
Does that incident show where Formula E stands in the US right now? No, but what it does is evidence that if the championship is serious about becoming a big league, then the basics need to be ironed out first.
The maze of particularities of putting on Formula E races are well-known. Such events in or around city centres are central to the FIA's newest world championship, but they are complicated to actually turn into reality.
That's why there has to be understanding and respect to the promoters for pulling off some remarkable events in some extraordinary circumstances – the pandemic, political change, infrastructure work, and in the case of Red Hook, another industry (pleasure cruising) butting in to disrupt it, must be exasperating for its location team.
At the same time, in light of the fact that the US is one of the two 'holy grail' areas of the world for FE to race in, surely a stop-gap race can be found for 2023 somewhere, anywhere?
This weekend Austin will be packed to the rafters with Formula 1 as it rides out an ever-expanding wave of success in the US.
I've attended multiple races at COTA and know there are various circuit configurations and a huge paddock that could house and accommodate an E-Prix. Ditto Indianapolis Motor Speedway. There's even a Formula E link there as its proprietor Roger Penske's son has a team in the championship – DS Penske. Has that been properly explored, even as a stop-gap?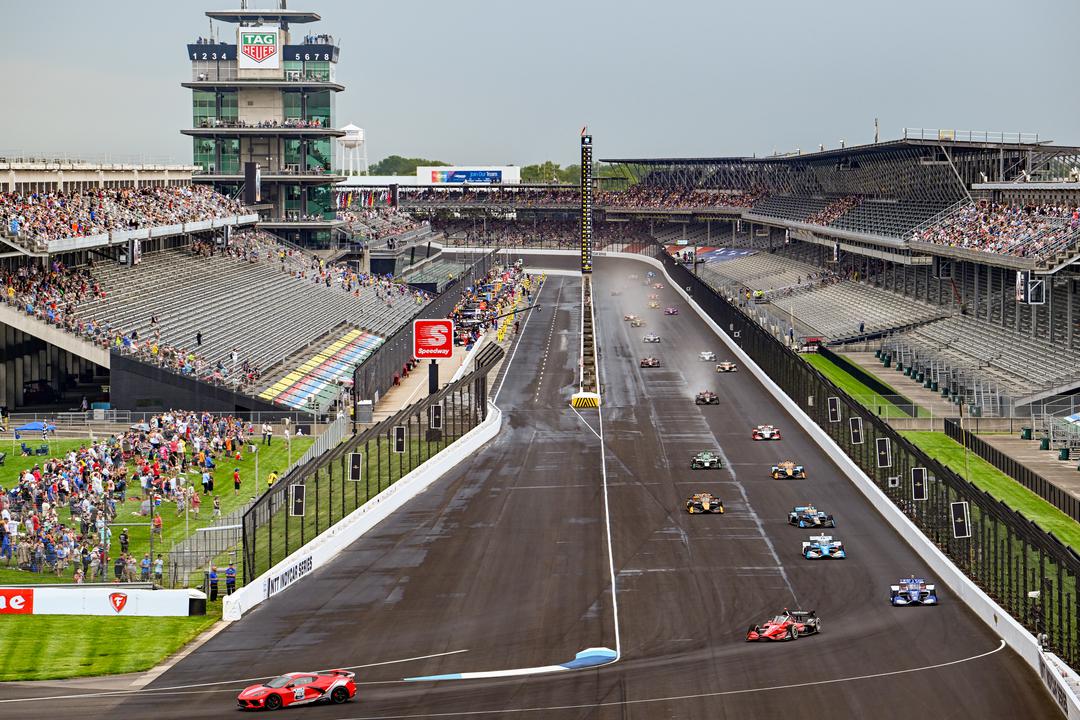 As Formula E's chief championship officer and co-founder Alberto Longo eloquently explained to The Race earlier this week, all may not be lost for 2023. But in reality, getting a race on next June to replace Red Hook is a massive ask.
The fallout from that, which has to be temporary, is nonetheless painful, and viscerally so.
"We're obviously disappointed as not only are we a US-based team, but our title sponsor is also based in Brooklyn," Roger Griffiths, team principal of one of the two US-entered Formula E teams in Avalanche Andretti, tells The Race.
"It's a big hit for us.
"A race in the US has really been a cornerstone of the championship, almost since day one when we initially started in Long Beach, and then transitioned to the New York location.
"We know there are some challenges around the venue. But we were very hopeful that those could be overcome for season nine, even if it was potentially a compromised location while Formula E look for a more permanent home."
Andretti is involved in multiple championships and has invested a great deal in Formula E since the very first day. It's clear that it believes that not enough is being done to cement a strong footprint in its home country.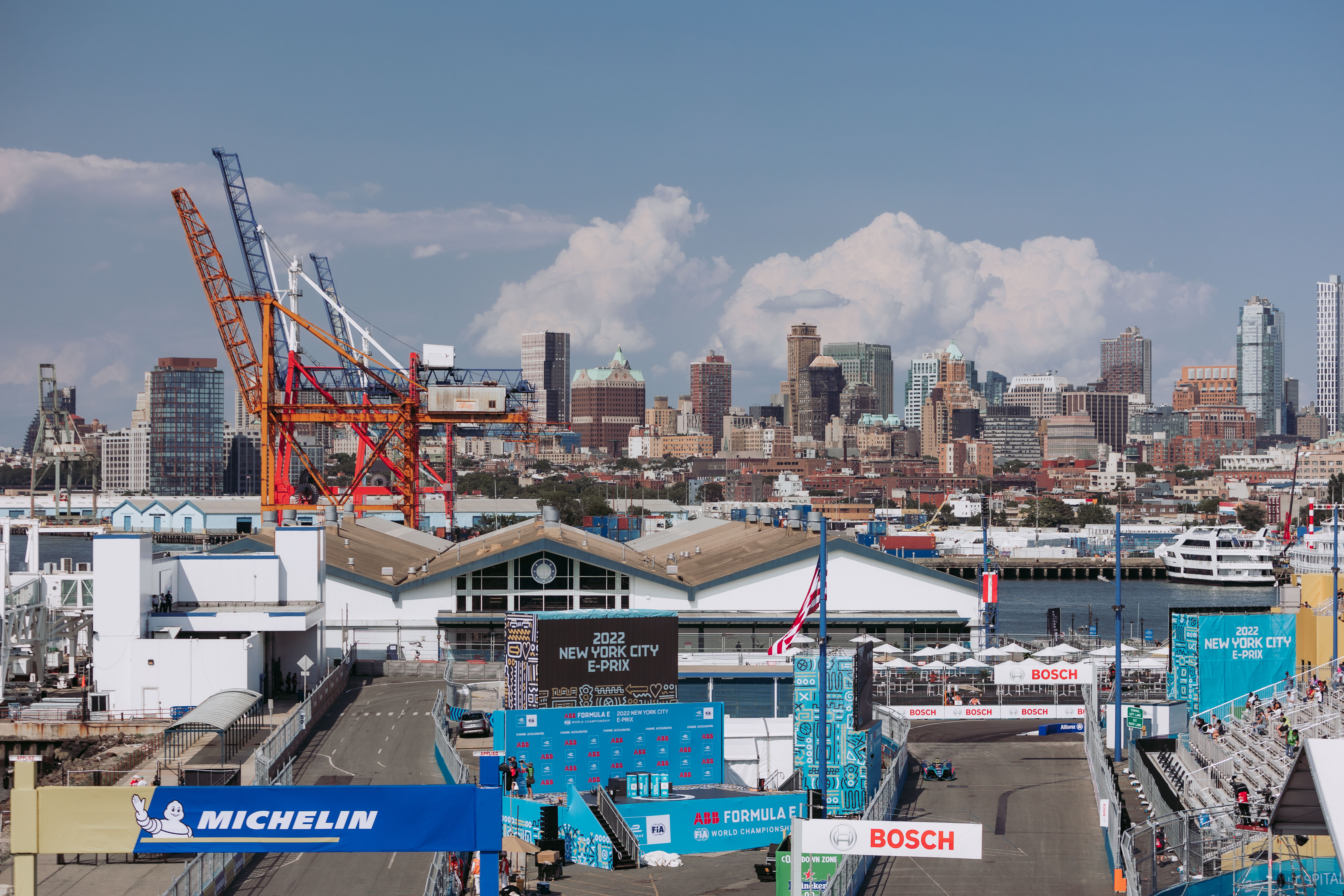 "We've seen other championships expand in the US, and we were certainly hopeful that Formula E would be able to follow suit," adds Griffiths.
"It's one of the largest EV markets in the world, so at this stage to not have representation in the US is obviously disappointing for us particularly, but also I'm sure for other manufacturers and competitors in the championship also.
"Hopefully a solution can be found very quickly, and we can share some positive news about the continuation of racing in the USA."
It's not just the home based teams and the large manufacturers that will feel the pain of a probable North American void in Formula E's 2023 calendar.
McLaren has been heralded, along with Maserati, as one of the feel-good stories of 2022/23 for Formula E. Its entry was complex and came about more through the championships founding father Alejandro Agag's vision than anything else. Nevertheless, it is essentially a double world champion team in all but name – McLaren has taken over Mercedes' successful entry – and one that is regrouping for its debut in January.
Its team principal Ian James spent part of his early career in the US, and recognises that it's a key market for pretty much everyone in the championship.
James still believes FE will find a new US home and says he's got "every faith in Formula E that they'll continue to look at every option out there".
"I'm very much hopeful that we will be racing out there in 2023," adds James.
"That being said, I think it's important that we continue to have that presence in North America and ride the crest of that wave that motorsport currently has out there as well.
"The following is growing and growing and I think it's important that we're part of that as well.
"We're in a pretty unique position, because we've got obviously the IndyCar team, and we've got the F1 team, and both series are incredibly well-represented in the US, so I think we're in a slightly different position to others."
Back to that forum in New York in July, and Reigle addresses the audience.
"We actually did some market research recently and roughly 800million people around the world say they like motorsport, and about 500million of those people have never heard of Formula E," he said.
"When you first hear that you think, 'God, what are we doing?'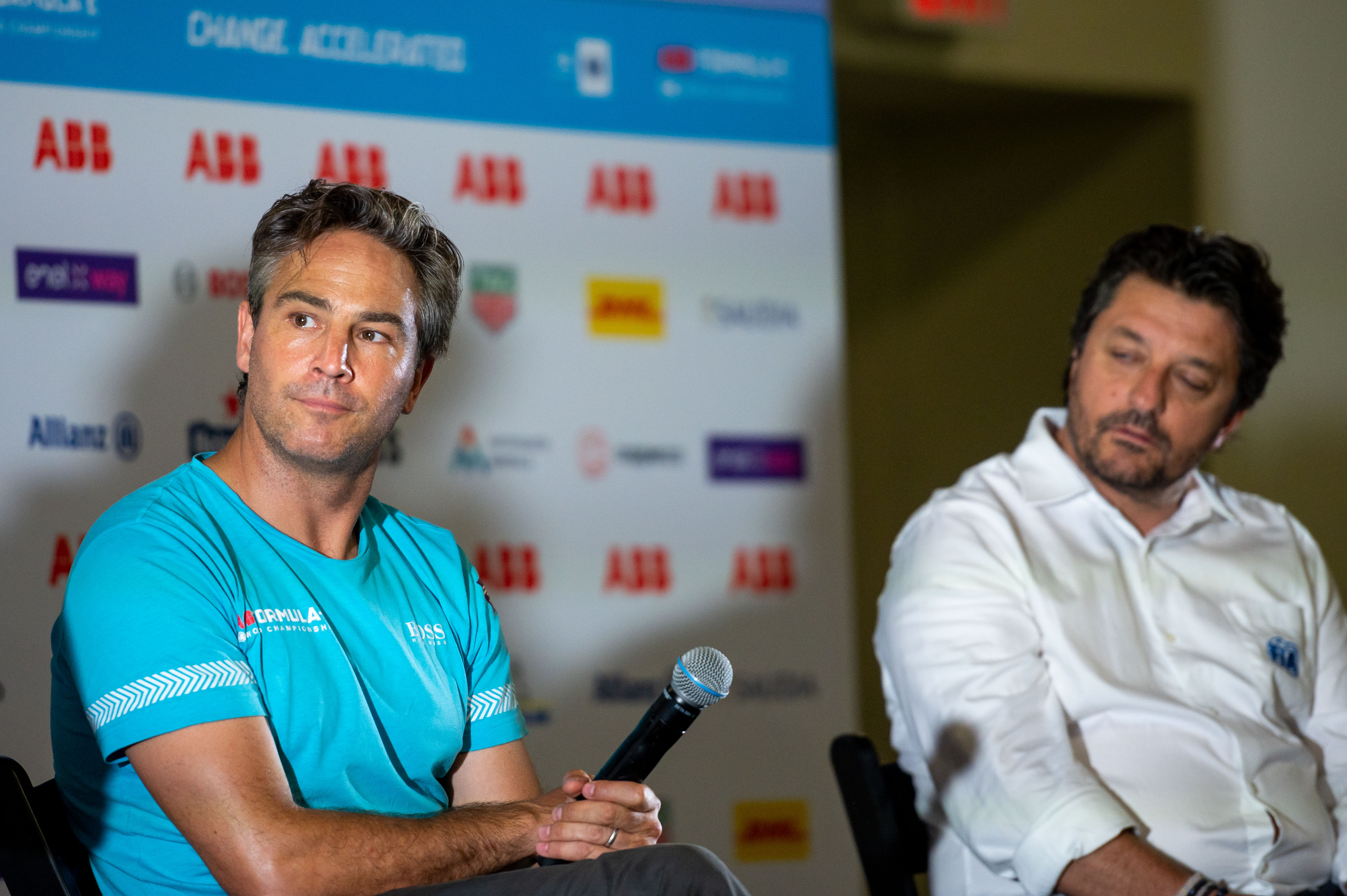 "On the other hand, this is actually an opportunity because people who like car racing and, say, someone [who] comes in to watch the Indy 500, they may not naturally be inclined to support an electric championship out of the gate.
"But if we can present that product to them through the right digital channels, CBS is our broadcast partner, we're going to bring new fans into the sport. So that gives me hope."
Reigle framed the above by also saying that "we also have 25% of our fanbase specifically saying they don't like other motorsport".
"So, they specifically say 'we like Formula E because it's in the cities because it's clean', etc. That's just a completely different segment, and by the way, that means you have a market in different ways with those two different audiences."
I wonder if these points might become lost on some within the world championship this weekend when an expected 400,000 people descend on COTA for F1.
F1 is creating a magical slipstream for other motorsport at the moment. Unfortunately, Formula E doesn't appear capable of getting anywhere near a tow at present.
While comparisons to F1, especially around the same tracks used such as Monaco, are completely irrelevant, Formula E's future relationship with it is not. Upon crests of waves the best surf lies.
Formula E's Gen3 era has to hit the ground running in January, and while the three new exciting E-Prixs in Hyderabad, Cape Town and Sao Paulo can distract from some issues, they can't completely disguise them.
Because when it comes to racing in areas of the world Formula E's very essence dictates it should, it simply has to be there at least once every season.