Sebastien Buemi defeated McLaren's Jake Hughes in a thrilling qualifying shootout for the first Diriyah Formula E race to claim his first pole position since 2019, as the DS-powered teams' woes continued – with crashes for Edoardo Mortara and Maximilian Guenther compounding a torrid start for Maserati.
Envision Racing driver Buemi had not previously won a duel since the championship adopted its current qualifying format last season, had not been on the front row since 2020, and most recently took a pole position in New York in July 2019.
But he sailed through the group stages, then with his customer powertrain beat both works Jaguars of Mitch Evans and Sam Bird in the quarter and semi-finals to set up a clash with the impressive Hughes.
The McLaren driver, searching for a maiden pole in only his second Formula E qualifying session, was ahead for the majority of the final runs but Buemi pulled out a stunning final sector to grab pole by 0.060s with a 1m09.435s lap.
Buemi, who was audibly delighted over his team radio, moved back on level terms with Jean-Eric Vergne for the most poles in series history with 15.
Hughes's effort nevertheless capped an excellent qualifying for McLaren, with team-mate Rene Rast putting his Nissan-powered car fifth on the grid.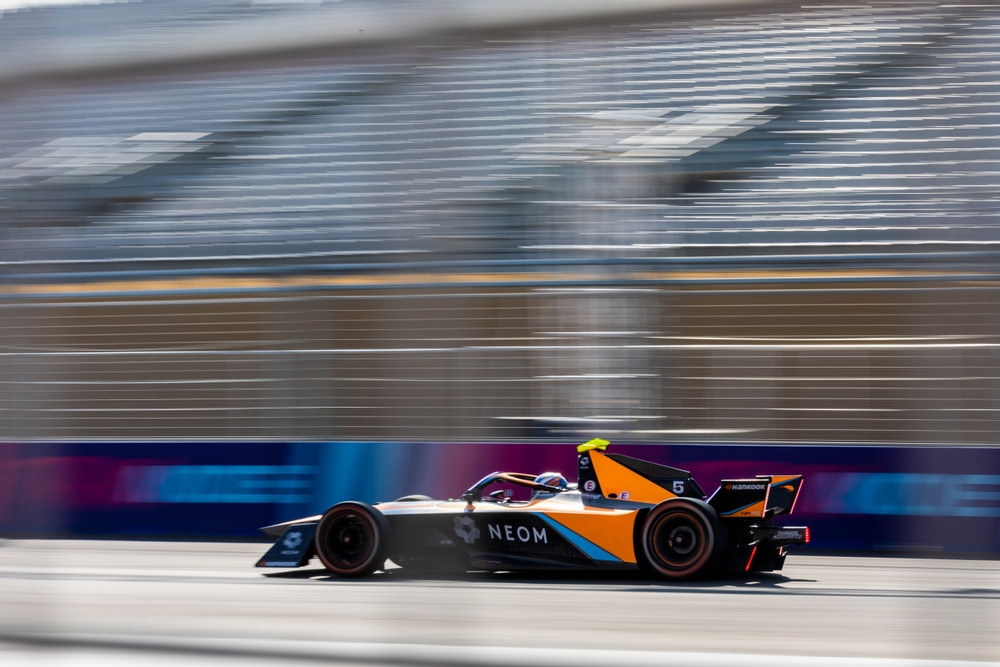 Bird had been the pacesetter in the group stages and though he was edged out by Buemi in their semi-final he will start third as he looks to bounce back from a painful season opener in Mexico, with the NIO 333 car of Dan Ticktum fourth.
Ticktum had been up on Hughes – who clipped the wall in his McLaren at the start of his semi-final lap – in their semi-final and on course to progress but slewed wide right at the end of his lap, reporting over the team radio: "F***'s sake, f***ed the last corner."
Hughes's emphatic lap in his quarter-final meant there was no repeat of Lucas di Grassi's surprise Mexico pole, but he and Mahindra team-mate Oliver Rowland both made the duels stage and were rewarded with seventh- and eighth-place starting positions, with the Jaguar of Evans between them and Rast.
The Porsche-powered cars did not show the same turn of pace as they'd managed at the Mexico season opener, with Pascal Wehrlein setting the fastest lap of the quartet in the second qualifying group.
Wehrlein survived a scare as he approached NIO driver Sergio Sette Camara at speed on the run to the final corner and the finish line.
Race control announced Sette Camara was under investigation for impeding the Porsche, but the NIO driver reported over the radio: "The mirrors don't work. I can't see anything."
They ultimately ended the session on the wrong side of the top-four cutoff in fifth and sixth, with fifth-placed Wehrlein almost a tenth and a half from a place in the duels.
Sette Camara received a three-place grid penalty after qualifying and will start 14th.
Mexico race winner and points leader Jake Dennis was eliminated in a late shuffle in the first qualifying group, though the Andretti-Porsche improved only to fifth on his final lap before dropping to sixth once di Grassi improved.
DS Penske's qualifying struggles continued as Jean-Eric Vergne and reigning champion Stoffel Vandoorne managed only seventh and ninth in the second group session.
The team's run plan was cited by Vergne as a possible reason for a sub-optimal qualifying in Mexico but there was no improvement for the first Diriyah race, with Vergne and Vandoorne both more than six tenths off the pace in their group and three tenths from a place in the quarter-finals.
The Penske-run team's troubles did not end there as Vandoorne's car is now having a battery change, but it did at least fare better than its DS-powered counterpart.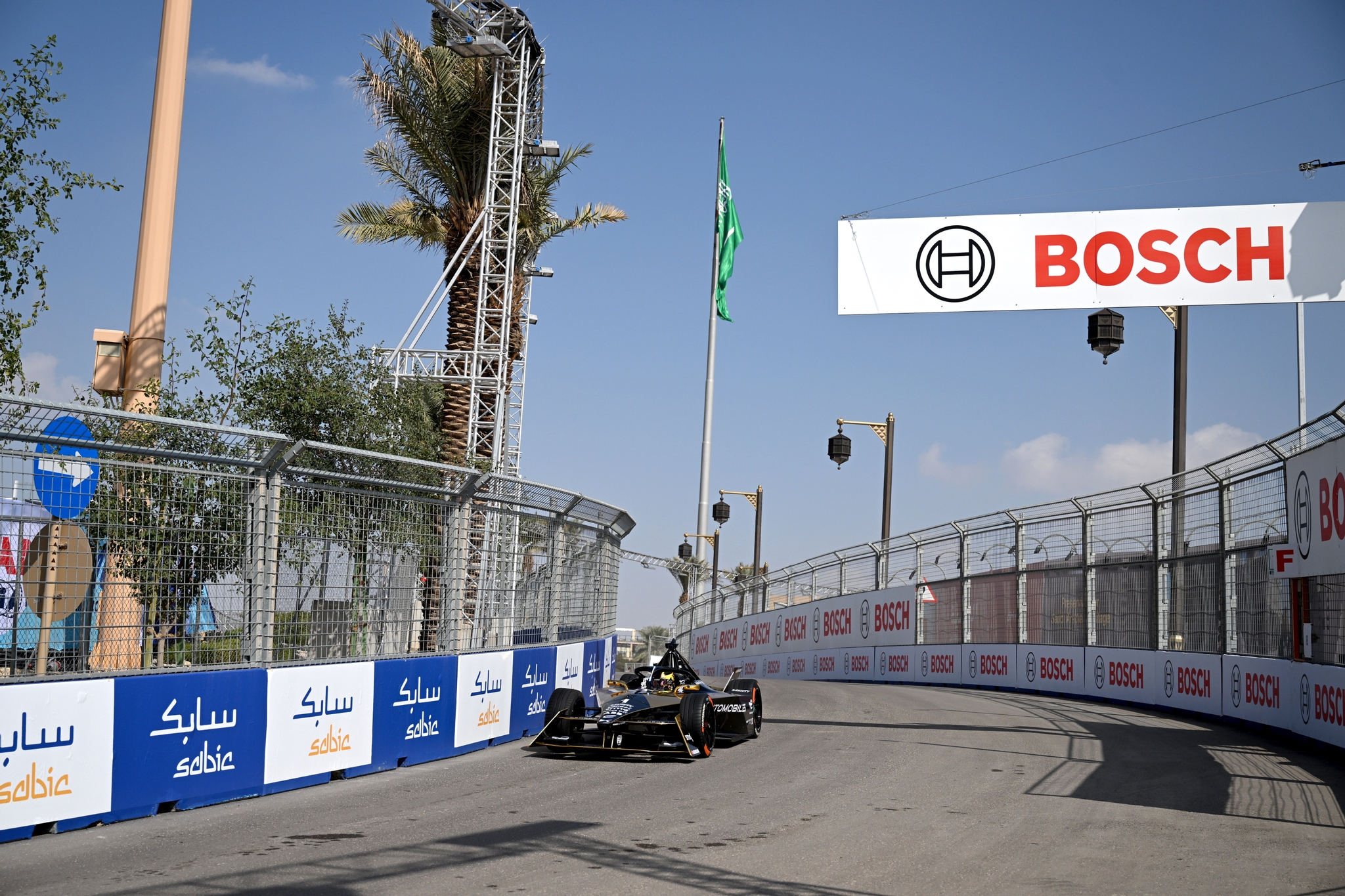 Maserati hoped pre-event that the Diriyah weekend would yield "big things" after a "brutal" first weekend in Mexico that it started among the favourites but ended without a points finish.
But its qualifying session was nothing short of disastrous, with both Guenther and Mortara crashing in the first group stage.
The session was halted just shy of the five-minute mark when Guenther shunted at the Turn 11 left-hander.
On his first push lap of the session, Guenther appeared to lock his front-left wheel while attempting to slow down for the corner and crunched into the barrier, the impact raising the bodywork on the front of his car.
Guenther's car was not back at the Maserati garage three hours out from the race's 8pm local start time and, though Maserati does have a spare chassis available – it shares one with DS Penske – Guenther will not take part in race one.
To compound the team's woe, when the session resumed Mortara proceeded to lose his car while navigating the long Turn 16 right-hander.
The rear of the car was damaged in the process, and Maserati engineers were said to be assessing whether a complete rebuild of that area was necessary ahead of the race.
Mortara did set a time but ended up almost 1.5s off the benchmark in his and Guenther's group, while if Guenther does start he will share the final row with Nico Mueller, whose ABT team was unable to repair his car in time for the session after a crash in second practice.
Repairs are still ongoing on our #51 car, which means @nico_mueller will unfortunately miss out on qualifying. #ABTCUPRAFE #WeAreBack #ABBFormulaE #FormulaE #DiriyahEPrix pic.twitter.com/PMFliSkrfx

— ABT Motorsport (@abtmotorsport) January 27, 2023
In fact, the back of the grid will be an all-Maserati-ABT affair as Kelvin van der Linde was 10th in group two on his first qualifying outing as stand-in for the injured Robin Frijns.
Qualifying Results
| Pos | Name | Team | Car | Q1 | Q2 | Q3 | Q4 |
| --- | --- | --- | --- | --- | --- | --- | --- |
| 1 | Sébastien Buemi | Envision Racing | Jaguar I-TYPE 6 | 1m10.231s | 1m09.79s | 1m09.366s | 1m09.435s |
| 2 | Jake Hughes | NEOM McLaren | Nissan e-4ORCE 04 | 1m10.269s | 1m09.713s | 1m09.779s | 1m09.495s |
| 3 | Sam Bird | Jaguar TCS Racing | Jaguar I-TYPE 6 | 1m09.942s | 1m09.558s | 1m09.462s | |
| 4 | Daniel Ticktum | NIO 333 Racing | NIO 333 ER9 | 1m10.661s | 1m09.593s | 1m10.246s | |
| 5 | René Rast | NEOM McLaren | Nissan e-4ORCE 04 | 1m10.265s | 1m09.729s | | |
| 6 | Mitch Evans | Jaguar TCS Racing | Jaguar I-TYPE 6 | 1m10.245s | 1m10.039s | | |
| 7 | Lucas Di Grassi | Mahindra Racing | Mahindra M9Electro | 1m10.784s | 1m10.052s | | |
| 8 | Oliver Rowland | Mahindra Racing | Mahindra M9Electro | 1m10.6s | 1m10.114s | | |
| 9 | Pascal Wehrlein | TAG Heuer Porsche | Porsche 99X Electric | 1m10.407s | | | |
| 10 | Nick Cassidy | Envision Racing | Jaguar I-TYPE 6 | 1m10.829s | | | |
| 11 | Sérgio Sette Câmara | NIO 333 Racing | NIO 333 ER9 | 1m10.598s | | | |
| 12 | Jake Dennis | Avalanche Andretti | Porsche 99X Electric | 1m10.903s | | | |
| 13 | Jean-Eric Vergne | DS Penske | DS E-Tense FE23 | 1m10.602s | | | |
| 14 | António Félix da Costa | TAG Heuer Porsche | Porsche 99X Electric | 1m10.94s | | | |
| 15 | André Lotterer | Avalanche Andretti | Porsche 99X Electric | 1m10.607s | | | |
| 16 | Norman Nato | Nissan | Nissan e-4ORCE 04 | 1m10.985s | | | |
| 17 | Stoffel Vandoorne | DS Penske | DS E-Tense FE23 | 1m10.636s | | | |
| 18 | Sacha Fenestraz | Nissan | Nissan e-4ORCE 04 | 1m11.073s | | | |
| 19 | Kelvin van der Linde | ABT Cupra Formula E Team | Mahindra M9Electro | 1m11.048s | | | |
| 20 | Edoardo Mortara | Maserati MSG Racing | Maserati Tipo Folgore | 1m11.708s | | | |
| 21 | Nico Müller | ABT CUPRA | Mahindra M9Electro | | | | |
| 22 | Maximilian Günther | Maserati MSG Racing | Maserati Tipo Folgore | 1m32.982s | | | |