Formula 1's final sprint race of 2021 delivered an enthralling 24-lap contest with Lewis Hamilton charging from last to fifth while his Mercedes team-mate Valtteri Bottas fended off Max Verstappen at the front of the field.
The race might only offer three points for the winner but it has major ramifications at a crucial point in the championship battle – as well as plenty of other fights throughout the field.
Our writers give their verdict on the key winners and losers from F1's Brazilian GP sprint race.
Winners
Valtteri Bottas
Overshadowed by Hamilton's heroics, this was another great Bottas sprint drive – and unlike at Monza, he gets the full reward from it and will start up front tomorrow.
Mercedes putting him on softs meant his mission was to jump Verstappen at the start, keep the tyres alive and fend the Red Bull off all the way.
That is precisely what he did. – Matt Beer
Mercedes and Lewis Hamilton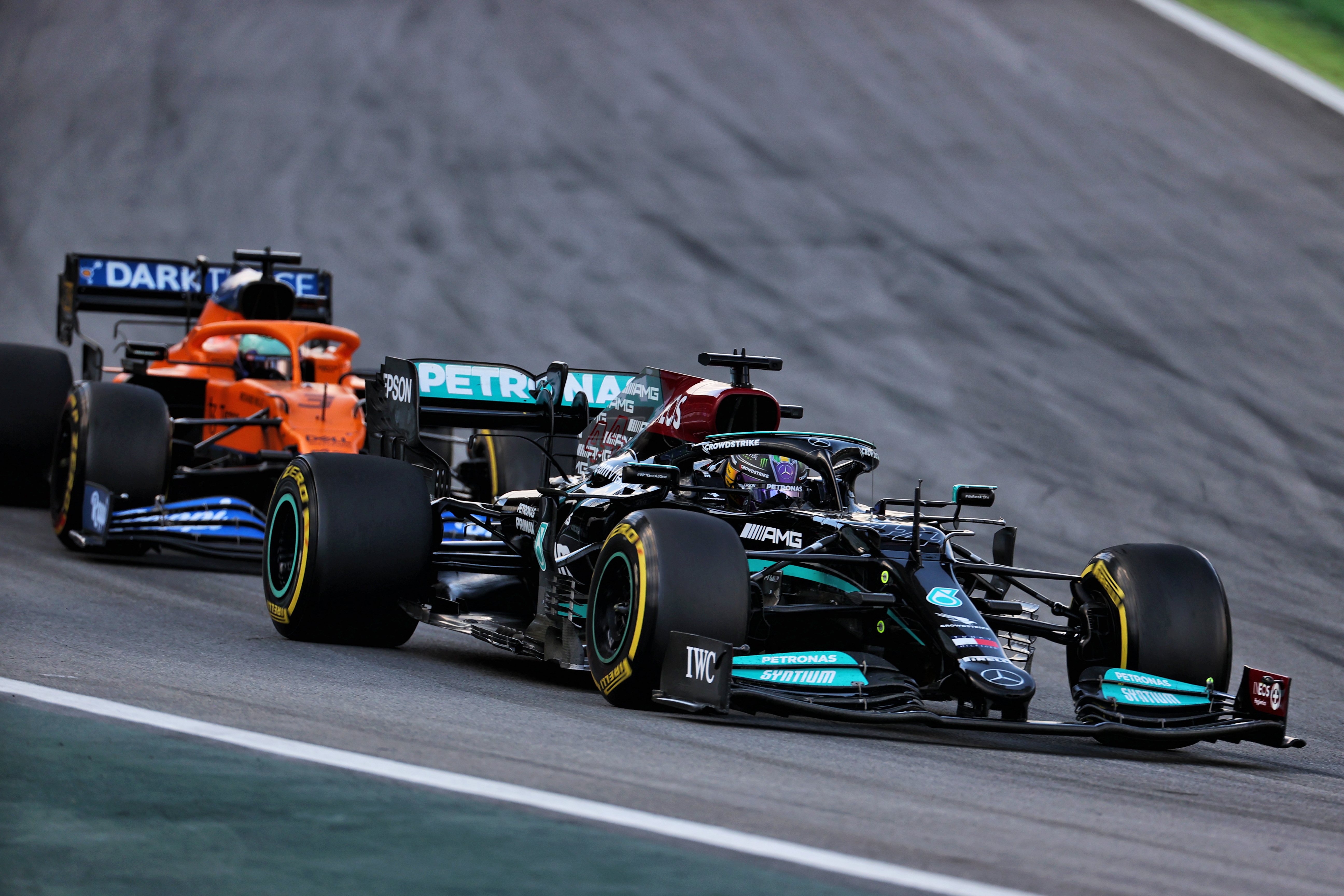 What a turnaround. Just hours before the sprint, Mercedes' situation looked so different with its championship contender Hamilton thrown to the back of the grid and arch-rival Max Verstappen only getting a fine from his own stewards' encounter and inheriting pole.
Hamilton would only have 24 laps and no pitstop strategy to help to get through the order, and would then lose another five places on the Sunday grid anyway.
Positives looked hard to find.
But Hamilton's ferocious progress in those 24 laps changed everything. Twentieth to fifth in 24 laps makes 10th to first in 71 laps tomorrow look relatively straightforward, the pace that allowed him to dominate qualifying clearly still in the car. Having team-mate Valtteri Bottas on Sunday pole won't hurt either.
The game is still on. – MB
Carlos Sainz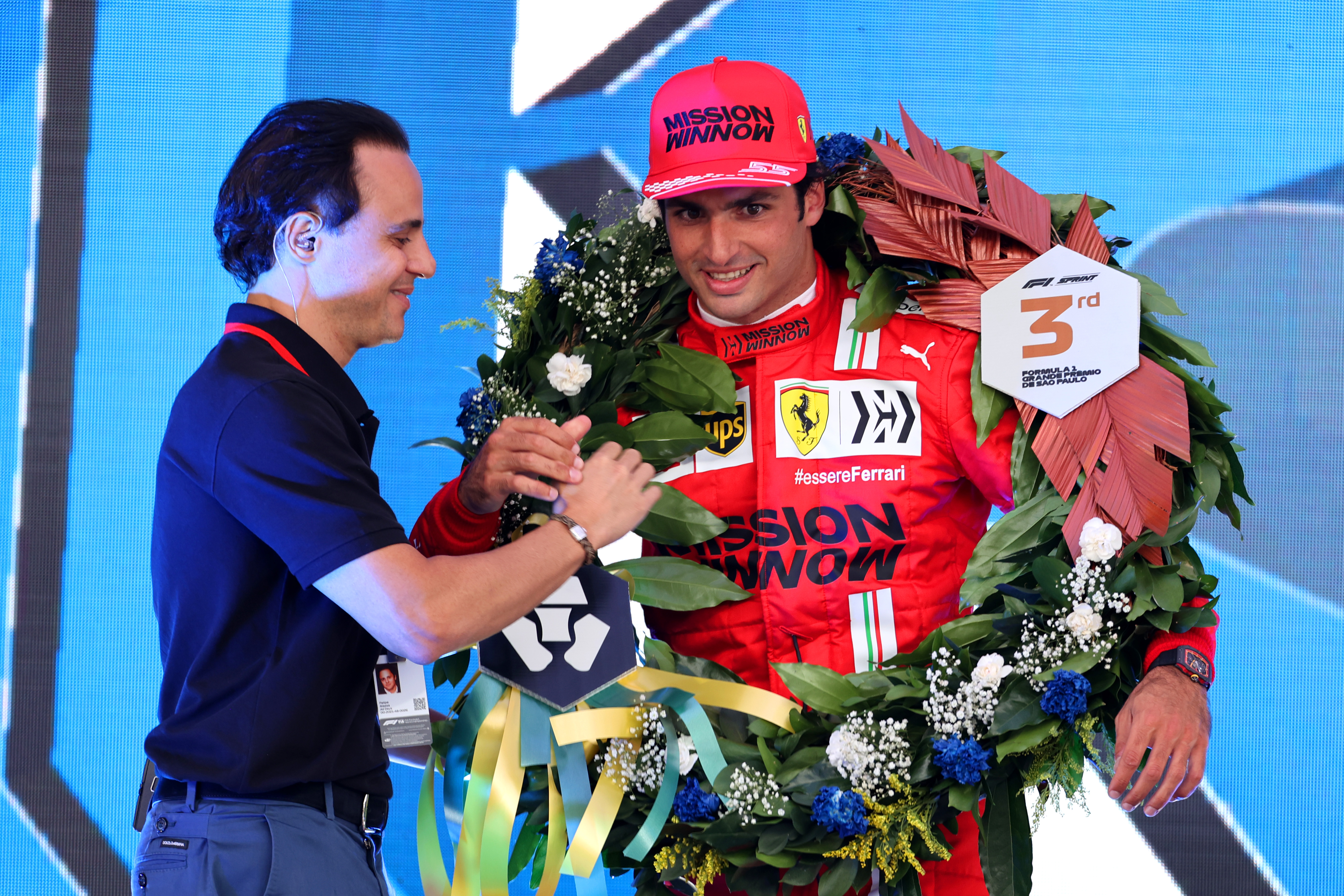 Carlos Sainz's excellent first season as a Ferrari driver continues with a sprint race drive reminiscent of Daniel Ricciardo claiming a front row start for the Italian GP in the Monza sprint race earlier this year.
That's not a bold victory prediction but praise of a beautifully-executed defensive drive that allowed Sainz to make the most of his soft-tyre gamble.
With Lando Norris overhauling Charles Leclerc, Sainz's heroics allow Ferrari to remain on course to take a further advantage over McLaren in their fight for third place in the constructors' championship. – Josh Suttill
F1's sprint race format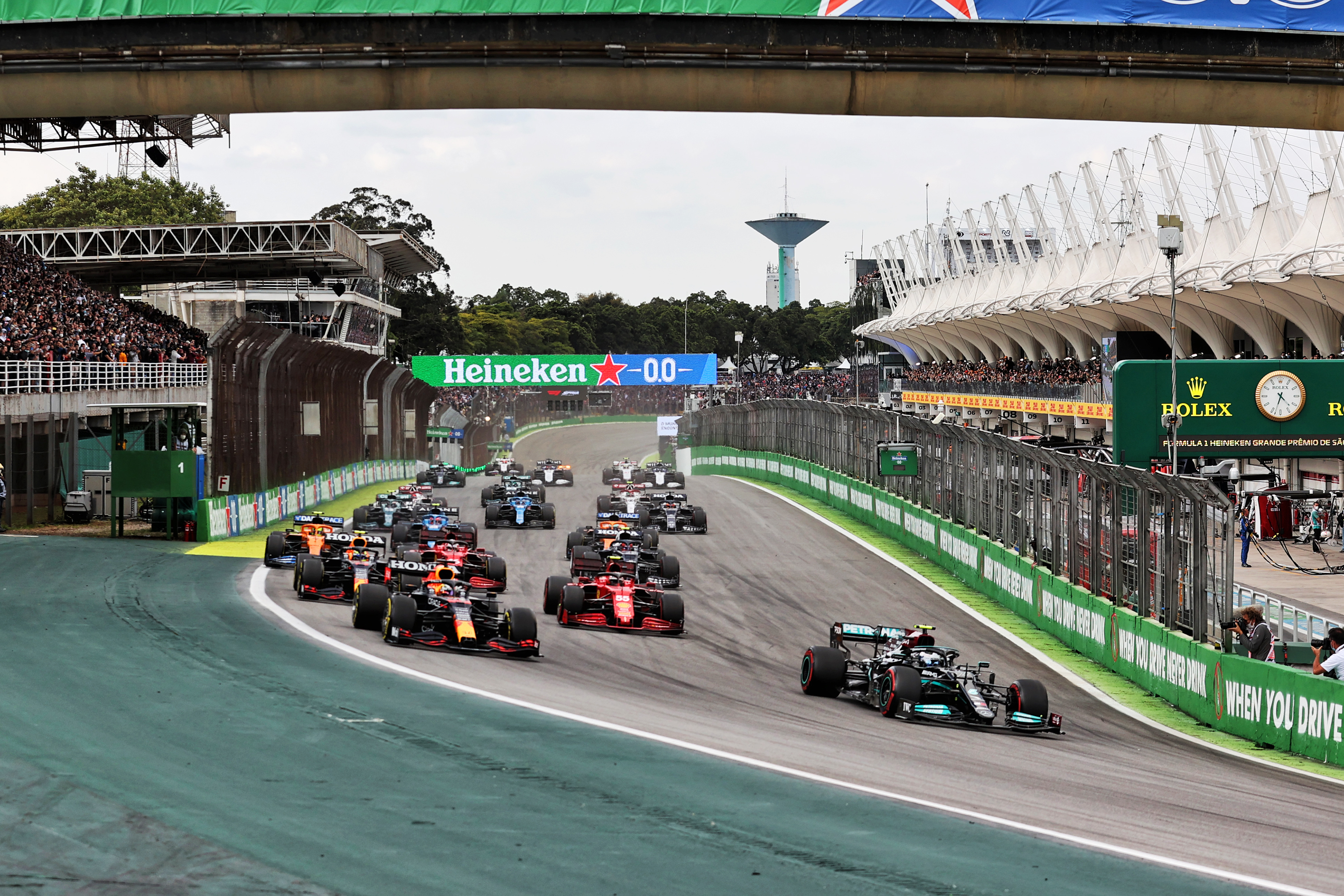 It's fair to say F1's sprint races have been a little bit hit and miss during their debut year.
Silverstone was fairly static but the Monza and Interlagos sprint races both had exciting implications for the complexion of the grand prix grid for the sprint race.
While Monza's sprint race thrust Ricciardo firmly into victory contention, Interlagos allowed Hamilton an extra 24 laps to make progress after his post-qualifying DSQ and Bottas a chance to peg back Verstappen – two things that make the title race more exciting.
Throw factors like Sainz moving up into third place and crucial swings in the Ferrari/McLaren and Alpine/AlphaTauri fights, and the sprint race has arguably made the grand prix an even more exciting prospect than it was after Friday qualifying.
Regardless of the on-track quality of the sprint races – which was fairly high today – the sprint races have achieved two crucial aims fairly consistently throughout 2021: 1) Make Fridays more interesting; 2) Mix up the grand prix grid. – JS 
Losers
Red Bull
The final sprint race of the 2021 season can only be seen as a failure for Red Bull.
Verstappen's title rival Hamilton gained 15 places and will only be eight places behind Verstappen on the grand prix grid tomorrow – with a car clearly capable of threatening the podium.
Bottas jumped Verstappen at the start and denied the Dutchman pole position and cost him an extra point for winning the sprint race. Verstappen had the tyre advantage in the latter stages but just couldn't get close enough to Bottas.
To make matters worse Sergio Perez lost the final place in the top three to Sainz and unlike Verstappen, he couldn't get past the Ferrari driver. While Bottas played his role perfectly, Perez misfired.
Red Bull can still gain the constructors' championship lead on Sunday and Verstappen can stretch his advantage over Hamilton, but Verstappen cannot afford to be bottled up behind Bottas again nor have Perez falling short of the job he needs to do. – JS
AlphaTauri
Interlagos should have presented a clear opportunity for AlphaTauri to grab a decisive advantage in its fight with Alpine for fifth in the constructors' championship, with Pierre Gasly lining up in fourth place for the sprint race.
But a sluggish start dropped him to eighth place and left him struggling to manage his soft tyres and keep the Alpine of Esteban Ocon behind.
Gasly's team-mate Yuki Tsunoda didn't fare much better as the F1 rookie also struggled on the soft tyres and dropped from 12th to 15th, only beating Kimi Raikkonen (who spun) and the Williams and Haas duos. – JS
Former sprint race stars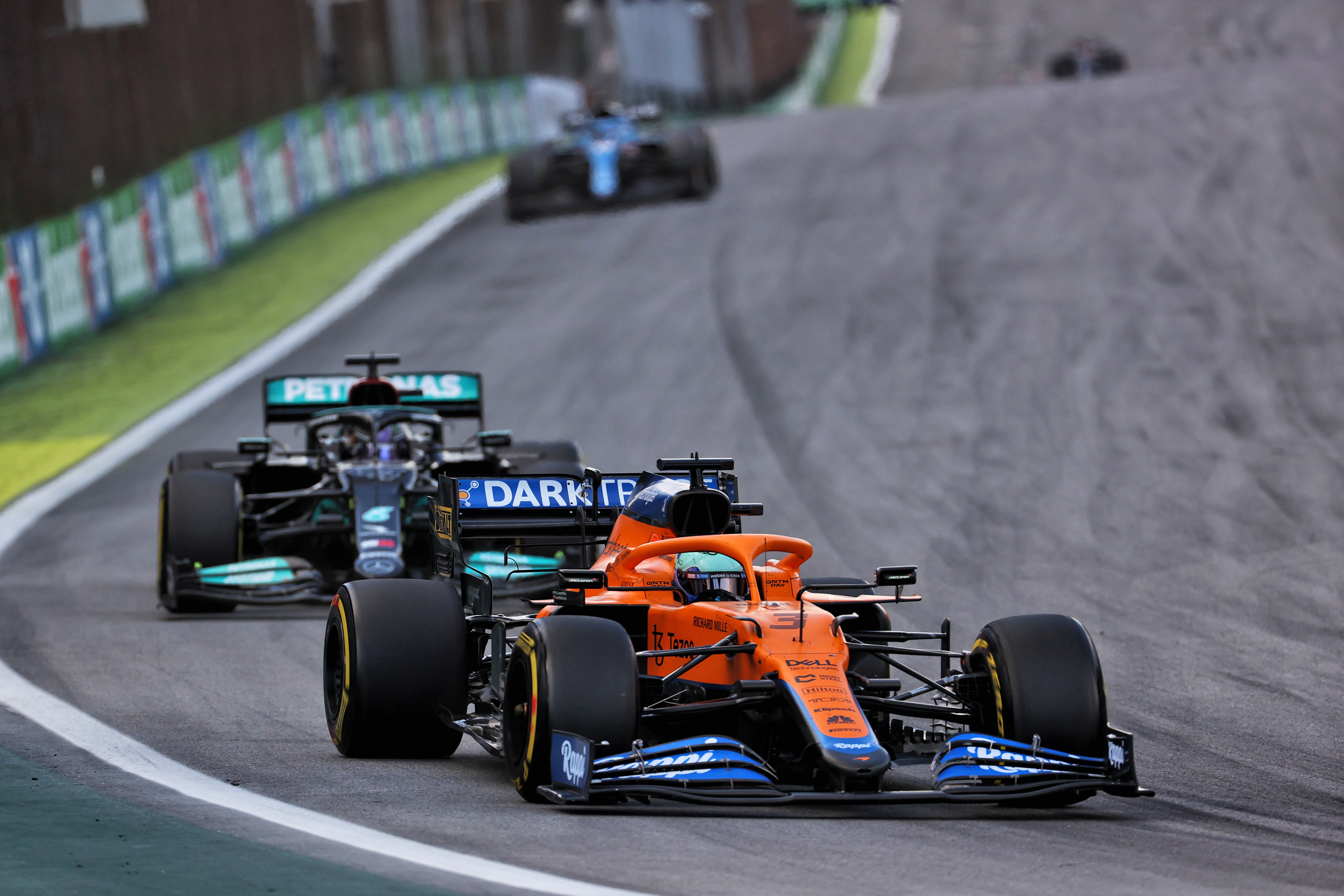 As mentioned above, Ricciardo's Monza sprint race efforts helped to set up that historic win, but his sprint race at Interlagos was far more disappointing as he dropped from eighth to outside the top 10.
An 11th place start will not help McLaren's chances of overhauling Ferrari for third place in the constructors' championship, and instead put a dampener on Ricciardo's recent improved form.
Fernando Alonso was the star of F1's first sprint race at Silverstone but he fell backwards at Interlagos as he dropped down from ninth on the grid to 12th place.
He made an early move on Antonio Giovinazzi but his progress stopped there, and he was outshone by his team-mate Ocon – who moved from 10th to ninth and put Alpine right in the mix with its rival AlphaTauri. – JS 
Kimi Raikkonen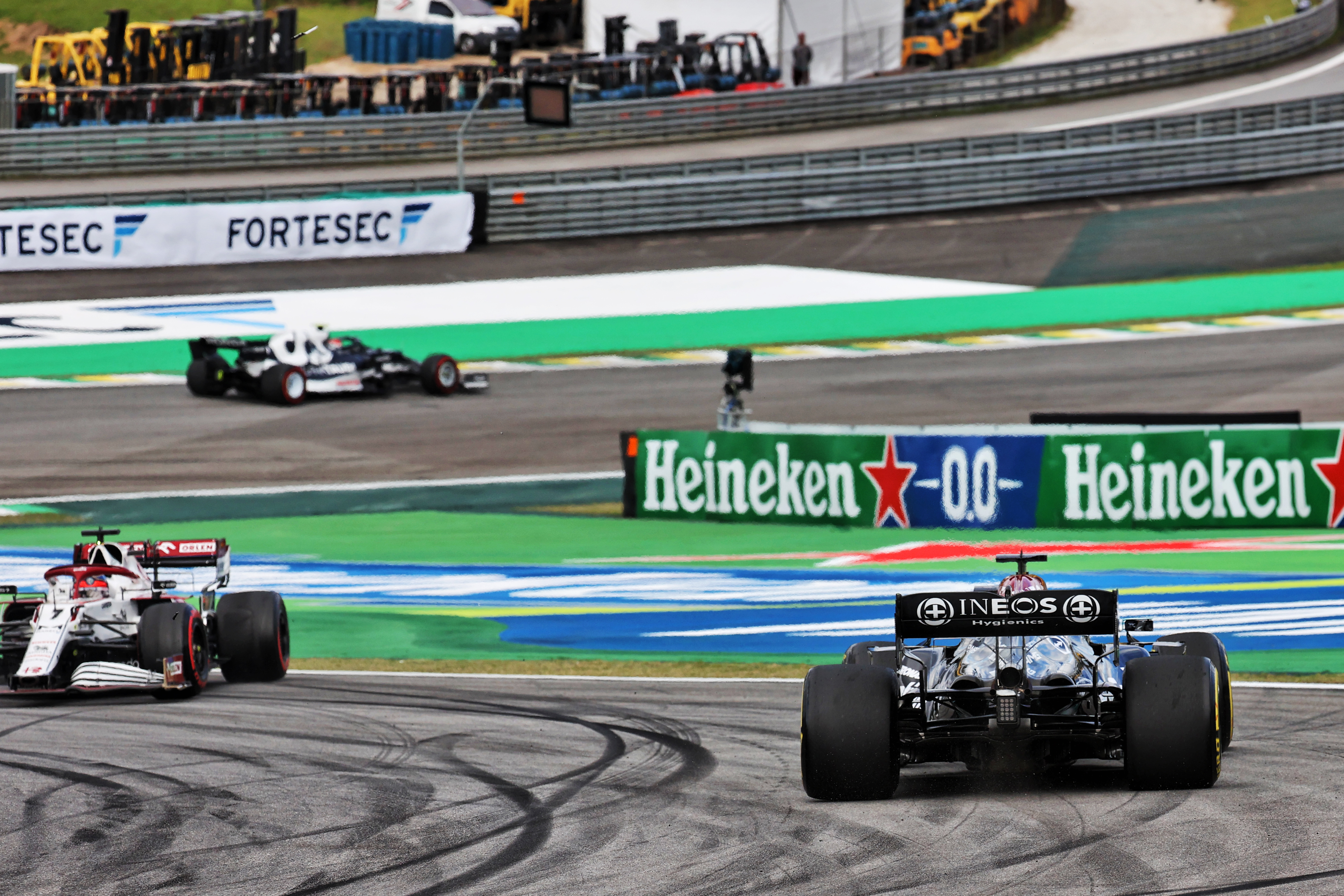 There's only one 2021 F1 driver pairing where neither is likely to be on the 2022 grid. That pairing managed to collide early in the sprint.
Given that Antonio Giovinazzi and Kimi Raikkonen were merging onto the same spot at the Senna S after using their soft tyres to go either side of Alonso's medium-shod Alpine, this wasn't as clear-cut as Giovinazzi simply punting the sister Alfa Romeo off (or as clear-cut as Raikkonen smashing into Giovinazzi at Portimao was earlier in the year).
But it left Raikkonen back in 18th on the grid for Sunday, behind Alfa Romeo's key constructors' championship rival Williams having comfortably outpaced it on Friday. – MB