Alex Albon believes his points finish in the Miami Grand Prix was "much less surprising" than his 10th place in Australia despite Williams struggling for pace in qualifying.
Albon finished ninth in Miami, gaining two places late on when Sebastian Vettel and Mick Schumacher collided, then another after the chequered flag when Fernando Alonso was hit with a second five-place penalty for gaining an advantage by exceeding track limits.
After setting top-nine pace in two of the three free practice sessions, Albon felt the Williams-Mercedes FW44 was more competitive than its struggles in Q1, when he was half-a-second off the Q2 cutoff, suggested.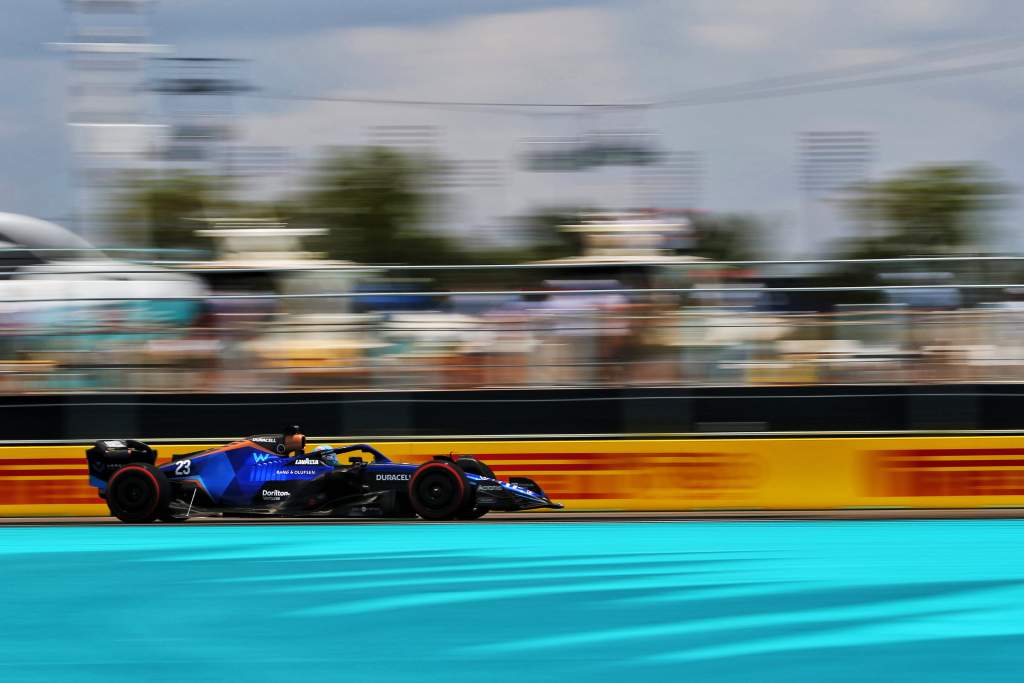 "If you look at the whole weekend, I'd say this is much less surprising than Melbourne," said Albon.
"We were in the top 10 for two out of three practice sessions and we were genuinely there – it wasn't low fuel or anything like that.
"So to get P10 [on the road] is what I felt we should have been all weekend.
"Of course, we lucked into a few collisions with the cars in front but we were right behind them and catching as well. It was a strong weekend for us.
"The anomaly is qualifying and we need to understand where to get the performance back because we got it in Bahrain [reaching Q2] and we just lost our footing a little bit.
"We had the brake issue in Imola, fuel issue in Melbourne and here we just couldn't switch the tyres on. So it's looking very positive."
Albon was buoyed by the competitiveness of the car in the race, despite spending much of it stuck in traffic.
In the first stint he overtook Mercedes driver George Russell for 14th on the run to Turn 17. This followed Russell locking up earlier in the lap and losing the DRS.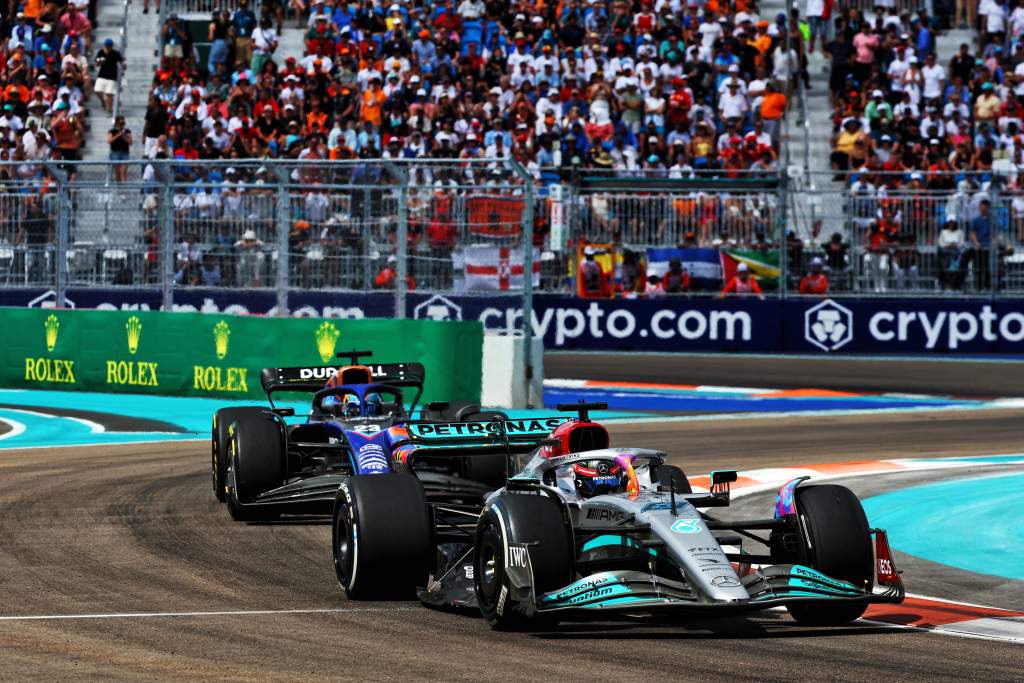 Russell was able to get back past and Albon made his sole pitstop on lap 16 to take hard tyres. The decision to eschew a pitstop under the safety car and run to the end paid off, allowing Albon to take the restart 11th.
Although he slipped behind Vettel, he broke back into the top 10 with four laps to go and was still there at the chequered flag.
"We were fighting George at the beginning of the race, we overtook him at one point," said Albon when asked by The Race whether he and Williams deserved a slice of luck given the qualifying struggles.
"We then caught Daniel [Ricciardo] in the race and we were catching the whole pack in front of us. So I don't even call it luck.
"We were optimistic on strategy. We stayed out when everyone else pitted and we took our chances as we keep doing and it's putting us in these situations where we're nipping at the points."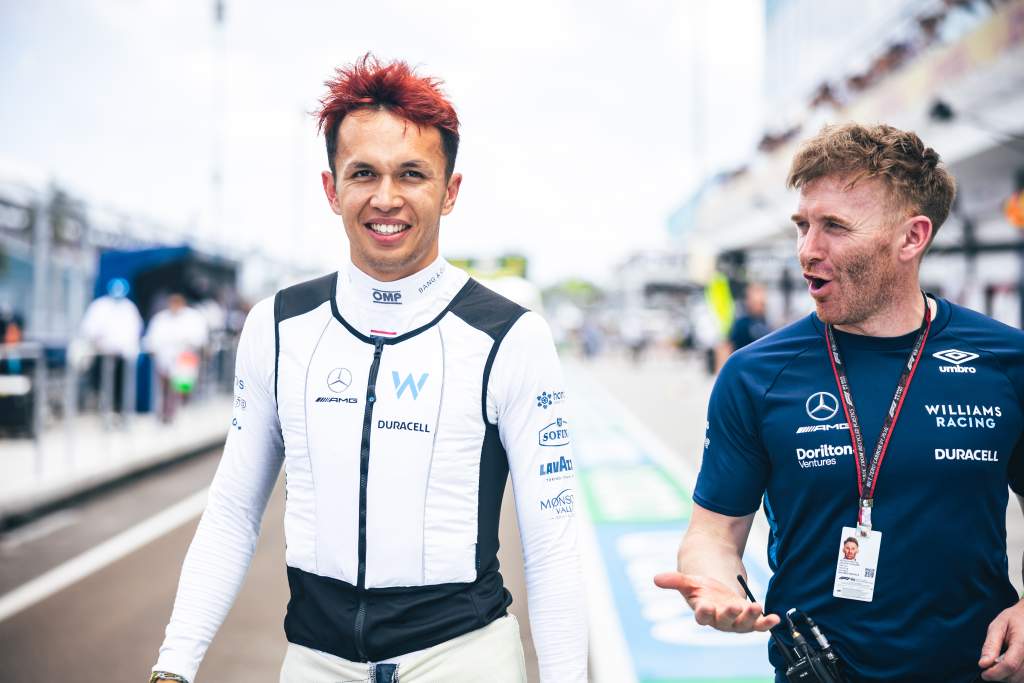 Williams has the slowest car on average this season, measured by its fastest time of each weekend compared to the outright pace with a deficit to 2.649% to the front. That's around 0.6% worse off than last year. Its haul of three points, all for Albon, means it is last in the constructors' championship.
Williams is expected to bring some upgrades for the next race in Spain, but Albon suspects the car is more competitive than its pace in qualifying in particular shows.
The FW44 has been stronger in the races, particular when running the C2 Pirelli – the tyre compound Albon used to complete all but one lap of the Australian Grand Prix on his way to 10th place.
"Yea, but I honestly don't know," said Albon when asked by The Race if recent qualifying troubles have shrouded the true pace of the car.
"We can say 'we should be here, we should be there' but at the minute we're not getting into Q2. So until we get into Q2, we can say that's where our car is [but it doesn't mean anything].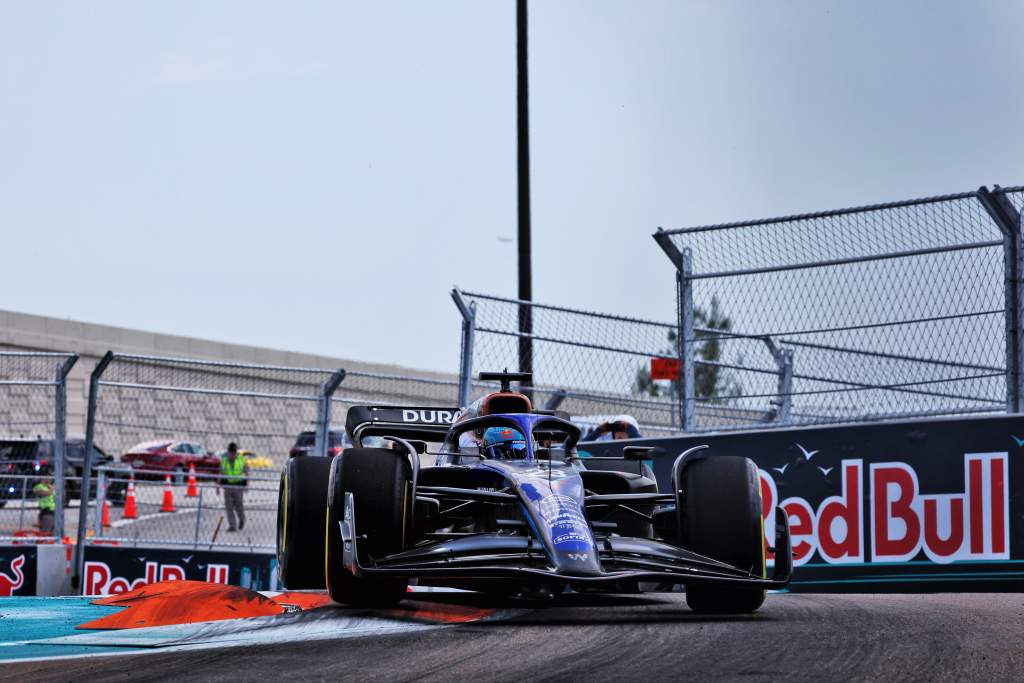 "In some respects we are doing a really good job in the races and I feel like we are outdoing other people on tyres and strategy and also on how we work the tyres.
"That C2, I did my best lap on the last lap and there's something about that tyre that we love."
The Williams does appear to be a marginal Q2 car, meaning it will be in the top 15 on a good day. But for its struggles with the tyres in Q1, it did appear to have the speed to do so in Miami.
But it's clear that Williams needs to make big improvements to become a more consistent points-scorer.
Until then, Albon's strong performances are its main weapon as it battles to pull unexpected results out of the bag.