Sebastian Vettel's much-publicised sympathy for denying George Russell a points finish in the Tuscan Grand Prix was well-placed and reflected more than the Ferrari driver's sporting spirit.
It also captured the truth that the Williams driver had genuinely earned his first top 10 result in 30 Formula 1 starts before fate intervened.
Russell finished 11th, 2.421s behind Vettel, but had been four seconds clear of the Ferrari driver in ninth place before the safety car was called when Lance Stroll crashed with 16 laps to go.
"It will come for him but poor soul, I think he really deserved the point" :: Sebastian Vettel
This was subsequently upgraded to a red flag, with Russell dropping to the back after wheelspin off the standing restart and only being able to repass Romain Grosjean's damaged Haas before the finish. Without the red flag, Russell would certainly have finished in the points, leading to Vettel's tribute.
"I felt a bit sorry, to be honest, for him because I think he drove really well," said Vettel.
"Before the last restart he was faster than us, he was more consistent. He managed his race well, I could see what he was doing. It will come for him but poor soul, I think he really deserved the point today.
"Obviously, if I let him by for the last point because I think he fought probably harder than anybody else, then I'm probably hung!
"I feel a bit sorry for him because he really fought his way up to the points and didn't get the result that he deserved."
To understand why Russell deserved it, we need to look at his result in depth. He started 18th on the grid having taken a bite of the gravel exiting the Savelli left-hander on his best lap in Q1, although he still improved to ensured he preserved his record of never being outqualified by a team-mate in F1.
Russell suffered wheelspin at the original start and briefly dropped behind team-mate Nicholas Latifi on the run to the first corner. But he positioned his car on the outside of the first corner and was battling for 15th when the collision involving Kimi Raikkonen, Pierre Gasly, Romain Grosjean and Max Verstappen happened ahead of him.
Russell's management of the gaps behind him was so good that no chasing driver was ever able to deploy the DRS
He kept clear of that and took a tight line through the Luco left-hander, well out of the way, which also ensured he avoided Carlos Sainz Jr's spun McLaren. This put him 11th behind Renault's Esteban Ocon and ahead of Kevin Magnussen's Haas. As Russell later said, it was a case of "right place, right timing" for the original start.
Russell played a part in the restart crash through leaving a gap to Ocon and attempting to get a run on him by gunning the throttle. That led to him being among 12 drivers given official warnings over their driving in the accident. But he was not caught up in it, having kept just clear of Magnussen.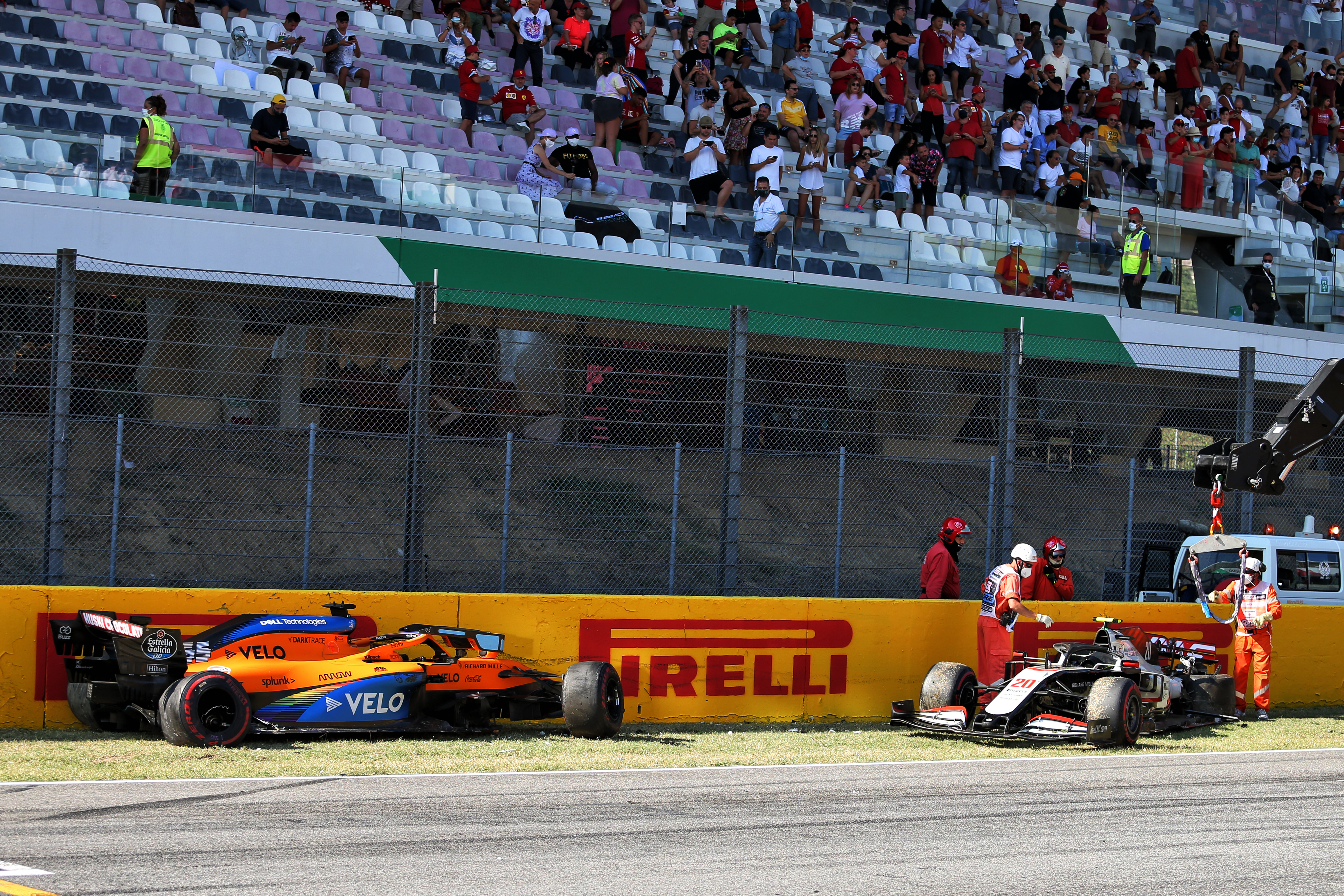 With Ocon retiring as a result of rear brakes damaged by overheating under the safety car thanks to debris, Russell took the standing restart 10th in line.
He again suffered wheelspin but Raikkonen passed him through the Luco/Poggio Secco left/right, relegating the Williams to 11th. But that only lasted as long as the end of the following lap as Raikkonen ran wide in the final corner, which allowed Russell to pass him easily on the main straight.
The real threat was Vettel, who overtook Raikkonen for 11th on lap 16. But while maintaining the required management, Russell kept Vettel out of DRS range with the gap initially closing to between 1.3 and 1.8s for a period before edging up to beyond two seconds during this stint.
In fact Russell's management of the gaps behind him in this race was so good that no chasing driver was ever able to deploy the DRS while behind him.
By the time Vettel stopped to change to hard Pirellis at the end of lap 28, the gap was four seconds. This allowed Russell to make his stop for hards a lap later and emerge with his advantage largely intact to preserve 10th place.
During the following stretch, Russell had pace in mind and occupied himself with looking after the tyres without any great concerns. He moved up to ninth place when Charles Leclerc, who was struggling on hard rubber, pitted for mediums at the end of lap 37.
When Stroll crashed his Racing Point after a failure suspected to be a puncture on lap 43, Russell moved up to eighth place and was 4.1s clear of Vettel, with the rapid Leclerc seemingly on the verge of taking 10th and outpacing both – although with question marks over whether his tyre-chewing Ferrari would make it to the end on that set of Pirellis. Behind them was Raikkonen in 12th.
Under the safety car, Russell was initially told to stay out but queried the decision.
"Are you sure you want to stay out, the guys behind will probably box," he said. "We're damned if we do, damned if we don't".
While the initial response was to confirm he should stay out, a few seconds later the decision was reversed and he was correctly told to pit.
When the red flag was thrown, Russell held ninth pace but clearly knew he would be in trouble at the restart, which explains his frustration.
"What on earth is going on with all these red flags?" he asked over the radio.
The key question is whether Russell himself played a part in the bad launch
The second and final standing restart was where it all went wrong. He lined up ninth and on the right-hand side of the grid, but picked up wheelspin and dropped to 12th with Vettel, Raikkonen and Grosjean all passing him almost immediately. He was also dealt a glancing blow by Raikkonen, whose rear-left clipped the front-right wheel of the Williams as it was swamped.
"I got no damage from the nudge with Raikkonen," said Russell when asked about the start by The Race. "The starts had actually been poor all day, the launches, which was really frustrating. The procedure was absolutely bang on, so we just need to analyse what went wrong and ultimately, that's what cost us our race.
"They obviously got an extra lap before us to warm the tyres up [thanks to being sent round to unlap themselves], which definitely helped Kimi and Grosjean."
The key question is whether Russell himself played a part in the bad launch. Although he couldn't give a definitive explanation, he was emphatic that he hit the parameters he was required to at the start. So while first laps have been a general weakness at times during Russell's season-and-a-half in F1, it seems reasonable it was more car and conditions than driver.
"You have to hit a certain percentage and I hit the exact percentage we were looking for, so we need to analyse whether it's because the car was lighter, the tyres weren't hot enough or what it was," said Russell when asked by The Race if he could have executed the start better.
"I sat in the garage 10 minutes before practising my starts. I must have done a total of 100 clutch drops over the course of those two hours and every time I was within 2-3% of the target, which is normally not an issue at all."
"I was driving my absolute heart out just to keep up with Sebastian" :: George Russell
Although Russell passed Grosjean easily to recover 11th, he wasn't able to catch Vettel for 10th despite, as he put it over the radio, "driving my tits off". But he did come agonisingly close to making it into DRS range late on. Had he done so, he had every chance of overtaking Vettel.
A close look at the timing shows how close he was. The DRS detection zone is at the entry to the final corner, just a few metres after the 17th marshalling mini-sector starts. According to live timing, on lap 54 he started that mini-sector 1.188s behind and then the subsequent one 1.040s behind.
On lap 55, he came within hundredths, starting the 17th marshalling mini-sector just 0.014s down and then the 18th just two-thousandths off. But that was as close as he got and he had to settle for an agonising 11th place – letting out a frustrated cry after crossing the line. As he asked rhetorically over the radio on the slowdown lap, "these races are made and lost with the restarts, aren't they?".
"I was driving my absolute heart out just to keep up with Sebastian but their base pace was five, six-tenths quicker than ours," said Russell later. "I was doing everything I could just to stay on the back of them."
Russell knew he had missed an opportunity to take his first points, but despite the setback was satisfied that the race had been well-executed both by him and the Williams pitwall.
"We deserved it and it should have been ours. Two red flags in one race is ridiculous" :: George Russell
Without the second red flag he would certainly have scored points and would likely have finished somewhere eighth or ninth and clear of Vettel, Raikkonen and Grosjean.
Whether he'd have taken eighth depends on if he could either hold off Leclerc or the Ferrari driver were to drop back or have to pit again thanks to tyre struggles if he did overtake Russell.
"It is heartbreaking for the whole team who have worked so hard," said Russell. "We got ourselves in an amazing position, P9 was well and truly under control, the car was feeling great. I was matching the pace of Sebastian and Charles behind me on the same-life tyre. That red flag just threw it all away.
"But nevertheless, just bitterly disappointing because we deserved it and it should have been ours. Two red flags in one race is ridiculous."