"Crazy", "surreal" and "a bit of a dream come true" – Daniel Ricciardo's chance to drive an ex-Dale Earnhardt NASCAR at the United States Grand Prix has a lot of emotional significance.
Ricciardo grew up an avid NASCAR fan with a particular affinity for Earnhardt. When F1 introduced permanent driver numbers for 2014, Ricciardo picked the #3 partly because it was Earnhardt's and even ran an Earnhardt-style #3 on his crash helmet.
On-track, Ricciardo also tried to embrace Earnhardt's 'Intimidator' persona – particularly in his swashbuckling 2014 season with Red Bull, the year Ricciardo established himself as a top F1 driver.
The influence runs so deep that Ricciardo's even launching a 'Speedway' collection of merchandise that he calls "a tip of the hat to my love for NASCAR and also the apparel that comes with NASCAR – the big loud shirts with bright colours, I'm a fan".
He's not lying: Ricciardo showed his "bright colours" when he attended a Texas Cup race in 2017 with a vintage 'The Black Knight' T-shirt in memory of Earnhardt.
Check it out! @F1 driver @danielricciardo is rocking a vintage Dale Earnhardt t-shirt today at @TXMotorSpeedway! pic.twitter.com/UyTbMavd8B

— RCR (@RCRracing) November 5, 2017
But Ricciardo isn't just playing a part. It's a serious connection for him. Earlier this year he recalled watching the race in which Earnhardt lost his life 20 years ago and crying down the phone to his friend over their "hero".
This weekend, thanks to McLaren Racing CEO Zak Brown, Ricciardo will get the chance to drive one of the cars Earnhardt raced in his illustrious career.
Brown gifted Ricciardo a model of Earnhardt's 1984 Wrangler Chevrolet upon Ricciardo's move to McLaren and promised that if Ricciardo scored a podium he would get to drive the real thing, as Brown owns it.
Last month, Ricciardo didn't just bag that podium – he won the Italian Grand Prix. That prompted a joke from Ricciardo post-race that maybe he should get to keep the car outright: "It was always a podium, I get to drive it – we never talked about a win!
"I gave him my shoe that he drank out of, so maybe he gives me the car. It's a good trade.
"To have a chance to get behind the wheel of one of his cars is crazy. That will certainly be a 'pinch me' moment."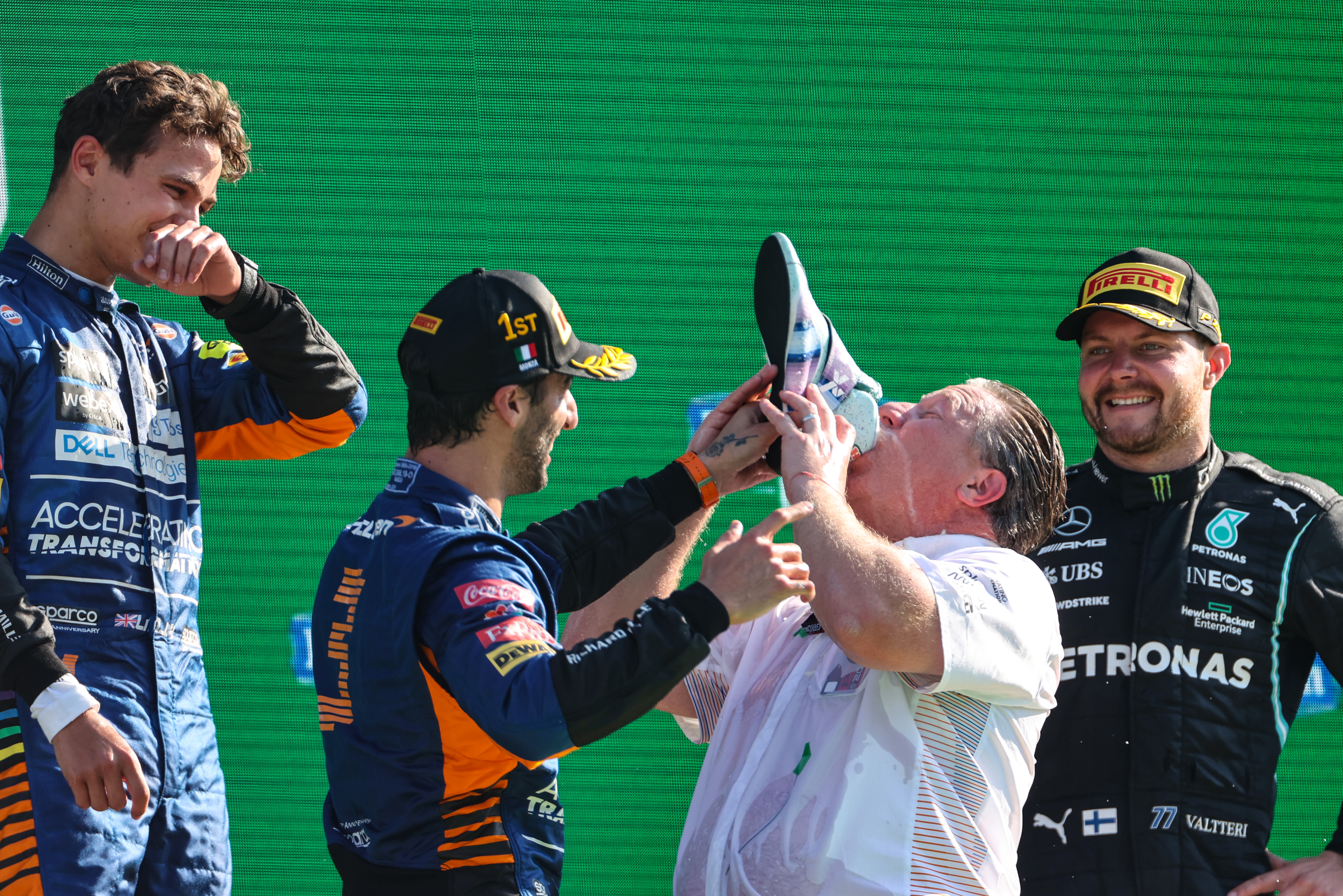 Well, now it's here, and Ricciardo's lost none of his excitement. He says it is "going to be a surreal moment and a bit of a dream come true".
A Ricciardo podium bet is nothing new but this is a level beyond making Renault boss Cyril Abiteboul agree to get a tattoo.
That story was feverishly latched onto by some people but, grumpy as this sounds, it was quite dull, it was so worn out that by the end of 2020 it had lost all its novelty value, and it was so insignificant that over a year on and Abiteboul doesn't have the tattoo.
It was an act of limited style and no substance. The Ricciardo-Earnhardt driver is the total opposite – incredibly cool, and significant to both driver and the man coughing up the car.
"I've always tried to have in my collection all the racing that I grew up around," Brown explains in an interview with The Pit Stop magazine.
"So that car started life as Ricky Rudd's car. He won his first race in Riverside International Raceway and I was at that race. Riverside used to be where I'd go with my father and my brother to see NASCAR and IMSA races.
Dale Earnhardt Sr's 1984 Wrangler Chevrolet Monte Carlo.

Get us that podium and the drive is all yours, @DanielRicciardo. 😉🔑 @DaleJr @NASCAR pic.twitter.com/wyplavg8G3

— Zak Brown (@ZBrownCEO) March 31, 2021
"I saw that car race and win and then, to me, in NASCAR, there's no more iconic livery than the Wrangler of Dale Earnhardt.
"That's an era where I was following motor racing, and saw it race at Riverside.
"I kind of grew up collecting 24-inch scale cars and now I'm in a fortunate position where I've been able to buy the larger versions.
"While I'm not a huge NASCAR fan, I've spent a lot of time around NASCAR and I am a NASCAR fan.
The story of Richard Childress, Dale Earnhardt and Wrangler.

📝: https://t.co/qwgGQw5Vua pic.twitter.com/UD1RdsgVcK

— NASCAR (@NASCAR) October 20, 2016
"I felt like I wanted a NASCAR in my collection and so to have a car I saw race, the Wrangler Dale Earnhardt, again it ticked all the boxes. And that car won four or five races."
There's no doubt owning a car like the Wrangler Chevy is a point of pride for Brown.
He is an avid car collector but also a keen historic racer, so knows that these machines belong on a track in some way.
They are not built to be museum pieces and there can be few better uses of a classic car than to hand it over to a driver and person like Ricciardo.
He will truly appreciate the experience. The value of a demonstration like this is not in celebrating the specific history of the car itself – but what that history means to the people involved.
For a full interview with Zak Brown about his car collection, see the next issue of The Pit Stop magazine.