Fernando Alonso and Kimi Raikkonen have started 699 Formula 1 grands prix between them, so selecting their best-ever performances is no easy feat – but the Japanese Grand Prix of 2005 is perhaps as good a contender as any.
F1 arrived at Suzuka with Alonso having sealed his first world championship for Renault, while Raikkonen had fallen short with two races still to run after a season plagued by poor reliability for McLaren-Mercedes.
This race is often held up as an example of F1 at its best when the conventional starting order is jumbled. Alonso started 16th, Raikkonen 17th and Michael Schumacher's Ferrari 14th out of 20 cars, after rain disrupted qualifying in a way that disadvantaged some of the faster runners.
This was during the era of 'one-shot' qualifying that preceded today's elimination format – one flying lap per car/driver, one at a time, done in reverse finishing order from the previous race, with cars also carrying the fuel load they would start the race with.
Raikkonen would go on to win this grand prix regardless, but completely unexpectedly – because Alonso's Renault team-mate Giancarlo Fisichella was starting third, behind Ralf Schumacher's Toyota (on pole) and Jenson Button's Honda.
Fisichella was considered the favourite for victory given the inherent pace advantage of his car compared to the ones nearest him.
"Inside the garage, we had software that was very quickly able to calculate the number of laps a car had been fulled for, at the end of qualifying," says Raikkonen's then-mechanic Marc Priestley, speaking on The Race's Bring Back V10s podcast. "So we knew what their relative pace was.
"I think everybody knew the Toyota wasn't a real threat to anybody. But Fisichella being up there was of course, particularly given the situation in the constructors' championship [only two points separating Renault from McLaren].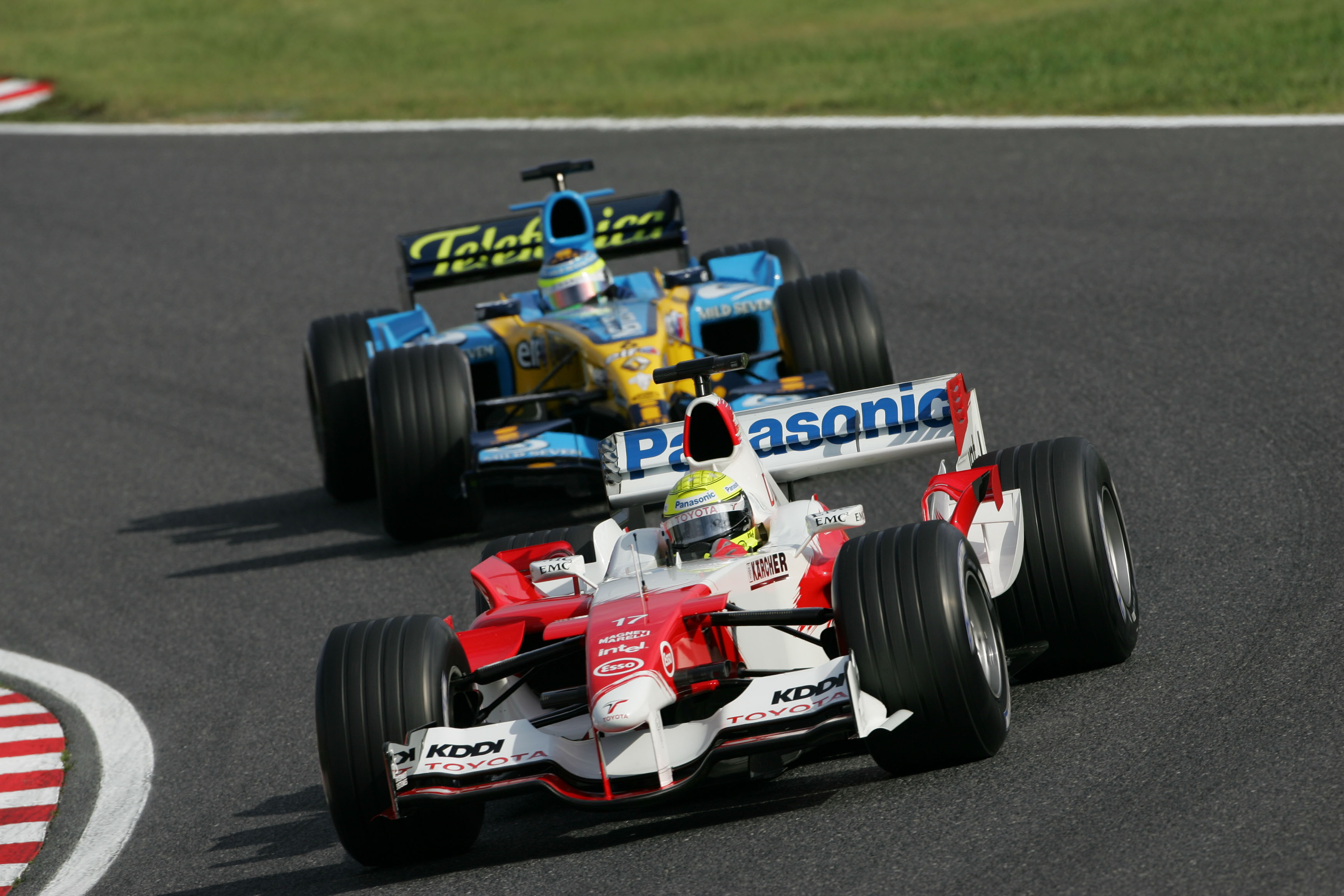 "Both of our cars were way down the back and OK Alonso was with us but one of their cars was right up the front, so from our perspective he was very much favourite for that race and all we could do was get as far forward as we could and see if we could collect some points.
"I definitely don't think it was on anyone's radar on Saturday afternoon that we might eventually win this race. That was almost unthinkable at that stage."
A first-lap collision between Raikkonen's McLaren team-mate Juan Pablo Montoya (also starting near the back) and Jacques Villeneuve's Sauber caused a six-lap safety car deployment, which preceded an illegal pass of Christian Klien's Red Bull by Alonso – who cut the chicane, overtook Klien, let him back past, then immediately re-passed him on the pit straight. Alonso was ordered to concede position again, having gained an unfair advantage.
Alonso eventually made a clean pass into Turn 1 on lap 13, but the whole situation took five laps to resolve and Renault boss Flavio Briatore reckoned the time lost here cost Alonso the race by allowing Raikkonen to jump ahead during the first round of pitstops.
"It cost him 8.5s immediately, in terms of how long he had to wait to let Klien catch back up and pass," says Mark Hughes. "Then the lap following Klien and then the following lap getting past him [again] cost him 8.8s. But without that 8.8s he wouldn't have been jumped by Michael [Schumacher] and Kimi at the stops.
"I would say they [Renault] have got a very good case to say it may have lost him the race. But on the other hand, would Alonso have put a committed pass on his team-mate in the way Kimi did? It would have ended up a very different race I think."
Round the outside at Suzuka's 130R 🤯

Fernando Alonso pulled off this incredible move on Michael Schumacher back in 2005 🤩#JapaneseGP #F1 @alo_oficial pic.twitter.com/qKfz2MuVLo

— Formula 1 (@F1) October 4, 2022
Alonso was clearly fired up, despite no longer having the driver's championship to race for, and on lap 20 pulled off an incredible round-the-outside pass of Schumacher's Ferrari at the fearsome 130R corner – apexing at 208mph according to data shown to Hughes by then Renault technical director Pat Symonds.
"It was a stunning move," Recalls Hughes, who was on the ground at Suzuka that day. "It was a potentially fatal move if it went wrong. If Michael had understeered a bit and they'd interlocked wheels, you can only imagine the sort of aircraft accident that would have unfolded.
"It took enormous balls and commitment to do that – to Michael of all people. That year's Renault was a better car than the Ferrari, the Ferrari was nobbled by tyres, but even so that was one of the bravest and most committed moves I've ever seen."
Raikkonen didn't get past Schumacher prior to them both stopping on lap 26, four laps after Alonso first visited the pits. Schumacher stayed ahead of Raikkonen by taking on one second's worth of fuel less than the McLaren, while Alonso was compromised by traffic thanks to that time lost earlier dealing with Klien.
Raikkonen eventually got past Schumacher and up into fourth place on lap 30 of 53, but by now was 17s behind Fisichella's leading Renault.
"By that point, we were really genuinely starting to believe he could catch Fisi," says Priestley. "Whether we could get past him was another story altogether, but Kimi was in such a mood that day where he was on a mission to get past anyone in his way.
"I honestly felt if we could get close enough, and with a couple of laps still to have a go, he would have found a way past. That's probably the moment we started to feel like this might actually just happen."
Alonso passed Schumacher three laps later, but by this time had lost six seconds to Raikkonen.
Kimi caught Button's Honda and Mark Webber's Williams, running second and third. When they pitted, Kimi charged – lapping at times more than two seconds quicker than anyone else.
Fisichella had already made his final stop, and Kimi was 10.7s up on the Renault when he made his own final stop, rejoining nine seconds down at the end of lap 45 of 53.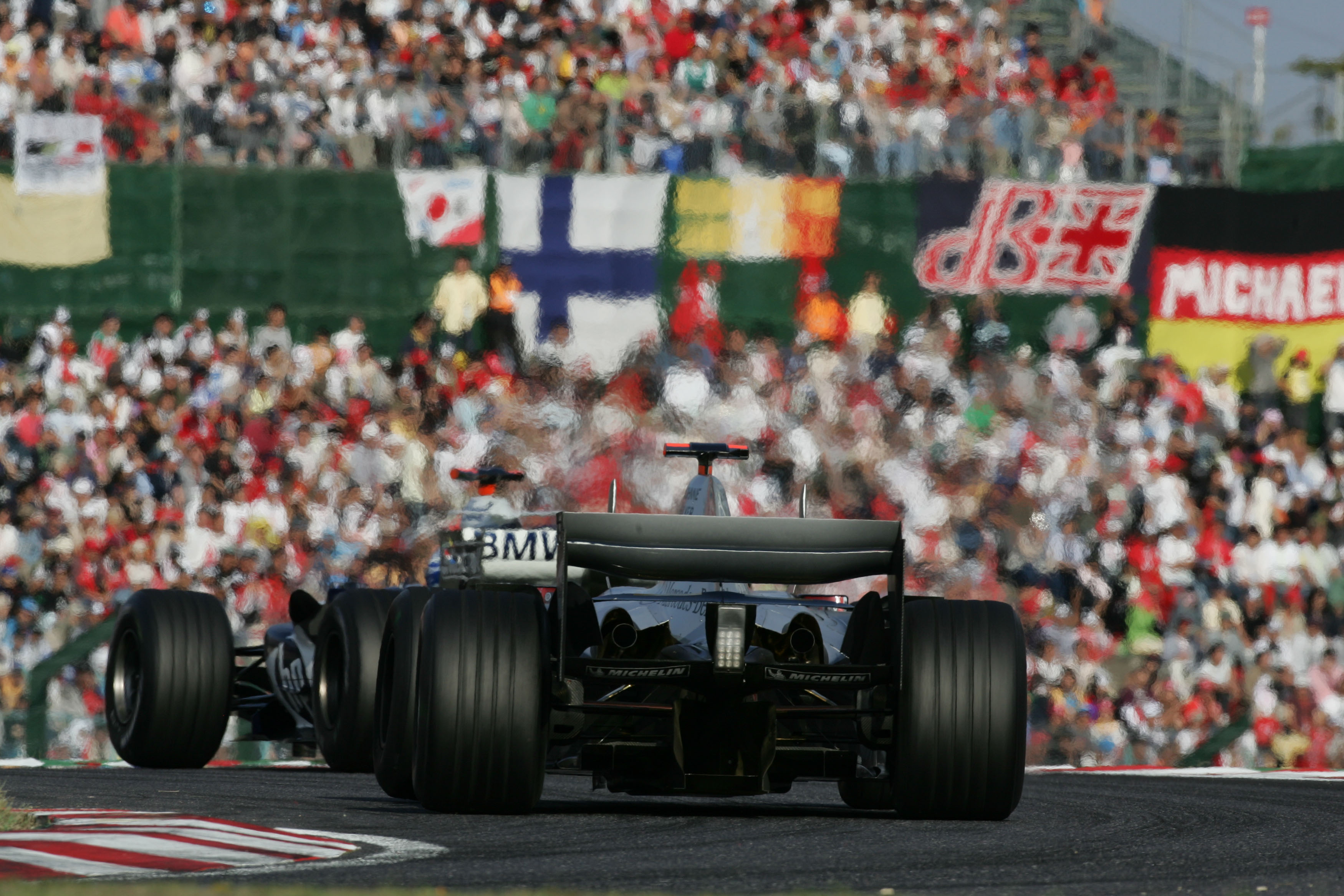 The gap then came down to 5.4s a lap later, then 4.3s, 3.0s, 1.8s and then 0.5s with just three laps left.
Symonds claimed Fisichella had run out of tyres by this time, but the Renault driver was also inexplicably and unnecessarily defending into the final chicane without Raikkonen attempting to pass.
As much as Raikkonen was determined to try to win this race, it also looked as though Fisichella was doing his best to throw it away…
"It was the penultimate stint where he just clearly hadn't understood how quick Kimi and also Alonso were coming through, because he just wasn't lapping on the pace," explains Hughes.
"He was just lapping as though he was in control of the race, because he had a big gap back to second place. By the time of those final stops, and Kimi was now the car behind, it was more or less too late because Kimi was on an absolute mission.
"Fisi did actually switch on the pace at that point, and was pretty quick in that last stint, just not quite as quick as Kimi. But if he'd driven his penultimate stint as well as he drove his last stint I don't think Kimi would have been able to catch him."
"Kimi's penultimate stint was mind-blowingly fast," adds Priestley, "and those laps before his final pitstop really did bring him back into the picture. Then when he came out and could almost see Fisi down the road, he had the bit between his teeth."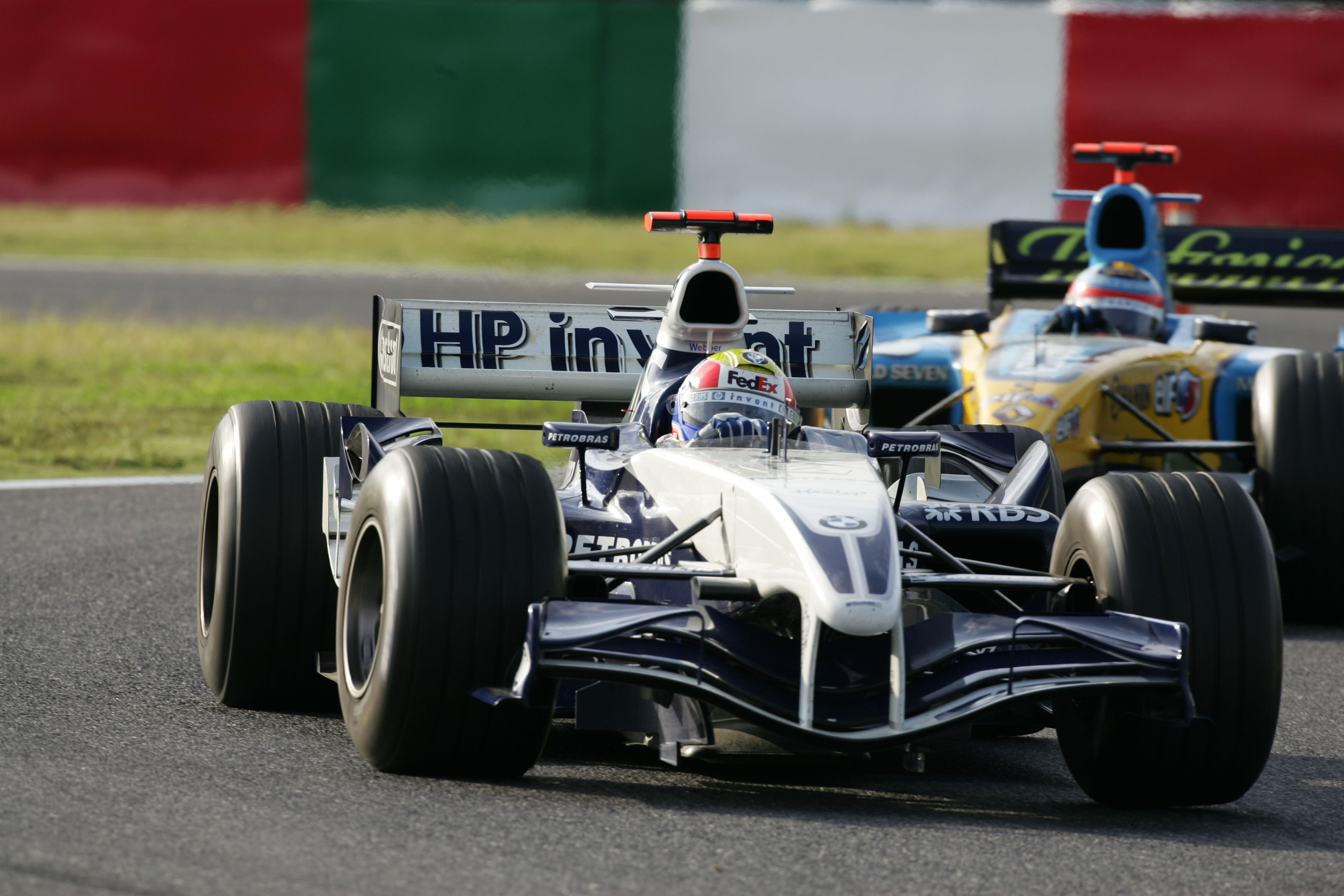 Alonso had to pass Button and Webber on track to reach the podium. He made short work of the Honda, but was stuck behind Webber's Williams until another committed pass – this time with wheels on the grass on the pit straight – finally got the job done with four laps remaining.
"That was one of the bits of telemetry Pat Symonds was showing me after the race," Hughes remembers. "As Alonso went to put a wheel on the grass, didn't lift [off the throttle], he actually got wheelspin in top gear on the grass yet still came through. It was fantastic. When Webber and Alonso went wheel to wheel it was always phenomenal."
Having caught Fisichella's Renault, now Raikkonen faced the task of trying to pass it for the lead – never an easy task in F1's pre-DRS era.
Raikkonen had a look into Turn 1 on the penultimate lap, but Fisichella covered it, then drove way too defensively again into the chicane, compromising his exit onto the front straight. This gave Raikkonen all the impetus he needed, and while Fisichella defended the inside line Raikkonen swept around the outside to take victory – cue scenes of pandemonium in the McLaren garage.
LAST. LAP. DRAMA.

Here's Kimi Raikkonen's 2005 #JapaneseGP-clinching overtake past Giancarlo Fisichella!#F1 pic.twitter.com/0lC3MKliES

— Formula 1 (@F1) March 31, 2020
"It was amazing," recalls Priestley. "After the final pitstops, you're sat there for those final laps gripping the seat, knuckles white. As part of the montage of footage, there's a clip of me leaping out of a chair celebrating at the time Kimi got past.
"I can only describe it as the most pent-up frustration up until that point, where he came close but it didn't quite work. In that moment, all hell broke loose in our garage. There were chairs being scattered everywhere – everyone just leapt up and leapt around. It was the most amazing feeling. We couldn't believe what was happening."
McLaren boss Ron Dennis, who Priestley says was emotional to the point of tears after this race, called it the best win of Raikkonen's career and said it was made tougher by McLaren running a short seventh gear, so Raikkonen kept hitting the rev limiter when trying to overtake on the main straight.
"It was a classic, committed round the outside pass," says Hughes. "I don't think it would have mattered if Fisi had got out the way or not. It was a magnificent performance – I do think it was probably Kimi's best-ever race, and I think it was also Fernando's best-ever race.
"That's what makes this race so special because you had two just absolutely unbelievable performances. Slightly different circumstances, but around a circuit like that, one of the greatest grand prix circuits of all, for me it's the best grand prix I've ever seen."