Carlos Sainz's first season in race-winning machinery in Formula 1 has got off to a difficult start thanks to a combination of mistakes, misfortune and difficulty adapting to the 2022 ground effect F1 cars that have left him "fighting to get it together".
Sainz set up the ideal platform to build from this year during his first Ferrari season, shading team-mate Charles Leclerc in the championship by 5.5 points, but has struggled to adapt to the new cars.
He finished second in the season-opening Bahrain Grand Prix, albeit describing it as his "most difficult weekend" for Ferrari, then took third in Saudi Arabia.
But after a run of 31 consecutive race finishes, he retired on the second lap in Australia after spinning into the Turn 10 gravel trap, then lasted only two corners in the Emilia Romagna Grand Prix before he was tipped into a spin by the apologetic Daniel Ricciardo. That wasn't his fault, but his Q2 crash after spinning on entry to the second Rivazza was.
Speaking after his short, disastrous race at Imola, Sainz admitted of the 2022 regulation changes that "unfortunately, they haven't suited a lot my driving style and I'm out there fighting to get it together".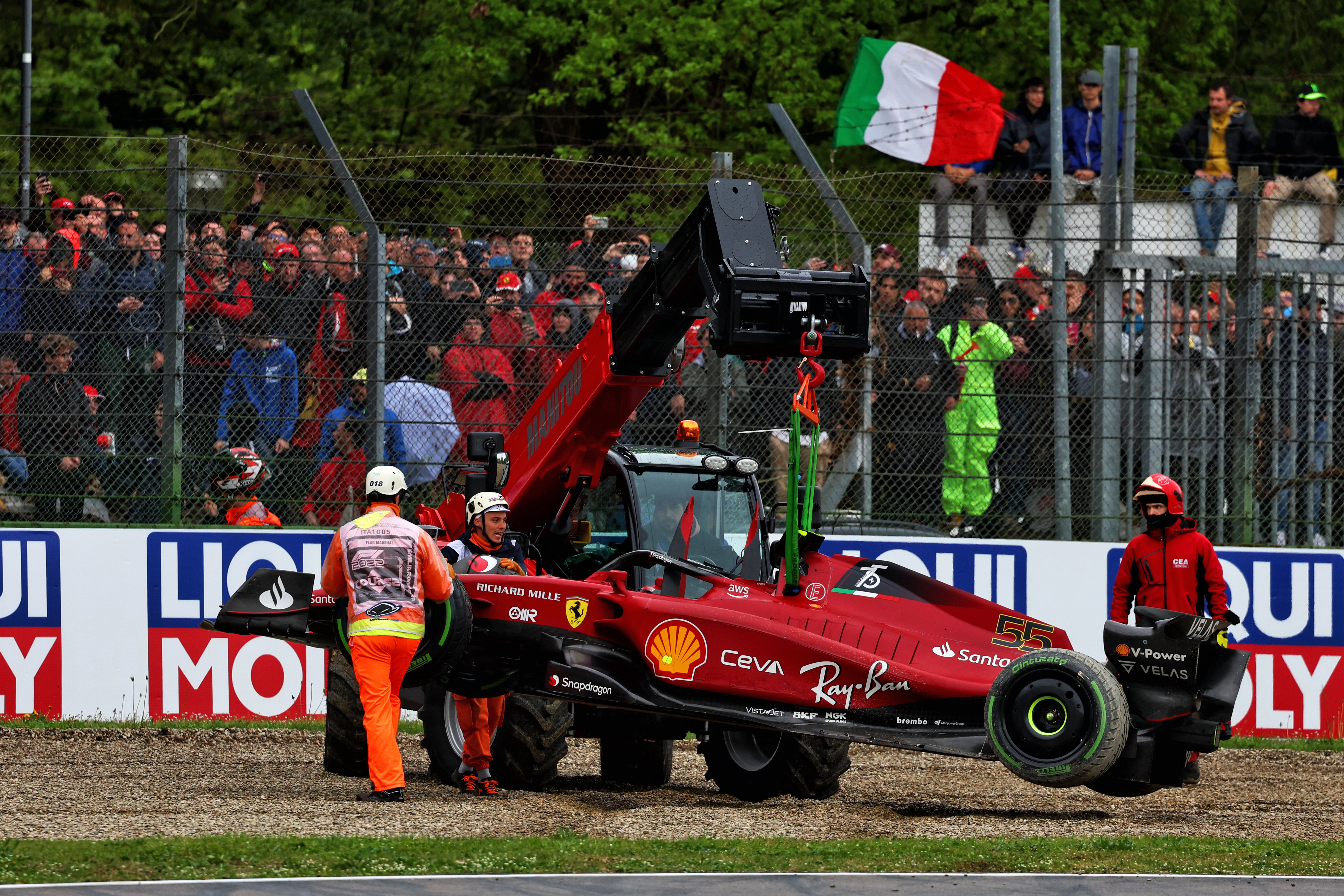 That's an ongoing process and although he can take some solace in the fact his performance level has still been good so far in 2022, showing the pace at least to be a pole position contender on all four weekends, he needs everything to click soon if he's to have any chance of avoiding being cast as Leclerc's wingman.
Sainz is now 48 points behind Leclerc and despite making progress with adapting to the car in Australia and Imola, he still doesn't believe he's entirely at one with it.
That was underlined by his qualifying crash at Imola, which happened at a point when he didn't feel he was pushing hard.
"Quite a lot," said Sainz of how much he is struggling with the Ferrari F1-75.
"It's no secret that mistakes like yesterday happen for a reason and I'm not 100%, I'm out there fighting the car and trying to figure it out.
"Obviously, I'm quick, this is no secret, yesterday I was quick, in Australia I was quick, it's just the confidence with it, and the predictability that I have from the car.
"As soon as I get this sorted. I will be 100%."
Sainz is well aware of how vital it is to get on terms with Leclerc as soon as possible. While 48 points is not an unbridgeable gap with 19 races remaining, it's only natural that the team galvanises around the stronger driver. So far, that has emphatically been Leclerc.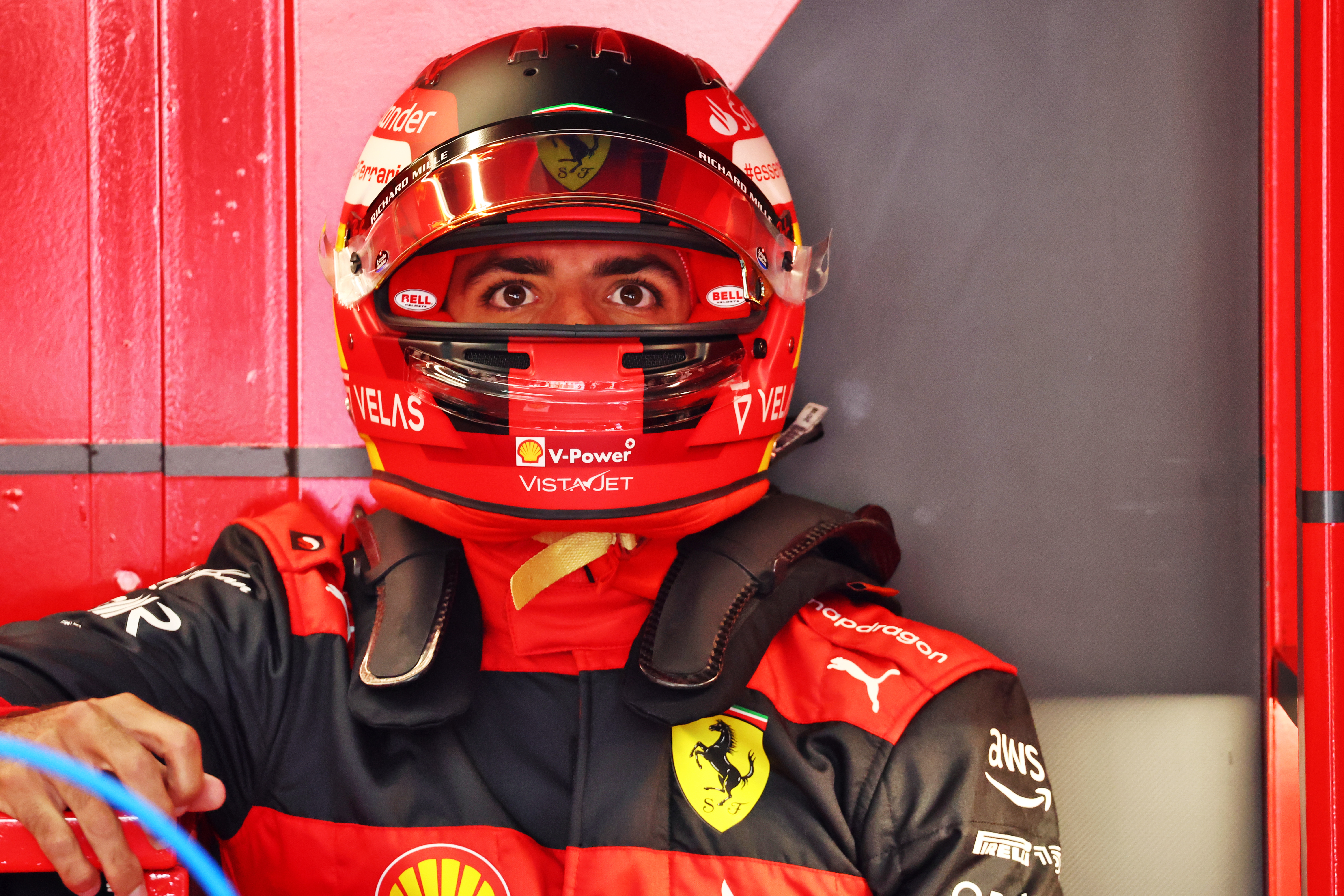 Sainz also knows he has to push himself hard to get onto Leclerc's level or into a position to consistently outpace him. Last year, Sainz admitted he found Leclerc's speed "shocking" and had a number of accidents while pushing himself to get on terms. But encouragingly, he did get there – outqualifying Leclerc in four of the last six races.
Leclerc has had the upper hand this year, but Sainz isn't too far off. In Bahrain, he was 0.129s slower than Leclerc in qualifying then in Saudi, where he was on provisional pole position after the first runs in Q3 when he was on used softs then couldn't extract performance from fresh rubber, the deficit was 0.177s.
In modern F1 terms, these are meaningful gaps, but that's with Sainz feeling uncomfortable with the car. In qualifying in Australia, the timing of the red flag in Q3 and the fact Ferrari couldn't get him out for the restart in time to do an all-important tyre prep lap after his outlap meant he couldn't set a meaningful time, but he was competitive. And at Imola, he was close to Leclerc before his off. So there is an upside there for him to exploit.
Speaking before the Imola weekend got started, Sainz took the fact that he was so close as a positive to build from.
"I've been in the fight for pole position in all three races and maybe I was lacking one tenth in the last Q3s, to fight for it," said Sainz.
"Australia, we will never know but even in the first two qualis where I was really not at home with the car, I could somehow still find a way to fight for pole position.
"So this shows that it is very little what I'm looking for. And this keeps me motivated and keeps me awake that at any point this can switch and this is what I'm looking for.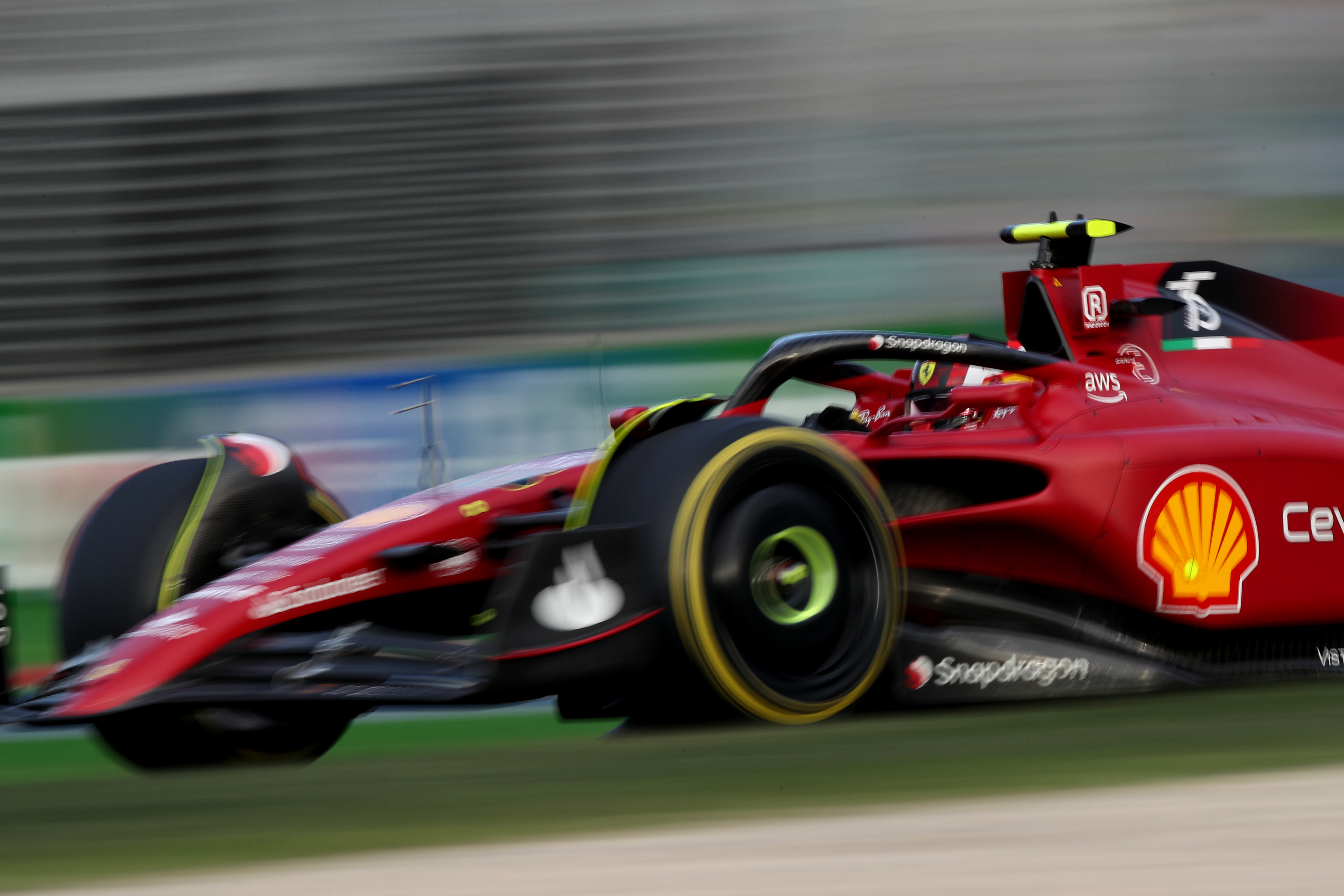 "Of course, Charles has done an exceptional job with this car. He's making the difference as a driver and he's doing really well, but I don't feel I'm far.
"And even if I am not at home and I cannot do everything that I want with the car, I'm still there or thereabouts, so it's all about the detail now and getting it right.
"And as soon as it clicks I think everything like we saw last year, the rest of the year will just be simpler."
Speaking after Sainz's Q2 crash at Imola, Ferrari team principal Mattia Binotto suggested Sainz needed to adapt to being in a frontrunning car.
He said it was a question of Sainz "managing the pressure", something Binotto suggested is a strength of Sainz's.
Sainz contradicted that, arguing that his crash was nothing to do with the pressure.
"I don't think yesterday's mistake was pressure," he said after the sprint race at Imola. "It was Q2, I knew I had already done a good banker lap to get to Q3, I was just trying myself out there, to try different lines, different balance…
"I'm still out there trying and hustling with the car to try and find my groove. I wasn't actually pushing that much and I made a mistake which in those conditions, can happen.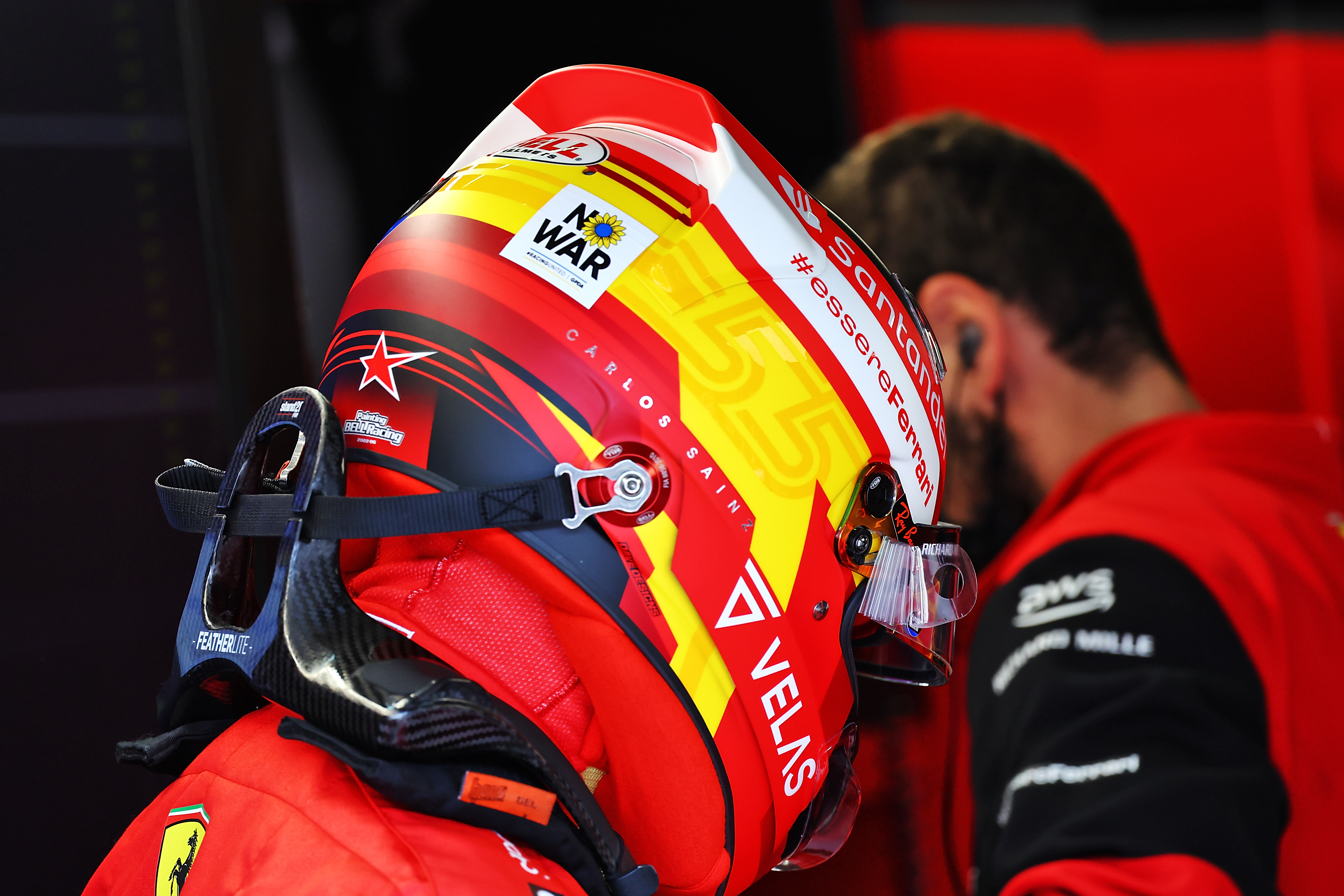 "But yesterday if you asked me in Q2 did I feel pressure? No, it was Q2, I was playing around with the car and made a mistake.
"Definitely, I have less practice than the guys I'm fighting with, like Charles and Max and Checo. To fight for podiums and in race-winning cars, I lack this experience and maybe the lack of patience in Q2 to know that you don't need those last two tenths that maybe I was trying to find yesterday.
"So that experience will serve me well and once I get used to it, I'm sure I will be as fast as anyone."
But the concept of pressure isn't so easy to tie down. It's shorthand for myriad factors and arguably what Sainz describes there, trying to maximise what he learned in Q2 in order to be at his best in Q3, where he knew he faced the toughest challenge to outpace Leclerc, fits in with that. No wonder he described what happened as "very painful".
Similarly, Leclerc shrugged off the idea pressure played a part in his Variante Alta mistake in the race. But it's simply not that easy to identify, which is why the crucial psychological side of the game for any professional athlete is so difficult to get right.
Sainz was well aware of this after what happened in the race in Australia. Immediately after his brief, disastrous race, he recognised that he had got carried away.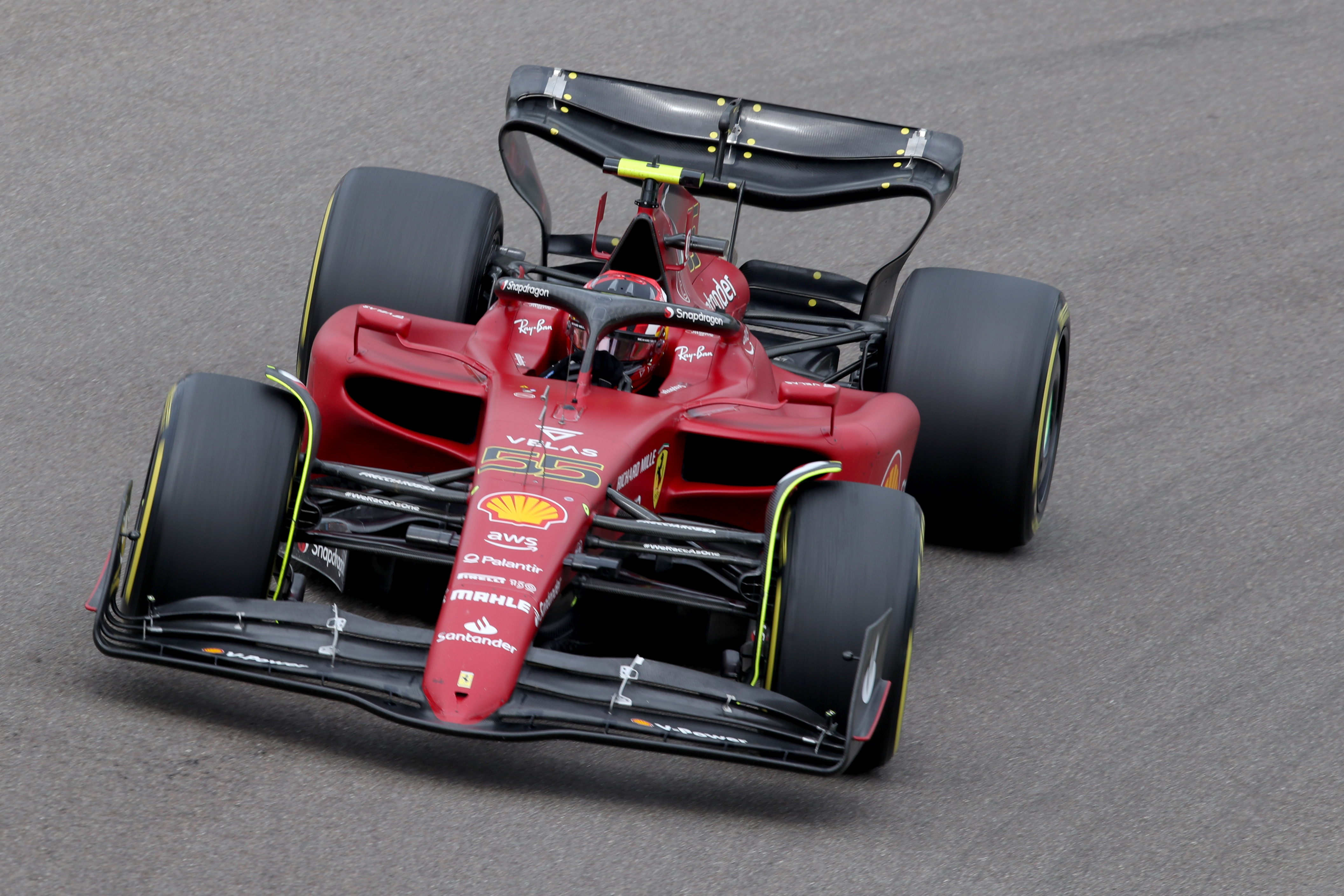 He was down in ninth place on the grid after the qualifying problems not of his making, then made a bad start because of a late steering wheel change after he noticed at the last minute that the brake balance adjustment wasn't working. That wheel should have had identical settings to the original, but it didn't. So losing places at the start wasn't his fault.
But unusually for Sainz, usually such a calm head, that's the point he started overreaching. First, he put himself in the position to be hung out to dry at the exit of Turn 11 while attempting a low-probability pass on Yuki Tsunoda. This allowed Mick Schumacher to pass him.
And it was as he passed Schumacher into Turn 9 that he went off, losing it on the grass and spinning back across the track, ending up buried in the gravel.
Sainz was unlucky in Australia, but everything that went wrong after the start was down to his misjudgement. It's easy to conclude he went into the race knowing he needed to make up ground and will have hoped to gain ground at the start, then clear the leading midfield cars quickly. Once he dropped to 13th off the starting grid, he overreached trying to regain lost ground.
"It makes it easier in a way because obviously, you can put the blame on external factors," he said of what happened in Australia.
"But also, I know that one of my strengths as a driver is to stay calm in these sorts of situations and that this time I lacked this calmness to react properly to the inconvenience.
"It wasn't a great weekend because a lot of external factors happened, but at the same time, I didn't have the best reaction to this.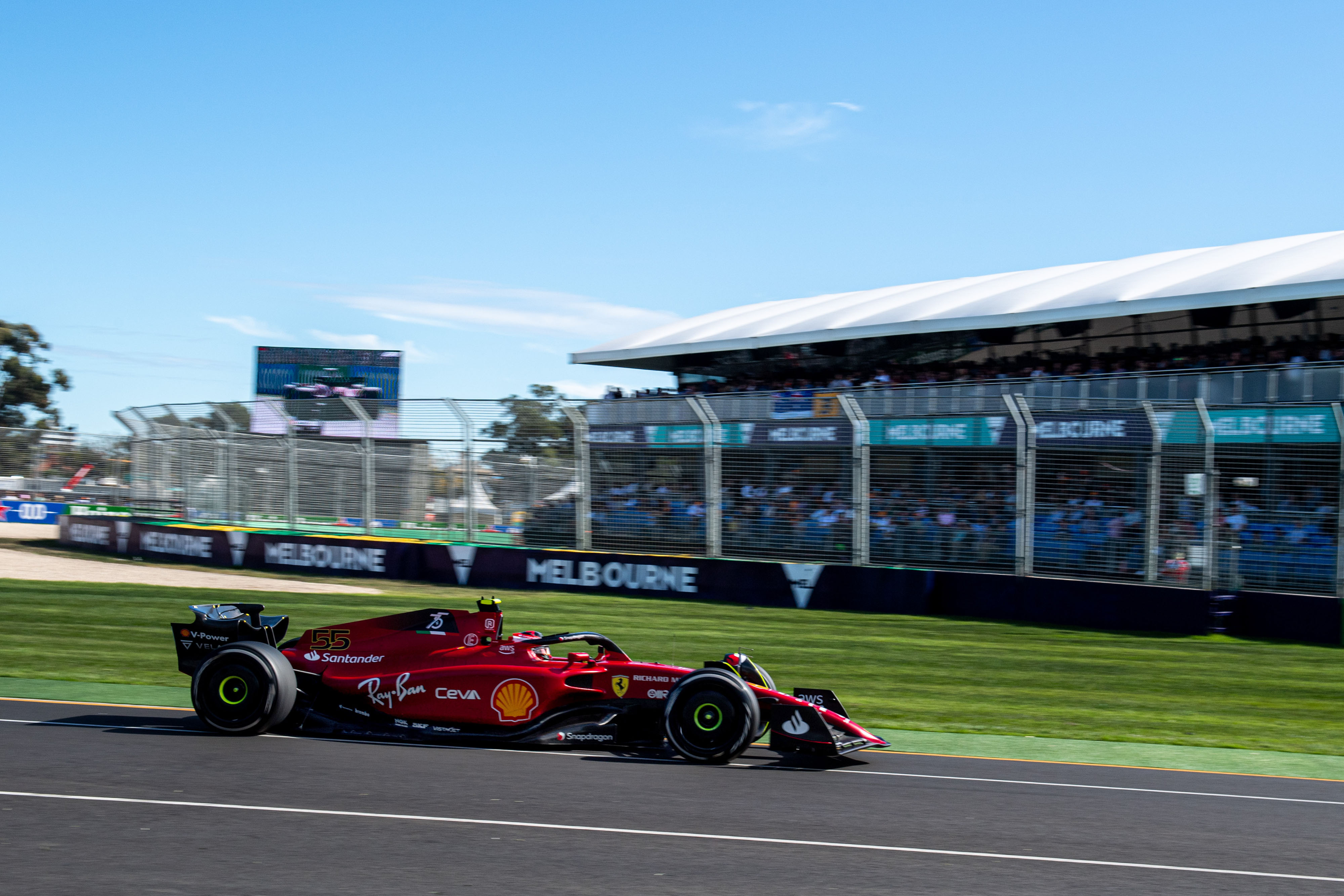 "At some point, it had to happen. I've had 17 [consecutive] points finishes, I don't know how many consecutive races I have been finishing without major mistakes and at some point, this mistake had to happen.
"And it happened, which I'm sure I will learn from it like I've done previously in my career and it just makes me stronger. A character-building weekend for sure."
What happened at Imola won't have helped Sainz ensure he stays in that calm mindset. Playing catch up forces drivers and teams alike often to push a little harder than they are comfortable with, which can often lead to a vicious cycle.
It's easy in the cold light of day to know you need to be calmer, but the real challenge is how you get yourself into the right mental state to do that when the pressure really is on.
"It is a lot on the psychology side and how to handle the emotions and the feelings," said Sainz when asked by The Race how he can achieve the necessary calmness.
"It's something that is one of my strengths and I think it will keep being one of my strengths. It's just I think once in a while in a career of a sportsman or a racing driver, you need reminders to keep doing the things that you were doing before that were allowing you to keep the calmness.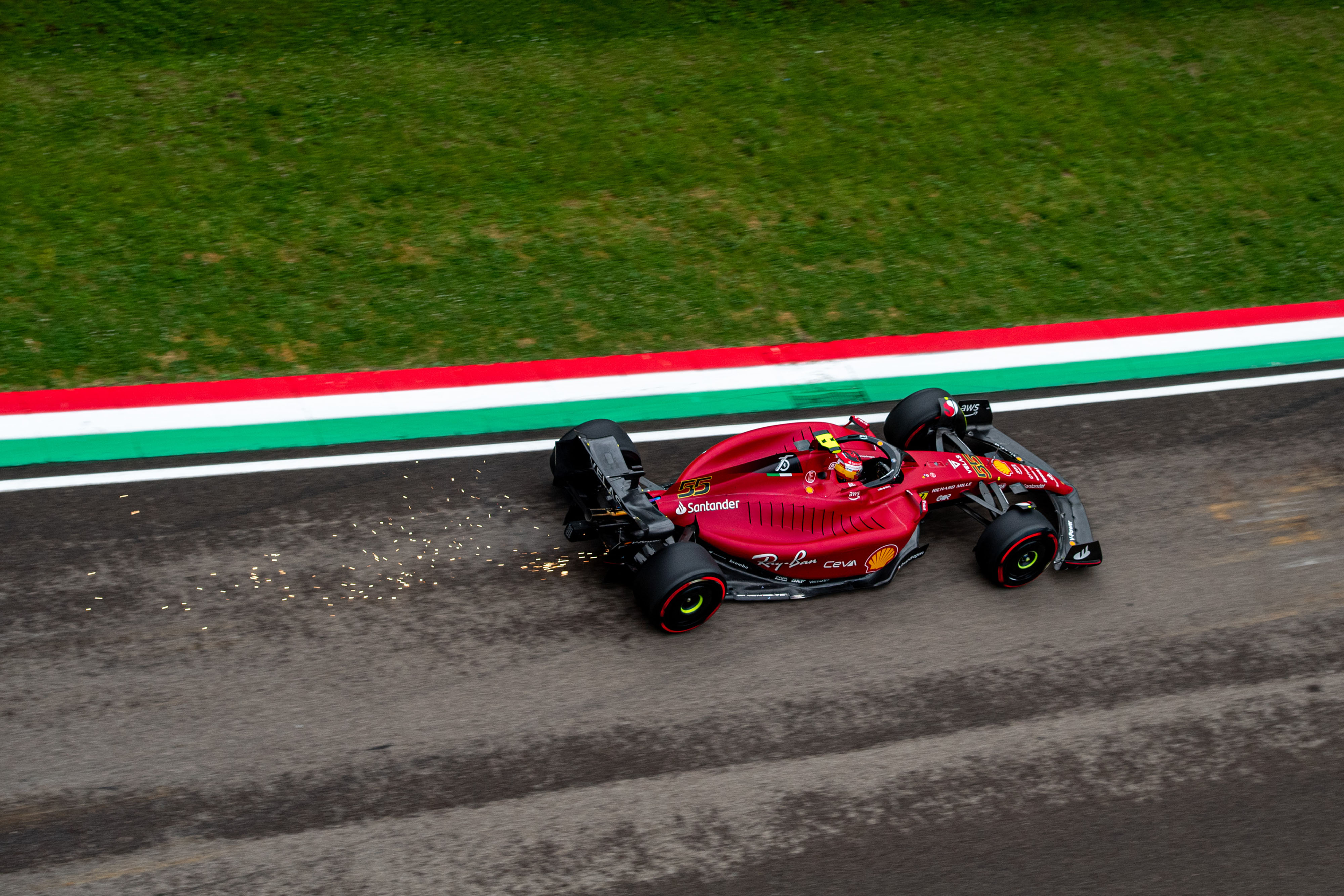 "The weird thing is how little [trouble in the form of mistakes] I was having before this one. That I was on a very strong run with barely any mistakes and at some point it had to come and it can be triggered also by external factors, but I want to keep learning from it."
Sainz rightly shrugged off what happened in the race at Imola as out of his control because that was genuinely out of his hands. But ending a second consecutive race in the gravel early on, which as he's pointed also meant the learning opportunity of a full race distance was again lost, won't make it easier to get into the right headspace.
Sainz still has a big part to play in the 2022 F1 season and there's no doubt the results will come. If Ferrari remains a frontrunner, it's inevitable he will claim his first grand prix victory. He's a very quick, intelligent, skilful driver and one who will not shirk from the challenge or make excuses. If and when it does click, he will be formidable.
But he knows he needs to be at his absolute best, at one with the car and on his game, in order to have a chance of beating Leclerc. His hope will be that Australia and Imola were the nadir, but as time has almost run out to avoid being cast as number two at Ferrari this season, he will be very well aware he needs a strong weekend in Miami to get back on target.
And that can only add to the pressure as he fights to get it together on and off track.