Aston Martin Formula 1 driver Sebastian Vettel says the "obviously wrong" call to pit for slick tyres during the wet Turkish Grand Prix was a joint decision with the team, but his initiative.
Vettel was running 10th and working to keep the Alpine of Esteban Ocon at bay when he made a surprise stop to swap from intermediate tyres to slicks with 20 laps left to run.
The four-time world champion had repeatedly suggested prior on team radio that the Istanbul track was dry enough to give slicks a shot, but his exit from the pits proved instantly disastrous as he struggled to stay on the track, immediately reporting that it was "not working".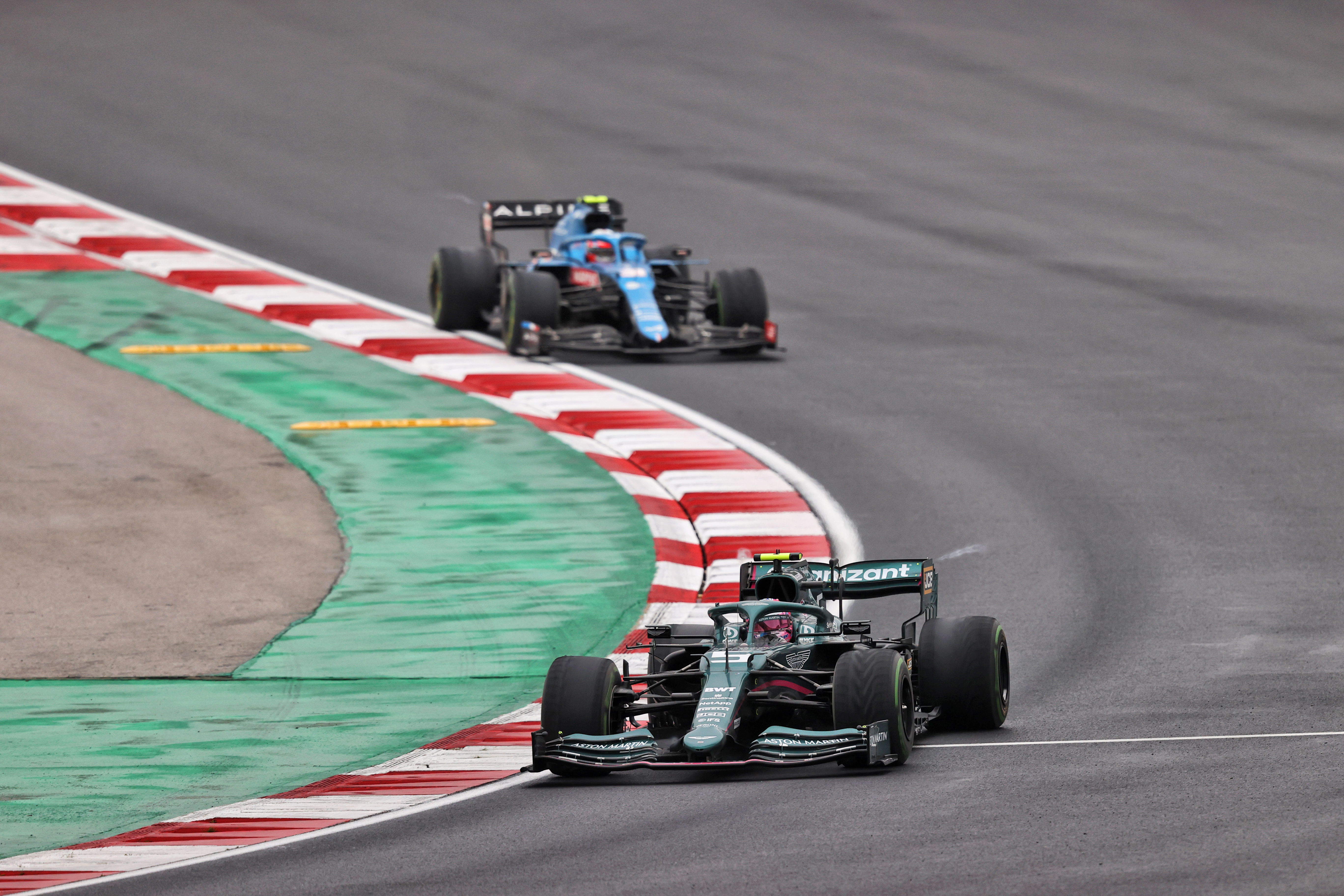 He returned to the pits after tiptoeing through a lap, half-spinning in the pit entry and then swapping back to the inters.
Vettel went on to finish the race a distant 18th, having been the only driver to attempt any running on slicks during the grand prix.
Asked after the race whether it was his or the team's decision to go for slicks, Vettel said: "Well, together, but in the end I made the decision, I wanted to try it.
"On the inters there was nothing left, I thought the drys could be as good, but I couldn't break them in and just had no grip, lost so much time, couldn't make them work.
"It was worse than I expected. Even if it was damp a little bit still here and there, or wet – as I said, the main thing is I couldn't break the tyre in and then you're just sliding."
Vettel said he was being fed information about other cars stopping for fresh intermediate tyres, but explained that his decision was inspired by it being "a comparable situation to last year" – where he ended up regretting not making a late stop for slicks that he believed could've won him the race when with Ferrari.
---
Vettel's in-lap communications
Tim Wright, race engineer: So, Sebastian, at the end of this lap we will have a pit- [Ocon attacks but Vettel fights him off] Ocon very close, there, yeah, good, we will have a pit window at the end of this lap. Ricciardo very fast on his fresher inters now.
TW: There is 23 laps to go, 23 laps.
TW: Verstappen has fitted another inter as well, we're considering a pistop.
TW: Would you try a soft tyre dry or-
Sebastian Vettel: Medium. Medium. Let's go for it.
SV: These inters can't be any worse.
TW: Box box, box box.
---
A mid-race stop for inters proved a beneficial strategy for several drivers, while Ocon, who had been running behind Vettel, wouldn't pit at all and finished 10th on his original set – leaving Vettel in agreement that points were on the table.
"Without that [stop], I think the last stint was very strong but we were so far back that it didn't matter," said Vettel.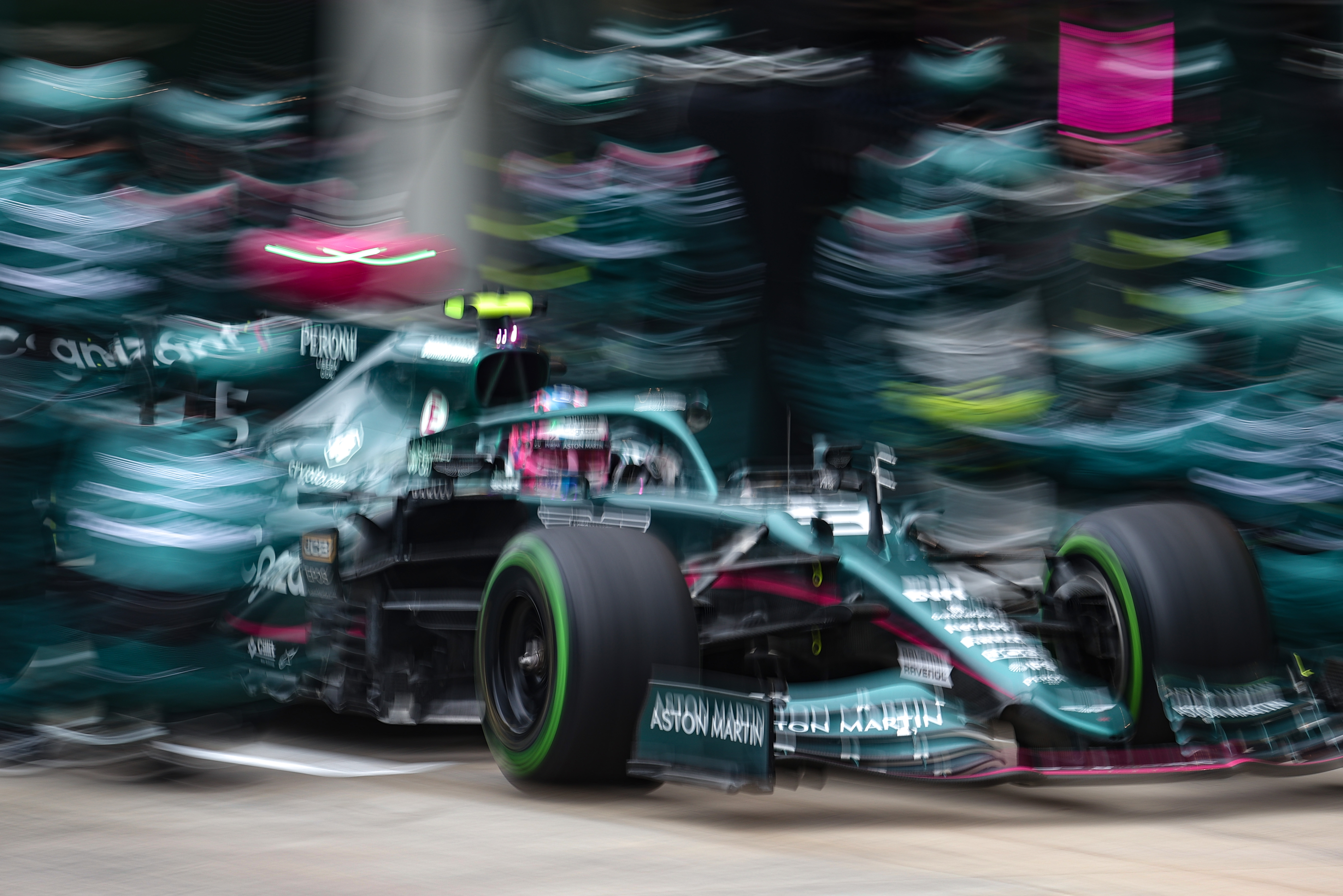 "The first stint was a problem, I just couldn't keep the pace up and struggled a lot with the tyres early on, whereas in the final stint it was a lot better.
"It's a no-brainer now [that the slicks call was wrong]. At the time, I don't know, I was tempted already some laps before, the inters weren't getting any better.
"If you look at the inter tyres, there's nothing left on them, they look like a slick.
"I think I had reason but obviously it was the wrong decision."