Lewis Hamilton and his Mercedes Formula 1 boss Toto Wolff have both admitted that they picked the wrong Turkish Grand Prix strategy – but they disagree on whether staying out would've been a viable option.
Hamilton had made his way up from 11th on the grid to third place when he was faced with the dilemma of switching to a fresh set of intermediate tyres or going to the end of the race with the tyres he started on.
When Mercedes tried to call Hamilton in on lap 42 of 58, Hamilton stayed out wanting to go to the end, but after further requests from his Mercedes team, he pitted with eight laps remaining.
This dropped him down into fifth place and after two rapid laps, he hit a tyre-graining phase that would deny him any chance of catching Charles Leclerc and Sergio Perez for the final place on the podium.
Hamilton reminded his team that he warned Mercedes of the danger of the graining and appeared angered by the decision to bring him in.
"The tyres are bald, so you don't know how far they're going to go, so there's definitely the worry of the life of the tyre," Hamilton told SkySportsF1 after the race.
"But also I wasn't really that fast at the end there. I was struggling, had low grip, I'm not really sure why.
"But then all of a sudden I'd have not such bad pace. But I was losing performance to the guys behind.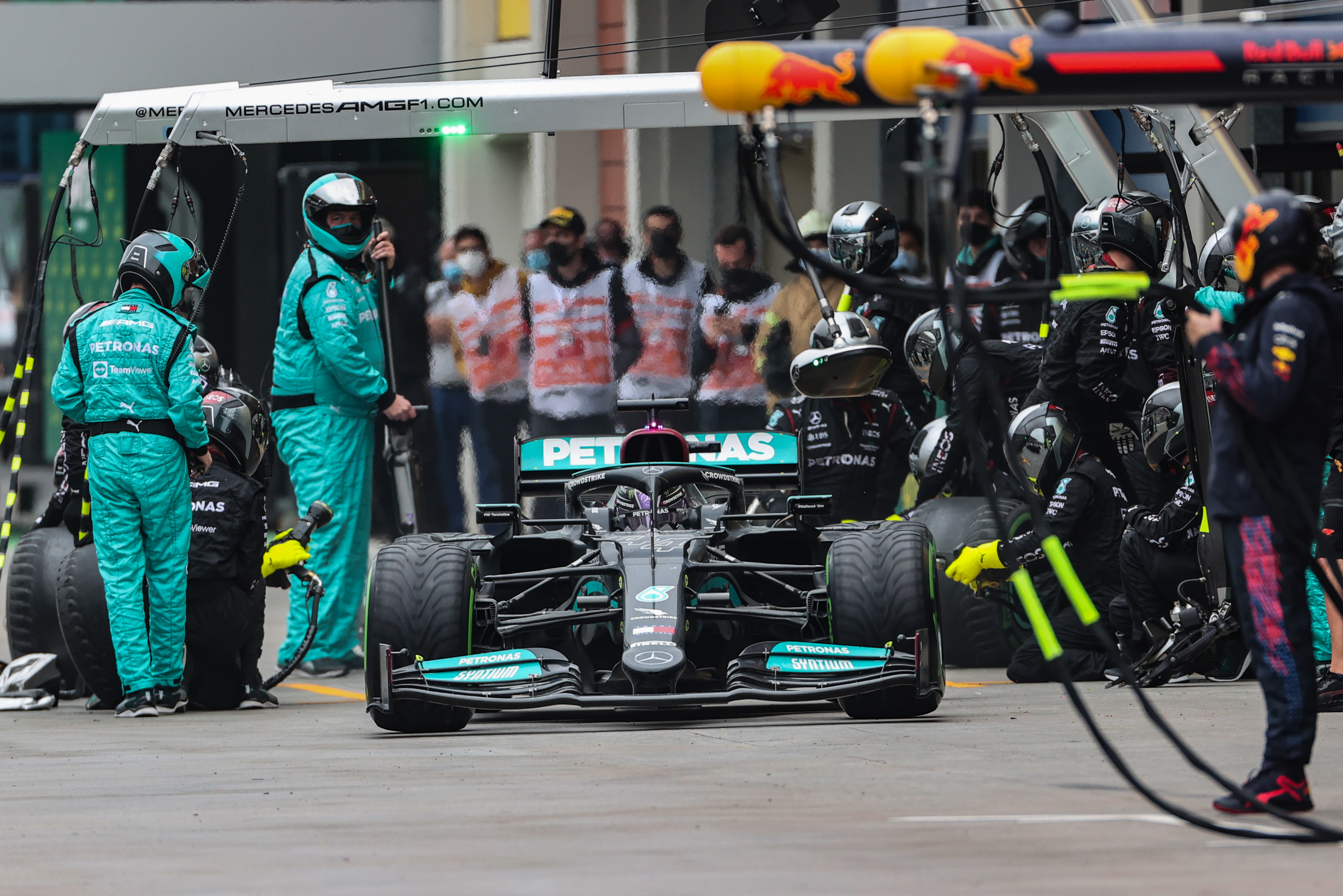 "In hindsight, I should've probably stayed out or come in much earlier because when you come in with only eight laps to go you don't have time to go through the graining phase of that tyre on the drying track.
"So then I went through this whole sliding phase where I nearly lost more positions, a bit frustrating but it is what it is.
"It felt good to be in third and I thought 'if I could just hold onto this, this is a great result from 11th'. Fifth is worse, but it could be worse."
His team boss Toto Wolff concurred with Hamilton's notion that an earlier pitstop was better with hindsight.
However, Wolff disagreed with Hamilton when it came to the potential success of staying out on the same set of tyres, claiming that "it would have never worked" and expressing his concerns about the threat of a "catastrophic" tyre failure.
When asked by The Race to explain the decision, Wolff said: "I think in the car it's always very difficult to assess your position in the race.
"We could have either played it very conservative and pitted him when [Max] Verstappen and Perez pitted [laps 36/37] and then fight it out on track and probably come out behind Perez and fight for P4, P3 on track.
"The other thing was to try to go long and either transition to a dry tyre or just not stop anymore.
"So, there were two possible options that sounded quite good because finishing fifth, where we were, obviously we would have done that because [Pierre] Gasly was far away.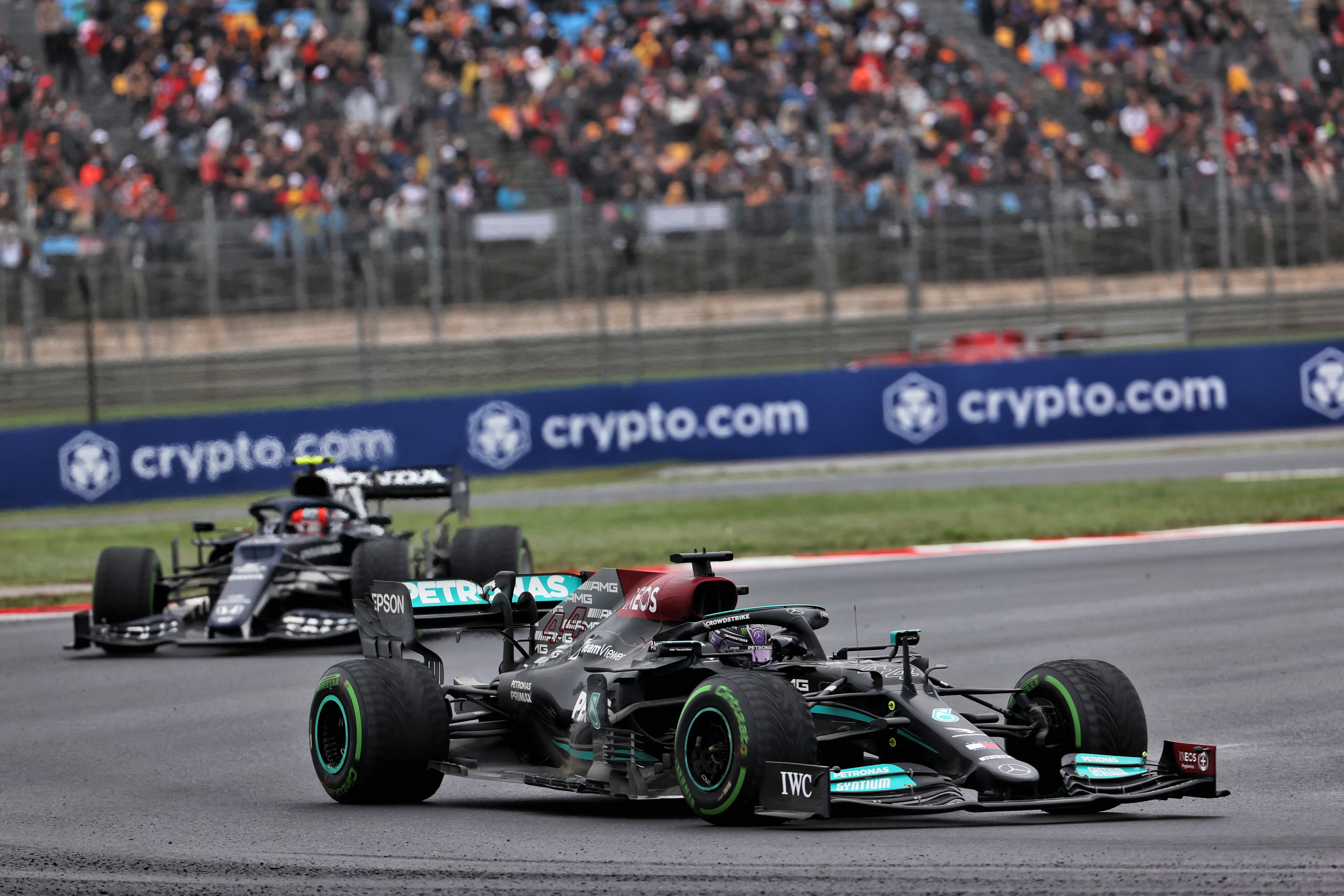 "Then unfortunately the pace just dropped off much quicker than we would have needed in order to stay third or even fourth or even fifth, we almost lost the window against Gasly and then we decided 'OK that's not going to happen and let's pit and consolidate fifth'.
"In hindsight now we would have pitted 10 laps earlier and fought it out on track probably and finished third and fourth but there was much more to gain from the other, more dynamic, variant."
Pirelli F1 chief Mario Isola suggested after the race that running to the finish without a pitstop would either have been impossible or "at least it was really at the limit", although Esteban Ocon did manage to pull off that strategy to finish 10th for Alpine.
The Turkish GP marks the second race in a row where there's been a disagreement over strategy in the race at Mercedes, although at Sochi Hamilton later praised his team's pit call that led to his 100th F1 win.
"We had what Lewis called a genius stroke in terms of strategy last time around and I think we need to just really work on the communication to trust each other and in a way be able to describe what we're working for," Wolff added.
"We have no problem at all with tough conversations on the radio before you have complete information and obviously we wouldn't speak like this to Lewis because he's driving a car at 320km/h but that's all OK.
"We are totally aligned, we have been in this together eight years and we have thick skin enough to understand a driver in the car is frustrated about the situation and that he will understand afterwards."