Max Verstappen claimed his second pole position of the 2022 Formula 1 season as Fernando Alonso earned his front row start in a decade in a rain-affected qualifying session at the Canadian Grand Prix.
Heavy rain soaked the track prior to qualifying with the conditions improving enough for the Q3 pole shootout to feature intermediates on a track that looked like it was almost ready for slick tyres – something George Russell unsuccessfully gambled on in the final moments of Q3.
Verstappen had no such issues, enjoying a healthy one second margin before the final flying laps of Q3.
Verstappen's final effort of a 1m21.620s was ultimately 0.645s quicker than his nearest competitor – which proved to be Alpine's Alonso who backed up his strong pace in the first two segments of qualifying to take his first front row since the 2012 German Grand Prix.
Alonso beat his fellow Spaniard Carlos Sainz, who had to settle for third place for Ferrari ahead of Lewis Hamilton's Mercedes.
Kevin Magnussen and Mick Schumacher delivered stellar Q3 laps to lock out the third row for Haas.
Alpine's Esteban Ocon was unable to match the heroics of his team-mate throughout qualifying and ultimately took seventh place on the grid.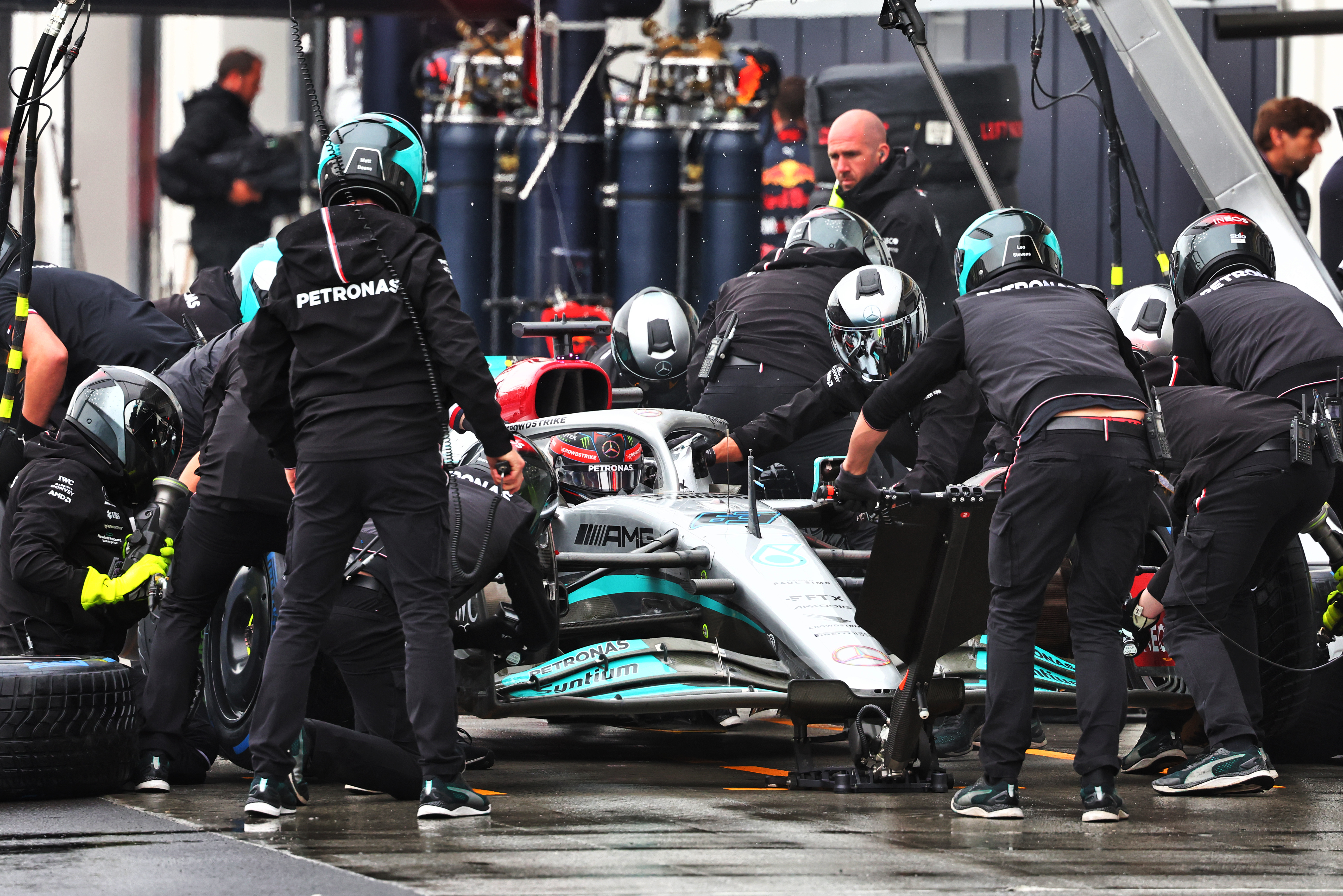 Russell's slick tyre gamble backfired as he spun off at Turn 2, and he had to settle for eighth place ahead of Daniel Ricciardo and Alfa Romeo's Zhou Guanyu who made it into Q3 for the first time in F1 but faces a post-qualifying investigation for failing to respect the race director's notes.
Zhou's team-mate Valtteri Bottas was knocked out of Q3 for the third successive weekend in 11th place ahead of Alex Albon who survived an off shortly before Perez's crash, to record a season's best 12th place on the grid for Williams.
🚩 RED FLAG 🚩

Perez also slides off on the Intermediates, and can't get it out of the wall#CanadianGP #F1 pic.twitter.com/bepojkmkOt

— Formula 1 (@F1) June 18, 2022
Monaco GP winner Sergio Perez crashed out of Q2 halfway through the session when he nosed his RB18 into the barriers at Turn 3 and couldn't reverse out of it.
He faced a long walk back to the paddock and will start tomorrow's race from 13th on the grid because Lando Norris and Charles Leclerc didn't complete a lap.
Norris battled a power unit problem that McLaren was unable to fix while Leclerc elected to not set a lap, knowing he'd have to start from the back of the grid anyway due to engine penalties.
Pierre Gasly suffered his third Q1 exit of the season and complained of brake issues as he narrowly missed out on a place in Q2 in 16th place.
He was joined on the sidelines by the Aston Martin duo of Sebastian Vettel and Lance Stroll who failed to deliver on their strong practice pace.
Nicholas Latifi's 100% record of Q1 exits continued while AlphaTauri's Yuki Tsunoda, who was already due to start at the back of the grid due to engine component changes, was the slowest of the 20 drivers in Q1.
Qualifying Results
| Pos | Name | Car | Q1 | Q2 | Q3 |
| --- | --- | --- | --- | --- | --- |
| 1 | Max Verstappen | Red Bull | 1m32.219s | 1m23.746s | 1m21.299s |
| 2 | Fernando Alonso | Alpine-Renault | 1m32.277s | 1m24.848s | 1m21.944s |
| 3 | Carlos Sainz Jr. | Ferrari | 1m32.781s | 1m25.197s | 1m22.096s |
| 4 | Lewis Hamilton | Mercedes | 1m33.841s | 1m25.543s | 1m22.891s |
| 5 | Kevin Magnussen | Haas-Ferrari | 1m32.957s | 1m26.254s | 1m22.96s |
| 6 | Mick Schumacher | Haas-Ferrari | 1m33.707s | 1m25.684s | 1m23.356s |
| 7 | Esteban Ocon | Alpine-Renault | 1m33.012s | 1m26.135s | 1m23.529s |
| 8 | George Russell | Mercedes | 1m33.16s | 1m24.95s | 1m23.557s |
| 9 | Daniel Ricciardo | McLaren-Mercedes | 1m33.636s | 1m26.375s | 1m23.749s |
| 10 | Guanyu Zhou | Alfa Romeo-Ferrari | 1m33.692s | 1m26.116s | 1m24.03s |
| 11 | Valtteri Bottas | Alfa Romeo-Ferrari | 1m33.689s | 1m26.788s | |
| 12 | Alex Albon | Williams-Mercedes | 1m34.047s | 1m26.858s | |
| 13 | Sergio Pérez | Red Bull | 1m33.929s | 1m33.127s | |
| 14 | Lando Norris | McLaren-Mercedes | 1m34.066s | | |
| 15 | Charles Leclerc | Ferrari | 1m33.008s | | |
| 16 | Pierre Gasly | AlphaTauri-Red Bull | 1m34.492s | | |
| 17 | Sebastian Vettel | Aston Martin-Mercedes | 1m34.512s | | |
| 18 | Lance Stroll | Aston Martin-Mercedes | 1m35.532s | | |
| 19 | Nicholas Latifi | Williams-Mercedes | 1m35.66s | | |
| 20 | Yuki Tsunoda | AlphaTauri-Red Bull | 1m36.575s | | |