George Russell became Formula 1's newest race winner at the Brazilian Grand Prix last weekend.
That he'd win F1 races was never in doubt once he got the Mercedes works seat, though the team's troubled start to 2022 meant it took longer than most might've anticipated for the breakthrough victory to come.
During the winter, ahead of Russell's first start with the multiple champion team, Scott Mitchell-Malm delved into the earliest days of Russell's single-seater career to revisit a pivotal fortnight that set up all the success that followed:
For all that George Russell has done to mark himself out as one of Formula 1 star prospects, little matches the intensity of two weeks in 2014 that shaped all that's followed.
In the space of around 10 days, the then-16-year-old won in a wildcard appearance in the ultra-competitive Formula Renault Eurocup, clinched the BRDC Formula 4 championship in a dramatic come-from-behind victory at the final round, then headed to the McLaren Autosport BRDC Award evaluation days at Silverstone, where his exceptional performance in MSV Formula 2, Mercedes DTM and McLaren GT3 machinery won him the biggest prize in junior racing.
"I think it made my career," Russell once told The Race of that two-week period that rounded off his first year in car racing in style.
It's not just the burst of noteworthy success that stands out. It's what it said about Russell's talent, the fact each individual element had its own fascinating subplot, and most importantly how collectively it transformed the narrative of Russell's rookie season.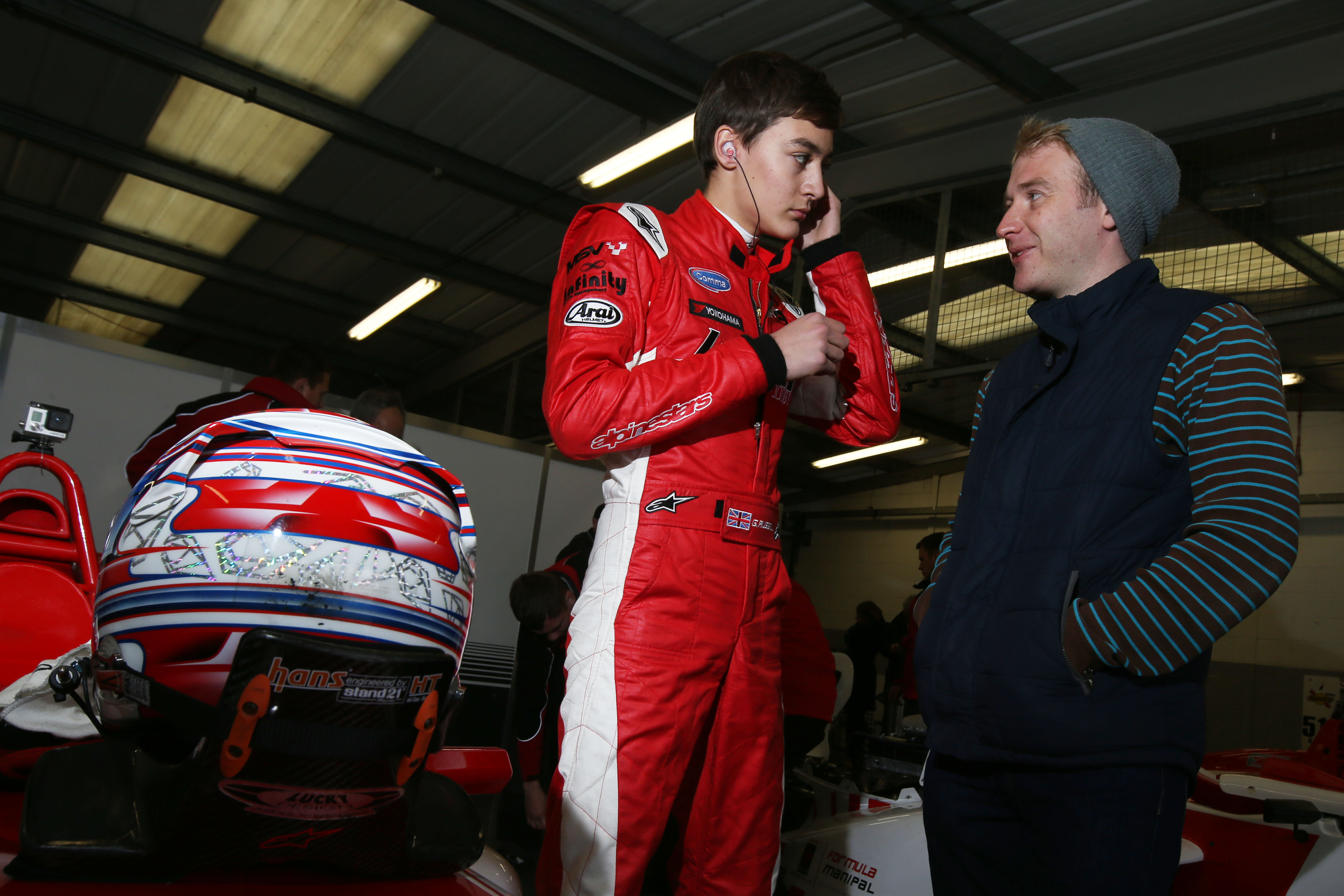 Russell 2014 images courtesy of Jakob Ebrey Photography
Those who followed his progress closely knew that Russell had shown himself to be the class of the field in his campaign in Britain, but a few setbacks had compromised his championship charge in what's now known as GB3. In fact, as Russell's first season in car racing reached its conclusion, there was a danger it would end without a title.
A second clash of the season with championship rival Raoul Hyman in the penultimate round at Donington Park had left Russell massively on the back foot heading into the BRDC F4 finale at Snetterton.
Meanwhile, his podium-finishing Formula Renault Alps campaign had concluded without a single victory, leaving Russell fourth in the championship behind champion Nyck de Vries, a rookie Charles Leclerc, and Matevos Isaakyan.
The risk was that Russell wouldn't have the reputation, domestically and abroad, at the end of that season that his talent probably merited. Even at that level – maybe especially at that level – this is a results business.
"Had I not won the Formula 4 championship I don't think I'd be where I am today," Russell says.
But Russell's frenetic fortnight started a week before that Snetterton showdown, by beating runaway champion de Vries in the Formula Renault Eurocup season finale at Jerez.
The season in FR2.0 Alps, the Eurocup's less prestigious cousin, had not lived up to Russell's expectations. He'd driven for Koiranen, which ran de Vries to both his Renault titles but was not Russell's first choice – he'd done a deal to race for the crack Prema team but that got vetoed by a certain Lawrence Stroll…
The Koiranen link included a first Eurocup appearance at Moscow Raceway, although the less said about this the better. But a last minute opportunity arose to join Tech1 for the Eurocup finale. For Russell, this was instantly a better fit.
"We got a freebie as the previous driver had already signed and paid for the season, and he had some family issues, and that was the whole reason why I got the opportunity," says Russell.
"I only found out on the Monday of the race. Ironically, after I was dropped by Prema at the start of the year – and I won't go into detail on that, but you know what happened – I had the choice between Tech1 and Koiranen.
"I didn't know which team to choose, and I chose Koiranen, and I had a horrible year. And then I had the opportunity with Tech1 at the end of the season, and went out and won.
"Everything just suited me. I liked the people, I liked the car.
"Had I gone the Tech1 route from the beginning. I probably could have had a good season that year in Renault as well."
Even though practice was shortened because of the weather, Russell qualified sixth and finished fifth in the weekend's first race. He converted that new knowledge into pole on Sunday and won after holding off de Vries. No mean feat given de Vries was already champion and had won the title by 130 points…
The F4 weekend had higher stakes and was more complicated. Russell started the weekend with a 21-point deficit to Arjun Maini, the biggest gap between first and second all season.
He needed a huge weekend and it started well enough when a big gamble was rewarded in qualifying. Part of the track was damp and not drying fast enough. While others were braving the conditions on slicks, Russell made the choice to go from slicks to wets – and was rewarded with pole.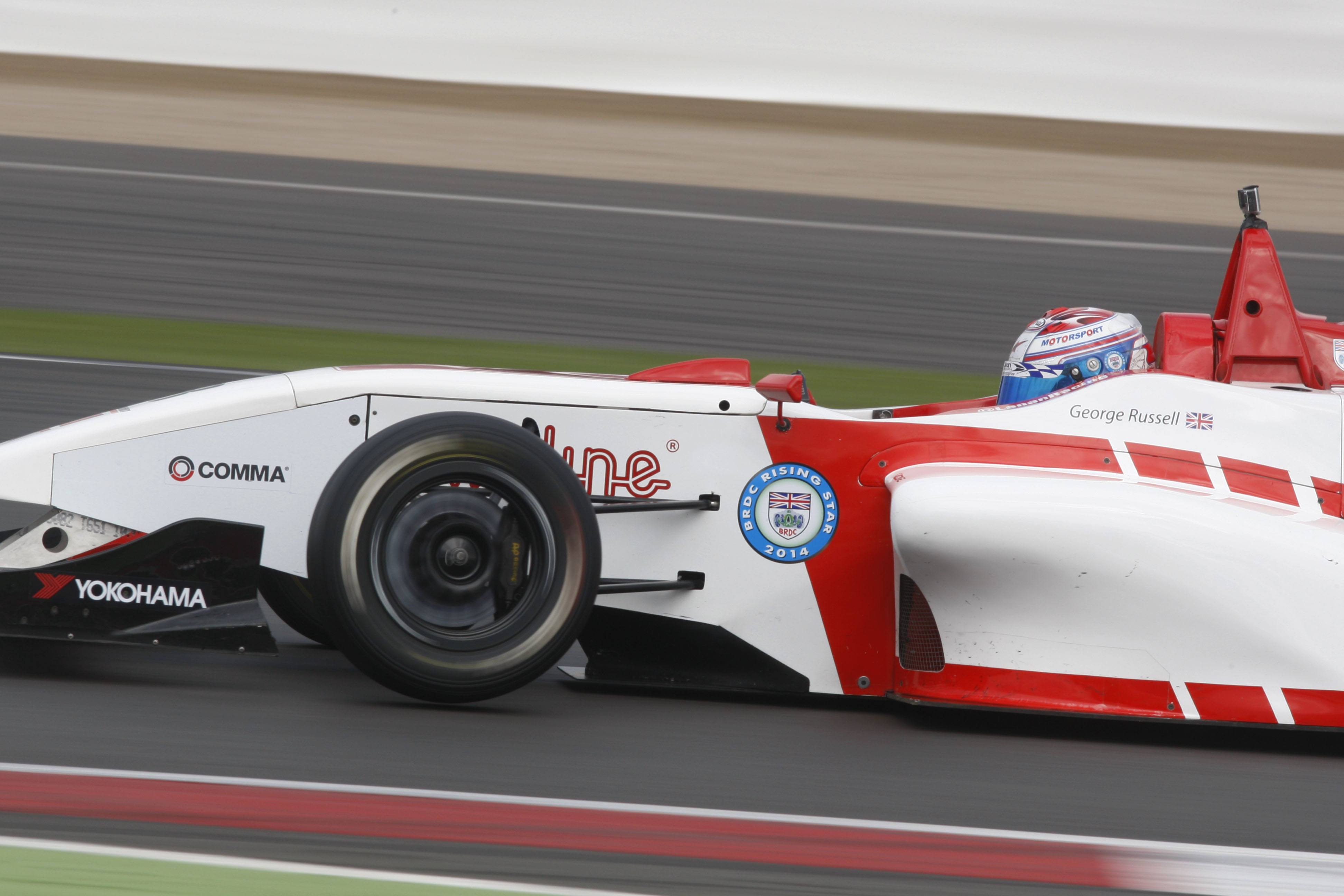 But that didn't translate into simple lights-to-flag victories. All season long he'd had inconsistent starts in the F4 car, which had a curious cause. Russell was already a tall young man and the F4 chassis got narrower and slimmer the further into the footwell a driver's feet went.
Russell had to press the pedals by twisting his feet and pressing with his toes, which compromised the feel and unsurprisingly the execution of the starts. At one point there was even a rumour that the only solution was to cut the toes off his race boots!
The starts weren't all disastrous that season but that critical weekend at Snetterton"they just weren't working", Russell admits. So, from pole, his first race started poorly – literally – and went downhill from there, Russell finishing a frustrated seventh after getting unfortunately caught up in the aftermath of someone else's incident.
In race two, Russell drove a smart race after another iffy start to finish second behind Hyman, while poleman Maini struggled to fifth after being passed by Russell then making a mistake that cost him two places. Still, the odds were in Maini's favour for race three, as he had a 13-point lead.
Russell's big feet let him down again from pole but a robust defence at least meant he was second behind Hyman and looking at a serious shot at winning the title after all. The problem was the obstacle in front.
It's hard to characterise the Russell/Hyman rivalry in just a few words but they were two young drivers with little trust and, it felt at times, little respect. Their race-ending incidents at Oulton Park and Donington Park were testament to that. Hyman instigated both clashes but a more experienced Russell would likely have avoided them – he admits now he was "naive" and wanted to win every race.
This backstory made for a fascinating situation. To win the title, Russell had to pass a driver he'd crashed with twice. It would take something decisive – which is exactly what Russell produced.
Russell was assertive, initially attacking on the outside and forcing Hyman deep, then using the cut-back to get his nose on the inside for the very fast left at Hamilton that followed – and sent a bold move down the inside.
While Russell went forward Maini went backwards and fell to fifth – meaning Russell's hard-earned victory, and that gutsy pass, made him champion.
"I was just so focused on one job, one goal and that was just getting to the lead, winning that race," he says.
"I would have found a way past him no matter what. And I knew I had to. If I didn't I wouldn't have won.
"Looking back, that was a career-making move."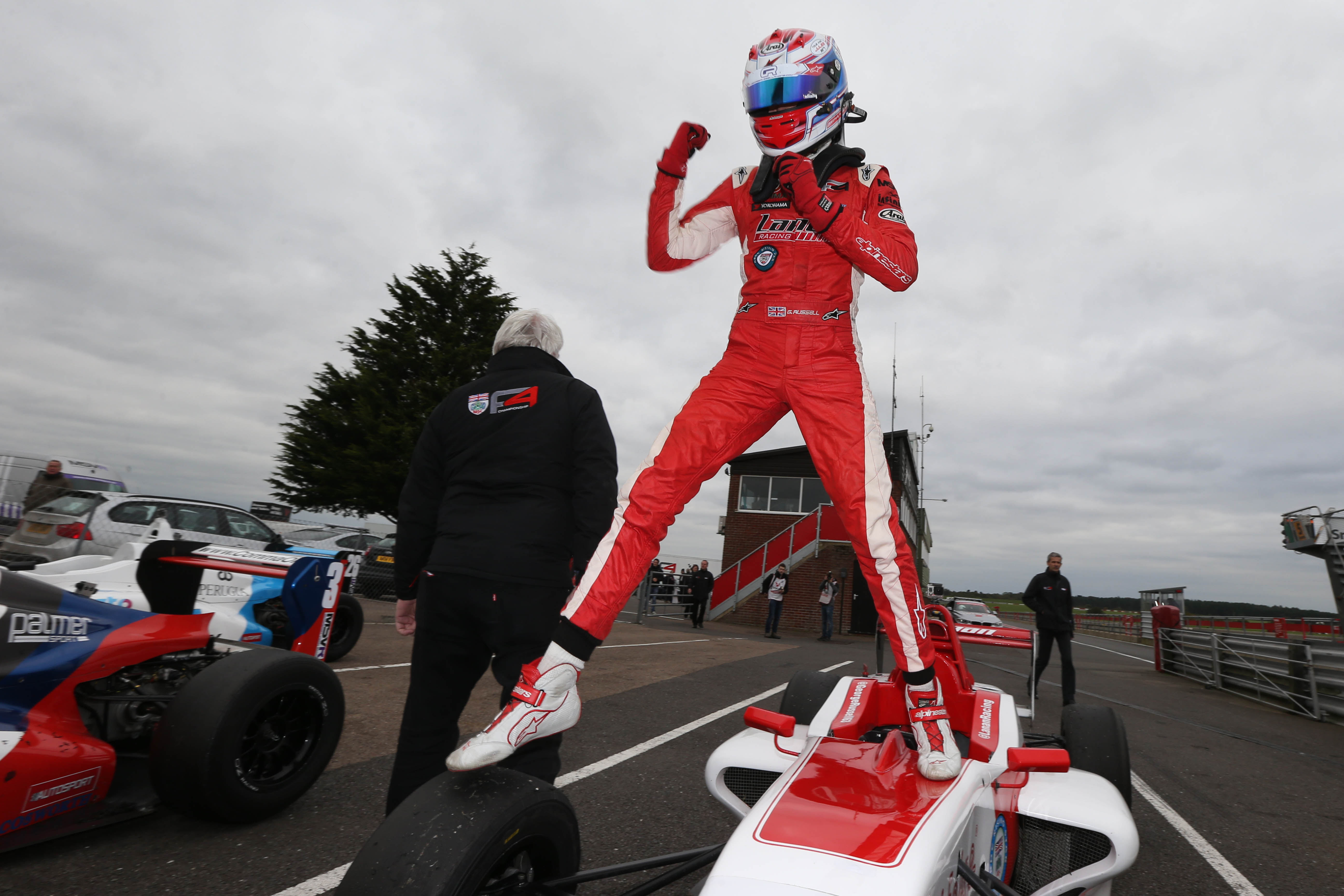 Back-to-back prominent successes in different categories spoke volumes for what Russell was capable of. But he'd shown signs of it all year.
Russell had spent 2014 switching between a spaceframe Formula 4 chassis, with its six-speed gearbox, in the UK and the seven-gear, two-litre Formula Renault carbon monocoque in the Alps series in Europe.
These cars generated a similar laptime but in a different way, with very different tyres. They required a very different driving style.
At just 16 years old, Russell had shown a stunning ability to adapt. But car-hopping never phased him – in order to get the necessary licence, he'd started the year doing one-off races in a Peugeot 206, a Toyota MR2 and, of all things, a Citroen 2CV…
It's a neat twist that his season would end driving another quick-fire hat-trick of cars, although the F2/Mercedes DTM/McLaren GT line-up was a touch more potent.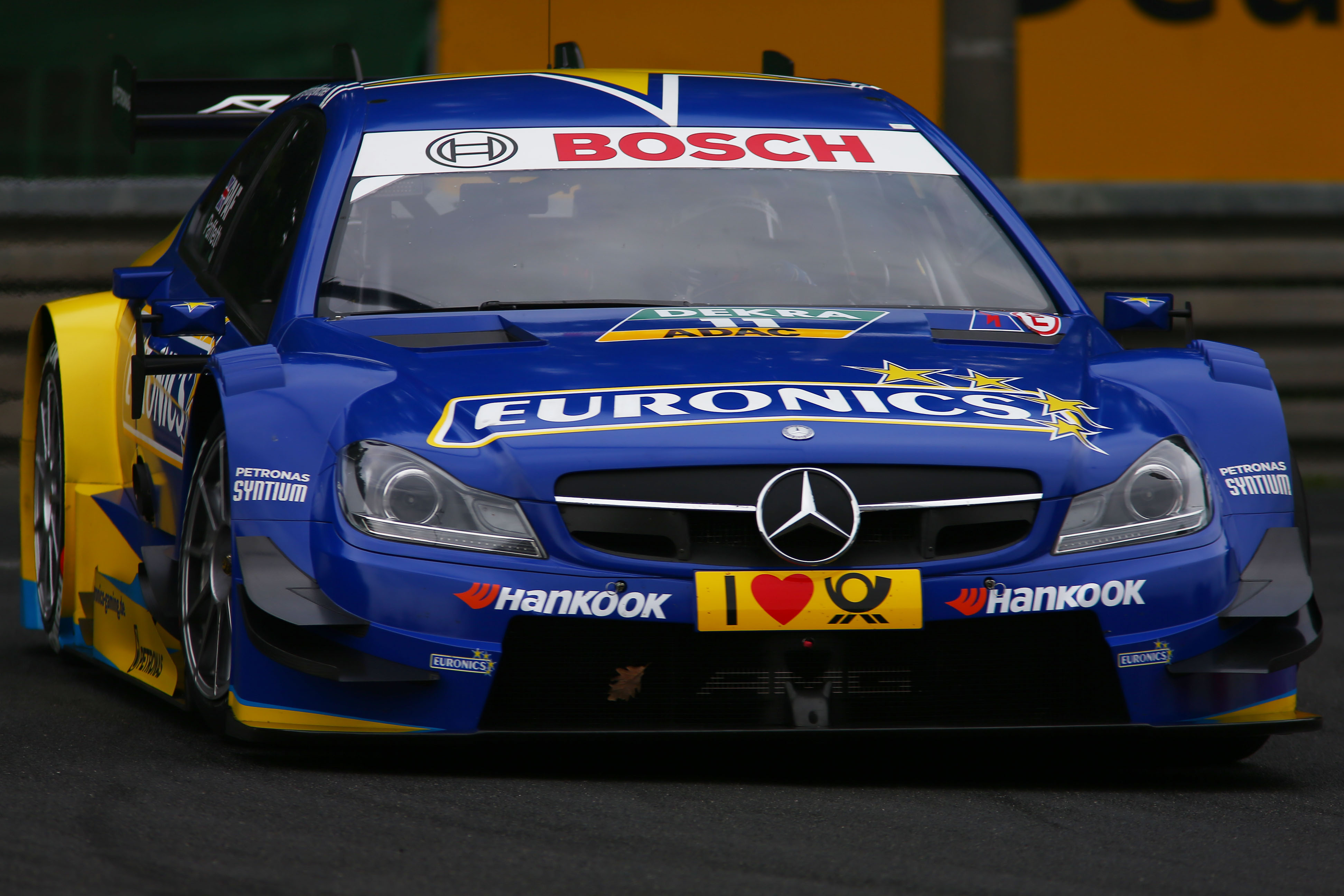 He was the youngest-ever finalist, let alone winner, of the McLaren Autosport BRDC Award competition. The rules had to be changed to allow him to enter. His age raised a note of concern from the Mercedes DTM crew, although that concern was allayed quickly when Russell got on track and was instantly quickest.
That was a tough line-up, too – Toro Rosso, Red Bull and now Williams F1 driver Alex Albon was among the finalists.
Russell's sharp feedback and mature attitude also turned heads across those days at Silverstone, winning over the judges and leaving the McLaren and Mercedes crews deeply impressed.
"I was so busy, so much was happening, it didn't give me an opportunity to think," Russell says of his mindset approaching that competition.
"And obviously I was just on a roll at the time, everything was going my way.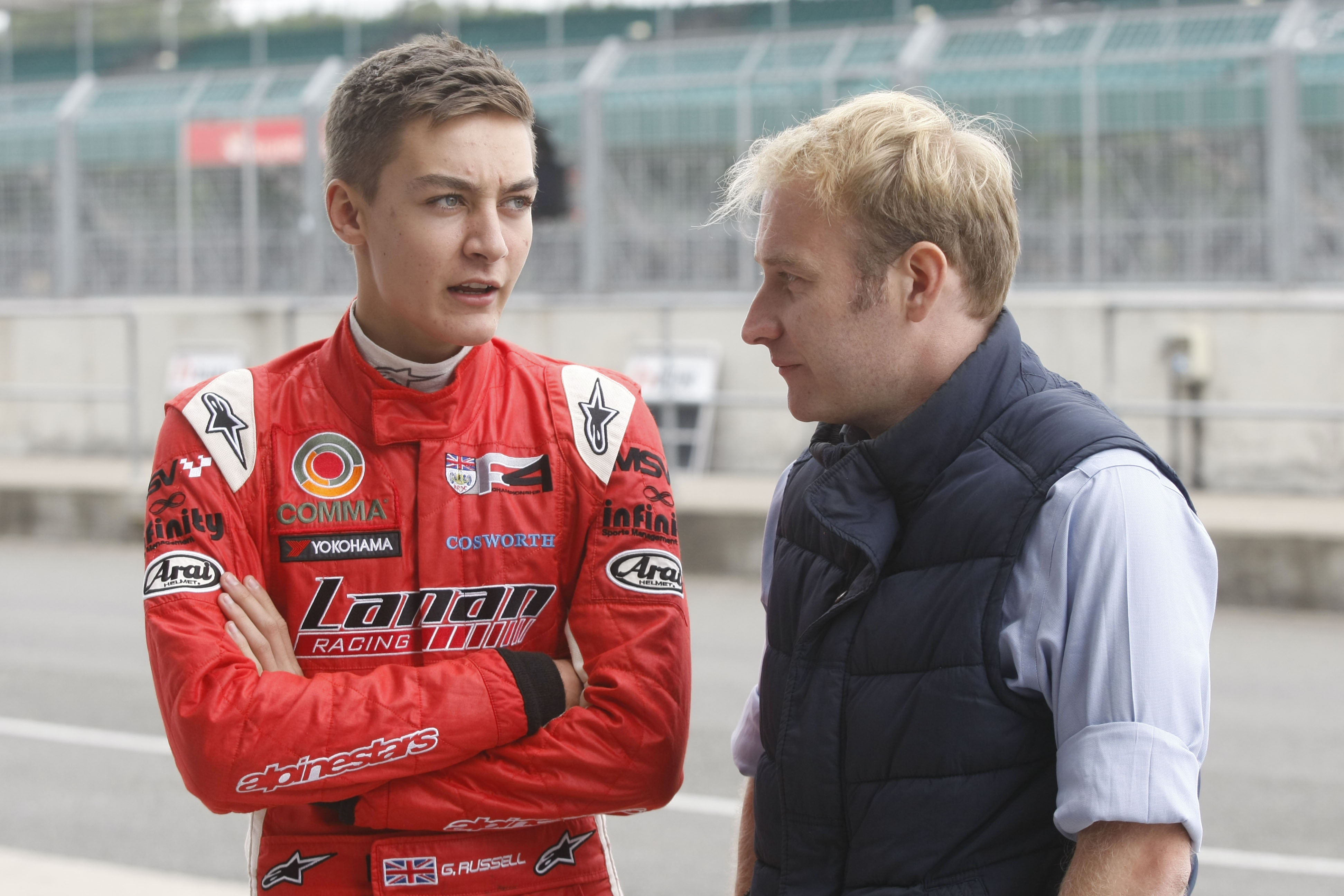 "I put it on pole in Eurocup, won the race, put on pole in F4, won the race and won the championship.
"Straight away as soon as I won the championship, my mind was passed onto MABA and doing the job there.
"I just said to myself, just do what you do. Don't try and overcompensate, don't try and overreach. And I think that sort of core value has really stuck with me throughout my career.
"I know what I'm capable of. Sometimes the best way to extract absolutely everything is not really reach further and try and deliver something exceptional.
"Actually, the time when you do deliver something exceptional is just when you just get everything nailed. And that goes back to the F4 days."
The 2014 season is immortalised on Russell's CV, but it is little more than a footnote in his story.
Had he not gone on to impress in European Formula 3 and then surge to back-to-back titles in GP3 and Formula 2, he would never have earned a chance with Mercedes that led to his F1 debut with Williams and now a promotion to the top table.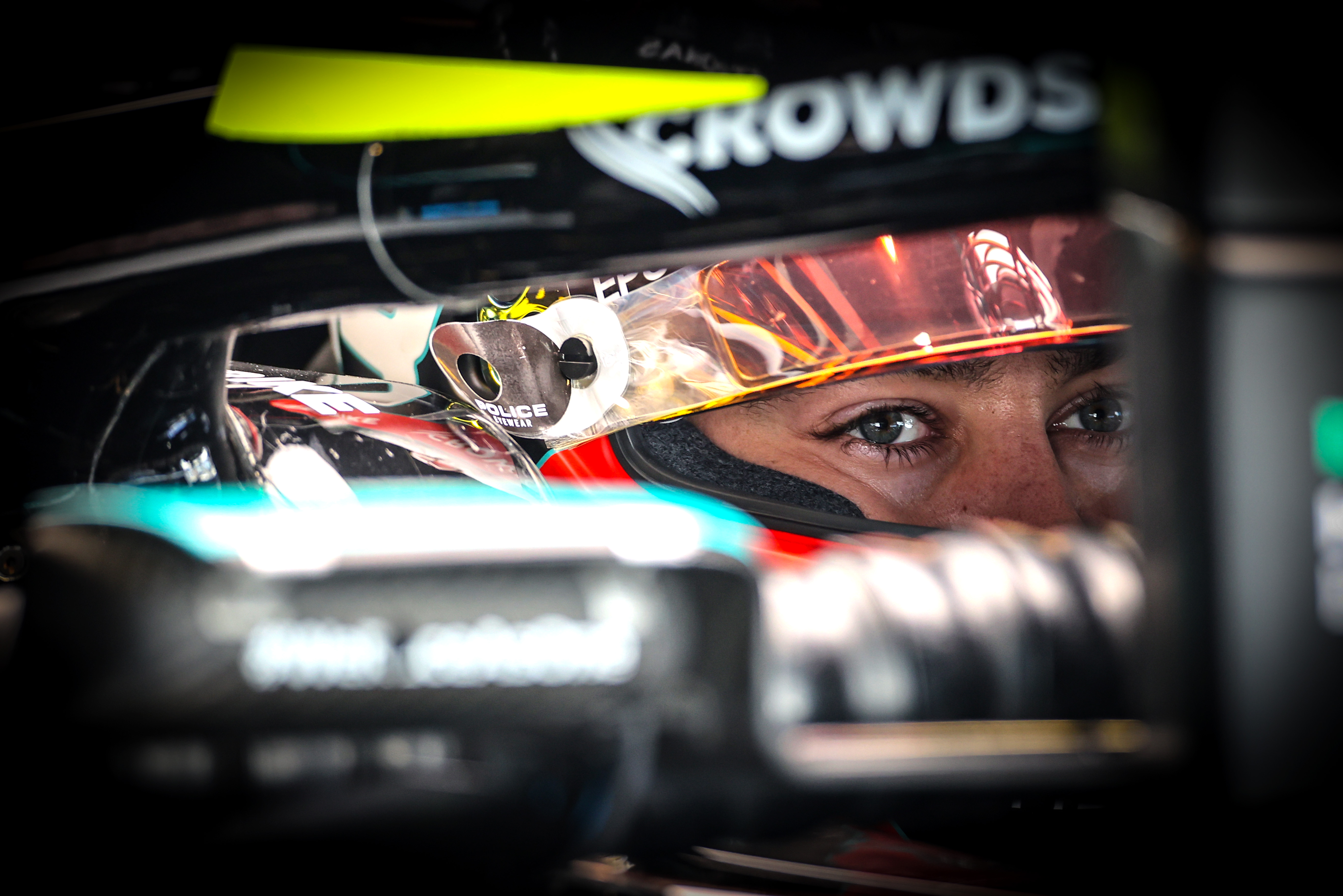 But while the results of that first season are now nothing more than a relatively obscure factoid, the way it ended is not lost on Russell himself.
"Formula 1 teams take a lot of interest at the high end of junior series, Formula 2 and Formula 3 – especially even more now they're on the calendar," he says.
"If you look at the stats and they see 'right, he won Formula 4, he won Formula Renault as a wildcard – great. He won the McLaren award, great'.
"Often they don't know the backstory behind how that happened. And I only won Formula 4 by three points to Arjun Maini.
"Had I not won that championship, when my CV lands on a desk, straight away it's 'he's already fallen over the first hurdle'.
"I didn't know that at the time. I recognise that now. I don't think I'd be where I am [without it]."