It was no surprise to see George Russell pull off a first Formula 1 victory in the Brazilian Grand Prix.
Russell would not be in a Mercedes if he did not have the potential to win races in F1, so there's that to consider, but he also should have become a race winner already – in the 2020 Sakhir GP, where he provided clear proof of what he's really capable of in a top car.
"I don't know if it's redemption, he deserved to win in Bahrain and we let him down with the car," said Mercedes team boss Toto Wolff in Brazil on Sunday.
"That's why this victory makes us happy because he could have had one on the clock two years ago and he didn't. Now he has that first victory."
The features of Russell's lost first win were also the hallmarks of his eventual triumph. Starting with supreme confidence in his own ability.
When he sat in Lewis Hamilton's car two years ago he decided he could not treat it as a luxury bonus, he had high expectations of himself.
And when he lined up on pole position at Interlagos with a seven-time world champion alongside him and the 2022 title winner right behind, it was the same story. Pressure would come during the race, undoubtedly. But Russell wasn't exactly shaking in his race boots.
"I was pretty relaxed, to be honest," he said. "I think it's sort of a mentality.
"If you have the mentality that if you just do everything right, make a clean start, do your thing, get into the groove, then you can win this race."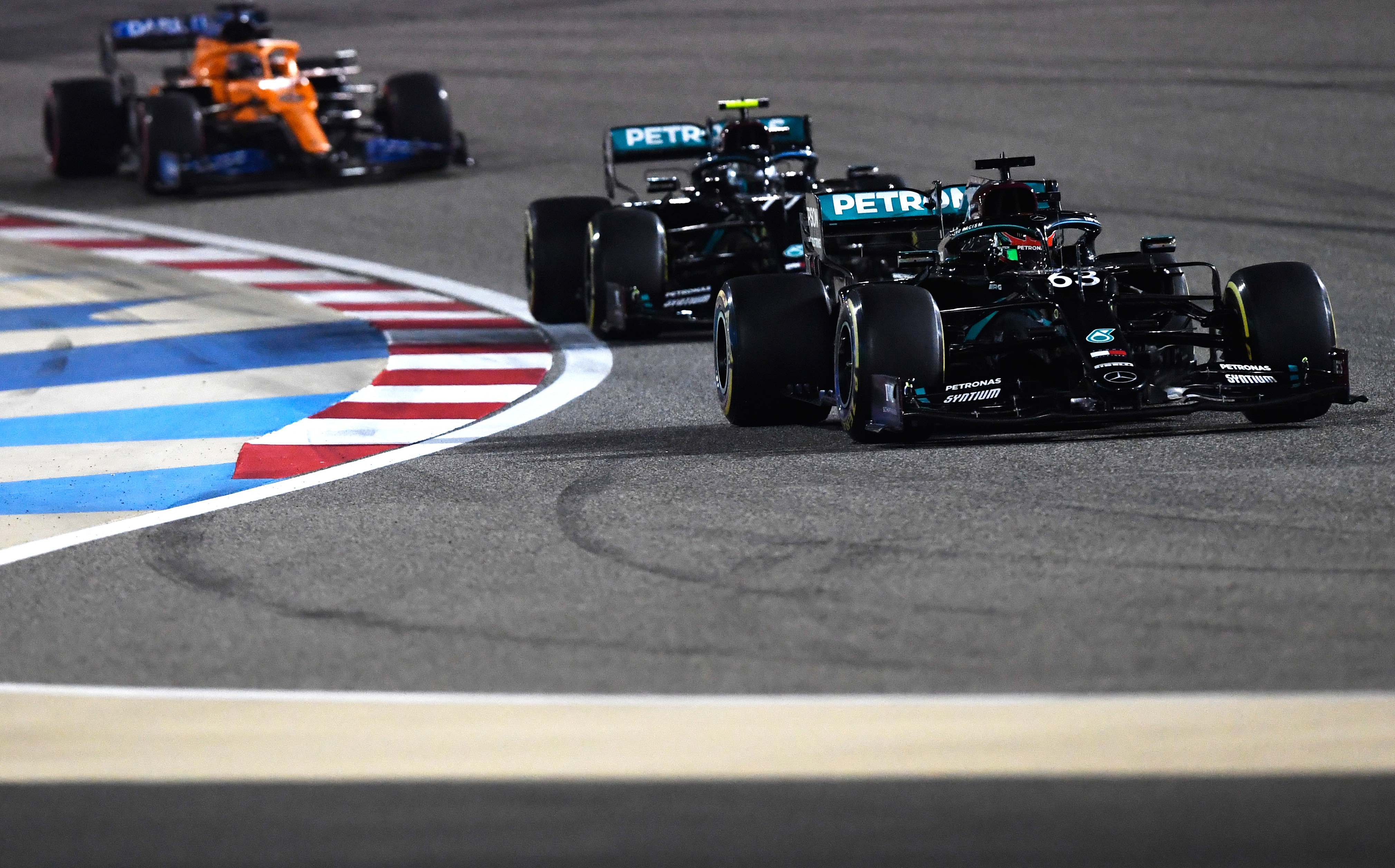 Unlike in Bahrain, Russell did not have to overtake any cars on Sunday to hit the front. But he had shown good racecraft to get ahead of Verstappen and win the sprint, thus giving himself pole position for the grand prix.
An ace start propelled him past Valtteri Bottas two years ago and here the fastest reaction time meant Russell didn't even have to defend from team-mate Hamilton into the first corner. From there, like he did for the majority of that 2020 race, Russell looked perfectly at ease in front.
He led expertly without error, with good pace and strong tyre management and, even when a safety car set up a tense final stint with Hamilton in his mirrors, Russell coped admirably with the pressure. This included the second of two safety car restarts that he handled well.
It was not a curveball like the botched pitstop that dropped Russell from the lead in the Sakhir GP, but it was an unwelcome complication given the race was, in Russell's words, "well managed and under control".
"I knew how quick Lewis was and when that safety car came out, I thought, 'God this is going to be very, very tricky now'," he said.
"But I put together a really strong string of laps, made very little mistakes. The pressure Lewis put me under was immense."
Russell did optimistically ask if he and Hamilton would be racing, just to test the waters of whether he had a rear gunner or needed to be on alert, and unsurprisingly given Mercedes' record the reply was that they were free to race.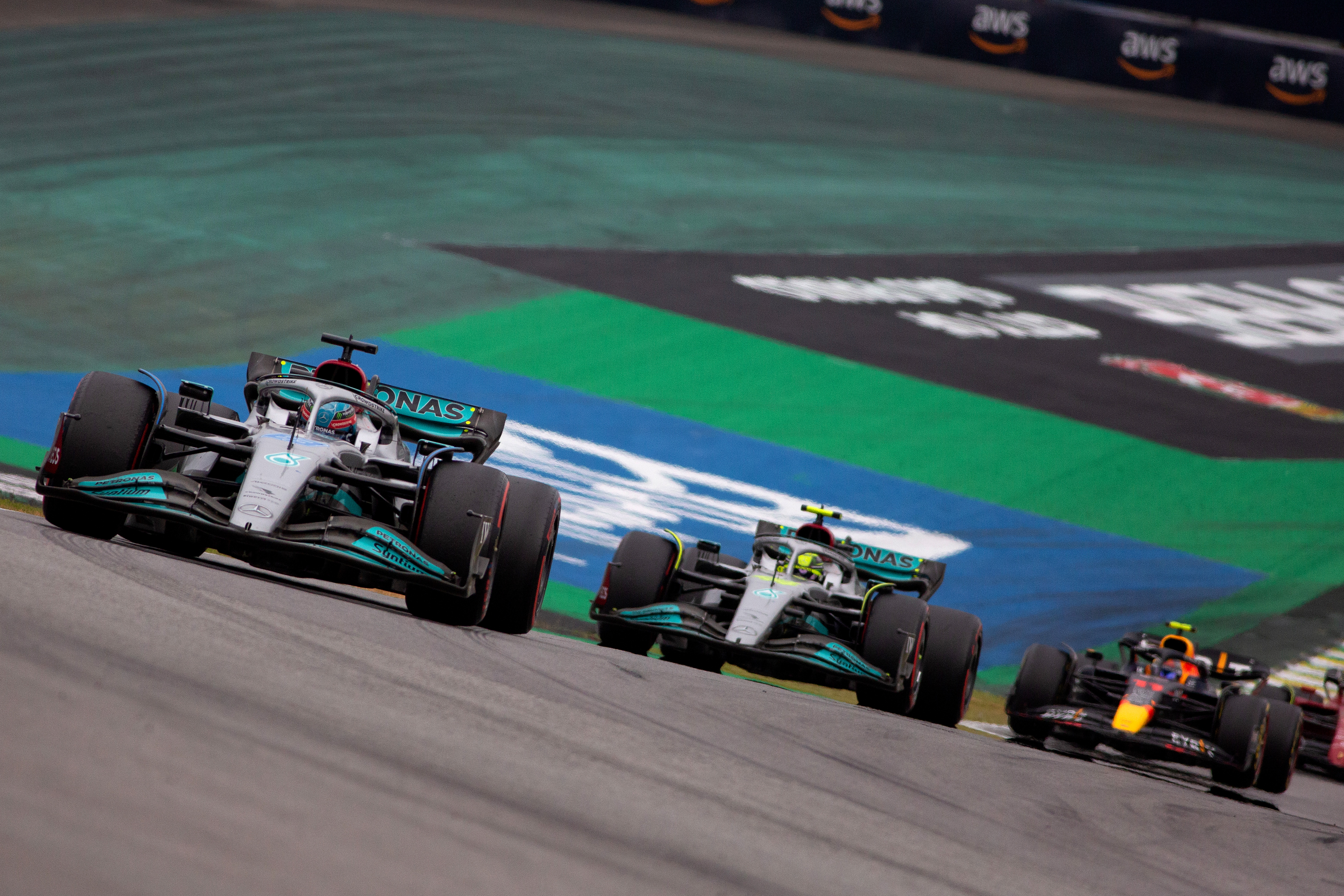 It wouldn't have been the answer Russell ideally wanted, and it could have spooked him. But it was not a great surprise, and Russell was equal to the task anyway.
"I just wanted to understand the position," he said. "I knew how important that one-two was for the team.
"If we weren't racing, it was kind of like, 'Bring the car home'; if we were racing, it was a quali lap every single lap and you're risking every corner, because the laps just had to be perfect."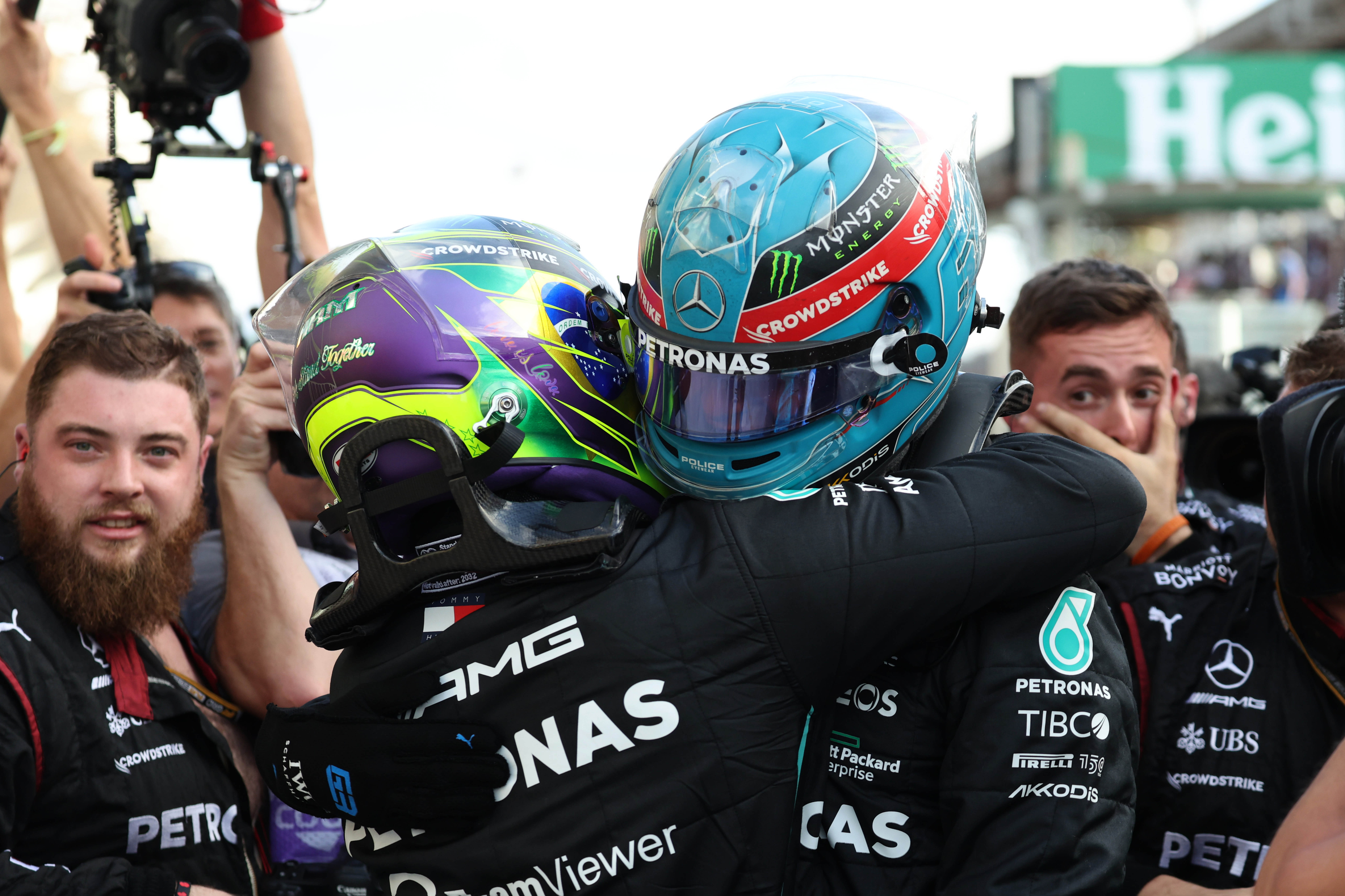 If anything that added a little gloss to the victory. Russell said he was happy to have won it that way. Hamilton's race was compromised from his early collision with Verstappen and there may have been some damage that limited his pace at times, especially in the straight fight of the final stint, but Hamilton wasn't making any excuses afterwards. He just praised the job Russell did.
Russell's been signed by Mercedes to be the team's long-term leader when Hamilton's illustrious career does come to a close. But he's also tasked with contributing to achieving the team's short-term ambitions as well.
Sakhir was the first concrete evidence he could do that. This year, Russell has proven emphatically he is worthy of the responsibility. Scoring Mercedes' first victory of a trying season – a result that basically guarantees he'll beat Hamilton in the championship – is a nice symbol of his immediate and longer-term value.
This is what Mercedes and Russell have waited for a long time for. From his PowerPoint presentation to Wolff as a 16-year-old in a suit to a place on the junior programme, to winning GP3 and Formula 2 as a rookie, to the Williams apprenticeship, and now to being team-mates with the most decorated driver in F1 history – theirs is already quite a storied relationship, and now it has enjoyed a first success at the highest level.
Just as it was when Russell lost his first win two years ago, his emotions could barely be contained. This time, though, it was for all the right reasons.
"I was pretty impressed at how quickly I started crying, to be honest, once I crossed the line," he said.
"It was literally by the time we were at Turn 2 I was…tears were flooding.
"I just thought of my family – everybody's back at home, I've got my mum at home with my girlfriend, I've got my sister with her husband, my brother with my father and his two children.
"All of my closest family were a little bit spread out, but I know that they were all watching together and as soon as I got my phone straight after the race, called them all in a group FaceTime.
"It's just been such an emotional rollercoaster and journey for all of us, from karting, travelling up and down the country in the campervan with my parents, to the support my brother and sister gave me and the support my girlfriend's given me throughout this whole season.
"It's not a straightforward life in Formula 1. We're all living our dreams but your emotions vary substantially based on performance and you're coming home from a weekend either very happy and things are good or coming home pretty disappointed.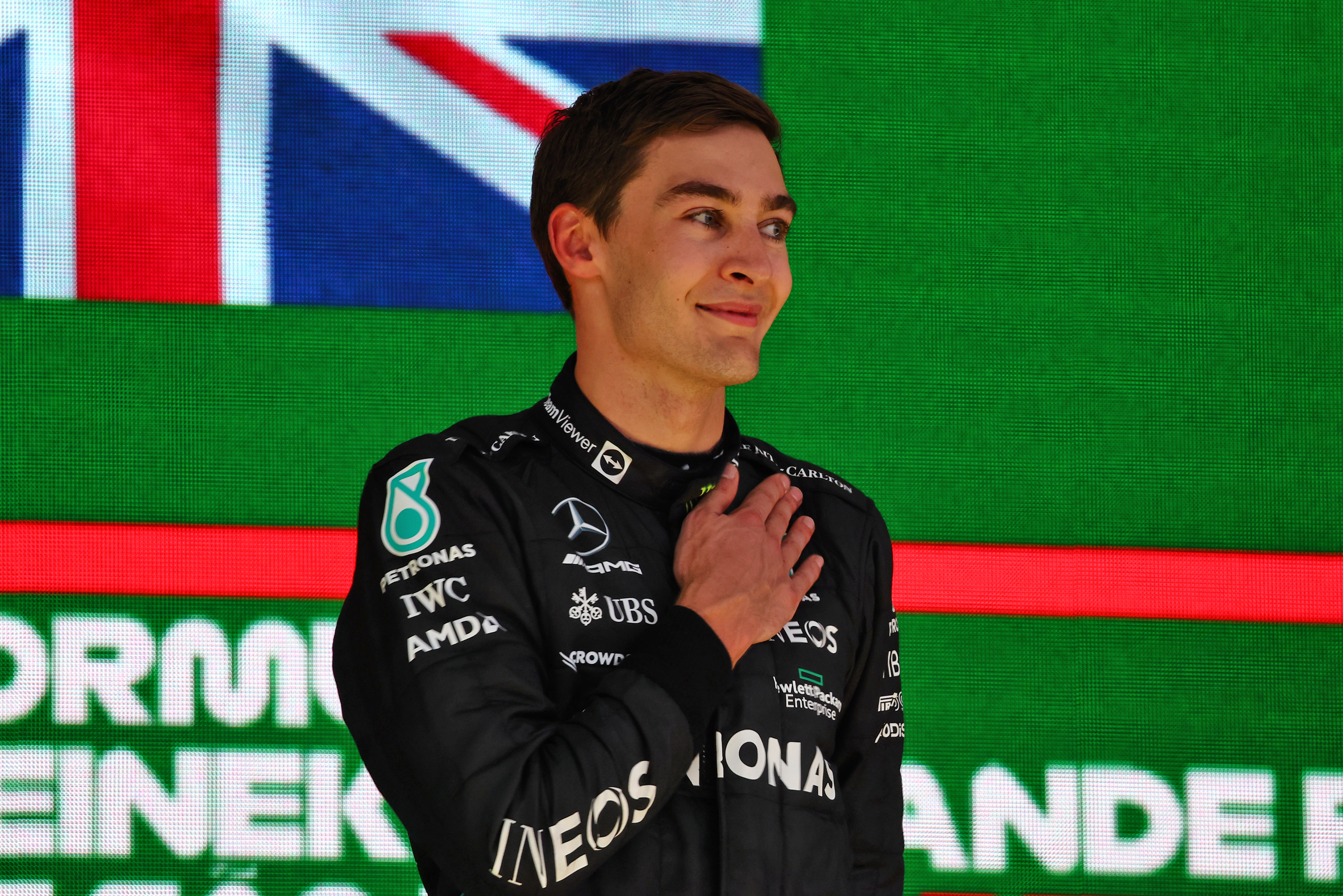 "I sort of feel that for all of us, but not just my family, everybody who's supported me throughout my journey who's given me this opportunity: Mercedes, Gwen [Lagrue, head of the Mercedes young driver programme], the people who have supported me throughout my journey in karting, Formula 4, Formula 3.
"The list is endless. All these thoughts just go rushing through your mind over the course of that 60 seconds."
Russell's first F1 win shouldn't have been only his first. But he's laid that Sakhir ghost to rest now and scored a maiden grand prix victory for real.
It will almost certainly not be his last.