The glimmers of unmistakeable optimism after the winter were a false dawn and Ferrari faced a forced reset early in the 2023 Formula 1 season as a result.
Back at Fiorano, in the build-up to – and then through – the launch of the SF-23, there was a clear sense of confidence. Ferrari felt it had the winter it wanted, and needed, to build on its return to race-winning ways in 2022 and mount a full-scale title challenge.
Then the car hit the track and weaknesses emerged, Red Bull moved the goalposts, and Aston Martin blitzed the preconceived idea that midfield teams cannot make giant leaps over a single off-season. Suddenly Ferrari was not just second-best again, it was third or fourth – and a long way from its goal.
"It's been tougher than any other year," Ferrari driver Carlos Sainz tells The Race.
"Expectations were…I felt like 2022 was a bit of a comeback finally to the top for Ferrari. And I feel like we all expected to at least be fighting at a similar level.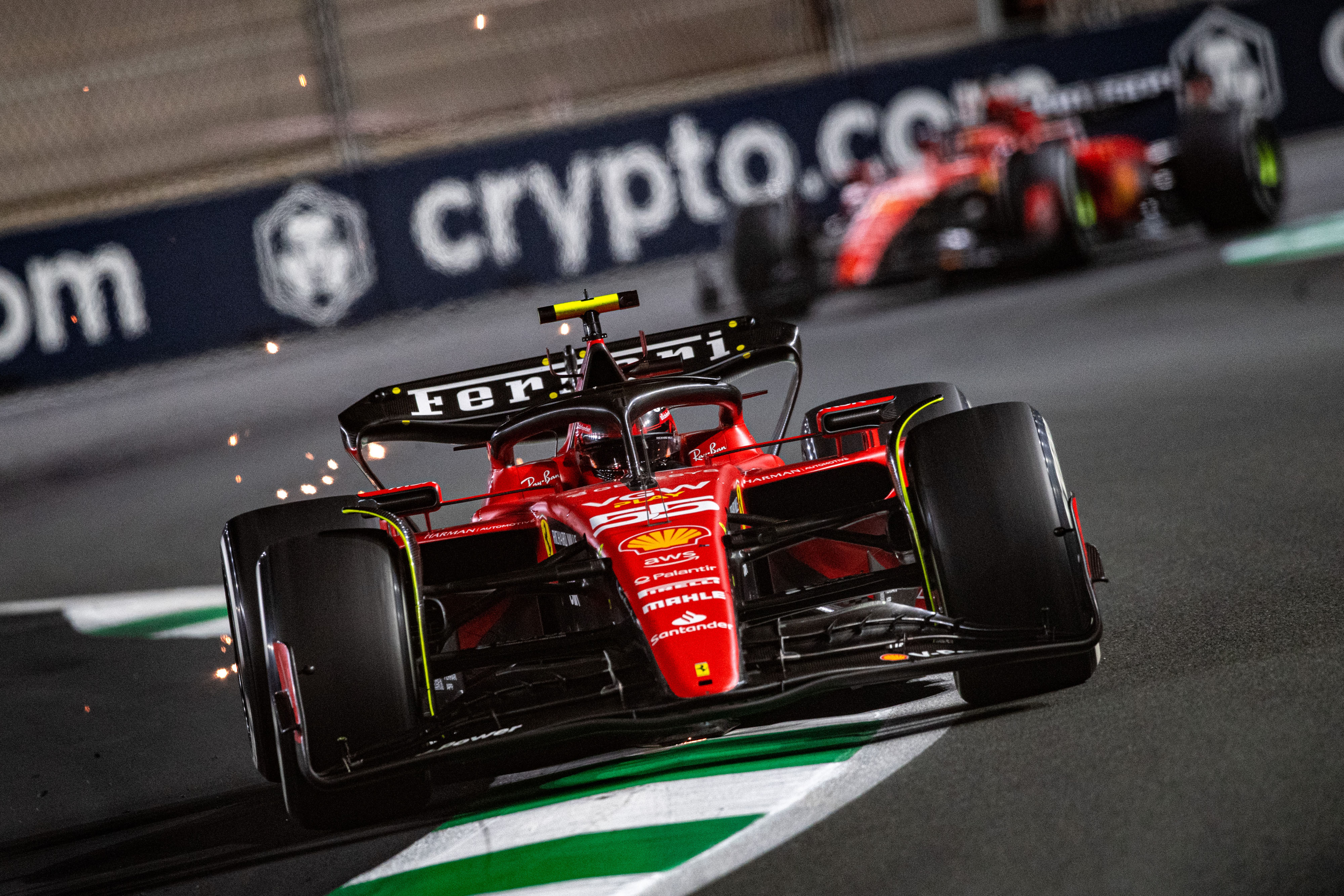 "Not only me, but the whole team had this hope, this expectation. And suddenly finding yourself more than half a second adrift from the Red Bull was tough to handle.
"You suddenly need to reset, need to go back to the drawing board, and make sure you keep everyone motivated.
"The amount of work that is going on right now in Maranello with the development plan is huge. Trying to get the whole factory aligned and motivated on the next step is the most challenging."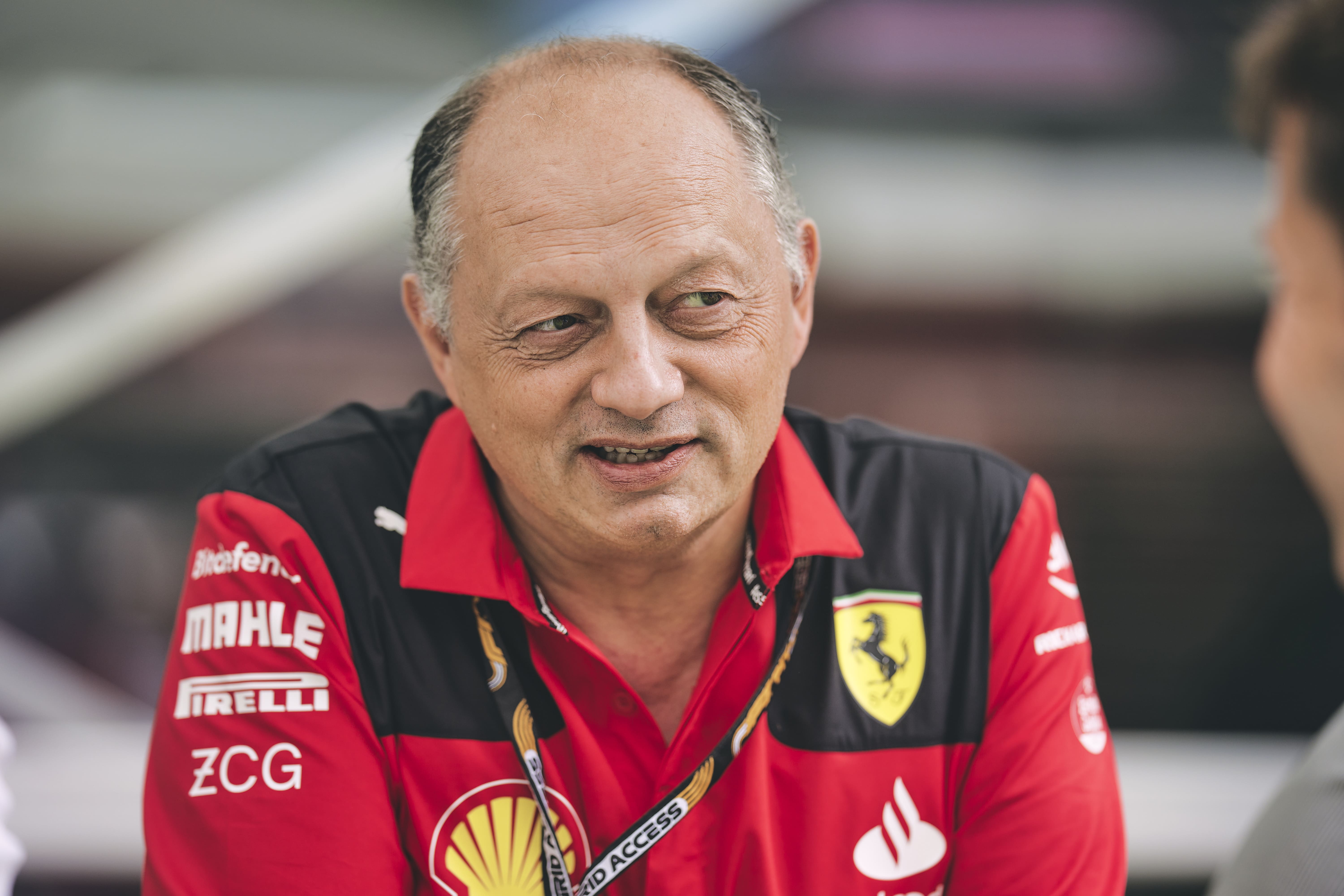 It is something that Sainz says new Ferrari team principal Fred Vasseur is handling well. Vasseur has had a baptism of fire since stepping into what is already a uniquely challenging F1 job. Some departing senior and well-known figures, coupled with the on-track performance being weaker than expected, has made the task even harder.
Let's start with the car. Ferrari made the decision to trade some cornering performance for straightline speed after suffering a particular deficit in that area last year.
It worked, sort of. The straightline speed is more competitive. But the car is not easy to drive. Contrast that with Red Bull, and a car concept with a sweet balance between a strong mechanical platform and well-understood aerodynamic performance, that has made the RB19 fast through the corners and a real weapon down the straights.
"It's not an easy car," says Sainz of the SF-23. "At the moment, we are struggling a bit with unpredictability, with a very tricky car, which makes putting laps together in quali, race pace, changing conditions, tyre wear, wind, very, very tricky to predict and very tricky to adapt to.
"As a driver, leaving that aside, I feel like I understand how I need to drive this generation of cars, I understand how I want to set up the car to my liking, or at least this generation of cars to my liking. And that leaves me with less variables to think about going into a race weekend.
"It hasn't been an easy start, as I said, but I feel like even if the car is possibly even trickier than last year, I understand that trickiness better. And I can set up and drive the car in my way."
The extremities of the Ferrari have manifested in different ways across the two drivers. Sainz had a thoroughly second-best weekend in Azerbaijan, for example, while Leclerc starred with pole and a podium. Leclerc's audacious, risk-taking style can tempt a seriously fast laptime out of this car when it lines up with its narrow working window. When it doesn't, though, Leclerc can crash and struggle – as he did in qualifying and the race in Miami, where Sainz had a much more together weekend.
Neither Sainz nor Leclerc have had particularly good starts to the season. Leclerc has had higher peaks, Sainz has performed more consistently, but they are both in mediocre championship positions for two drivers that started the year with title ambitions – Sainz is fifth (on 44 points) and Leclerc seventh (on 34).
Ferrari, meanwhile, is only fourth in the constructors' championship – 146 points behind Red Bull already and trailing Aston Martin and Mercedes too.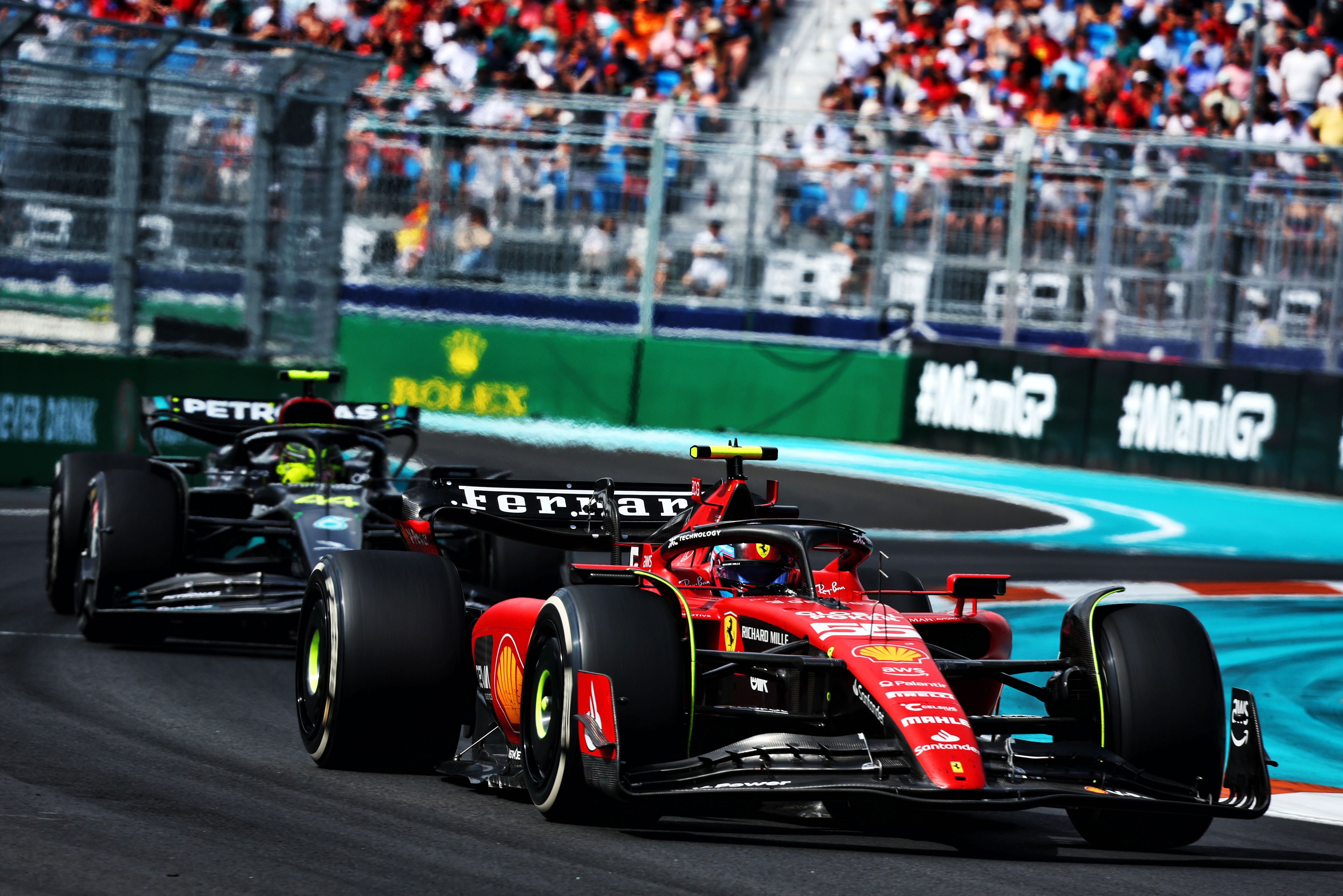 "It doesn't hurt me so much being fourth in constructors' or fifth or sixth in drivers'," Sainz contends. "It hurts me more the gap to Red Bull.
"If now we would be sitting fourth in the constructors', but we know that every weekend we have a chance to make a pole and win a race, it would be easier to accept.
"It's just how fast the Red Bull has turned out to be this year. And how it has struck us by surprise. Not only us, I think Mercedes and Aston Martin would never expect to have the gap they do."
The key, unsurprisingly, is car development. An update to the floor and diffuser appeared in Miami, more new parts were expected for this weekend's cancelled Imola race and more are due in Spain at the start of June. But there are two questions. How much will the fundamental car design change? And will it be enough?
It has been suggested that Ferrari, and Mercedes, have to come to terms with the fact their initial car concepts – carried over from 2022 – simply have too low a ceiling to compete with the Red Bull direction. Sainz has been vocal for weeks that Ferrari needs a big change.
"It's realistic to say Red Bull has achieved a level of performance that it's very difficult to achieve just by making an evolution of our car," he says.
"They have something wider, they have something deeper conceptually than all of us.
"But after the first few races, we've also identified very clear weaknesses of our package, even in relation to last year. And it's this combination of two things that we are now focusing very hard with.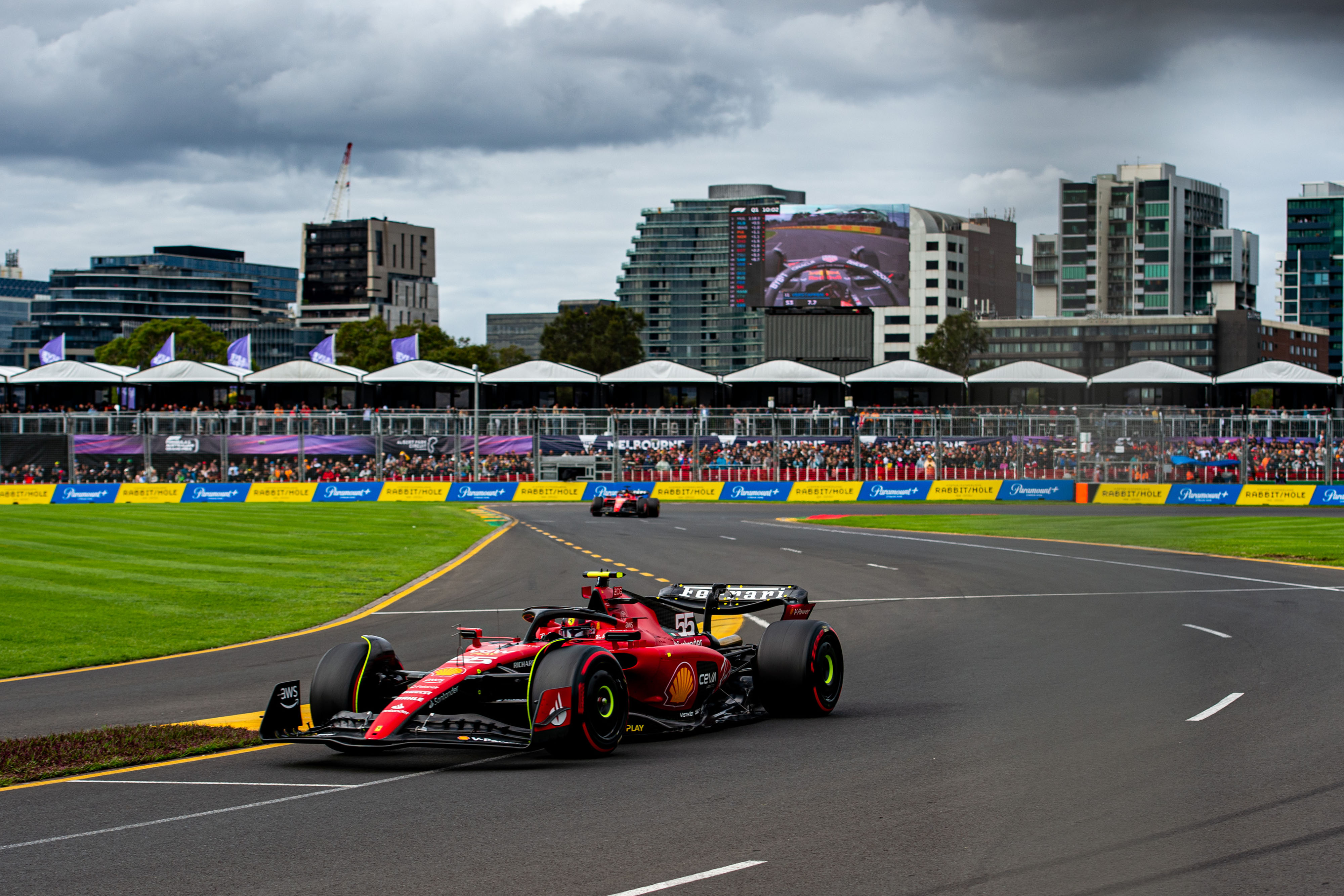 "That's why I'm quite calm about it, because I feel like we've identified the weaknesses compared to last year from ourselves but also we have an idea of which direction we need to follow in the development."
Sainz feels Ferrari has used the start of the season "very well" to understand its weaknesses, and that the rest of this year is an important opportunity to recover effectively from the disappointing first few races.
Whether that's really enough to turn Ferrari into an outright race winner this year is tough to say although at this point it likely relies on Red Bull either dropping the ball or turning off the taps so early that other teams that do keep developing can catch up.
Whatever is achievable this year in terms of results, Sainz feels it cannot be "discarded". He calls it an "important year for development" because it will lay the groundwork for next year.
The 2024 season will be the last for both Sainz and Leclerc on their current contracts. They have been a good pairing for Ferrari since being united in 2021, and it is likely in Ferrari's interest to ensure continuity. The team is not, at present, driver-limited after all.
Leclerc has been linked with a move away, as Ferrari continues to fail to give him a car to fight for a world championship with and the team reshuffles its pack, with senior figures such as Laurent Mekies and David Sanchez heading to other teams.
Sainz largely goes overlooked on this score but there is already speculation about Audi being interested in him for 2026. The German manufacturer's works team project with Sauber will be headed by Andreas Seidl, who Sainz knows well from the two-year stint at McLaren that put him on Ferrari's radar.
What happens long-term, who knows. But as far as the short-term goes – and that would seem to include Sainz's next deal (for 2025 and beyond) it would seem foolish to suggest that he might be tempted to leave Ferrari, even in the context of a tricky period for the team.
"I know there's still two very important years ahead of us," he says. "And I think further up than that would be stupid to talk about.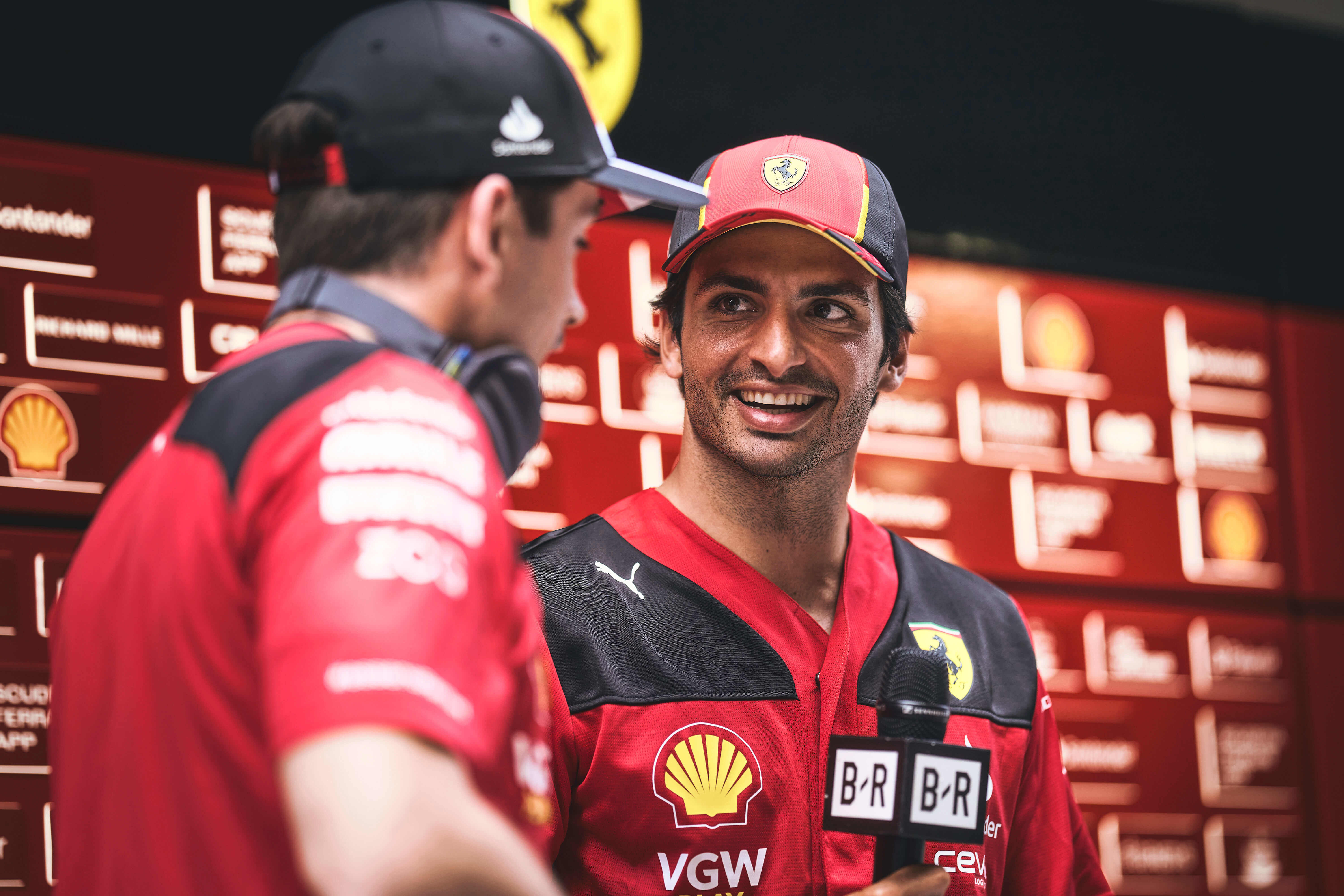 "But I feel I still have yet to achieve my full potential as a driver. And I feel like at least here I've already done another good step in the right direction.
"My immediate future, I only see it with Ferrari and wanting to be successful with this team. There's nothing that would make me happier than winning again with Ferrari, than mounting a title challenge with Ferrari.
"If you win it or not, it's a championship fight. You can come out on top or not. But mounting that challenge is short- and medium-term what really motivates me.
"I feel really at home with the team. There's a good atmosphere. I know there's a lot of noise around, but I see the factory myself, and everyone in a good place right now."