"Senna's trying to go through on the inside… and it's happened immediately!"
Seminal words from Murray Walker at the start of the infamous 1990 Japanese Grand Prix as Ayrton Senna drove into Alain Prost and sealed a second Formula 1 world title.
It's 30 years since that controversial clash occurred and perhaps racing in its purest form was altered forever as that legendary act of recklessness played out.
That it has been uncomfortably packaged, and even sometimes morbidly glamorised, into being just another part of Senna's posthumous aura is troubling.
But there was a much more uplifting and inspiring story that afternoon which involved another Brazilian driver with an instantly recognisable yellow helmet.
As McLaren mechanics rather awkwardly celebrated Senna's 'achievement' while simultaneously packing their garages away, a few metres away in parc ferme an emotional Roberto Moreno was hugging his childhood friend Nelson Piquet and releasing years of pain.
It was a hurt so complex that it had roots both stretching back decades but more pertinently just a few short weeks too.
The boiling point
While those tears of joy ended a whirlwind week of fortune changes, for once positively, the backstory of how Moreno came to be on the second rung of the podium at Suzuka actually had heritage in a paddock brawl a few weeks earlier at Jerez.
Moreno was approaching the end of a wretched season with the Pavanello Racing-run EuroBrun outfit, in what was his third campaign in F1.
A series of eight grands prix that didn't go beyond the brutal reality of Friday pre-qualifying for Moreno and EuroBrun was reaching a head in Spain. But unbeknown to Moreno there was a sinister secret he was about to uncover while pushing his George Ryton-penned ER189B to its outer limits.
Ringing everything from the elderly car's neck, Moreno plucked up enough courage to take the quick right-hander behind the pits flat-out, riding the high kerb, twitching nervously as the EuroBrun completed its beyond-adhesion high-wire act.
"I had just put my life in risk and this guy is laughing at me. I saw red" :: Roberto Moreno
All this was achieved just a few hours before Martin Donnelly's life-changing accident at the very same corner.
Inside the cockpit Moreno exhaled, drove back to the pits and exited his car. He went over to the pitwall. Upon his approach team boss Paolo Pavanello was smiling. Had Moreno achieved the impossible and actually got into qualifying itself?
No. It wasn't quite good enough by a few tenths, yet Pavanello's features didn't change as his wry smile brought home a dreadful realisation in Moreno that all was not as it seemed.
"I had just put my life in risk and this guy is laughing at me," Moreno tells The Race. "I threw my helmet on the floor and I ran to hit him. I saw red. But his son realises what's happening and he runs and grabs me like a rugby player.
"He leads me away and starts talking to me and says 'look, Roberto, each time you qualify this car, our company takes a massive hit with the deal we have – extra tyres, engine rebuilds, etc."
Moreno, barely believing what he was hearing, left the track and travelled home in a fug of despondency.
"I never felt so down in my life," he says at the memory. "When you give your heart to a team that doesn't really want to be competitive or even race, what can you do? How can you rationalise that when you are breaking your balls and risking everything?"
The questions were never adequately answered but on the face of it, it seemed as if Moreno was caught amidships in a lame business set-up between Brun and Pavanello, with no one coming out of the deal well.
Midway through the three-week gap between Jerez and the following race at Suzuka, Moreno set about trying to create a chink of light in what appeared to be a potentially career-ending setback.
The only glimmer he could see was a potential seat at Brabham for 1991. So he did what Roberto Moreno did back then: he got on the phone to make things happen.
The chance
"I called [Brabham sporting director] Herbie [Blash] but he was 'busy, busy, busy' or so he said. But I was so desperate I just flew to Heathrow anyway," says Moreno.
"When I got there I called Herbie again. He's busy again and says 'you can come here but only at 4pm as we have sponsors here all day, blah, blah'."
"Anyway, it's only 9.30am at Heathrow, so I buy another phone card and just start desperately calling people – Mr [Nobuhiko] Kawamoto from Honda, Ron Tauranac, Gary Anderson, loads of people.
"My last call was to John Barnard at Benetton because I worked with him at Ferrari on the semi-automatic gearbox back in 1988. That is when my day and probably my life changed with that call."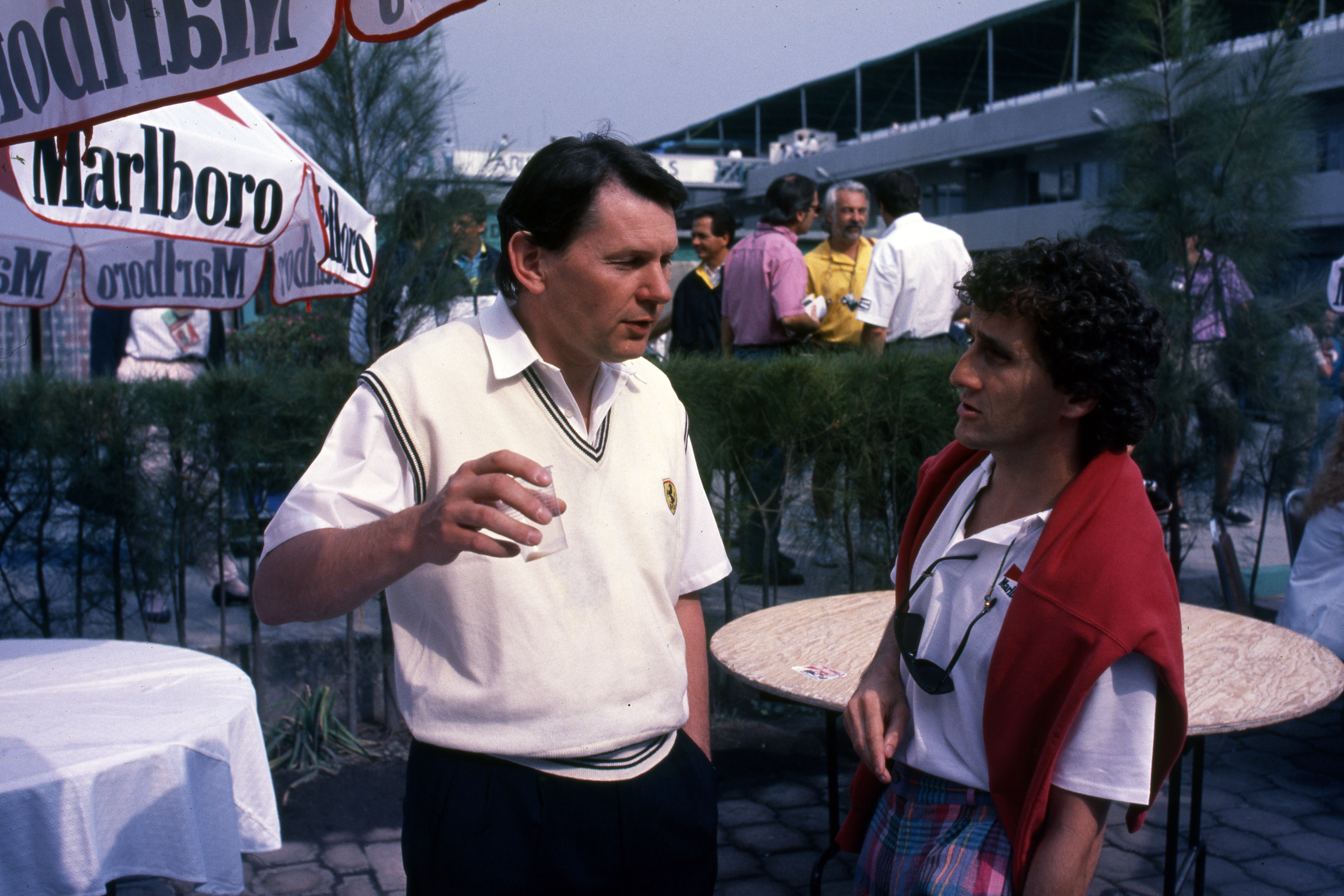 Barnard (pictured above with Alain Prost) was working on the B191 wooden cockpit mock-up for the next season at that time and needed a slight racing driver frame to do some measurements.
Taking pity on Moreno, he asked if the Braziian wanted to help out for a few hours on his way to see Brabham.
"I said 'no problem John, I'll come after seeing Herbie. Just get me a cup of tea and some of those nice British digestive biscuits that I like'," laughs Moreno.
"I said 'John, I might need that cup of tea and those nice biscuits now, just so I can let this sink in'" :: Roberto Moreno
A few hours later he was picked up from Godalming train station by Barnard, who appeared to be unusually flustered.
"He was kind of red in the face and his hair was messed up as if he was stressed," says Moreno.
"Anyway, we get to the factory, I'm in John's office and the phone is ringing off the hook. Call after call and I am trying not to listen in too much but I hear one of the calls is Mike Kranefuss from [Benetton's engine supplier] Ford and something is up!
"After finishing the call, John turns to me and says 'Roberto, at two o'clock this afternoon Sandro [Nannini] had a helicopter crash. He is going to surgery now to try and put his arm back on."
That crash ultimately ended Nannini's F1 career, though he would recover sufficiently to race again in touring cars and sportscars. It also meant Benetton immediately needed a new team-mate for Piquet.
A shocked Moreno says that his first thoughts were for Nannini's welfare, as it "sounded really bad and I felt so sorry for his situation".
Barnard, thinking on his feet, told Moreno that 'his phone had not stopped ringing from people trying to get the drive after they had heard the news'.
Then, Moreno recalls, he added: "But you came here to do us a favour before all this happened and I want you to drive for us".
Moreno couldn't believe it.
"I said 'John, I might need that cup of tea and those nice biscuits now, just so I can let this sink in'," he remembers.
While it sunk in, Barnard conferred with new team boss Flavio Briatore and a plan was set in motion for Moreno to head to Sparco's headquarters in Italy, get measured up for a pair of garish blue and green Benetton overalls, before heading off to Suzuka the following Monday.
But this wouldn't be a Roberto Moreno epic tale without a last-minute hitch, and this one needed some getting over.
The extrication
"After it all sunk in, I thought 'shit, I've still got a contract to drive for Eurobrun," says Moreno.
"I decided to call Walter [Brun] direct as I thought it would be a straighter decision that way and it would mean I didn't have to talk to the Pavanellos."
Moreno didn't get straight through to Brun, but only the secretary. She told him that the team had just decided not to travel to Japan and Australia and that it was all over for 1990 and probably beyond.
"Oh, that's interesting," Moreno replied. "Would you mind putting that in a letter and sending it to me at this fax number in England?"
The dutiful secretary did and all of a sudden fortune was smiling on Moreno. But obviously this didn't last long!
Chris Humberstone, a liaison between Brun and the EuroBrun UK design office, agreed to meet with Moreno and hand over the release letter.
In the meantime, safe in this knowledge, Moreno cracked on with the seat fitting, which was now not in a wooden buck of the 1991 car but for a full race seat alongside childhood friend and mentor Piquet for the Japanese Grand Prix in just over a week's time.
"So, I go to meet this Brun guy and he gets into my car and starts talking all kinds of bullshit," Moreno says. "I'm like 'where's my letter, man?'"
"He says, 'well, here's the thing Roberto, Mr Brun wants $30,000 from you to leave the team!'"
An explosion of anger took Moreno over completely.
"I just flipped and said: 'Get the fuck out of my car, you bastard, get out!'
"I stop the car in the middle of the pick-up area at Heathrow with all the traffic backed up and I started to drive off.
"Then I remember his bag is in the boot, so I reverse back, get it out and throw it at him and wheelspin out of the airport, leaving him there.
"I was just so angry that he could even consider saying that after all I had done trying to qualify their car all season."
A despondent Moreno called Barnard to explain the latest development but Benetton had second-guessed the shambolic and desperate nature of Brun's strategy in euthanising his own team. The threat was ignored.
However, it didn't stop Benetton forming a contingency plan that briefly involved Martin Brundle.
"John told me that Martin was on standby if anything went wrong and I think Martin may even have come out to Japan, I can't remember," says Moreno.
"It caused me a few sleepless nights but in the end I was in the car at Suzuka and I can't tell you how good that felt."
Pain before gain
First practice at Suzuka began with a disorientated Moreno at first struggling to comprehend the difference between his former recalcitrant EuroBrun mount and the Benetton B190.
Having scored five podium positions, his new car was already clearly the third-best behind the McLaren MP4/5B and the Ferrari 641 in the class of 1990.
"I realised there was no way I was fit enough to drive that car in a grand prix" :: Roberto Moreno
Struggling to carry speed into the sweeps of the first sector, Moreno had to go through some serious recalibration.
"I was braking too early and having to actually get back on the throttle, it was crazy," he recalls.
He adapted, and after being 0.7s in arrears to Piquet in the Friday practice, Moreno improved on Saturday and got to within 0.4s to line up ninth on the grid.
When Jean Alesi had a monster crash in his Tyrrell in the race day warm-up session and was briefly hospitalised, the #19 Benetton B190 moved up to an eighth-place starting position. Yet all was not well both physically and mentally with Moreno.
On Friday night as he returned to the hotel, his whole body was aching and pulsating with muscle damage from the beating he'd taken in the cockpit. A terrifying reality hit him.
"I realised there was no way I was fit enough to drive that car in a grand prix," he says.
"I hadn't done a race distance since Phoenix in March and after 20 laps I was destroyed. I just thought there was no way I could do 50-plus laps or whatever it was in the race."
Unable to hold his head up consistently and with shoulders which felt like "they'd been in a tumble dryer for an hour", he had to come up with a plan.
It tells you all you need to know about Moreno that he did so, and it involved both practical and divine intervention.
"I called a friend in Brazil, his name is Emmanuel and he is a karate black belt and very strong mentally. I say 'man, I need help, I feel like my head and shoulders is going to come off, help me.'
"By this time I'm really hurting and I've been in a hot bath for an hour and had six massages, and you know what he says? He says to me, 'Get a Bible in the drawer of your hotel room and read Psalm 23!"
"I'm like 'what?, give me a break man, I need some real help, not spiritual stuff here. My fucking head is falling off.'"
On the cusp of exhaustion and frustration Moreno settled down and started to read…
'The Lord is my shepherd, I lack nothing…'
Judgment day
In the Sunday morning warm-up Moreno's issues continued, and they weren't confined to his upper body.
While rounding the hairpin his Cosworth engine spluttered before coughing back into life and he drove slowly back to the pits.
The team was taking no chances and it turned out that switching Moreno to Piquet's spare car was the only sensible option. Working right up until the 10-minute board on the grid, Benetton changed all the pedals but was unable to modify a special lip on the brake pedal which Piquet had customised.
"I'm going to start on hard tyres and drive like a grandmother in the first half of the race, then boom I go like hell" :: Nelson Piquet
Quite apart from his now almost intolerable shoulder and neck issues, Moreno would also have to take the punishment of the lip cutting into his racing boot throughout the race.
On the grid he kept activity to a minimum but clearly recalls a fired-up Piquet, who'd qualified sixth, telling him he was going to "screw everyone in this race and win it".
"He said to me, 'Roberto, I'm going to start on hard tyres and drive like a grandmother in the first half of the race, then boom I go like hell in the second half.'
"I just said, 'well, Nelson, that is fine, I'll just follow you' knowing that the second half of the race was going to be physically hard for me."
Piquet had "loaded his car with rear-wing and downforce" according to Alan Henry in the 1990 Autocourse account of the race, so was susceptible to competitors on the straights.
Therefore it was good for he and Moreno that the opposition had long since disassembled itself by half-distance.
Senna and Prost, of course, were long gone, Gerhard Berger followed them into the gravel a lap later in the other McLaren, probably rotating on water from the shunt. This left only Nigel Mansell's Ferrari as a real threat.
In reality the race was Mansell's to lose, as with new tyres and a much quicker car on the straights, retaking Piquet would surely be only the work of a moment.
When the bellicose Brit stopped for fresh Goodyears on lap 27 his spectacular departure was met with wows from those on the pitwall. Streaks of the fresh rubber lay for 15 metres as Mansell then went to select second gear.
As he did so there was a crack, then silence. Driveshaft broken!
Mansell barely made it to the end of the pitlane before theatrically slamming his steering wheel with his fists.
The greenwash was on!
Divine intervention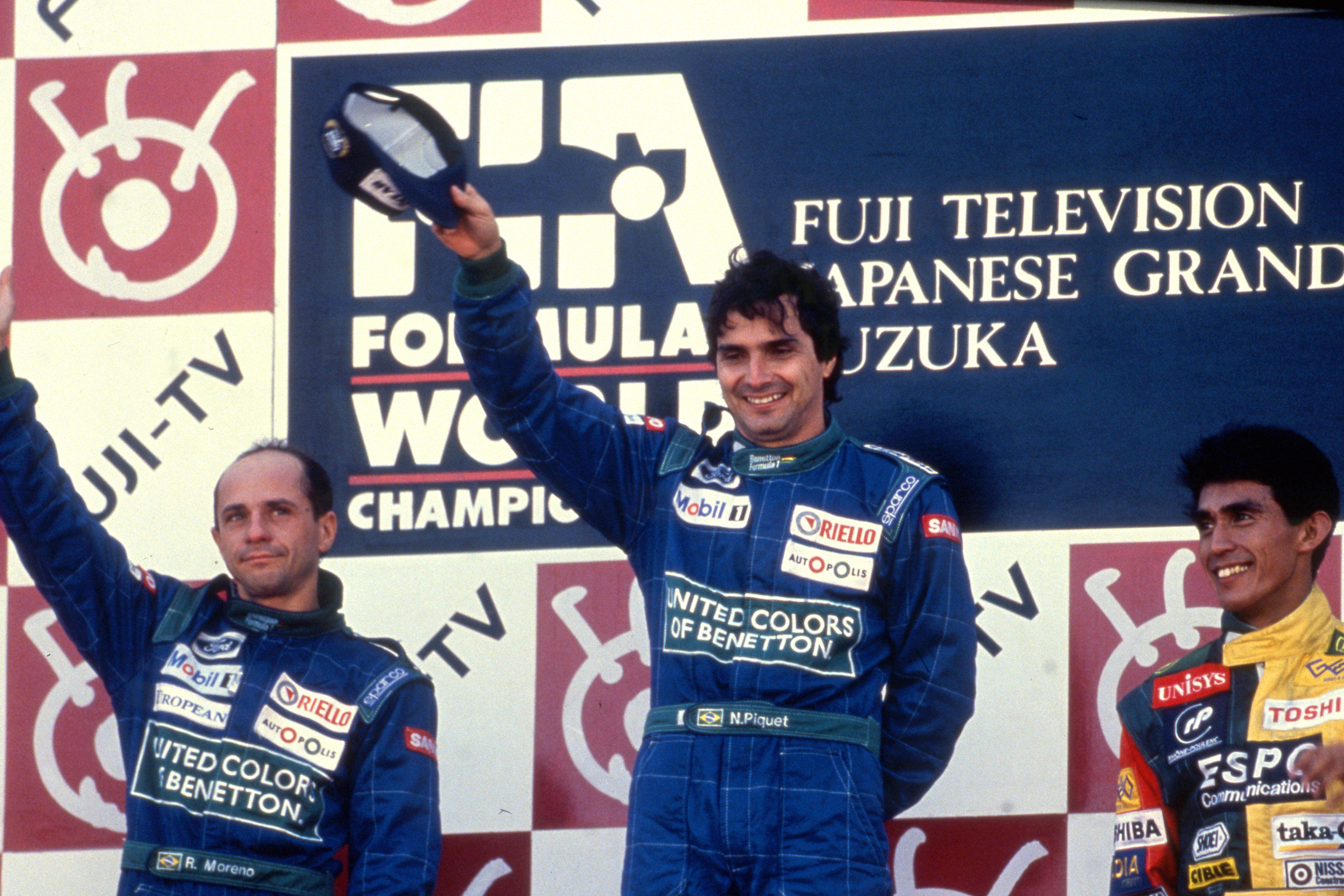 "I was so tired in the last 25 laps. I was breathing hard. I even had to think about breathing before driving the bloody car," remembers Moreno.
Now alone at the front of the field, Piquet hit cruise control, but his new team-mate was struggling badly. Even as the threat of Riccardo Patrese's Williams dissipated when it pitted for fresh rubber, the lolling yellow helmet in the bright green cockpit told its own story.
A major wobble with 15 laps to go, when Moreno inexplicably ran wide onto the kerbs exiting Spoon Corner, made for a brief horrible moment when he seemed destined to be heading back across the other side of the track to end his race in the barriers.
"After all the bad cars I'd had and the amazing circumstances of the week leading up to that point, I just looked around at Nelson and thought: 'this is what happiness is'" :: Roberto Moreno
"I caught it, but it frightened me and kind of woke me up," he says. "Then I heard this sound somewhere in my mind. I swear to God I heard this sound…"
Thirty years on the raw emotion comes flooding back. Moreno breaks down, unable to speak for several minutes. Then he gathers himself.
"I heard and remembered the words to Psalm 23 and all of a sudden I got what the marathon runners call 'a second wind'. All of a sudden the pain was lifted and it became easier."
He held it together to the chequered flag. But on trying to get out in parc ferme he broke down and had to be helped from the car.
Floods of tears followed as his old friend Piquet congratulated him.
"In 1978 Nelson convinced me to come to England and find my way in racing for myself," says Moreno. "He told me that he would give me guidance and help but only if there were big issues, otherwise I have to make my own career. That is what he said to me."
After trials, tribulations and several fightbacks, Moreno had made it to the F1 podium and Piquet's words from 12 years earlier came back to him as he unsteadily exited his car. It closed one chapter and began another for Moreno.
The epic tale of him attempting to make an ill-advised F1 debut at the 1982 Dutch Grand Prix subbing for an injured Mansell at Lotus was just the start.
It also involved underdog heroics with AGS in Adelaide in 1987, testing for Ferrari the following year and somehow getting cars such as the 1989 Coloni (below) and 1990 Eurobrun into races where those cars had no right to be anywhere near a starting grid.
But in truth Moreno's real crossroads had come in 1986 when he made a one-off Formula 3000 appearance in Birmingham after competing predominantly in CART IndyCar. It was then that he met with his old F2 boss from 1984: Ron Tauranac.
Despite having some stability in the US, Moreno was determined to get back to F1, so through a deal with Ralt in 1987 and then with The Race's Gary Anderson at Bromley Motorsport the following year he got back on the radar thanks to a hard-earned F3000 title achieved against all odds on a frayed shoestring of a budget.
"I made it work, somehow I made it work to come back to F1," says Moreno.
"When I was on the podium I felt so happy. After all the bad cars I'd had and the amazing circumstances of the week leading up to that point, I just looked around at Nelson and thought: 'this is what happiness is'."
There were no celebrations that night as the teams packed up. It says everything about Moreno that he felt it was not too appropriate considering that Nannini was still in hospital with his arm and his career critically hurt.
"The team loved Sandro and I did not want to go overboard with celebrations and getting drunk and all these things," he says.
"I headed back to the hotel and had another hot bath and just relaxed, because I felt totally drained by it all."
He can't remember if he picked up the Bible again that night. Had he done so, it's nice to think that he fell asleep with his hand resting on the third line of Psalm 23:
He restores my soul.
He leads me in paths of righteousness.
With thanks to Paul-Henri Cahier and F1-photo.com