At the start of the 2022 Formula 1 season the core reason for Mercedes' lack of performance was one specific problem: porpoising.
That significant hurdle has been overcome but Mercedes' 2022 car still has other limitations that need to be addressed if either Lewis Hamilton or George Russell have any real hope of winning races this season.
After getting on top of its porpoising problem in Spain, it was a big setback for Mercedes to be instantly hampered by a different kind of bouncing again in Monaco.
The low-speed and bumpy nature of Monaco puts an emphasis on several key areas: ride quality, aerodynamic load and mechanical grip.
After Mercedes performed so well in the high-speed sections of the Barcelona track, Monaco was an excellent test of other car characteristics. And the W13 failed (at least in terms of Mercedes' lofty expectations for itself).
The car was bottoming out at the start of the weekend and at the ride height the car needed to be run to avoid the worst of that, it simply wasn't producing enough downforce.
Its ride quality is still poor, which seems to be a legacy of the car's inherent stiffness.
This was something that had been flagged by drivers as early as the first pre-season test in Spain. And the first real upgrades Mercedes will bring since curing the porpoising problem should include attempts at improving the car's ride quality.
Even though this problem wasn't a total surprise to Mercedes in Monaco, as it knew its car still had inherent weaknesses, the extent of the issue was worse than expected.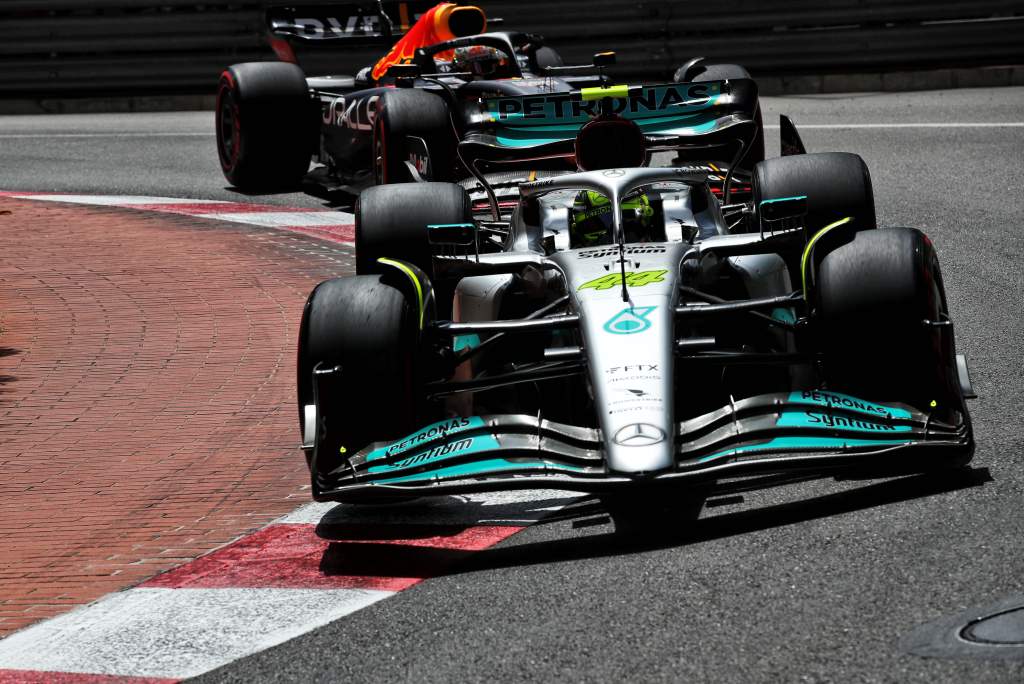 Mercedes has not been able to make much progress in addressing its weaknesses because all its time and focus had been on curing the porpoising. Russell summarised the areas it still needs to improve as: "We just need to find a bit more downforce, we haven't been awfully competitive in low-speed corners.
"In Barcelona we were the quickest in the high-speed and down the straights. The complete opposite to what Monaco offers.
"We need to find a bit more pace in qualifying, we can't afford to keep having an Alpine or a McLaren jump us."
In simple terms Mercedes now needs to create a better mechanical and aerodynamic platform. If that sounds obvious it's because it kind of is – unlike its rivals, Mercedes hasn't really developed its car much beyond what appeared in testing.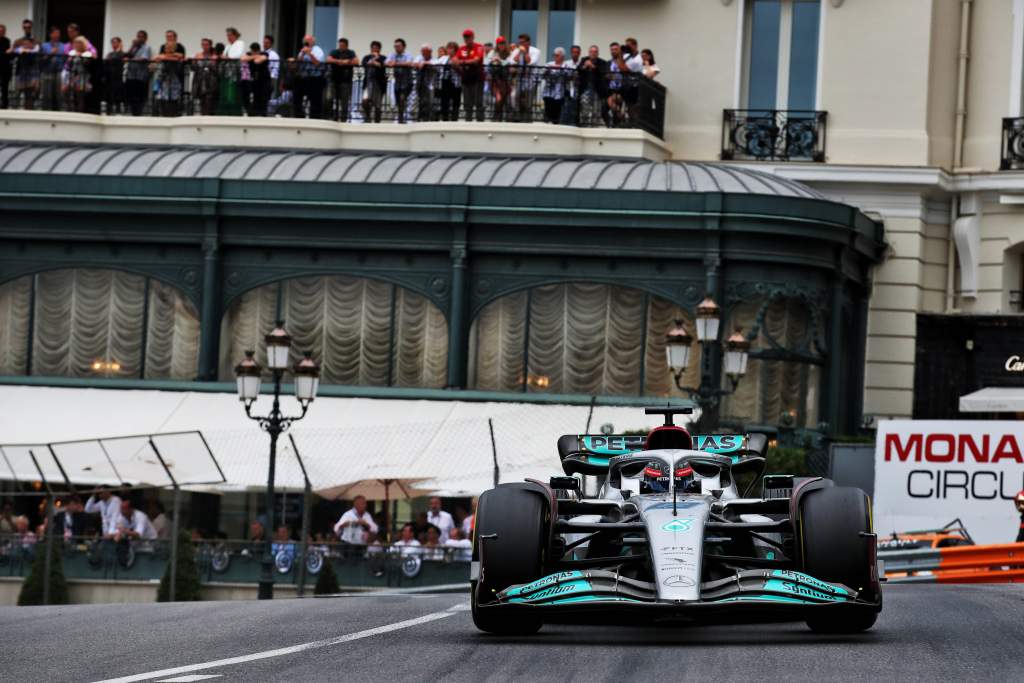 More load and a more stable car will allow the drivers to attack more and should also help with the chronic tyre warm-up issues that have blighted Mercedes on several occasions this year.
This is a big factor in qualifying, as Russell noted. Despite having quite clearly the third-fastest car, especially in races, Mercedes has found another team between its lead car and the Ferraris and Red Bulls at five of the seven grands prix so far.
And the gap to the top two teams remains severe on qualifying pace, regardless of the circuit favouring the W13 or not.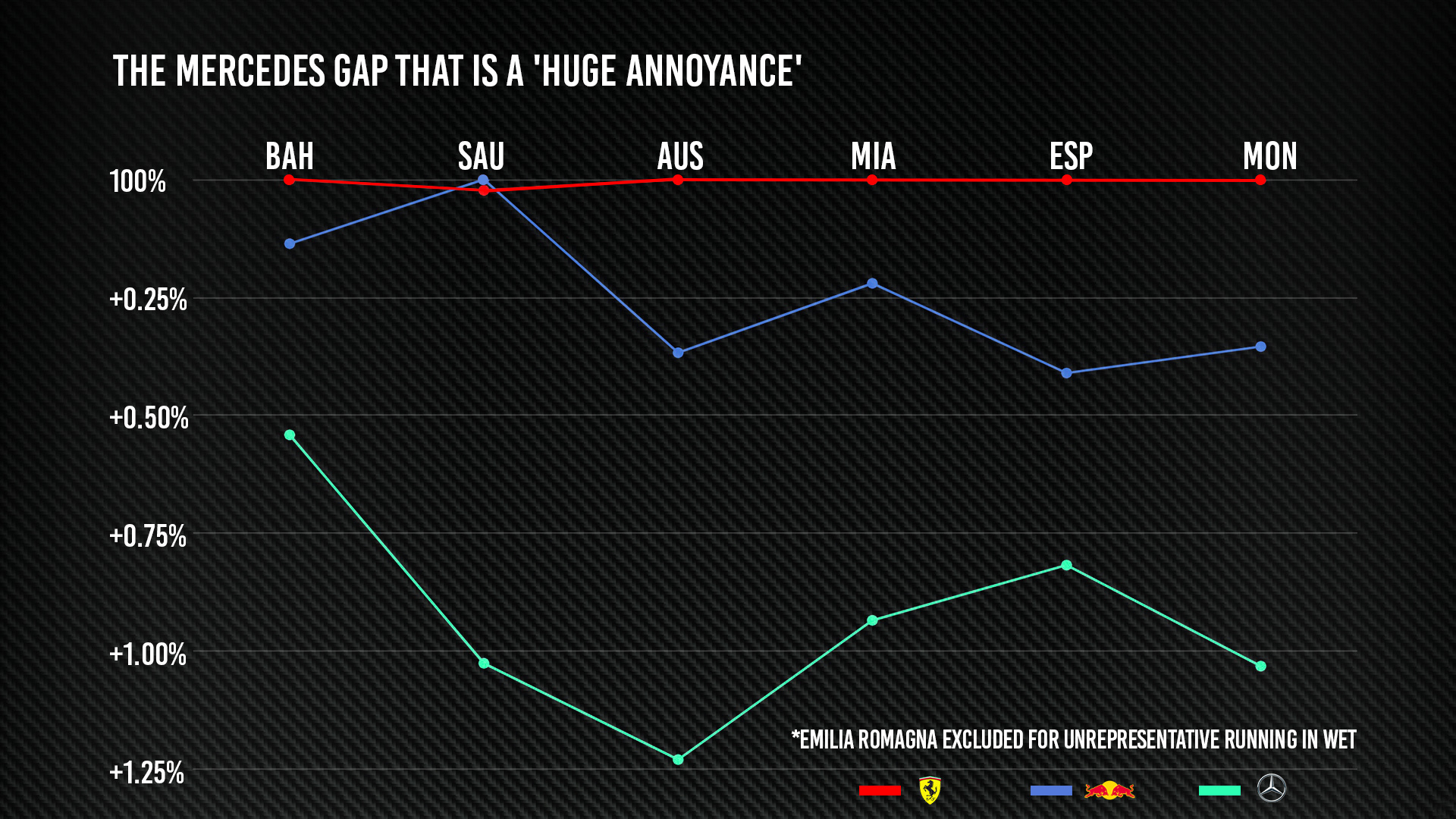 The fact is that whether it's a good weekend like Spain or a difficult one like Monaco, Mercedes is so far away from Red Bull and Ferrari that it's not going to challenge either way.
Team boss Toto Wolff has called Mercedes' current pace deficit a "huge annoyance", which is probably an understatement.
Best-case scenario, he reckons Mercedes is half a second off in qualifying with its current car. Worst-case scenario it's eight tenths away. Either way, Wolff says it's "not acceptable".
The caveat here is that Mercedes should cut that gap as it adds performance to its car, and it should have some low-hanging fruit with its initial development.
But there is still a question mark over the car's ultimate potential especially in light of the underlying issues, such as its stiffness.
It's worth considering that for 2022, clever hydraulic suspension trickery has been outlawed. This was an area in which Mercedes previously excelled, such as the inertia dampers that it ran front and rear on last year's car basically doing the work in controlling any bouncing while the springs themselves had very little travel.
Other teams seem to have been sharper at finding new solutions, with Russell particularly envious of how well the Ferrari seems to ride kerbs and bumps at all tracks.
So, how much progress Mercedes can make with the 2022 car depends on exactly how much it needs to be changed. And there are still questions being asked of Mercedes about the current concept or if the focus needs to switch on readying a different design for 2023.
Mercedes' answer is still that this will only be valid if the conclusion is it needs to make an architectural or aerodynamic change that cannot be implemented on the current car. Wolff says that point still has not been reached.
What's clear is that the W13 still needs a lot of work. As Hamilton put it when asked if he'd prefer Mercedes to switch resources and focus to 2023: "We have to figure out what's wrong with this car before we can make another car!
"If we just started making another car, we could easily get it wrong.
"Getting on top of this one fully, which we haven't yet, will give us a guideline.
"There's definitely loads of things that I'd not want from this car for next year's car."