Seven-time Formula 1 champion Lewis Hamilton has signed on to co-produce an 'F1 racing feature' acquired by Apple's Original Films department.
Hamilton will produce the yet-untitled movie alongside director Joseph Kosinski, renowned Hollywood blockbuster producer Jerry Bruckheimer, Bruckheimer's associate Chad Oman and Copper CEO Penni Thow.
Copper is the talent agency that Hamilton partnered up with last year.
The movie is to be headlined by Brad Pitt, who Apple – in announcing its acquisition of the project – says will "star as a driver who comes out of retirement to compete alongside a rookie driver against the titans of the sport".
The Pitt co-founded production company Plan B Entertainment will also be involved.
The Hollywood Reporter, which initially broke the news of the deal, reported that the movie would be included in the Apple TV+ streaming platform, but only after a theatrical global run of "at least 30 days".
The movie will mark Hamilton's second foray into film production, after he served as one of the executive producers on a 2018 documentary on athletes' adoption of plant-based diets, The Game Changers.
It is set to be the first major F1-themed motion picture since the acclaimed 2013 movie Rush – although while the latter dramatised the real-life 1976 title battle between James Hunt and Niki Lauda, it is unclear whether the Hamilton-produced film will feature any real drivers or any F1 licensing.
WHO'S INVOLVED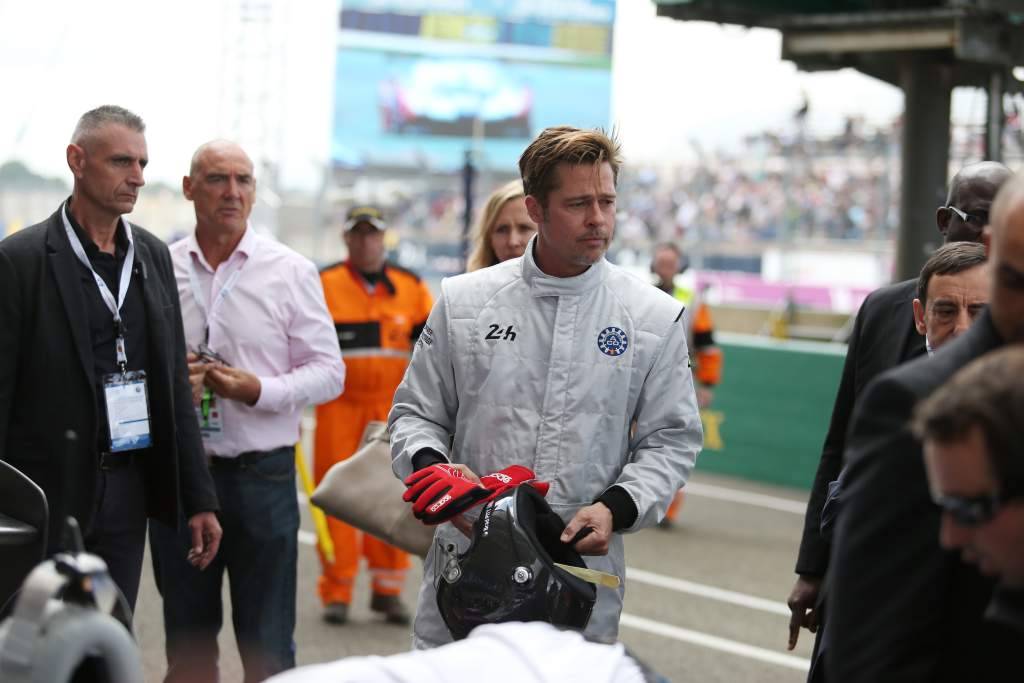 Actor Brad Pitt (pictured above at the 2016 Le Mans 24 Hours) is one of Hollywood's best-known names and has been in no shortage of highly-acclaimed movies and roles since breaking out in the early 1990s.
He had accrued four Academy Awards acting nominations before finally winning on his fifth attempt in 2020, securing Best Supporting Actor for his role in Quentin Tarantino's Once Upon a Time in Hollywood.
What might be most relevant to the current project is that Pitt already has an undeniable sports movie success under his belt. The 2012 baseball-themed vehicle Moneyball, which Pitt starred and which his Plan B company co-produced, was a critical darling and a Best Picture nominee – while being repeatedly praised as a film that could be enjoyed by non-fans of the sport.
Director Joseph Kosinski is best known for his directorial debut Tron: Legacy and the two Tom Cruise vehicles Oblivion and Top Gun: Maverick. While the former two have come out to mixed reviews and only the latter has been a major critical success, all three have been commended for very distinct, striking visuals and Kosinski's knack for depicting large-scale environments.
Writer Ehren Kruger is coming off an arguable career high in the aforementioned Top Gun: Maverick, for which he was one of three credited writers.
The rest of his filmography is somewhat chequered in terms of critical reception, however, with a high point in American 2002 horror remake The Ring balanced out by a trio of critically-panned Transformers sequels.