The extent of Ferrari's advantage over McLaren at the Turkish Grand Prix was laid bare by two totally contrasting first stints from the back row of the grid for Carlos Sainz and Daniel Ricciardo.
Sainz and Ricciardo lined up 19th and 20th respectively after engine change penalties put them to the back at Istanbul Park.
That was a bigger blow for Sainz – whose Ferrari team-mate Charles Leclerc qualified fourth-fastest – than it was for Ricciardo, who was knocked out of the first part of qualifying on a difficult weekend for McLaren and its Italian Grand Prix winner in particular.
It was already clear going into Sunday's race that the Ferrari was simply a better package but having the two cars line up next to one another on the grid and charting their progress offered a direct comparison.
While Sainz charged into the points despite a slow pitstop, Ricciardo never even made it into the top 10 and finished a muted 13th. It was an excellent recovery and coupled with Charles Leclerc taking fourth (having led) while Lando Norris was only seventh, it helped Ferrari cut McLaren's advantage in third in the constructors' championship to just 7.5 points.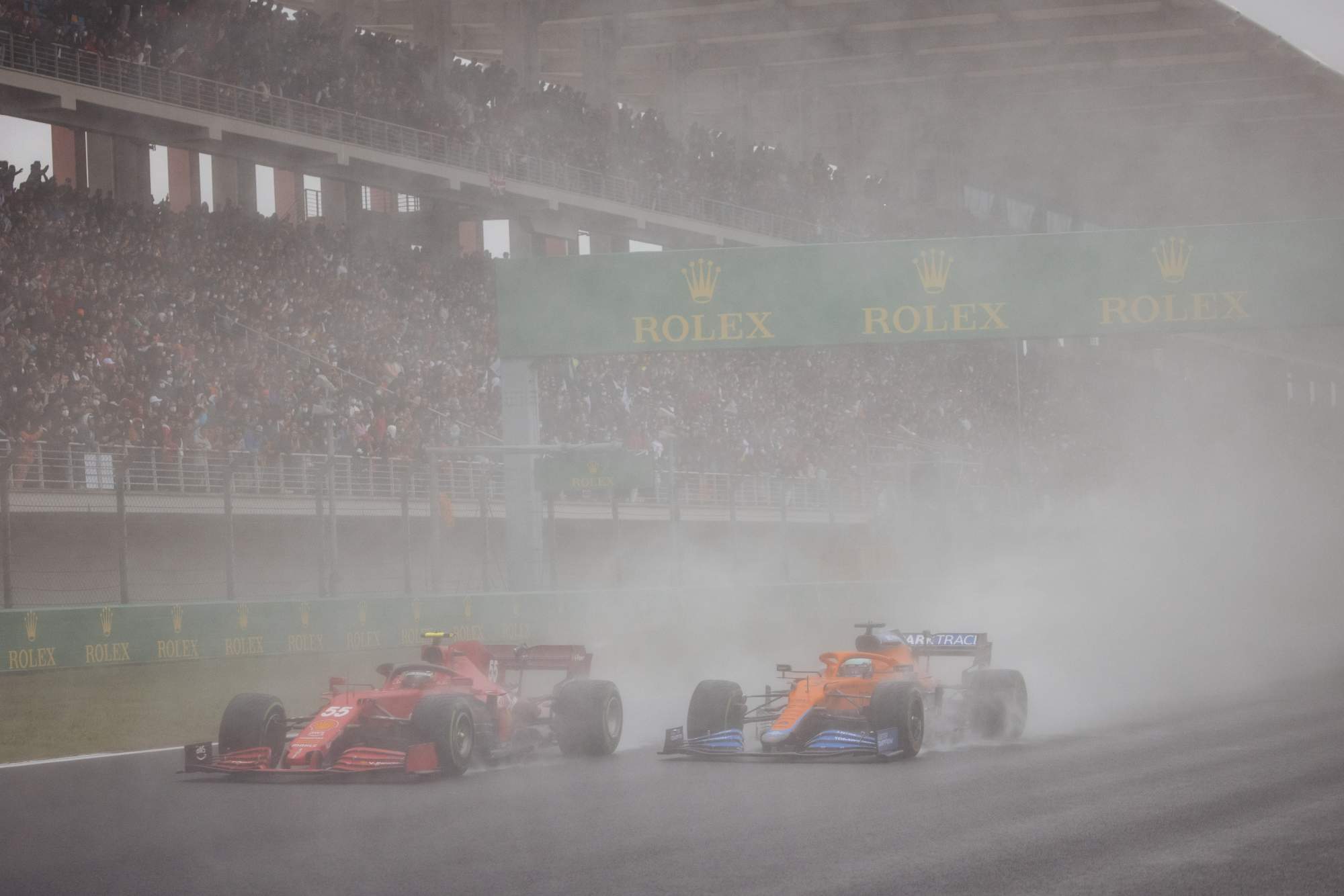 Their differing fortunes were best summed up by the huge disparity between their respective first stints – with Sainz having "one of my most fun stints as a racing driver".
He ended the opening lap 17th and was in the points by lap 17, a rise that included overtaking one car per lap for four laps and then a robust pass on Sebastian Vettel that irked the Aston Martin driver.
When told post-race he looked like a man on a mission, Sainz replied. "Yeah, I had to be. Starting from the back, you need to be aggressive and it was a good day to try and take a bit more risks and it worked well.
"One by one I could overtake into Turn 12, I could make my moves, make them stick, show good pace across the whole race."
That Sainz quality showed in his gap to Ricciardo, as he worked his way to a better track position and then continued to make progress while Ricciardo got stuck – in the 20 laps before Ricciardo pitted, the pair went from being side-by-side over the line at the end of lap one to 20 seconds apart.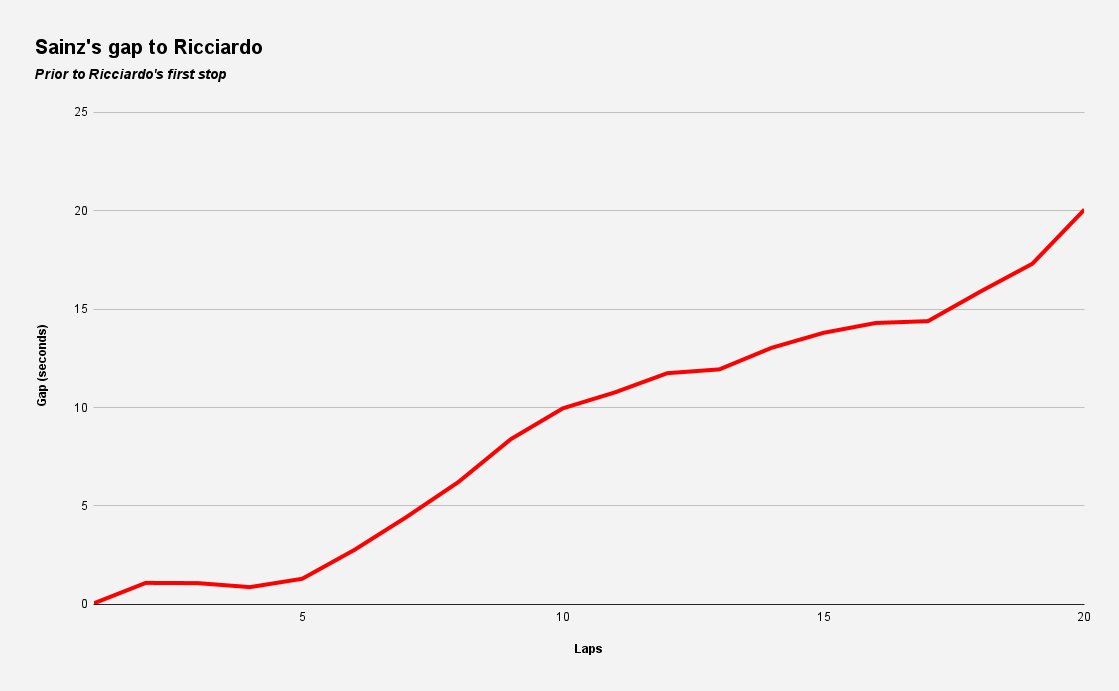 Sainz gaining that ground initially was also a result of pure performance rather than gaining a bunch of places in weird first-lap circumstances and using that to pull clear.
"We were side by side the first lap, I think I was ahead at one point, he was ahead, then we went back and forth and then he got me back," said Ricciardo.
"But his ability to cut through the field and keep going – it wasn't really like his start was better and it put him in a better position, it was just that he was faster, and he had more grip available.
"I just saw some of the moves he made, he drove very well so I'm not taking that away from him, but you could tell he was driving with confidence and the grip was giving him a lot.
"We just didn't have that. Even if I made five places at the start and he stayed wherever he was, he was still going to at some point come through, he was just a lot quicker."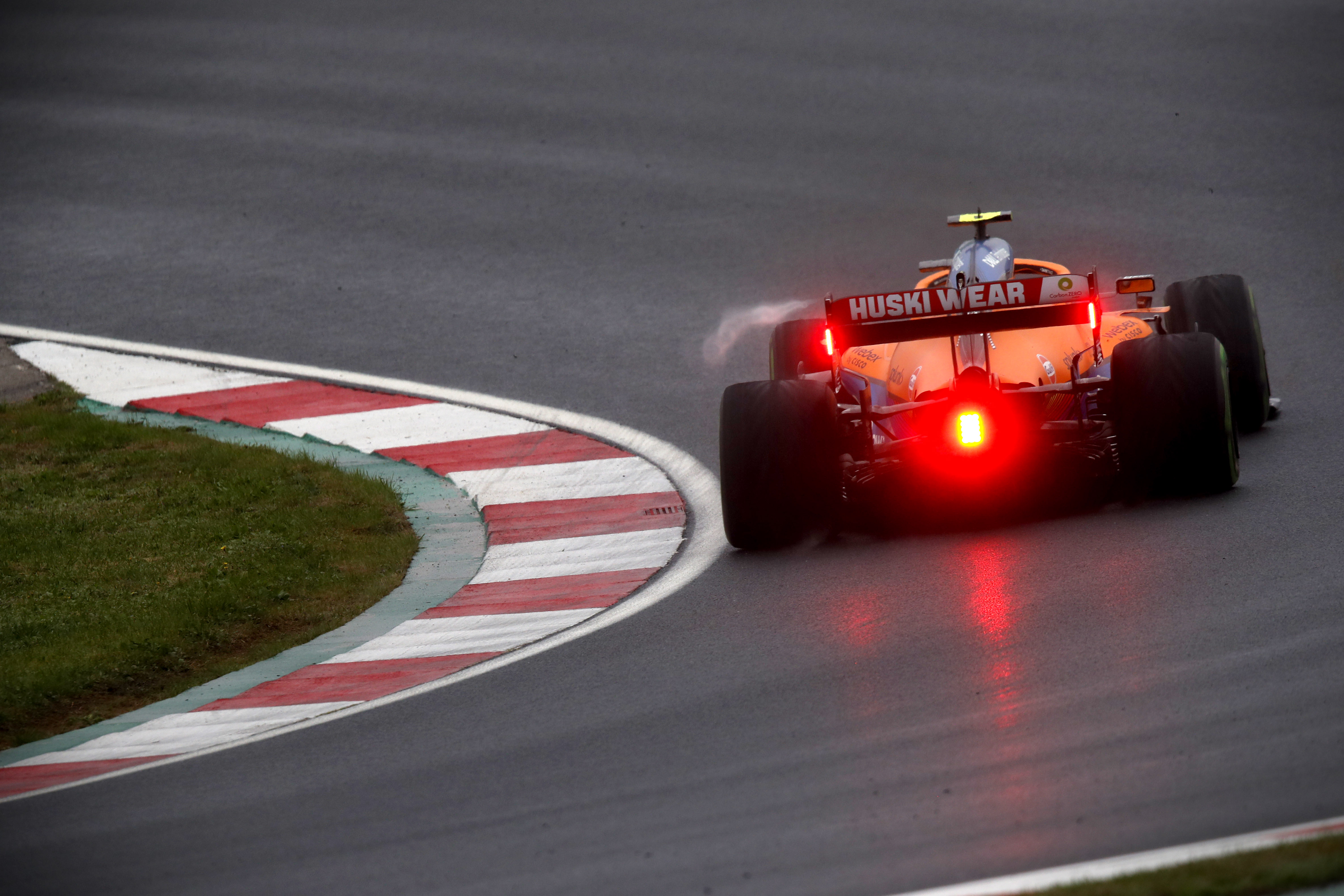 Ricciardo couldn't follow Sainz in the same way because he felt he was killing his front tyres in traffic.
That first stint is the fairest direct comparison between the two cars because Ricciardo's early pitstop, which he called a "gamble" but didn't feel was "desperate", only made his race worse.
So the final score reflects even worse as a result – Sainz went from 20th to eighth, while Ricciardo only made it to a lapped 13th about a minute behind the Ferrari.
Even when Ricciardo switched to fresh intermediates, the initial graining phase left Ricciardo with "mediocre" pace – and though that briefly cleared afterwards, he reckons after that he only had "four good laps where I felt I could really lean on the tyre and I started to smile under the helmet and then it fell away again".
The McLaren had not worked as sweetly through the long-radius Istanbul Park corners in the dry and Ricciardo's immediate theory was that it was exacerbated in the wet.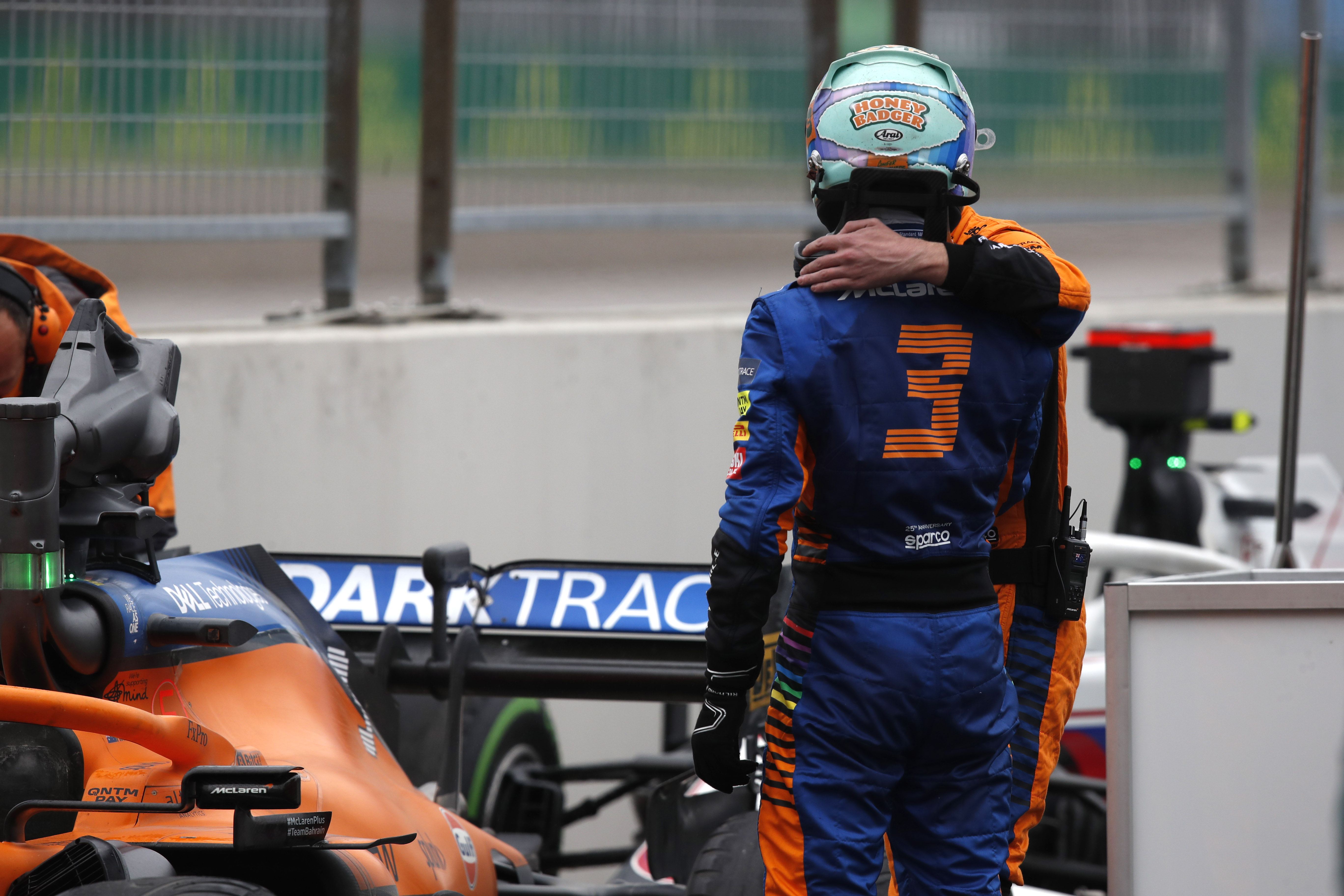 Asked if he was surprised by how the race had turned out, Ricciardo replied: "I was. In my head, pre-race, I thought we could charge through the field pretty easily, at least up until a certain point.
"Now that the race is done, I have some ideas. I think we know some of these longer corners we suffer a bit more, and in the wet, you spend more time in the corner, more time killing the tyre.
"In my head, I can kind of justify it but I don't want to just justify it and move on, I want to understand why we can't do what they can."
The only downside for Sainz was his race result could have been even better without a slow pitstop, which was down to a problem with the system sending the signal that the wheels had been changed to the lights – so Sainz was held unnecessarily.
It cost him at least five seconds, which meant he rejoined behind the never-stopping Alpine of Esteban Ocon and found himself there for nine laps.
"It's not a day to have regrets or bad feelings," said Sainz afterwards.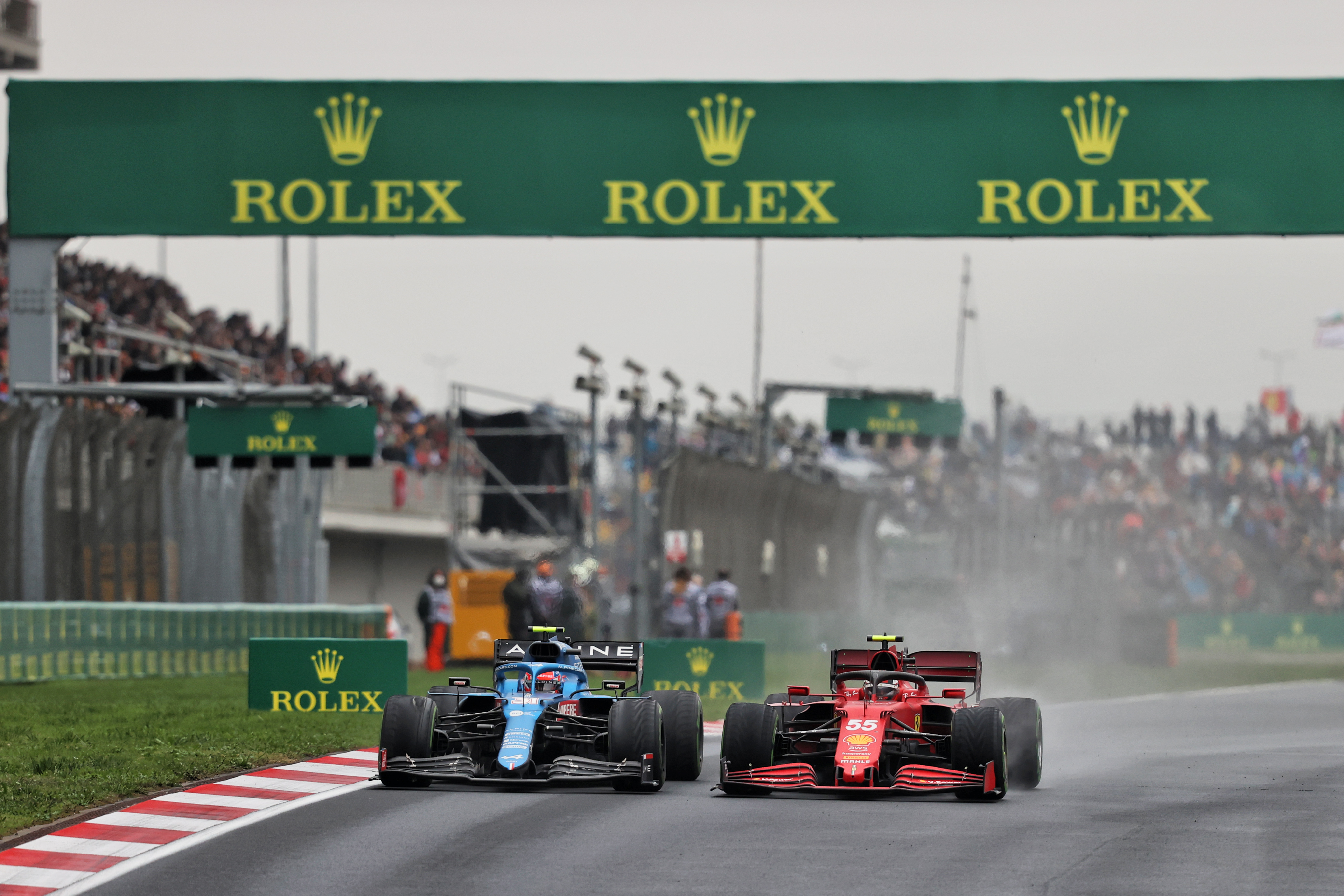 "It was a very positive day, and a day where I managed to go through the field with really good pace and doing some good overtaking, minimising the damage of the engine penalty, which was the target.
"I had a lot of fun, especially the first stint, when it was possible to overtake because there was not a clear dry line.
"That's why I cannot be disappointed. You're always left with a feeling of 'what if?' with the slow pitstop. Especially because it also cost us a lot of race time.
"But it's a day more to be happy than to be too disappointed."
Turkey followed two races in which McLaren had first won and then should've won again. Its surface and weather potentially made it anomalous.
But with both Ferraris now carrying the updated engine package produced with a big 2022 step in mind, McLaren will hope it hasn't set the tone for the six grands prix that will decide their battle.