Ford's return to Formula 1 with Red Bull in 2026 brings back memories of working for the company both with Stewart in 1999 and Jaguar, the team it turned into, in 2000.
Everyone remembers the failure of Jaguar, but it's often forgotten that before the full Ford takeover the Stewart team was making very promising progress.
We famously won the 1999 European Grand Prix in mixed weather at the Nurburgring, but had a very strong start to the season, too, that showed what might have been for Ford's F1 programme.
MY ROUTE TO STEWART-FORD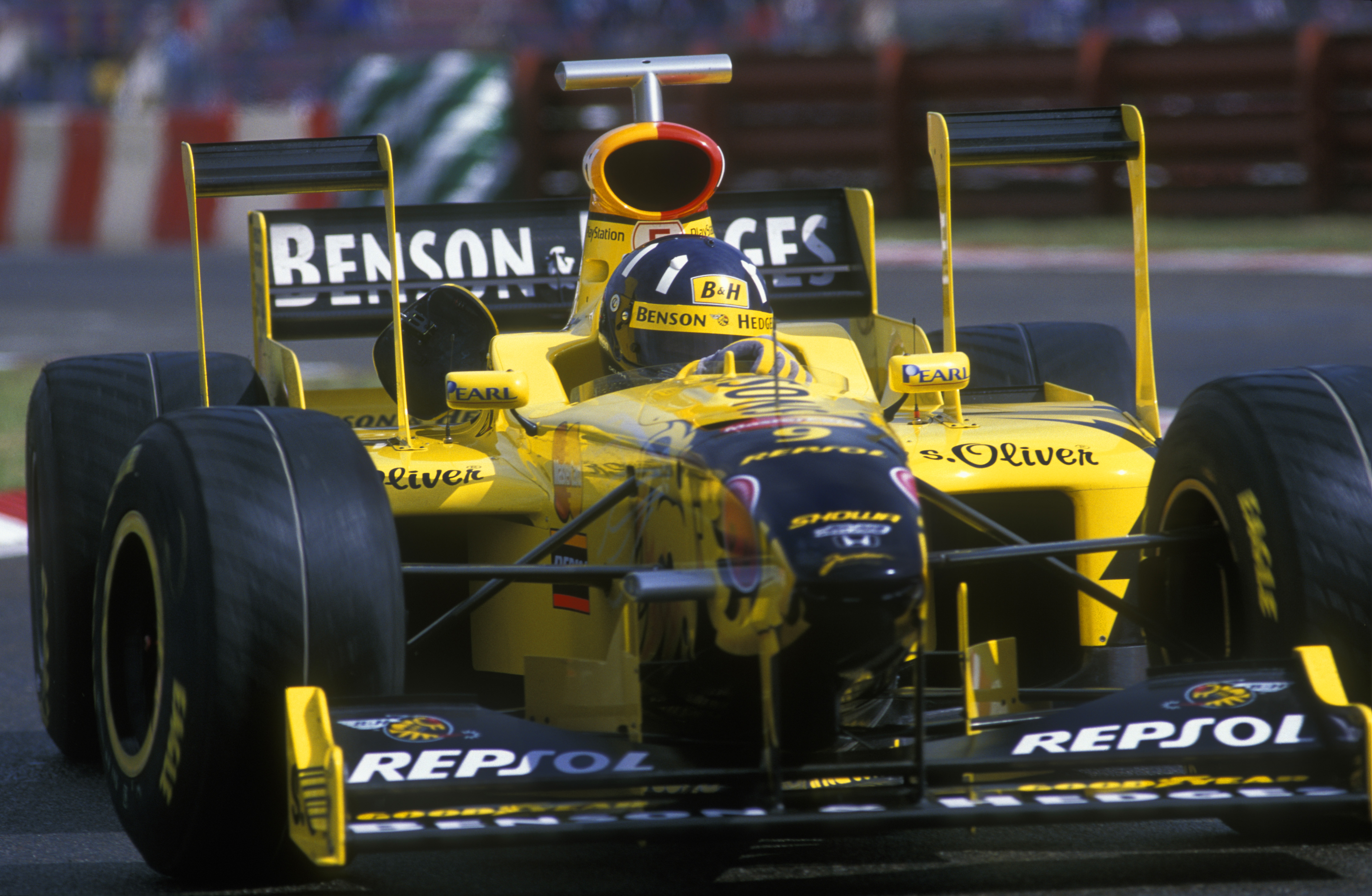 Leaving Jordan in 1998 was not an easy decision for me. Eddie Jordan had taken a gamble and given me a big opportunity to become a designer and technical director in F1. Having left school at 16 with no real qualifications, I was living the dream. The responsibility was enormous, but sometimes you have to believe in yourself and get on with it.
We had a pretty good season in 1997, but with major regulation changes for 1998 and a switch of engine supplier from Peugeot to Mugen-Honda, it was always going to be a challenge for what was still a relatively small team.
Our 1998 pre-season testing was non-existent. Mugen-Honda had major problems with its control system electronics partner, which was unfortunately planned to be a one-unit solution and also control the electronic functions of the car.
We started behind the eight-ball and it got worse. The engine lacked power and the car didn't respond as expected, so the tension built up. Four or five races into the season, we got a handle on the problems and solutions were on the way, as was an improved engine. By mid-season, we hoped we could be back to where we should have started the year.
Unfortunately, I felt the Jordan senior management – not really Eddie but he was easily influenced – didn't buy into the fact that none of us built a bad car intentionally and that I was as unhappy with it as everyone else. The new parts and the engine were fitted for the British Grand Prix and even though it was a tough weekend, we scored our first point with Ralf Schumacher finishing sixth. For a change, both drivers were fairly happy with what they were driving. That was when I decided I needed a change.
On the Monday morning I told Eddie of my decision. He didn't want that to happen, but I felt that when I needed an arm around my shoulder it wasn't there so stuck by my decision.
Off I went on gardening leave. I didn't have a job to go to as I wanted to ensure I was leaving for the right reason and not just because I was off somewhere else. I spoke with many teams and Jackie and Paul Stewart gave me the confidence that they knew where they wanted to get to. I agreed to join Stewart as chief designer, working alongside technical director Alan Jenkins.
FIRST IMPRESSIONS OF STEWART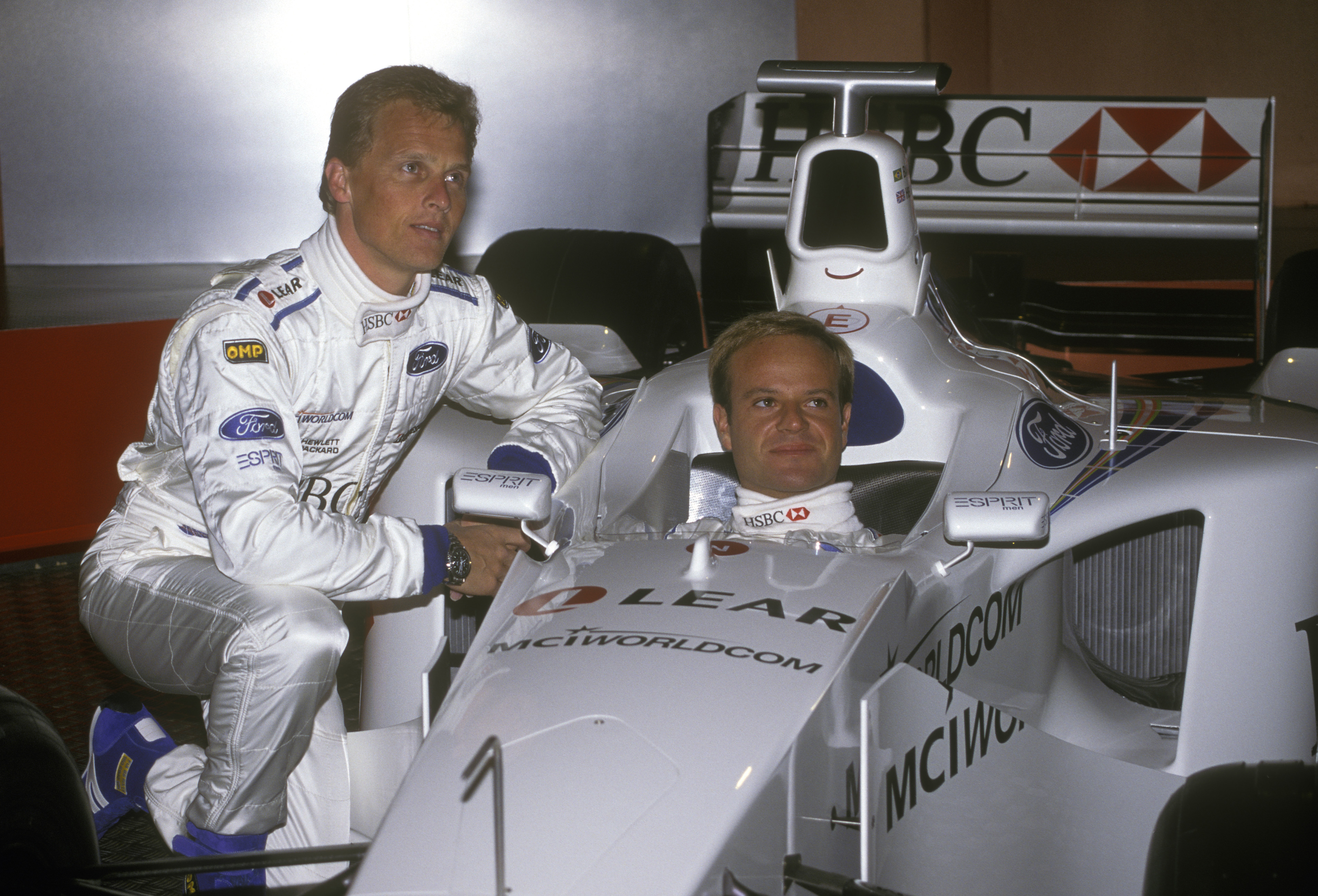 I went to the 1998 season finale at Suzuka with Stewart to see how the team operated and get first-hand feedback from the drivers. We also had a test afterwards.
Stewart had a disappointing second year in 1998. Its total of five points was only one point fewer than in 1997, but that year it had been second in Monaco with Rubens Barrichello and had several other decent races – helped by being on Bridgestone tyres – where reliability stopped it scoring.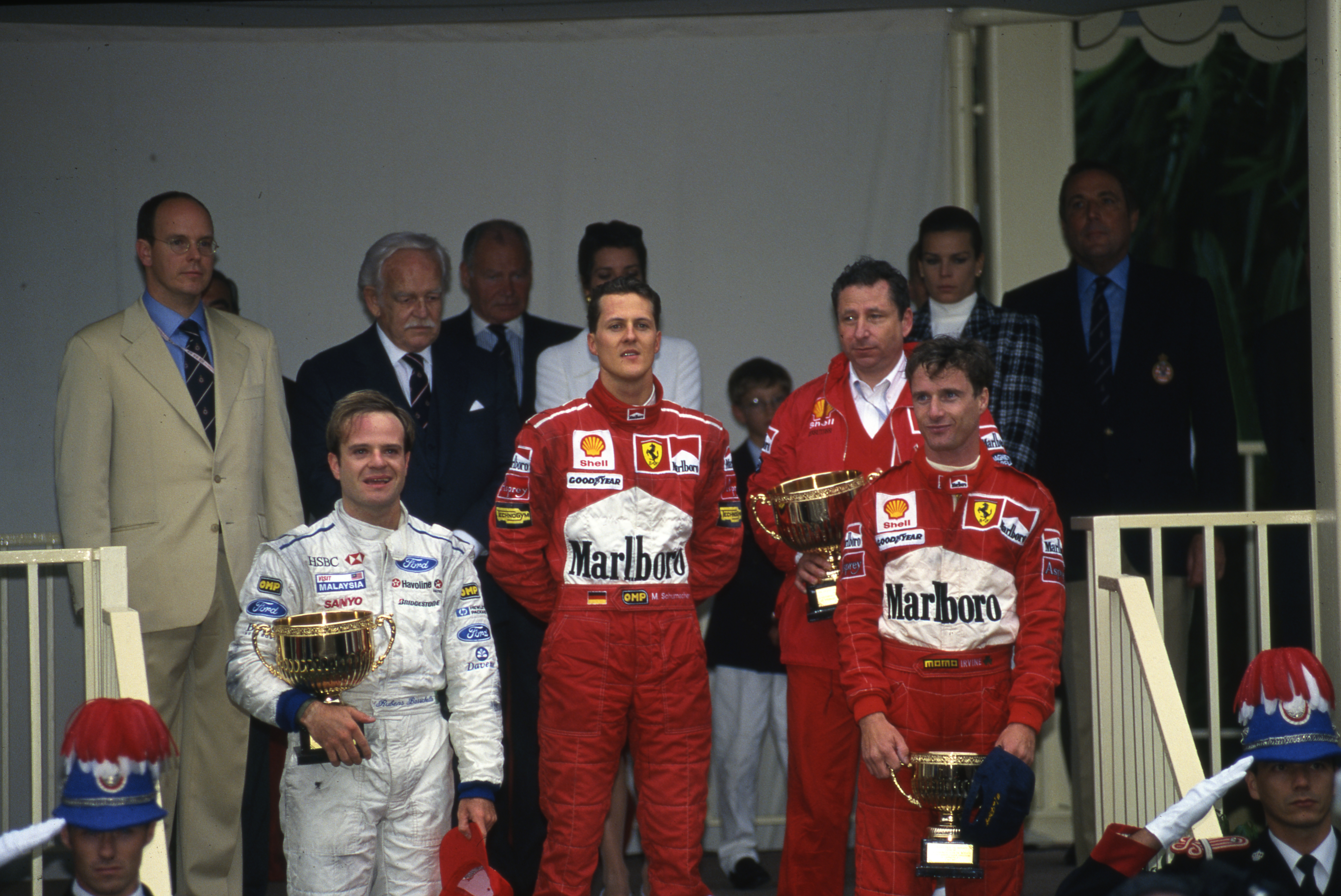 It's always difficult to get an impression of where a car is from just one outing, but it seemed that the Stewart SF2 didn't have any real deficiencies, it just lacked overall grip. The Ford Zetec-R V10 engine wasn't by any means the best on the grid, but the Cosworth guys and the Ford management didn't quite agree with me on that.
By that time the 1999 car was well underway but there were still a few things that I could influence, including the aerodynamics. When I asked the chief aerodynamicist for the aero data, he wasn't a happy camper and told me I didn't need to be involved in that area. There was a fairly major blow-up and he unfortunately decided to move on.
Jackie and Paul ran the team, but Ford was a big part of it and we usually met up once a month to discuss progress. I went to my first meeting in Detroit at the end of November. There was Jackie, Paul, Alan Jenkins, our financial director, our commercial director, our production director and myself sitting in the boardroom. Jacques Nasser was the Ford head honcho and probably 10 of his sidekicks were present.
I was introduced to them all and asked to go through a presentation of the new car. At the end, Nasser asked, 'Can you win races with this car?'. I said yes, but we will need a little help from others screwing up. All the Stewart people looked at me as if I was some sort of idiot, but I said that, if I didn't believe in that, how could I motivate others to work their fingers to the bone to achieve success?
THE BIG 1999 STEP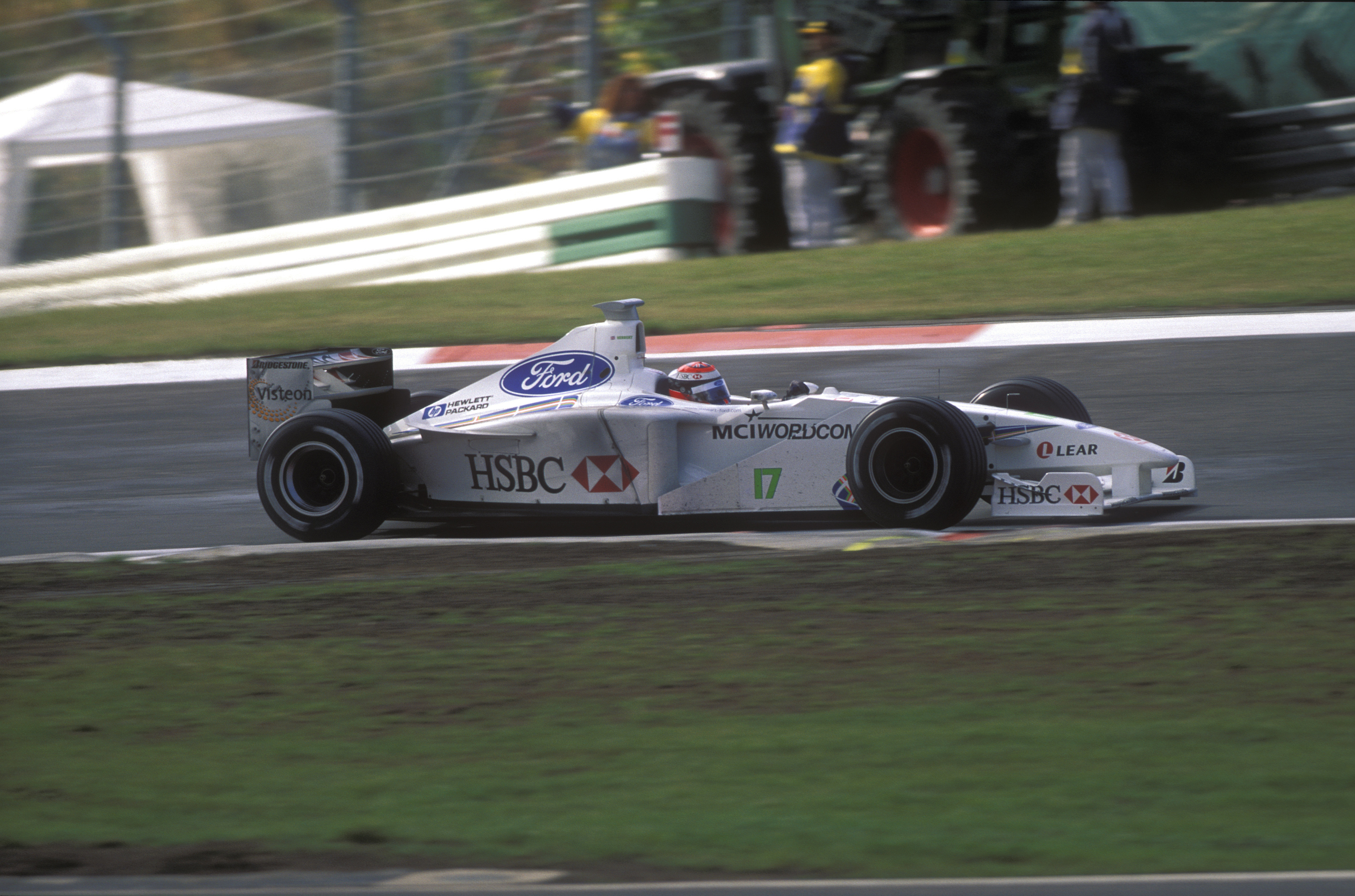 We just had to get on with building what we had and then look at a development step if possible before the first race. The first part of that was a lighter and stiffer chassis, plus a few other bits and pieces.
The new engine, the Ford CR-1 V10, was a major step forward in weight reduction, power and its size, which made installation in the chassis so much easier.
Initial testing was fraught. During the shakedown, we had a gearbox oil pump failure that limited our laps. When we got back to the factory, Jackie and Paul called me into their office and asked me if I was prepared to take on the technical director role. Before my arrival, the relationship between Alan and the Stewarts had gone through some rough times and they had decided it was time for a change. So there we were with a new car, the guy responsible for its overall concept gone, the chief aerodynamicist gone and a new team that was now my responsibility.
We went pre-season testing at Barcelona, where we had a major rear-end failure that basically destroyed the car when Johnny Herbert was driving. In 1998, Stewart ran with a carbon gearbox but it was just a little early and they suffered numerous problems with it, so for 1999 they had converted to a magnesium gearbox casing.
The diff cover in 1998 was a hybrid of a magnesium and carbon and was still being used for the 1999 gearbox. Basically, magnesium and carbon are at either end of the coefficient of expansion scale due to temperature, so the bond between the magnesium and the carbon gets stressed with temperature and it failed. The carbon part was what mounted the rear toelink, so when that detached the car turned left just at the end of the pitlane and fired straight into the outside barrier. It was a big hit, but luckily Johnny was OK.
With a few modifications to the diff cover and the car rebuilt, we were able to continue testing. Other than a few small issues, we had a fairly good test.
We headed to Australia with no real idea where we would end up, but as the weekend unfolded we realised we were fairly competitive. Rubens was always one of those drivers who could lift his performance in qualifying when it needed it. His best free practice time was a 1m32.828s, but in qualifying he did a 1m32.148s for fourth on the grid. For Johnny it was the other way around as in free practice he did a 1m32.569s and in qualifying a 1m32.991s for 12th on the grid. Unfortunately, that was the trend during the first part of the season, Rubens would more or less maintain his practice performance, but on new gripper tyres Johnny would lose a few tenths.
We felt confident of a good race, but as the cars lined up on the grid, both of them started to smoke. The race start was delayed and Rubens came back got into the spare car. He started from the pitlane and went on to finish fifth with the second-fastest race lap. It was a fantastic drive, but unfortunately as there was only one spare car Johnny couldn't start.
We were surprised by this problem on the grid as we had done all our dummy grid simulations to make sure that nothing overheated when the car was stationary, so we couldn't really understand the reason for the car emitting so much smoke. In those days, we always had fresh engines for more or less each session and for the race we also fitted new engines.
Cosworth had kept the best example for race day, which was the norm, but what we – and I include Cosworth in this – didn't know was that it had changed supplier of a small carbon cam cover oil drain pipe that ran just above the exhaust manifold. It was heat-protected, but the new company had used a different resin system and basically it went soft, leaked some oil onto the exhaust manifold and more or less caught fire. We were all disappointed by what had happened, but also fairly happy that we were competitive and we now had something to build on.
BARRICHELLO LEADS IN BRAZIL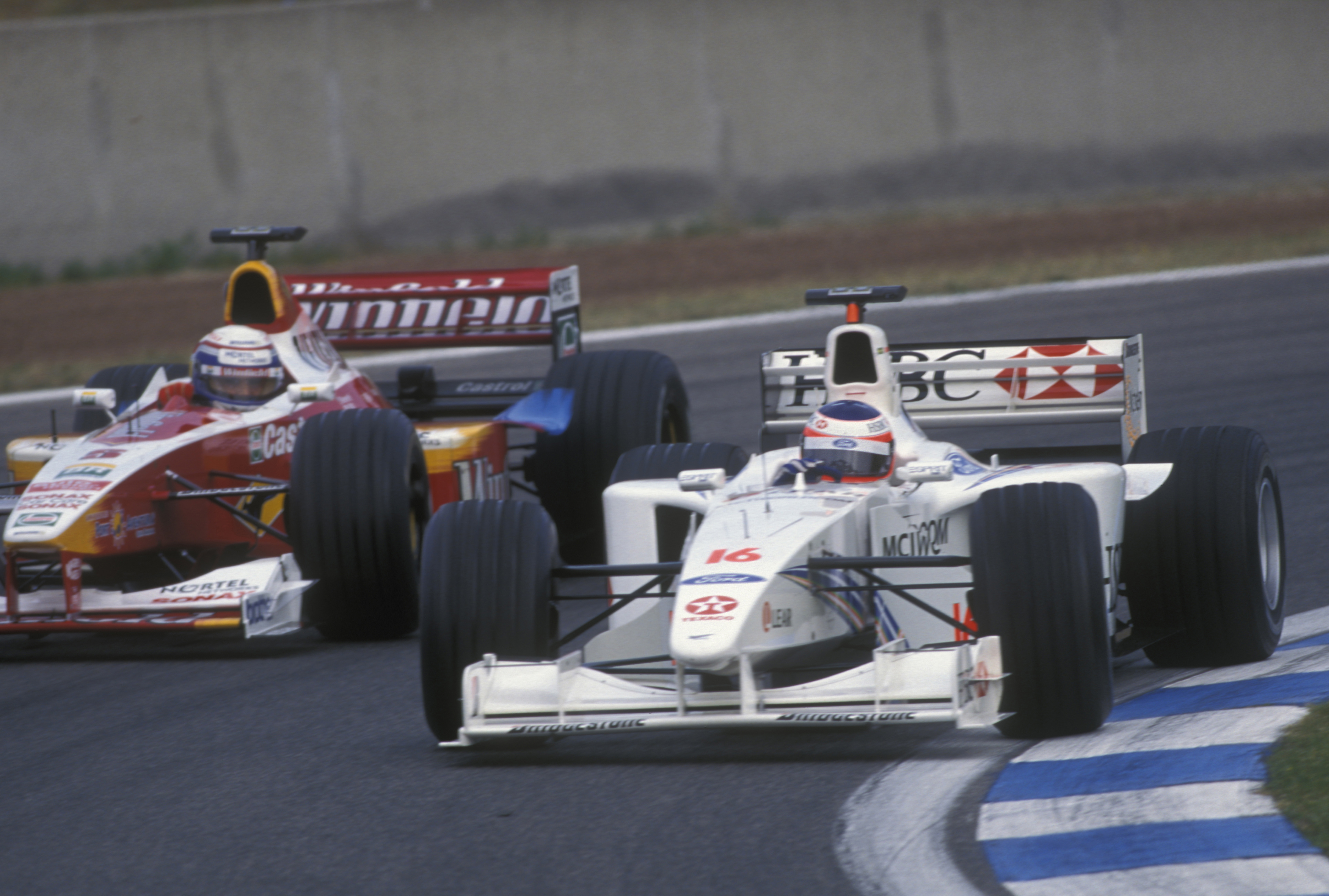 So it was off to Rubens' home race in Brazil. As a kid he lived about 500 metres outside the circuit in Sao Paulo, so to say it was his home race is a bit of an understatement. The extra adrenaline rush from the strong home support certainly showed and after an intense battle with Michael Schumacher's Ferrari, Rubens qualified third behind the two McLarens.
Reliability was our biggest concern. The car was still very new and Johnny retired from seventh with a hydraulic oil leak.
With David Coulthard's McLaren stalling on the grid, Rubens was straight into second. And then when Mika Hakkinen had a temporary gear selection problem, Rubens actually took the lead on lap four and led until his first pitstop on lap 26.
We were two-stopping whereas McLaren and Ferrari only stopped once, but we still ran third until lap 42 when the engine cried enough. Although we were disappointed, everyone saw the potential of the car and that if we could overcome our reliability troubles, a podium finish was on the cards.
Then it was back to Europe and the San Marino Grand Prix, where Rubens qualified sixth and Johnny 12th. To improve reliability, Cosworth reduced the engine revs so we weren't as competitive there as previously. However, Rubens ended up on the podium in third so at least he brought home a result that we deserved as a team. Johnny, unfortunately, had an engine failure while running fifth on lap 58 of a 62-lap race, so reliability was still a major concern.
The main problem with the engine was with the counterweights that were bolted onto the very lightweight crankshaft. These counterweights were made from tungsten so a material more or less twice the weight of lead. That made them very heavy for their size and unfortunately at high revs they were very keen to become detached. When they did, there wasn't a lot left to analyse.
I remember sitting in the Cosworth truck post-race at Imola with a few of its engineers with our heads in our hands. We were surrounded by parts of an engine trying to work out what was happening. They noticed some machining marks on the bolt-on tungsten components and as tungsten is very notch-sensitive, it was felt this might just be a problem. As soon as they got a handle on the problem, they reacted very quickly and introduced rectifications. Basically, short-term they polished out these machine marks while getting a new version in production.
A pre-Monaco test proved we could increase the revs back to where the engine was designed to run at and we qualified fifth with Rubens. The car was always fairly well-balanced, so to get more from it we would simply need to improve the chassis aerodynamically and mechanically. The close nature of the barriers took their toll in Monaco and neither car finished, but Rubens ran in the points for most of the race, so not all bad when you consider that you only got points to sixth.
A FIRST POLE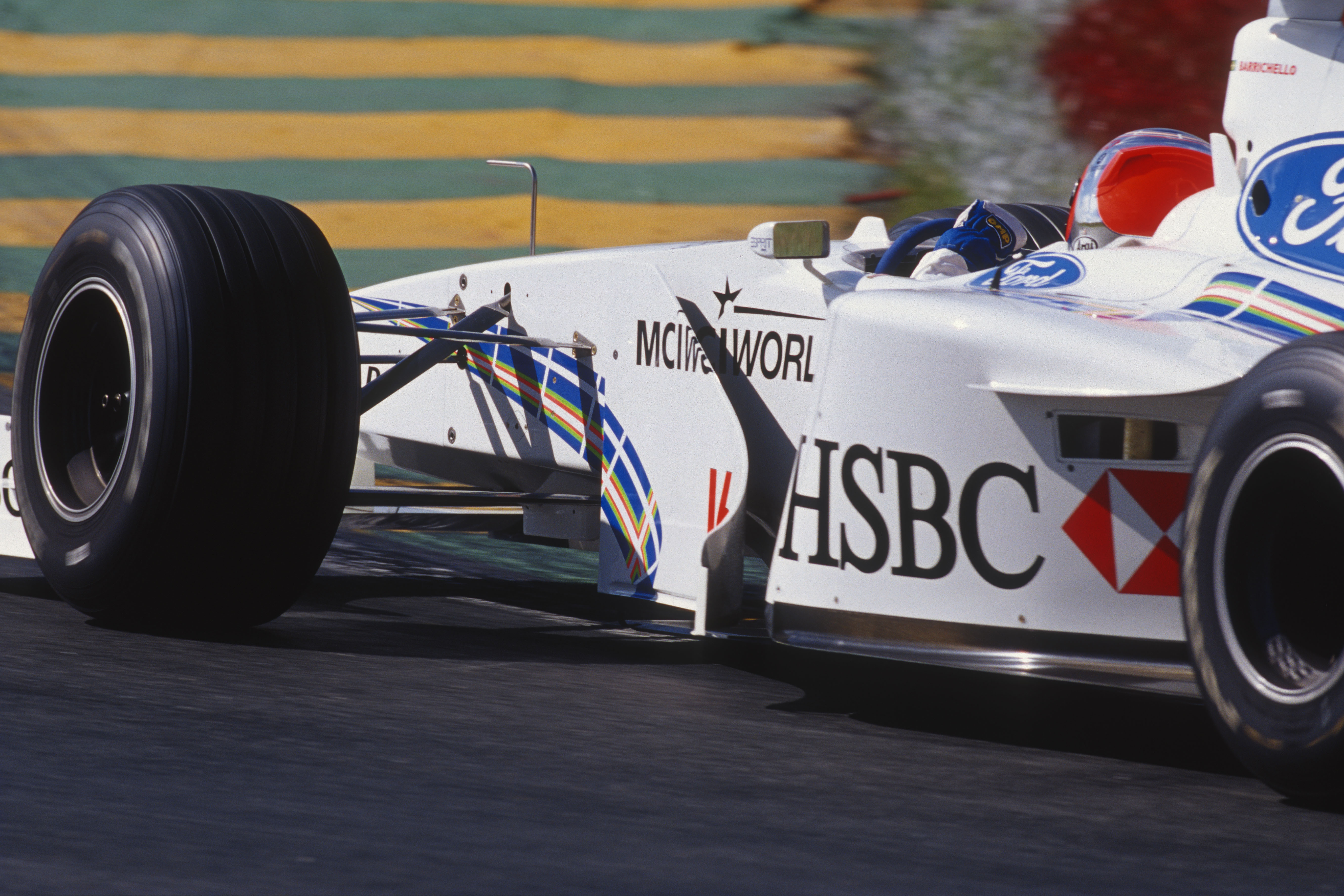 As the season progressed, it was a little up and down. Johnny got his first points in Montreal with a solid fifth place.
The French Grand Prix was fun, if a bit frustrating. On Saturday, free practice was dry and Rubens was fastest so we were looking good for qualifying and then the heavens opened. No one could question Rubens' wet-weather driving, so dry or wet it was going to be down to us to give him the best opportunity possible.
We went out early to set a time knowing that if it got faster we could join the club and go out again, but if it didn't we had one in the bag. That paid off. Jean Alesi in the Sauber and Olivier Panis in the Prost joined us on the track and that ended up being the top three in qualifying. This was Rubens' second pole, his first coming at Spa in 1994 in the Jordan, which I was engineering, but more importantly it was Stewart's first pole.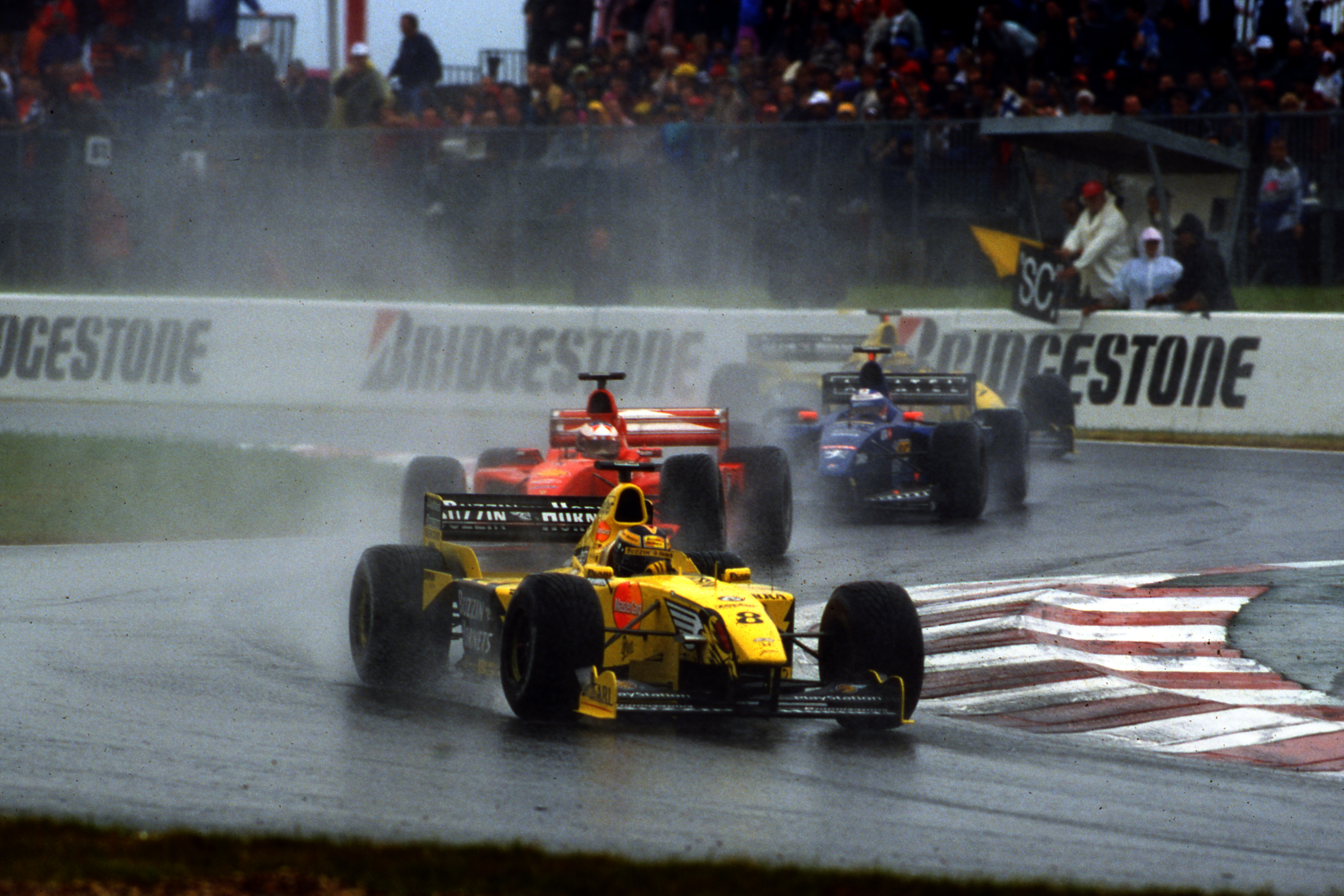 The frustrating bit was that he ran either first or second through the first round of pitstops at around lap 22 up until lap 64 of 72, which was unfortunately when we had to pit for a second time because of the size of the fuel tank. Heinz-Harald Frentzen in the Jordan was able to run to the end, having stopped at the same time, so we ended up third and Jordan won. It was great to be on the podium, but a bit frustrating because we really should and could have won the race.
When I started at Stewart, the size of the fuel tank was one of the first things I questioned but as the chassis was already moulded it would have been too expensive and time-consuming to change. Having been involved in the initial architecture of the 1999 Jordan before my departure, I had a fair idea of the size of the Jordan tank.
I always felt that even with refuelling it was important to have a fuel tank size that would allow you to easily complete a one-stop race with a one-third/two-thirds-distance fuel strategy. That way, you could adapt your strategy perfectly to changing track conditions and even have a good shot at stretching it to a complete wet race by reducing revs and fuel saving.
HOW THE WIN HAPPENED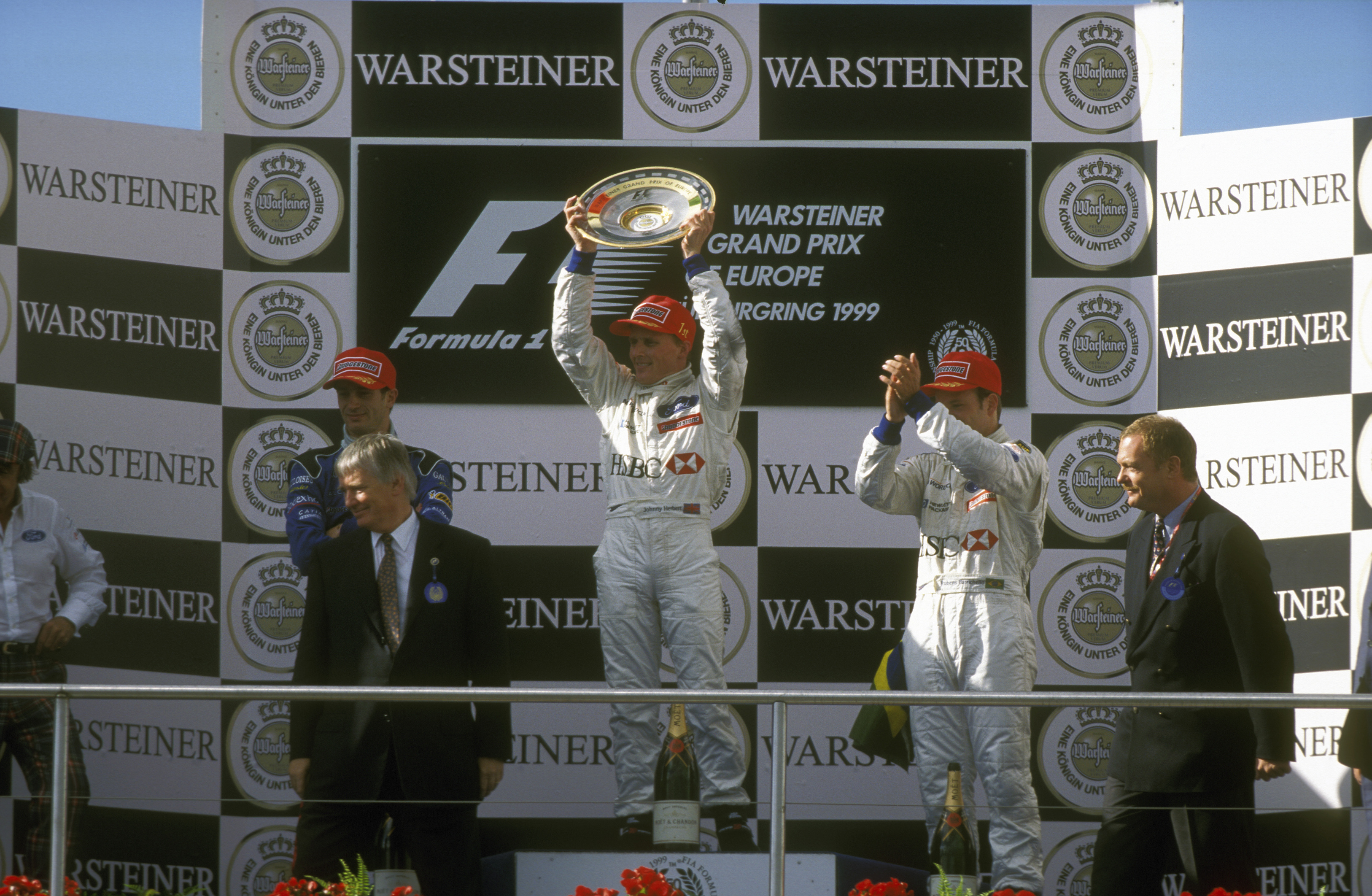 In Austria, we were fifth and sixth on the grid, so Johnny was starting to find his feet with the use of the new tyres. But we ended up without any points to another engine failure for Rubens while running in the top four, while Johnny fell to the back after a first-lap tussle and never really recovered. We still showed we were competitive for points but fragile.
Points at Monza for Rubens moved us up from sixth in the constructors' to fifth just ahead of Benetton and then it was onto the European GP. Qualifying 14th and 15th was our worst of the season. We never really got in a lap when it mattered on the softer tyre.
As the race progressed, the harder tyre that we started with allowed us to make our way up through the field. We could run longer than most and when others pitted by lap 33, we were running third and fifth. Johnny was able to run to lap 35 just when some big dark clouds were starting to form down at the end of the pit straight. As he came into the pits, it got very dark and a few big drops started to fall in the pitlane and he decided to take the gamble on wets. It paid off, as on his out-lap the heavens opened in that area of the track.
Rubens, who was now up to third, pitted on lap 37 but elected to stay on slicks, believing it was a local passing shower and he could survive. Thankfully, he did but many others didn't. Johnny pitted again for dry tyres on lap 47, took the lead on lap 50 and was first to see the chequered flag for Stewart's first win since Jackie won at the old Nurburgring in 1973, 26 years earlier. To back that up, Rubens finished third behind Jarno Trulli's Prost, so we had two cars on the podium. Scoring so well moved us two points shy of Williams in the constructors' championship.
Every driver and team in the pitlane felt they could have won that race, but they didn't. I was very happy for Jackie and Paul as they had been through so much to this point with their own team. So had Johnny. I was at Brands Hatch when he had his massive F3000 accident in 1988 and to come back from that and become a three-time grand prix winner speaks of his enormous determination and fight.
STEWART'S FAREWELL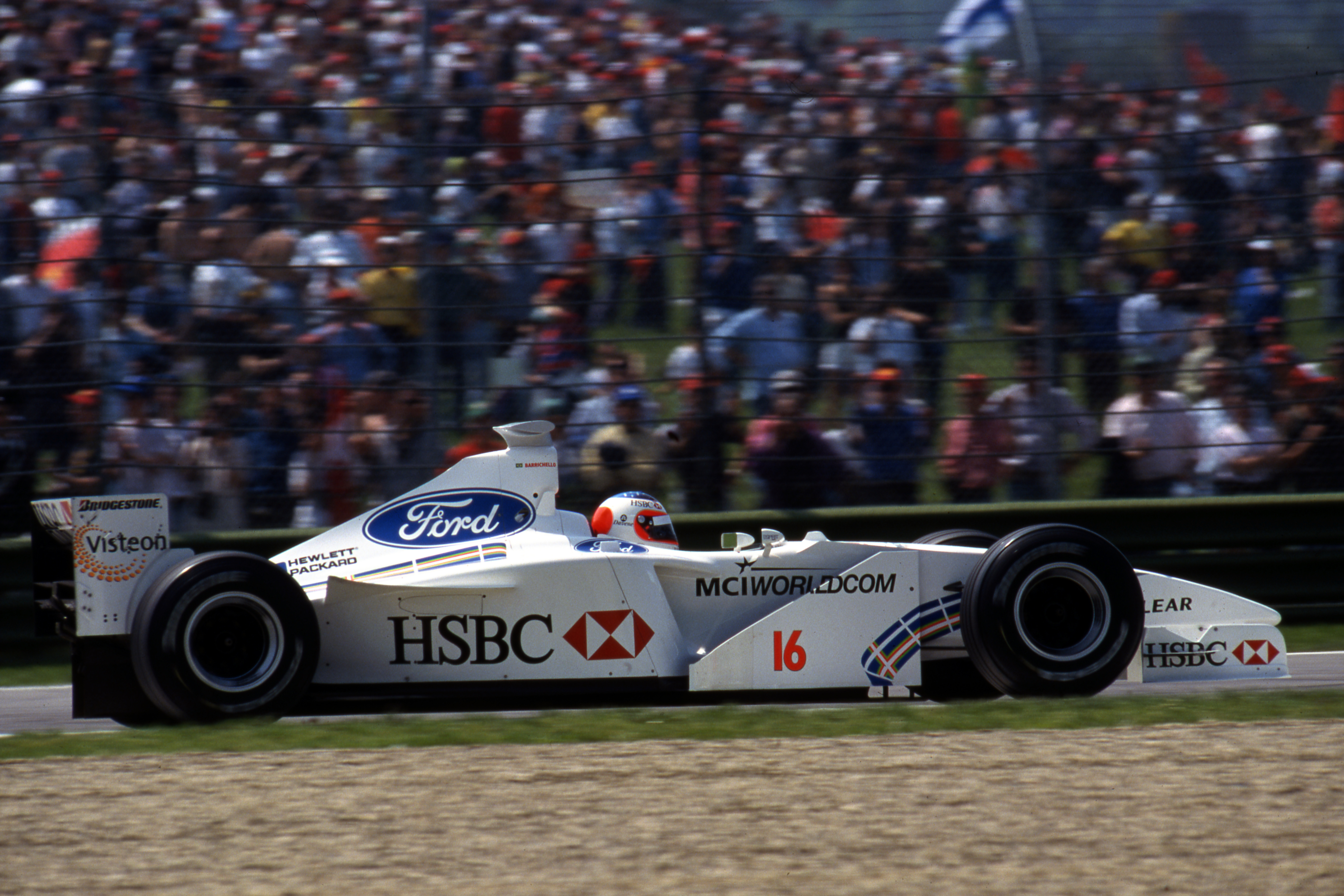 Malaysia was good to us with fifth and sixth on the grid and fourth and fifth in the race. On both occasions, Johnny was ahead of Rubens.
A new hydraulic differential had been introduced earlier in the season, but oil seal problems had prevented us from using it in race weekends. With that problem solved, the diff seemed to help Johnny more than Rubens. I'm pretty sure this was because Johnny was always very active on the throttle, whereas Rubens would allow the car to settle more before he would change his throttle input.
With a mechanical diff and varying throttle inputs through the corner, it's very on and off so the balance of the car can be affected. With the hydraulic diff, it is more benign, more like using a dimmer for your lights rather than an on/off switch in that you can get to the same level of lighting but it's more progressive.
The final race of the season in Japan was a bit of a damp squib. We were there or thereabouts but didn't really get it together in qualifying. We ended up seventh and eighth in the race so no points but still ended up fourth in the championship, one point ahead of Williams.
Overall, it was a reasonable season. Rubens scored 21 points and was seventh in the championship with an average grid position of 6.6, while Johnny took 15 points with an average starting slot of 11th.
The problem with engine unreliability is that it hurts in the race where you have the failure, but it also hurts longer-term as the engine manufacturer normally reduces the engine performance (revs) while they come up with a solution for the individual problem.
Yes, as always we wanted more from the season but I don't think either the team or Cosworth could have done much more. As far as I was concerned, it was all part of a building process for the future.
Little did we know how different the future was going to be when Ford took over the tiller of what was a great little team in Stewart Grand Prix and called it Jaguar Racing.