Carlos Sainz struggled with pain and fatigue in the Miami Grand Prix caused by his practice crash and the lack of driving he had done over the previous month.
Describing Sainz's pre-Miami form as having 'two non-finishes in a row' undersells how bad his two events prior to Miami had been.
He went from pole contender to ninth on the grid in Australia, primarily because of technical problems, then spun out of the race on lap two while trying to make up for a poor start that he blamed on a late steering wheel switch that meant he had the wrong torque mapping.
Then Sainz crashed out of qualifying at Imola and was taken out at the first corner of the grand prix having recovered to fourth in the sprint race.
The run risked continuing in Miami when Sainz crashed heavily into a concrete barrier in Friday practice. But he returned to the podium in the race itself to bring his difficult slump to an emphatic end.
That was despite beginning to flag physically in the second stint, which he reckoned was a legacy of his lack of race running over the past month – Sainz had not even completed two racing laps over two grands prix, although he did get 21 laps in the sprint at Imola – but also his "pretty heavy" crash on Friday.
Sainz said he "wasn't feeling 100%" as a result "but maybe it was also the fact that I haven't done the last two races", which aggravated his neck. He said he was left "paying a bit the price" for those two things.
"There were no issues with the balance but on my side, it was more me feeling not 100% basically towards the end of the medium stint," said Sainz.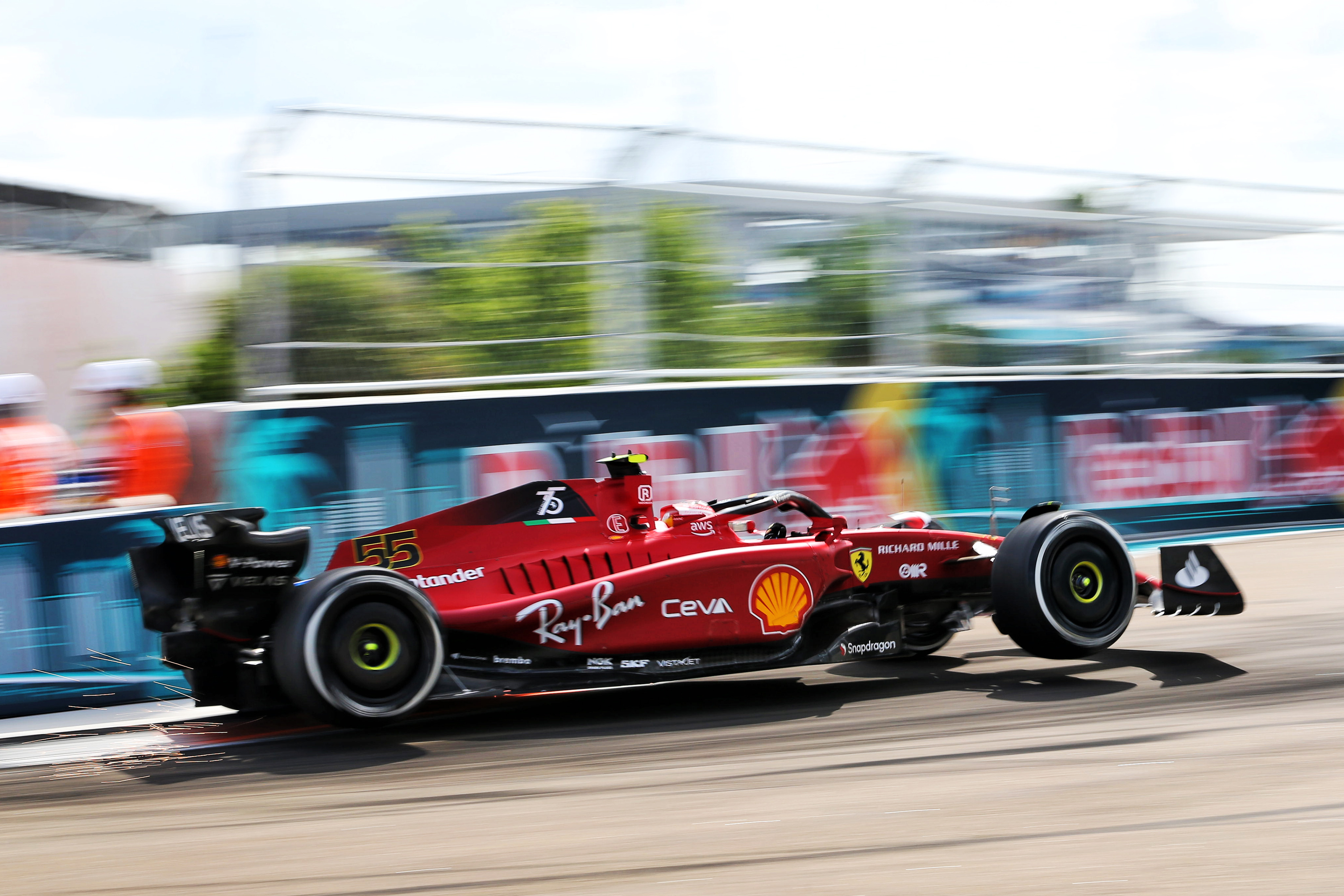 "In the last five laps, I started to get a bit tired on the neck and I couldn't push 100% coming from the crash of Friday. But I will not use it as an excuse.
"It was just also maybe lacking [mileage] in the last two races to get the neck and the body used to these Formula 1 cars.
"I have been a month without a full race distance and probably that being combined with the crash on Friday just made me not be able to push 100% up until the safety car more or less."
Though the safety car period gave him a reprieve physically, it also set up the toughest part of Sainz's race as he then had to withstand big pressure from Sergio Perez.
Red Bull had taken the opportunity during the caution period to pit Perez and switch him onto another set of fresh mediums, while Sainz – like many others – remained on used hards.
But Sainz rebuffed Perez's main attack into the first corner excellently, then did enough to stay ahead to the end of the grand prix.
"It was certainly tough," Sainz said of that fight. "Obviously a new medium tyre versus a used hard, it is always better, particularly with the warm-up.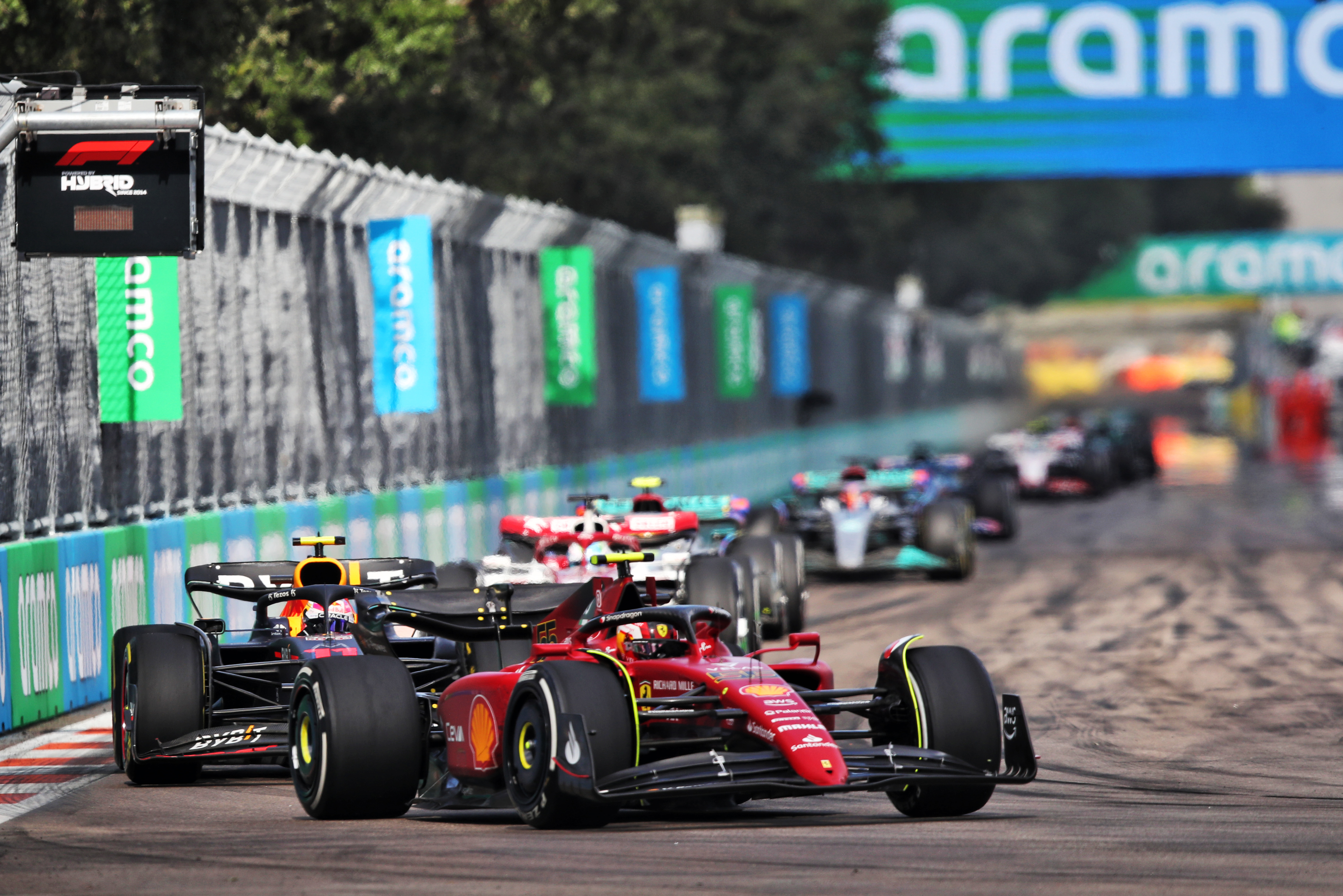 "The first three laps it was quite crucial to try and stay ahead, and you saw me nearly spinning a couple of times.
"But I think we did a very good job managing the battery and the places he was having a chance to overtake.
"He threw a lunge into Turn 1 which I managed to counteract. I honestly expected that he was gonna pass us because the tyre advantage was too big.
"But you don't stop believing, you keep trying and keep putting yourself in the fight and in the end the podium was a good result to build on after the last few races and to keep the confidence going into Spain."
After the crash, which was a painful and immediate reminder that Sainz's understanding of the limits of the Ferrari is still too vague, he built his Miami weekend into something very solid.
Though he trailed Leclerc in much of qualifying, being a chunk away in Q1 and Q2, Sainz pulled it together when it mattered in Q3.
He even looked like he might grab pole at one point. The lap faded, but he at least pipped Verstappen to second.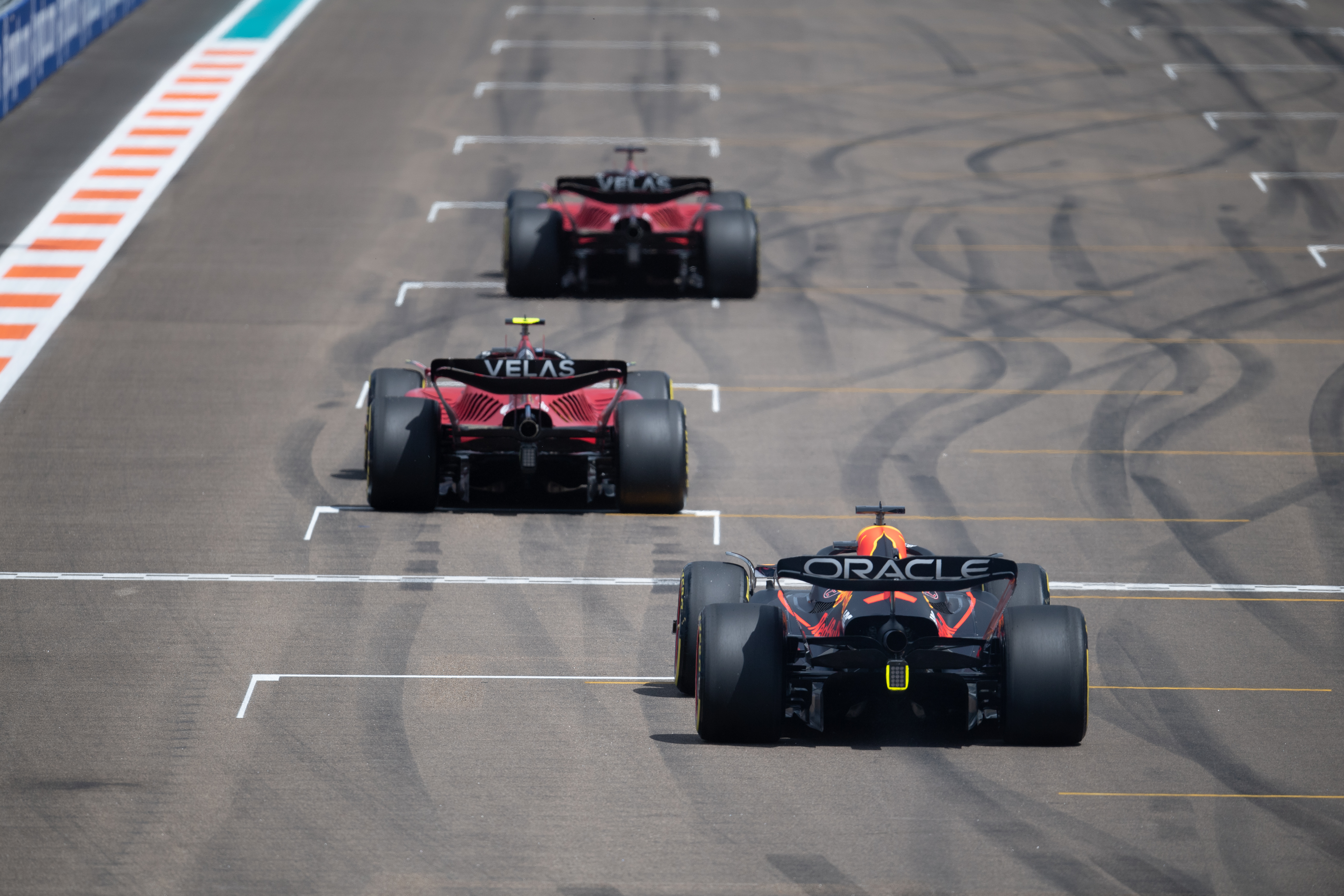 Sainz was pretty powerless to stop Verstappen passing him on the outside into Turn 1 at the start of the race and his race was clean. The main time loss was a slow pitstop by the team and Sainz did what he needed to in order to keep Perez at bay in the final stint.
To bring home a podium after a perfectly decent, competitive grand prix – despite struggling with a combination of feeling sore from his Friday crash and not having done a race distance for a month – was a strong and necessary response to his recent troubles.
"It's not so much a relief, but it's needed," he said. "I think I needed to complete a race distance, to get the body back to shape, and also get the feel for the car on used tyres, high fuel.
"I was still doing a couple of mistakes out there during the race, just because I was trying the car and trying myself out there.
"The important thing is that we got a full race in, but at some stages of the race I was pretty quick.
"And the battles and the feeling with the car in battle with Checo, what to do with the battery, with the tyres, I think it gave me a good understanding of what to do in the future."