The Red Bull Formula 1 team has officially unveiled what it claims to be its 2023 challenger, the RB19, potentially becoming the first team to do so.
What Red Bull described as the 2023 car was presented in New York during an extensive season launch that also revealed that the team will run separate fan-designed liveries during the USA-based races in Miami, Las Vegas and Austin.
While those will presumably represent departures from the familiar Red Bull designs, for most of the seasons the colours adorning the RB19 will be the very familiar combination of matte dark blue, red and yellow.
Title sponsor Oracle retains a major presence in terms of branding, as does crypto exchange Bybit – which has remained with the team amid a period of F1 outfits dropping certain crypto sponsorships. Blockchain Tezos's agreement with Red Bull was not renewed.
In showcasing its livery, Red Bull became the second F1 team to present its 2023 colours, after Haas's unveiling three days earlier.
However, Red Bull is the first to present what it claims is a 2023 design, even though both the car revealed on stage in New York and the renders released online look very similar to the predecessor.
Team principal Christian Horner emphasised that the RB19 is very much a continuation amid "stable" regulations, adding: "There's been some subtle aerodynamic changes that affect all the teams.
"The tyres are slightly different as well. But the RB19 draws on all the strengths, hopefully, from what was our most successful ever car."
The 2023 season marks the second year of a regulations cycle, with relatively minimal changes in the technical regulations – but Red Bull, like many of its fellow frontrunning F1 teams, is no stranger for hiding certain design solutions until the start of, or even midway through, pre-season testing.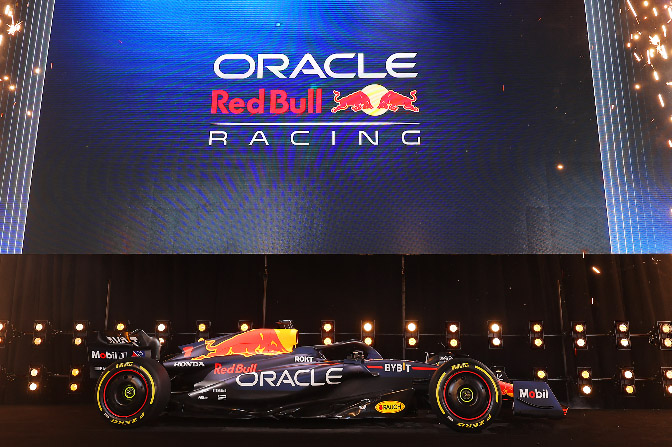 Succeeding the RB18 – comfortably Red Bull's most successful car in terms of race wins – the new car is formally powered by 'Honda RBPT' as opposed to just Red Bull Powertrains.
Honda, which formally withdrew from F1 at the end of a title-winning 2021 season, remains the architect of the hybrid V6 engine Red Bull is campaigning, and will benefit from increased visibility this year compared to 2022.
But Red Bull's longer-term future is in a Red Bull Powertrains-designed engine and a 2026 tie-in with Ford. The latter was made official minutes before the reveal of the RB19.