Sergio Perez's United States Grand Prix weekend was arguably his best of a difficult 2021 Formula 1 season, with his eventual deficit to race-winning team-mate Max Verstappen exaggerated by a broken drinks system that deprived him of water.
Despite struggling with what Red Bull team principal Christian Horner described as "a stomach bug most of the weekend", the 31-year-old was on the pace throughout practice and qualifying – even holding provisional pole position after the first runs in Q3 – and turned that into his fourth podium finish of the season.
It was that strength throughout the weekend that eclipsed his showing on the streets of Baku, where he won after Verstappen's tyre blowout, even though he finished 42.233s adrift of his team-mate at the Circuit of the Americas.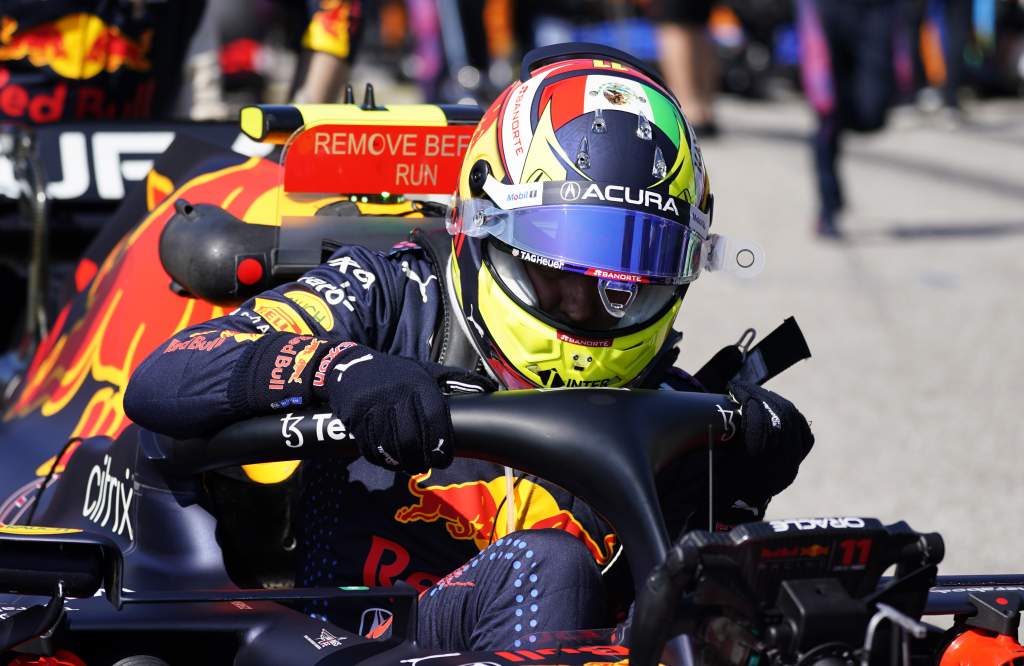 "I struggled massively," said Perez after the race. "Since lap one, I ran out of water, I couldn't drink at all.
"By the middle of my second stint, it was starting to get pretty difficult, losing strength. I think my toughest race ever, physically."
A look at the relative pace of Verstappen and Perez shows this. While we have to add the caveat that Verstappen's race situation was different thanks to his intense battle with Lewis Hamilton, compared to Perez's relatively straightforward run to third, the drop-off is clear.
In Perez lost around a quarter-of-a-second per lap to Verstappen in the short first stint when both were on mediums. In the middle stint, their strategies diverged slightly, with Perez having stopped two laps later and taken mediums compared to Verstappen's hards. But in the final stint, with both on hards and having made their second stops on consecutive laps, Perez's struggle was clear.
From laps 32 to 56, Perez fell away from Verstappen at 0.792s per lap on average. Over the last 15, the drop-off was 1.269s per lap on average as Perez struggled. While that meant he dropped further and further away from the top two, even those last 15 laps matched the pace of fourth-placed Charles Leclerc behind, so he was doing what was required to hold his advantage over the Ferrari driver.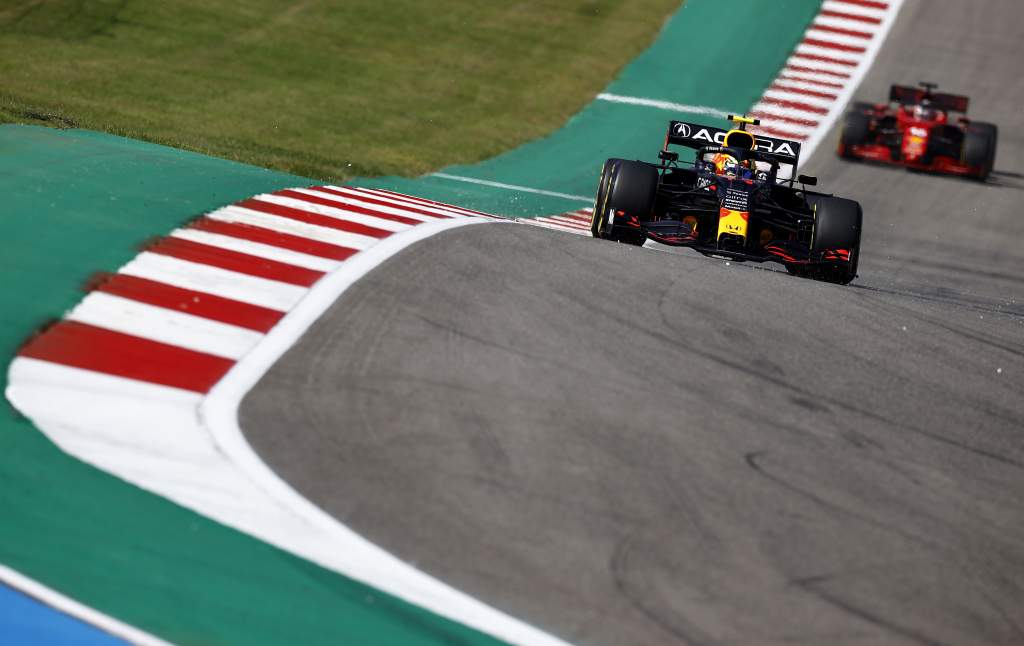 While Perez's strong form was a talking point of the weekend, the recent trend was already encouraging. Not only did he finish on the podium in the preceding race at Istanbul Park, but he would also have done so in the race before at Sochi but for the late-race rain. And in the race before that, at Monza, Perez was third on-the-road but relegated to fourth behind Leclerc thanks to a time penalty for gaining an advantage by leaving the track while battling with the Ferrari driver.
"Confidence," said Horner when asked by The Race what has made the difference for Perez. "I think it's been coming for the last few races. Monza he was strong, Sochi he was strong, he should have been on the podium in both of those races.
"He had a strong Istanbul and he's been on the pace all the way through this weekend. I think it's just confidence."
While his COTA weekend was a compelling one, Perez's improved form hasn't come from nowhere. The increased confidence appears to come driving a car that responds better to his favoured style. Perez himself spoke of the fact his side of the garage had slightly diverged from the approach of Verstappen, while Horner referenced the car better suiting his style.
"We're managing to find a set-up that works for him and we're managing to optimise the car around his style a little more," said Horner.
"There's some important races coming up where we need him doing what he did [in Austin]. He was unlucky not to get pole, so it's been great progress for him."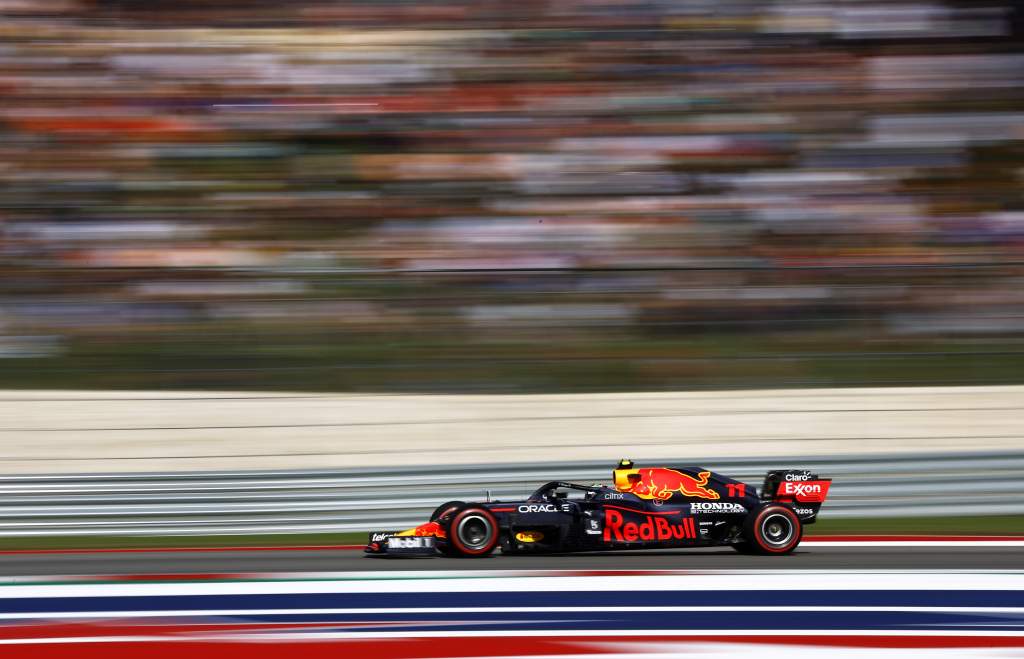 Perez's strength in qualifying was the most attention-grabbing aspect of his weekend. Perez is an accomplished driver but Saturday has never been his strongest suit in F1, good as he is in qualifying. His problem this season has not been race pace, although what has compromised his race results has been starting in amongst the leading midfield runners.
But despite being unhappy with the final sector of his key Q3 lap, Perez was only 0.224s off Verstappen. That deficit of 0.241% is the smallest of the season – save for at Imola where Perez outqualified an uncharacteristically error-ridden Verstappen. If he can sustain this pace and remain consistently within 0.3s of Verstappen in qualifying, which is the rule-of-thumb gap Red Bull would like to see, it will make him a bigger factor in influencing the drivers' championship battle as well as boosting Red Bull's constructors' hopes.
It likely all comes back to the tweaks to the car set-up in recent times. Perez was determined to stay close to Verstappen's set-ups in the first half of the season, which was a wise move given the rabbit holes one of his predecessors, Pierre Gasly, went down trying to get the 2019 Red Bull to his liking. But having built experience of the car, it was clear Perez needed to make some small, but effective changes.
This needs to be sustained for a bit longer before we can declare Perez a success, but if he can sustain this current level of form he will be doing the job Red Bull requires of him in the title run-in, next season and perhaps even beyond.