Sergio Perez has denied claims he crashed deliberately during Formula 1 qualifying at the Monaco Grand Prix, and said Red Bull's talks in Brazil focused only on the application of team orders that day and not Max Verstappen's wider reason for snubbing them.
The crash allegations arose after Verstappen refused to hand team-mate Perez sixth place back at the end of the Brazilian Grand Prix, saying his reasons for snubbing the direct team order were "about something that happened in the past".
This has led to suggestions that it's related to Perez's crash in the Portier right-hander before the tunnel on his final flying lap in Q3 in Monaco – although this is something Verstappen refuses to confirm.
Perez spun into the barrier in that incident, with Ferrari driver Carlos Sainz collecting the Red Bull and bringing out the red flag.
This meant the grid was set based on the times from the first runs in Q3, with Charles Leclerc on pole ahead of Sainz and Perez third ahead of Verstappen. The latter had been on a quicker lap in qualifying that would have vaulted him ahead of Perez, who then won the grand prix on Sunday.
Asked on Thursday in Abu Dhabi if he had crashed purposely in Monaco, Perez denied it.
"Everyone makes mistakes in Monaco," said Perez. "You have all the information and you can go and see it.
"I nearly crashed in Turn 1 [Sainte Devote]. And everyone makes mistakes in Monaco, or in general places, in qualifying.
"It's not like it was done on purpose."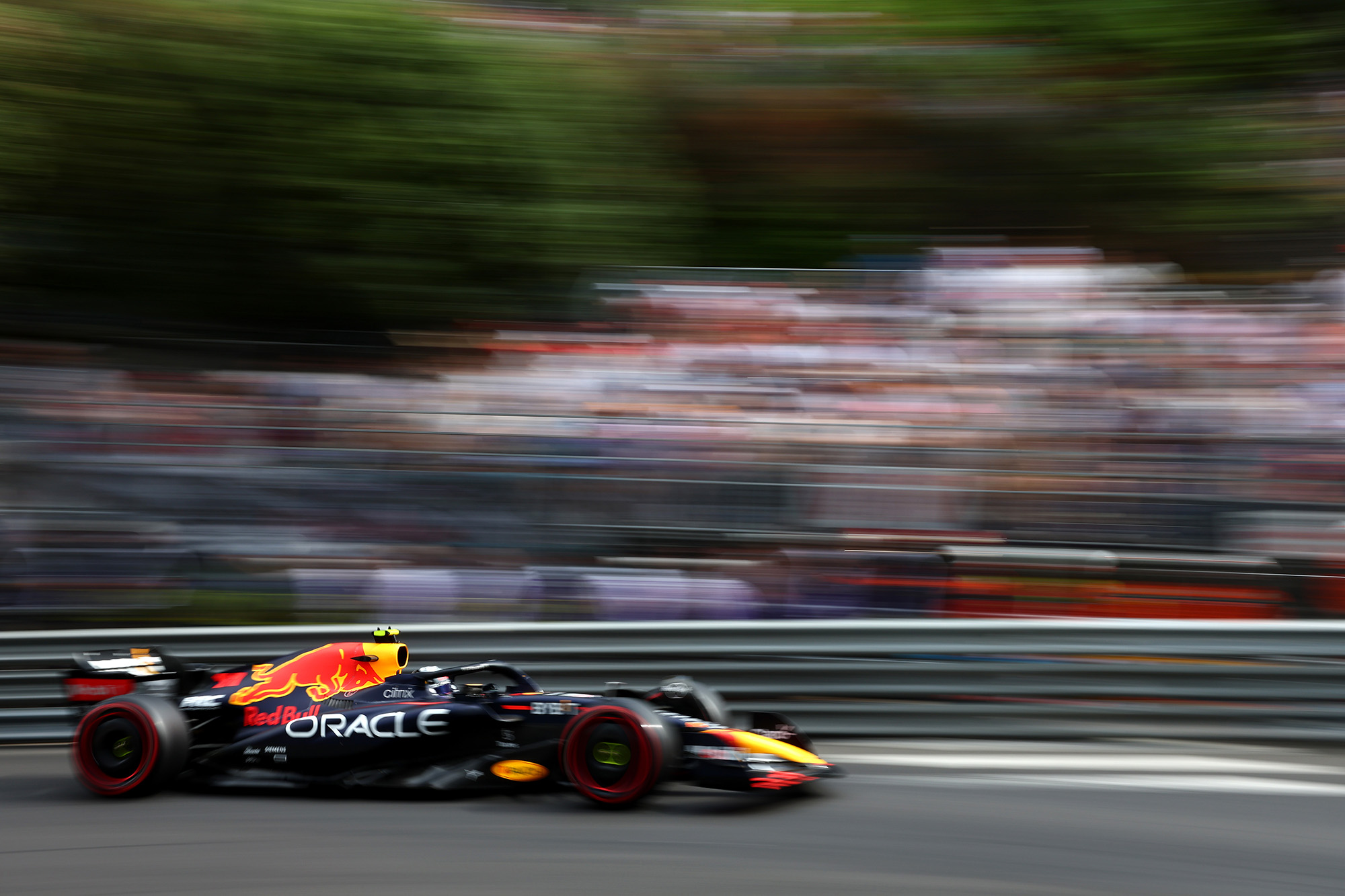 Asked by The Race to talk through the crash, Perez said he was pushing his throttle application to make up for lost time on his second run.
"I mean, I'm chasing the laptime in Monaco," Perez explained.
"You can review the whole lap and you can already see that I nearly crashed already in Turn 1.
"I'm just giving it everything, it is the last run of Q3. People just make make mistakes, you know. And that's really it when you're chasing the laptime.
"But you can already see that from Turn 1 I was playing with the throttle, trying to because it was where I was losing the laptime. And you can see already into Turn 1 that I nearly lost it already."
Perez confirmed that he was trying to improve the rotation around Portier with his throttle input but this led to the crash.
He reiterated that the team's discussions on the matter in Brazil will "remain internal", but said they they were totally focused on the handling of team orders on that day at Interlagos – and not what had prompted Verstappen's reference to "something that happened in the past" being behind his decision.
"It's best so we don't open any speculation and we are able to move on and we are able to be the team we used to be, united and strong and that's the priority of the team," Perez explained of the refusal to share details of the talks.
"We discussed what happened in Brazil and we went through all the scenarios, so the mistakes we did as a team instead of not preparing the race enough and so on.
"We want to put all of this behind us and just move forwards."
Asked how long he'd been aware that Verstappen had suspicions about the Monaco incident, Perez replied: "whether it is Monaco or it is other things, that's down to him to tell you. I don't know how long it's been there" and said they had never actually discussed it.
Perez was then asked to clarify that the Brazil post-race talks didn't cover the reasons for Verstappen's wider stance against helping him, and replied: "correct".
Red Bull put out a statement on Thursday saying it "made some mistakes" in Brazil in not discussing the potential for team orders properly and then putting Verstappen "in a compromising situation with little time to react".
When asked about rumours that Red Bull had carried out an internal investigation into the Monaco crash and Perez had then admitted to doing it deliberately, Perez replied: "the rumour is wrong".
Perez accepts that accusations of cheating and speculation are "part of the sport".
"This happened so many races ago that it's totally irrelevant," Perez added.
"I'm thinking about this weekend, I'm thinking about making sure the team is in good spirits, because we've had a tremendous season, it's been a hell of a year for Red Bull.
"And I don't want any of this to take any enjoyment for any of the guys in my team.
"I think Max and myself, we have a very strong responsibility to keep this united team going forward."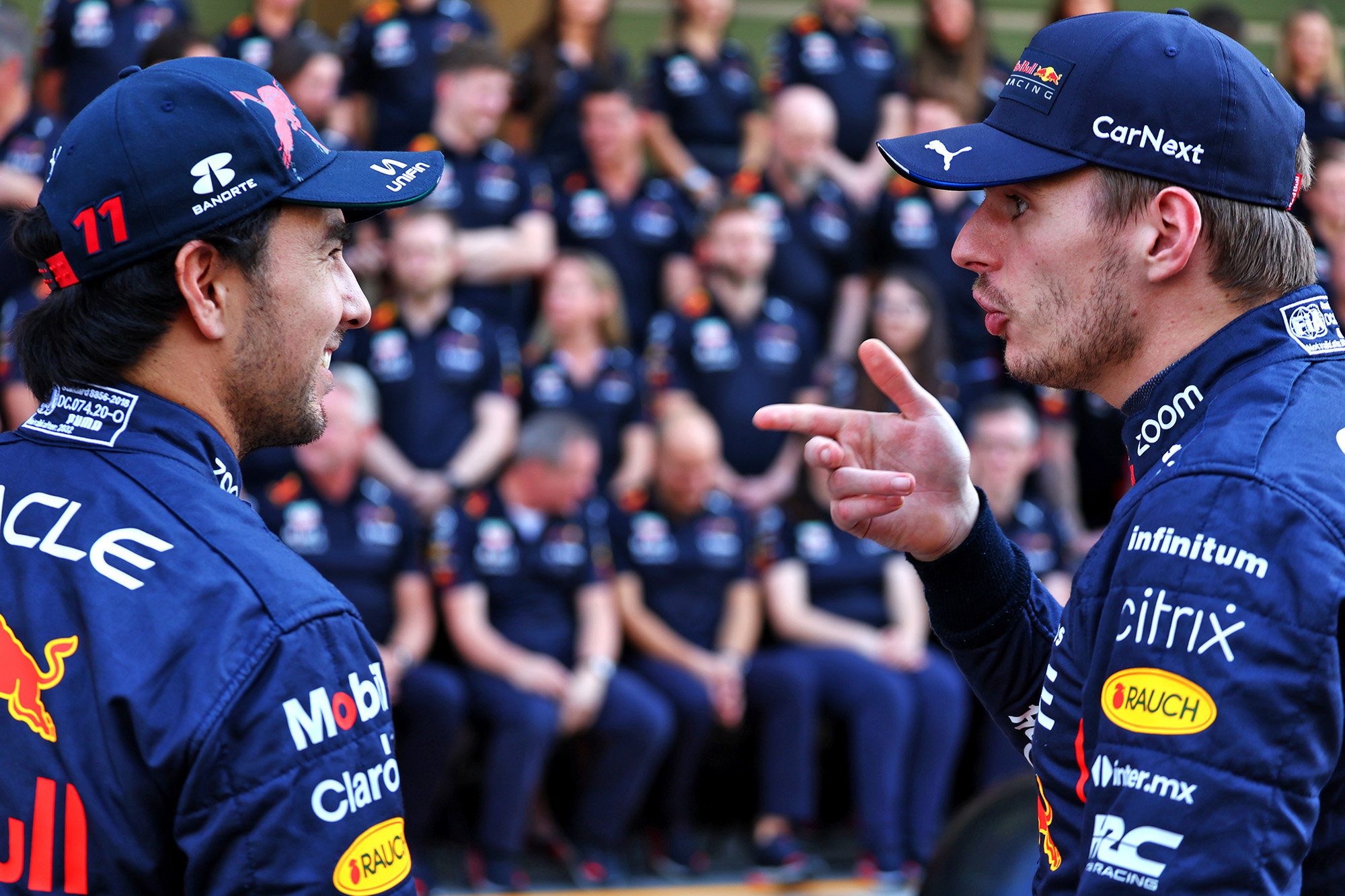 Verstappen criticised the 'disgusting' abuse on social media in the wake of the race directed towards himself and his family.
Perez says he wasn't "much aware of what's going on" because he was celebrating his wife's birthday with his family, but he has experienced his fair share of social media abuse previously.
"I'm aware that there is a lot of hate and a lot of social media," he said.
"It's a shame that the social media in these days it's gone like that.
"At the end of the day, we are human beings and we have families and stuff and it's not nice to see stuff like that being online and the online abuse is something that I'm completely against.
"People should be really careful with what they say."