Patrick Tambay, who died today aged 73 after a long struggle with Parkinson's disease, was one of the stars of Formula 1 in the late 1970s/early 1980s and won two grands prix for Ferrari in 1982-83.
In 1983, he only dropped out of world championship contention at the penultimate race, Brands Hatch, when a brake fluid leak when running third forced his retirement. As well as his F1 career from 1977-86, he was also Can-Am champion for Carl Haas' team in 1977 and 1980.
The son of a property developer on the Cote d'Azur, he was well-educated, multi-lingual and a good enough downhill skier in his teens to win a national title and represent France at junior level. His skiing prowess got him a scholarship at Colorado University where he studied for two years. But it was his winning of the Pilote Elf young driver competition – the bottom rung of the ladder to Elf-sponsored stardom for a whole generation of French drivers in the 1970s – in 1971 which switched his focus to motor racing. He'd taken a course at the school earlier that summer for something to do during his holidays. Among the judging panel were Ken Tyrrell and his grand prix-winning driver Francois Cevert, one of the first Elf Pilote winners.
Quick, intelligent, charming and cosmopolitan, Tambay progressed quickly, in French Formula Renault in 1972 and 1973 and moving straight into F2 for 1974. He'd win only three races – all of them at Nogaro – in his three years in F2 (he finished runner-up to Jacques Laffite in the 1975 championship) and at the end of 1976 he was dropped by Elf in favour of Didier Pironi.
With his career at a crossroads he jumped at the opportunity of replacing the injured Brian Redman in Haas' Can-Am team at the beginning of 1977. He would go on to win the title quite convincingly in the Haas Lola T530 and while there he became friendly with another up and coming driver, Gilles Villeneuve, who was driving the wayward Wolf-Dallara. Their fates would become entangled for the next few years.
After an abortive attempt at qualifying a Surtees for his home grand prix in 1977 – he'd not even driven the car in the opening practice sessions – he turned up in the cockpit of the Teddy Yip-run Ensign at the next race, the British Grand Prix. Making his F1 debut at the same race for McLaren was Villeneuve. Both men impressed enormously that weekend, though Villeneuve's more extrovert style made his debut more eye-catching.
Tambay continued in the Ensign for the balance of the season and in the space of a few races – he was set to finish third at Zandvoort before the car broke – made himself a hot property in the 1978 driver market. Ferrari technical boss Mauro Forghieri introduced himself and told him that Enzo Ferrari wished to meet. The initial meeting was postponed because 'Old Man' Ferrari had flu and in the meantime Tambay was approached by McLaren boss Teddy Mayer, who was looking to replace Jochen Mass alongside James Hunt and who also had Villeneuve on his shortlist after his starring Silverstone cameo.
Mayer – from an upstate New York background and a lawyer by profession – was a keen skier and very impressed with Tambay's demeanour. While the boss of McLaren's sponsor Marlboro, John Hogan, was pushing Mayer to take the Canadian Villeneuve because of the North American market, Mayer preferred Tambay and made him a firm two-year offer on the spot, which Tambay signed, even before he had his delayed meeting with Ferrari. Which was how Villeneuve ended up at Ferrari… Tambay had informed Villeneuve that he had just signed for McLaren and that Villeneuve should seek a meeting with Ferrari (which was losing the services of Niki Lauda) immediately.
"After Monza I went down to see the Old Man with Forghieri," Tambay recalled on the McLaren Heritage website, "to excuse myself from signing up before talking to him. Forghieri translated the whole conversation, and at the end the Old Man said in French, 'Patrick what a stupid mistake you made. You would have been world champion with us, and you would have made a lot more money…'"
Unfortunately for Tambay, he had joined McLaren just as it was beginning to nose-dive into oblivion, with a less than full understanding of the technicalities of the new era of ground effect. As Villeneuve's star rose with startling intensity, Tambay struggled in an uncompetitive car in his first full season and was comprehensively out-performed by Hunt throughout 1978. It was a similar story in 1979 alongside Hunt's replacement John Watson. At the end of the season, Mayer asked Tambay if he would take part in a shoot-out against the Marlboro-backed F3 champion Alain Prost – and Tambay refused, turning his back on F1 and returning to Can-Am, where he would win the title with Haas once again.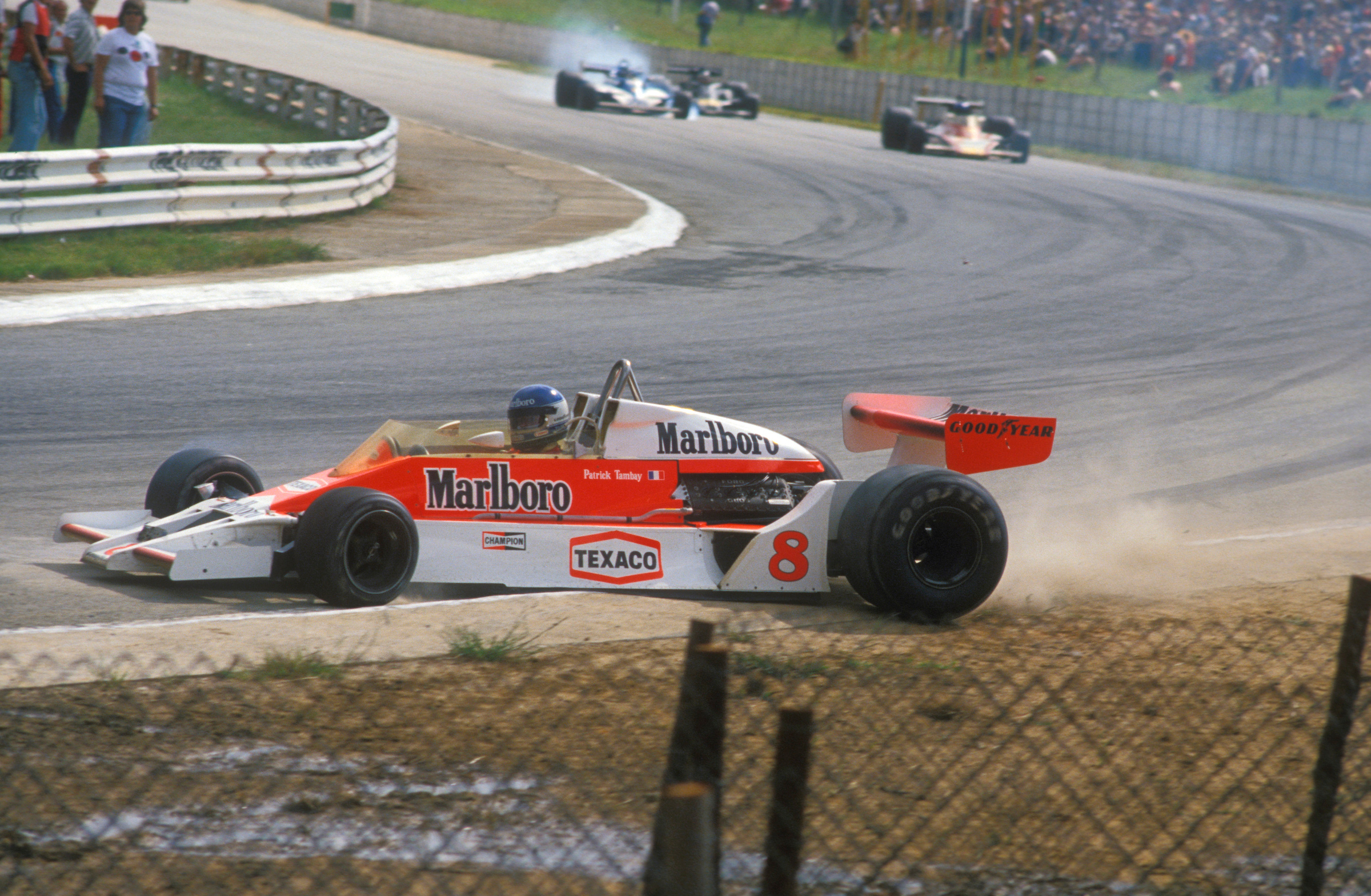 But F1 wasn't finished with Tambay. Teddy Yip had moved on from running Ensigns and now had his own Tony Southgate-designed car for 1981 – and he recruited Tambay to drive it. He scored a sixth-place finish with it first time out, at Long Beach. Reinvigorated after his dispiriting time at McLaren, he drove several fine races in the under-funded car and when a vacancy arose mid-season at Ligier (the injured Jean-Pierre Jabouille had decided to retire), Tambay was chosen to fill it. But, just as at McLaren, his non-thrusting personality wasn't ideally suited to a team operating around its well-established number one, in this case Laffite. He wasn't re-hired by the team for 1982 but after Marc Surer broke his ankles in the Arrows at Kyalami, Tambay was set to be his stand-in. The infamous drivers' strike then happened and Tambay found this so distasteful that he turned his back on Arrows and F1. That seemed to be the definitive end of his F1 career.
But then that Villeneuve entanglement came back. After Villeneuve was killed in qualifying for that year's Belgian Grand Prix, Tambay was sought out by Ferrari as his replacement – alongside Pironi, deemed the 'bad guy' in the Villeneuve tragedy after events at the previous race of Imola when Pironi had duped Villeneuve out of victory. Tambay had kept in close touch with Villeneuve and so knew all too well the background and was somewhat conflicted in accepting the invitation. The story was set to become even more entangled. Two races after Tambay joined, Pironi suffered career-ending injuries in a Hockenheim accident eerily similar to Villeneuve's in Zolder.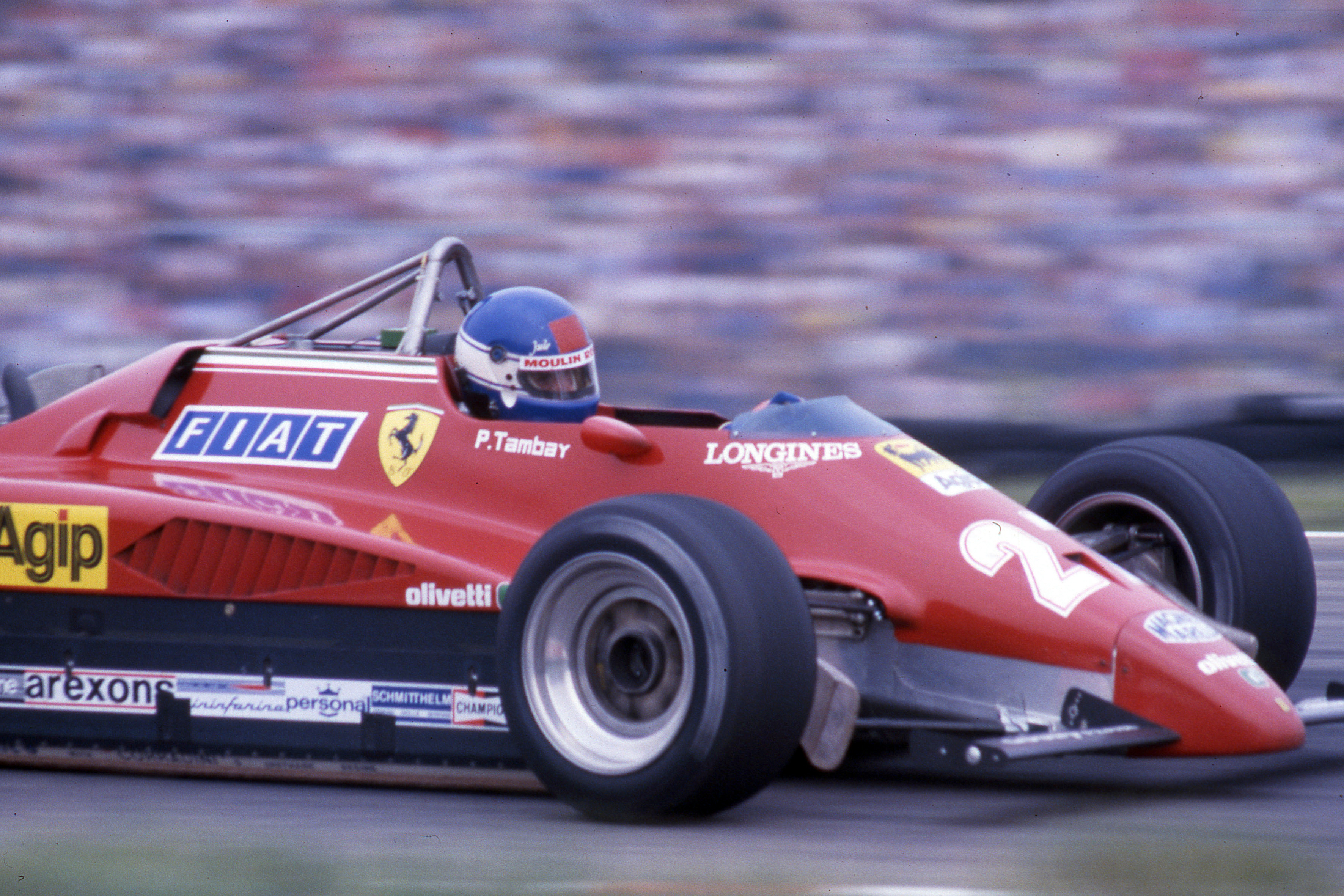 Pironi – who led the world championship at this time – had set pole position prior to the accident and the grid slot was left vacant as a mark of respect. Tambay, who had qualified fourth, was Ferrari's sole representative. Remarkably, he won the race. With his place secure there for 1983, Tambay was joined at Ferrari by Rene Arnoux, a rival from his junior career. Tambay was significantly quicker in the first part of the season and set a couple of impressive pole positions. It was as if he was finally coming into full flower as an F1 driver and he arrived at Imola – scene of the previous year's Villeneuve-Pironi controversy – as a genuine title contender.
Finding a 'Patrick, win for Gilles' message on his grid slot, he was moved to tears in the car. But win for Gilles – and for himself – is exactly what he did. He reported that at one point in the race he felt he was losing some concentration and felt a hard bang in car. He convinced himself this was Gilles waking him up, getting him to focus.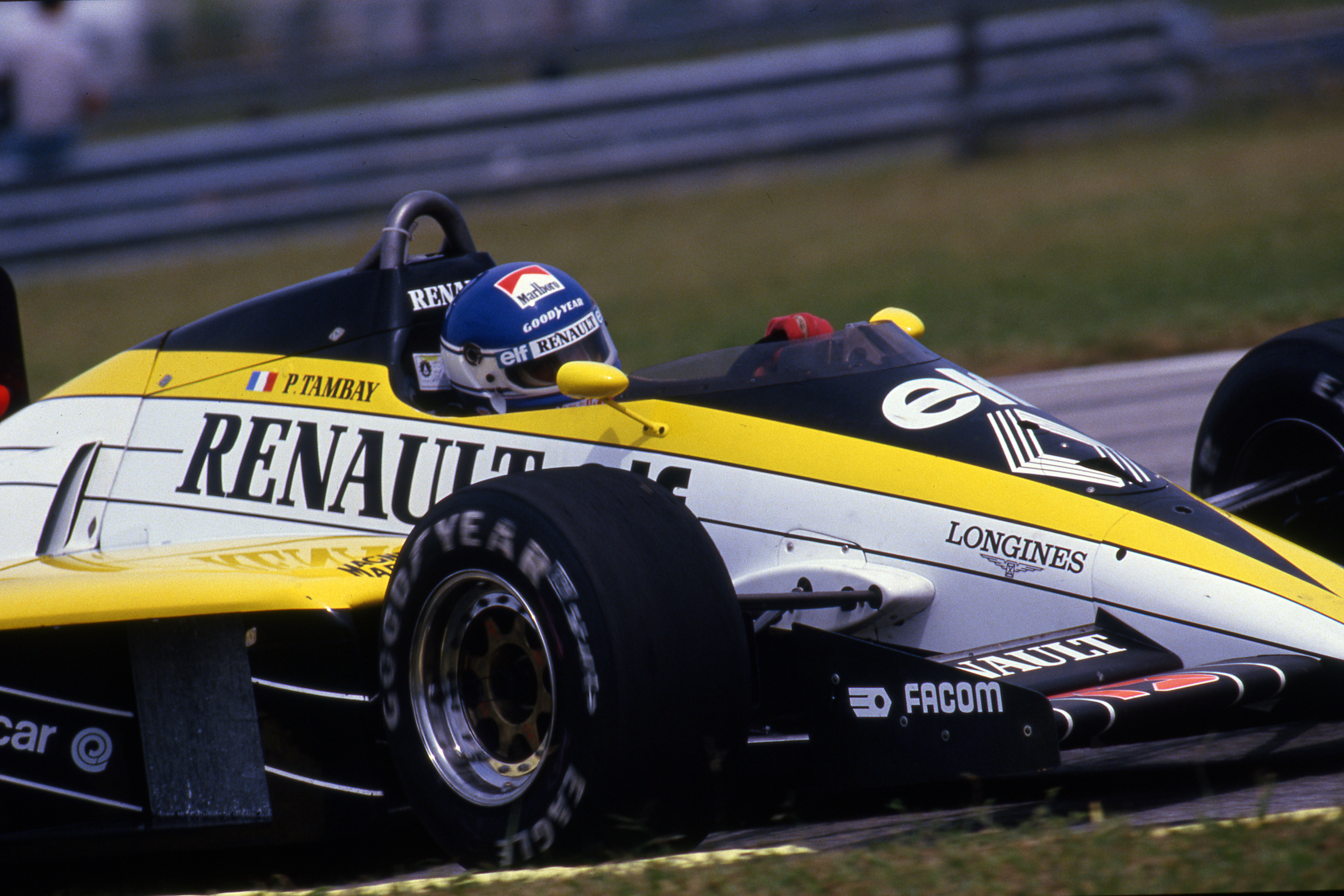 Ferrari let him go for 1984 in favour of Michele Alboreto and Tambay was snapped up by Renault. He came close to victory in his home grand prix, fighting with Lauda's McLaren for the win, but the team was generally on the decline and at the end of an uncompetitive 1985 it withdrew from F1.
Two of Tambay's early benefactors – Mayer and Haas – had combined to create the new Haas F1 team in 1985 and for 1986 it was a natural fit that Tambay should join it, alongside Alan Jones. Adrian Newey and Ross Brawn both held positions there and with Ford backing it should have worked. But it didn't and at the end of 1986 it withdrew. Tambay's F1 career had finally run its course.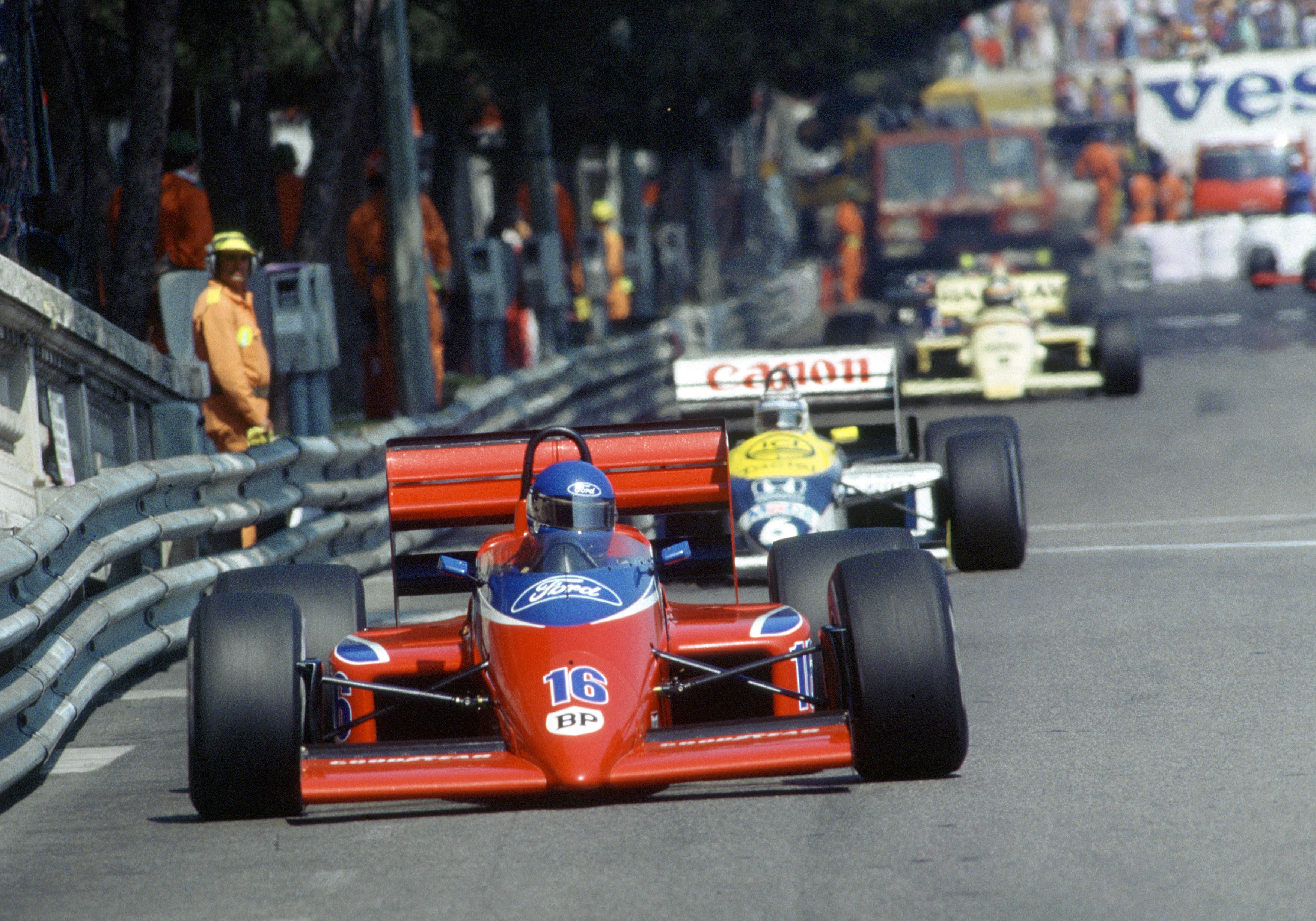 He came back in 1989 to finish fourth at Le Mans with TWR Jaguar but, realising he was no longer fully competitive, gave up circuit racing soon after, finished third on the Paris-Dakar rally raid a couple of times, became mayor of his local town and served as an F1 commentator for French TV. He remained a charming, amusing and very open man, always with a smile and a story.
Self-deprecating but proud at the same time – and quite skilled at impersonations of some of F1's leading figures – he will be greatly missed.