Charles Leclerc's Monaco Grand Prix pole and lead became a furious (provisional) fourth at the chequered flag.
Having to pit twice, for first intermediates then slicks, when he'd have rather stayed out on wets until it was time for slicks, hurt him.
But so did queuing behind team-mate Carlos Sainz in the pits when he was called in for slicks, and Ferrari's generally mistimed tyre changes ultimately let Red Bull vault Sergio Perez into the lead and Max Verstappen salvage third – albeit with both of those in question given Ferrari's protest.
Here are our writers' thoughts on Ferrari's handling of the race.
Ferrari wasn't in control of its strategy
Edd Straw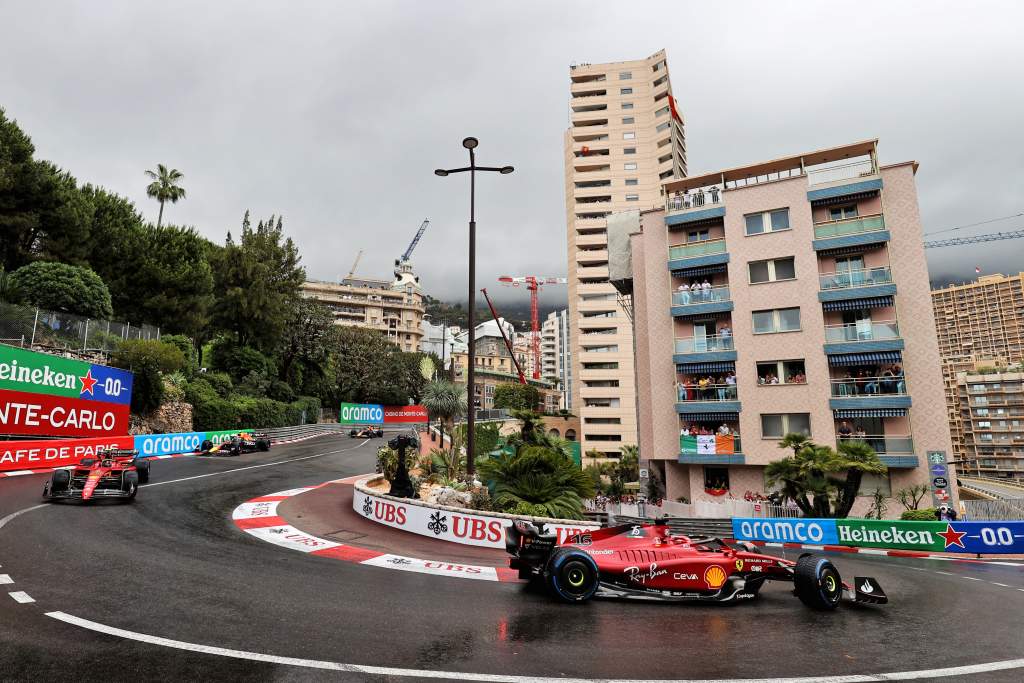 Making strategy calls in a race like this when you have to judge the timing of moving from wets to intermediates then from intermediates to wet is not easy.
But the fact Ferrari turned a 1-2 in the early stages into second and fourth is by any measures a failure.
Red Bull making the early move to intermediates with Perez seemed to throw Ferrari, with Leclerc's stop two laps later falling in between two stools – a little too late to make the most of the intermediate pace and too close to the switch to slicks that came three laps later.
Considering Sainz had offered clear feedback that the circuit was close to dry conditions, it makes you wonder if the communication within the team was what it should have been.
While Leclerc has to carry some responsibility for not spotting what Sainz did, it would have made sense to ask for his feedback on how far off slicks were. Ferrari then failed to recognise how big the speed offset was once Leclerc was on intermediates, leading to the queue in the pits.
Its strategy with Sainz was driven by what the man behind the wheel said as he pushed back when called in to cover Perez's first stop at the end of lap 17. His decision to strike out for slicks might well have won him the race but for the outlap traffic he complained about.
Ferrari's old failings are letting it down – it must get a grip
Scott Mitchell
Ferrari needs to get a grip on its championship challenge because this is the second straight race Leclerc has lost ground because of key failings.
Poor reliability (Spain) and poor strategy (Monaco) have cost Leclerc back to back wins. These are also reminiscent of the problems that undermined Ferrari's last title bids in 2017 and 2018.
There are clearly very encouraging signs within this and the championship is still well within Ferrari's capabilities.
But for it to look convincingly like a team that has the all-round quality required to win a championship, these weekends have to be stamped out.
Ferrari was acting like a team with a huge points lead
Valentin Khorounzhiy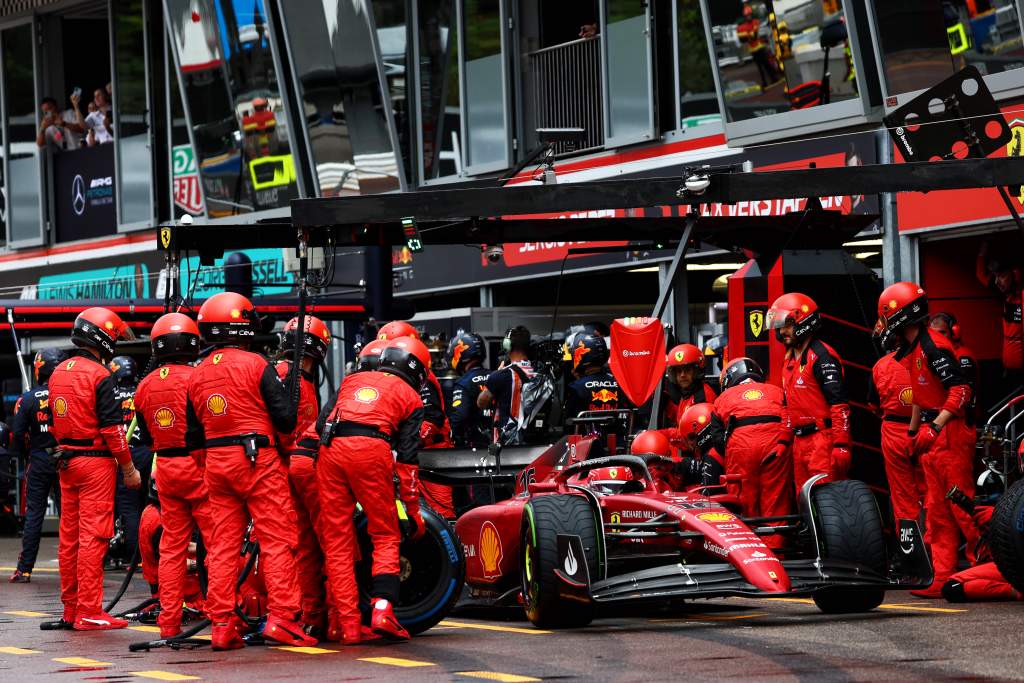 There are smarter people than me, with better data, on the Ferrari pitwall, and I have genuinely boundless sympathy for how complex the situation was – it was in a position of 'everything to lose, nothing to gain', in ever-changing conditions, on a track that really, really, really punishes you for any strategic inefficiency.
But it is impossible to shake the feeling from the outside that this was a bad strategy executed poorly, from a team with something of a track record for operational shortcomings.
Everything about how Ferrari handled Leclerc's race seemed ultra-conservative (and potentially Verstappen-focused rather than chasing the best available result?), and yet somehow also incredibly slapdash. Perez's pitstop, the first hint of any real pressure from Red Bull that Ferrari must have seen coming, absolutely wrecked its race.
And honestly, if Leclerc still had his massive points lead, I would have absolutely felt Ferrari played it more or less the right way in theory if not in execution. And the result would've been fine.
This result isn't fine. And I'm not sure Ferrari is ever getting that championship lead back.
Ferrari didn't get it right in the dry bit either
Gary Anderson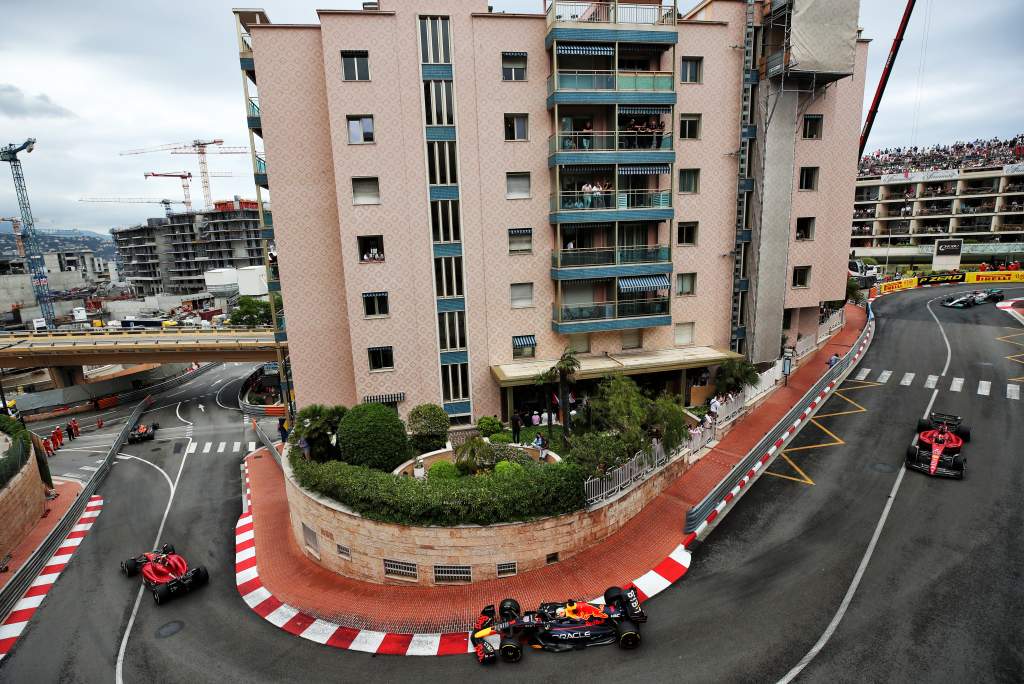 The race was down to reading the track conditions and when to get off the wets.
Perez, running third, pitted for intermediates two laps before Leclerc who was leading and Verstappen who was running fourth. That's where he made his charge as the undercut was very powerful.
Sainz, who was then leading but still on wets, was losing time to the intermediates but was running long to save a stop. He pitted and went straight to slicks four laps later.
Ferrari double-stacked Leclerc behind Sainz, and that's where Leclerc's win went out of the window as he lost time in the stop.
Perez pitted a lap later for slicks and double-stacked with Verstappen, Verstappen didn't lose any time by double stacking but those two extra laps on the intermediates meant Perez took the lead with Sainz second, Verstappen third and a very disappointed Leclerc fourth.
The red flag was then displayed, both Red Bull drivers went to medium tyres, both Ferrari drivers went to used hards.
But as the grand prix was now a timed race there wasn't enough laps left to use the durability of those hards when the mediums started to grain.
My only question would be: did Ferrari actually realise that it was going to be a timed race?
Red Bull protest feels like a distraction
Matt Beer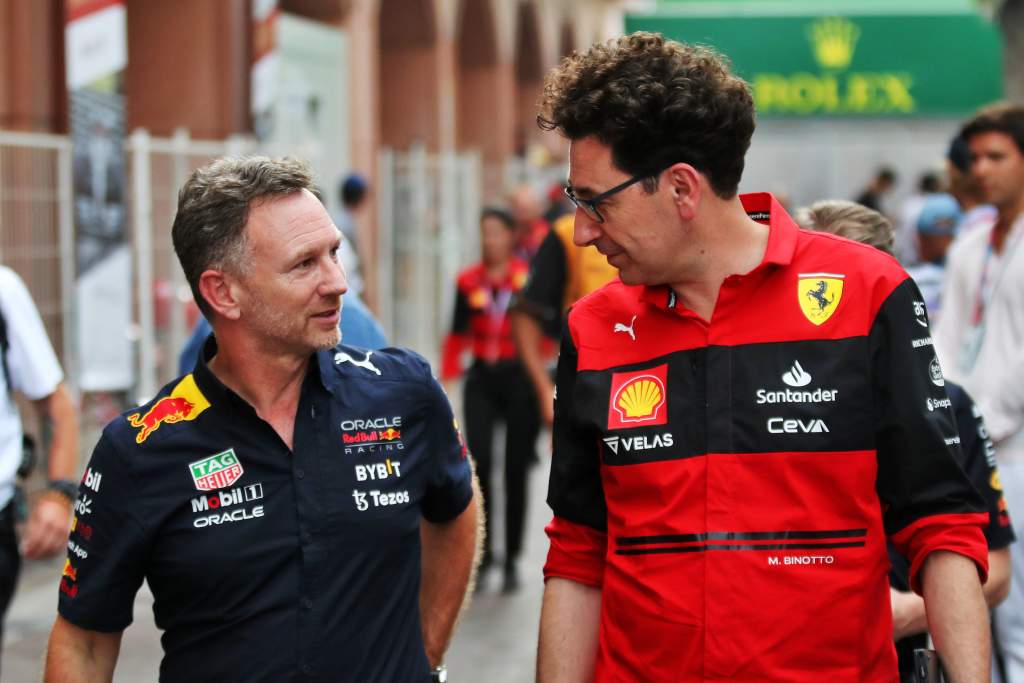 I'm actually prepared to give Ferrari a bit of the benefit of the doubt over the pitstops and strategy decisions – OK it didn't read the pace of the cars on intermediates well enough and it wasn't clear enough in its communications.
But in an evolving situation like today's race, and with so little running on non-slick tyres this year, those felt like miscues any team could make.
And while I'd admit this might be a naive stance, it's how quickly Mattia Binotto shifted the spotlight onto Red Bull and pit exit lines that bugs me most.
Ferrari may well have a point in its protest, and it would be foolish not to try to exploit every opportunity for a points gain in this championship fight.
But its main frustration today should be at itself, not at the FIA, yellow lines or Red Bull.