Carlos Sainz is the most underrated driver on the 2021 Formula 1 grid.
That's a statement that carries even more weight after what Sainz accurately called "my best weekend with Ferrari, definitely" having qualified on the Russian Grand Prix front row on Saturday and claimed his third podium of the season.
"Perfect? I don't know, perfect is a very strong word at times," his assessment continued.
"There are always things when you look back that you can improve, so perfect is not the right word.
"But my most complete weekend, let's put it like that, yes, it is.
"Just obviously to finish P3 after leading a race, it doesn't taste as good."
His weekend was looking so strong that when his engineer Riccardo Adami told Sainz halfway through the race that he was on for a top-five finish, a surprised and frustrated Sainz replied "only fifth?".
"Yeah, it came as a bit of a surprise," Sainz said afterwards, "obviously as after leading the race, you are at least confident that you are in the fight for the podium.
"I didn't exactly know where the others were at that point on-track, I knew I had done a pitstop, and I knew that I was not getting overcut by anyone. So the pace was decent.
"Maybe our simulations suggested that because everyone was going to put the medium at the end, we were going to be an easy prey for them."
Ferrari's prediction had worsened when it became clear that ditching the medium tyres he started the race on after just 14 of the 53 laps could compromise Sainz's race later.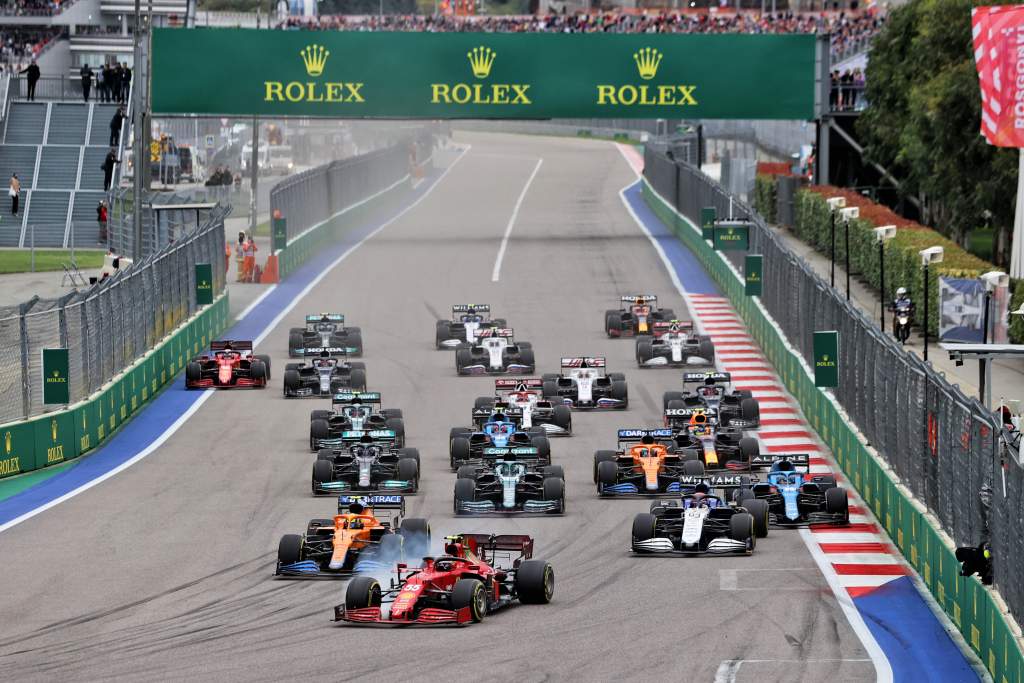 On the opening lap, Sainz rocketed into the lead with a decisive move on his former McLaren team-mate Lando Norris after what he described as the "perfect start".
And although he and Norris were able to pull clear of third-placed George Russell and the DRS train that followed him, Sainz was easy meat for Norris once the McLaren driver got close enough.
Norris breezed past Sainz before the duo even reached the braking zone at the Turn 13 right-hander, prompting Sainz to rally Ferrari to fix its straightline speed deficit after the race.
"As a team, we just need to keep analysing and seeing what we can do better, with tyres, fuel, with a bit more top speed," he said.
"To make sure the next time a Ferrari is leading a grand prix, we don't get overtaken so easily as happened today."
Sainz hasn't been afraid to publicly discuss what Ferrari can improve since he joined the team, but it always comes across as a candid insight and him supportively wanting to pull the team forward, rather than a frustrated excuse for his own shortcomings or a loss of faith in the project.
The early pitstop that came shortly after Norris snatched the lead from him dropped Sainz into a nice comfortable eight-second window of free air behind Valtteri Bottas.
He closed down that gap and was even able to pass Bottas, who was yet to pit, removing a crucial roadblock in his podium chances.
Sainz inevitably lost a net second place to Lewis Hamilton who had 12-lap fresher rubber, but maintained what was essentially third place ahead of Daniel Ricciardo and the Red Bulls of Sergio Perez and Max Verstappen.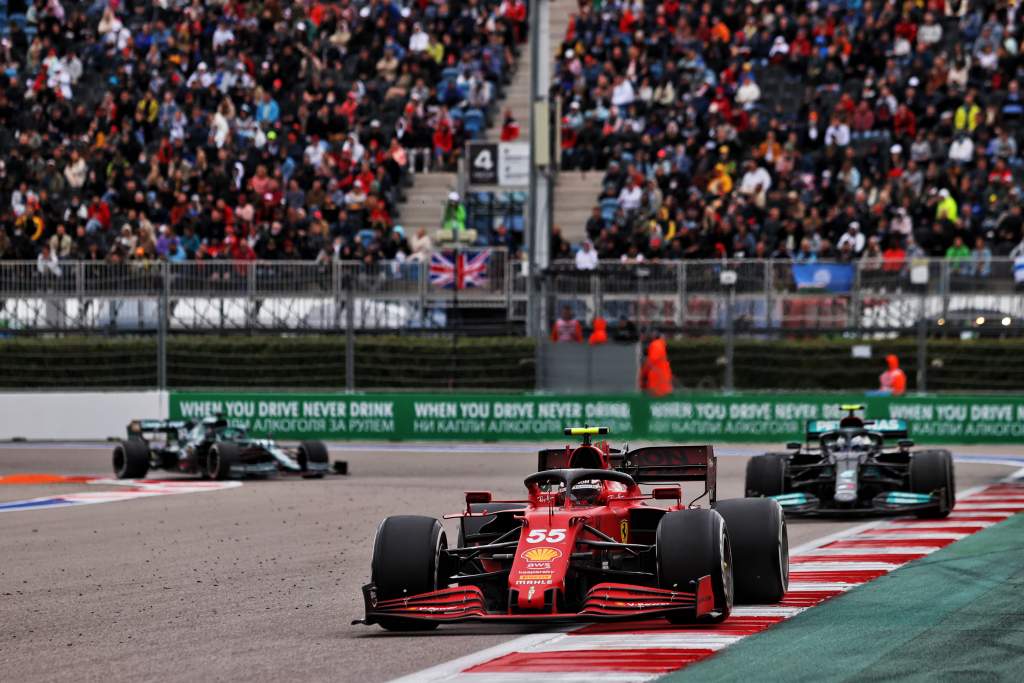 When the rain hit, Sainz was just about keeping a softer-tyre shod Perez, who had overtaken Ricciardo, behind and had a further four-second buffer to the Ricciardo/Fernando Alonso scrap for fifth place.
But as Sainz was on worn hard tyres on a cold, wet Sochi track, he struggled for grip compared to the likes of Perez and Alonso, who had softer, fresher rubber that gripped the cold circuit tighter – something Sainz explained after the race.
"We were on course for a reasonably comfortable P3 before the rain came and made everything a lot tricker," Sainz said.
"We were on the hards, it was super hard to keep the car on track, while the people on mediums had more grip and were overtaking me, with that softer compound in these colder, rainy conditions, they were happier.
"But I was sliding all the way, nearly losing the car two or three times."
In the space of two laps, Sainz lost out to Perez, Alonso, Verstappen and even his team-mate Charles Leclerc, as he haemorrhaged time while sliding around on his crying tyres.
But Sainz made the perfect choice to pit for intermediates on lap 48 of 53 – a strategy call that saved his race, recovering him several positions and reigniting his podium chance.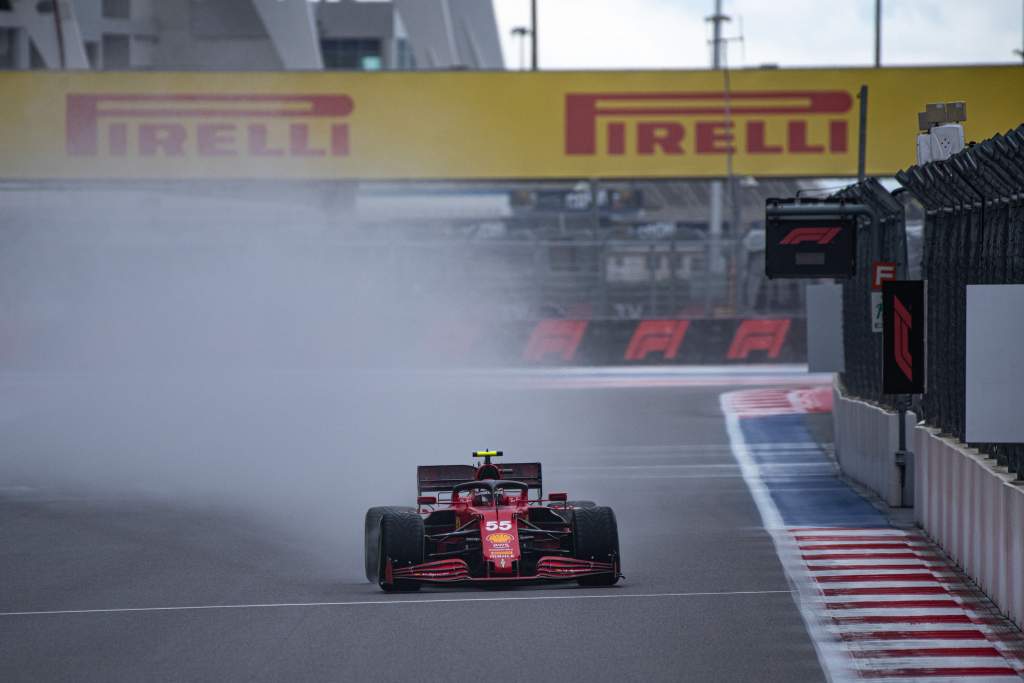 "We made exactly the right decision at the right time," Sainz accurately claimed, though he also revealed that he'd nearly taken soft slicks thinking they might be the ideal compromise, a choice that doomed Yuki Tsunoda to an even worse race than he was already having.
Sainz's third podium of the season allows him to leapfrog Leclerc in the drivers' championship, moving into sixth place, just 7.5 points behind the second Red Bull of Perez.
It also halted a run of events in which crashes in practice or qualifying had interrupted his momentum, something that had happened three times in the past four grands prix.
The lack of such shunts at Sochi wasn't just a coincidence.
"I'm not still 100% at home with the car, and I don't want to bring back the crashes, but I've never crashed in my career," said Sainz.
"I'm a driver that never puts it in the wall, but for some reason, there have been a few crashes that show that I still don't fully 100% understand the car.
"This weekend, I also made a conscious effort to take it step by step, through free practice, into quali, and be fast really when I need to be fast instead of being fast straight away in FP1.
"And it has worked well, it has given me good confidence, and I've been quick all weekend and I've been feeling at home."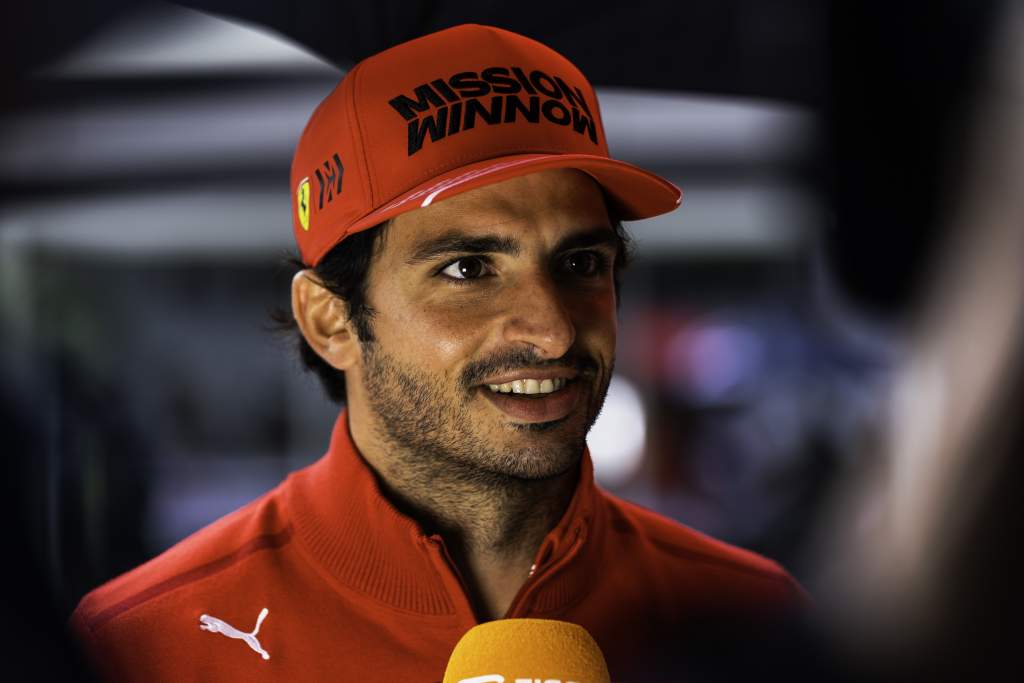 Many questioned whether Sainz would be a match for Leclerc at Ferrari, and while there have been no shortage of chaotic, incident-filled races that have skewed the points totals, it would be hard to argue that Sainz has been anything but closely matched with Leclerc.
Leclerc has had the edge in qualifying but the average gap between the Ferrari duo has only been around one-tenth of a second in Leclerc's favour – a night and day difference to the battle between Leclerc and Sebastian Vettel last year.
Of course, direct comparison with Vettel's miserable 2020 season would be harsh on the four-time champion, but Ferrari has fully vindicated its decision to switch Vettel for Sainz.
By every definition, save for experience and the PR appeal of a multiple world champion, Sainz has been an upgrade.
And his superb Russian GP weekend was merely the most complete example so far of exactly why Sainz has been such an exciting addition to a team that already has one megastar on its hands.