Sergio Perez admitted the damage to his Red Bull "looked bad" after he crashed in Formula 1 qualifying at the Monaco Grand Prix and was collected by Carlos Sainz, who says he had "no time" to avoid him.
Perez had topped final practice before qualifying and looked to be Red Bull's best hope of stopping the Ferraris locking out the front row, with team-mate Max Verstappen struggling to match the leading trio.
After the opening Q3 flying laps, Charles Leclerc led his Ferrari team-mate Sainz ahead of Perez and Verstappen.
But while Perez was trying to improve on his final run, he lost control of his Red Bull into Portier and slammed into the barriers at the narrow right-hander.
A helpless Sainz didn't have time to react and his Ferrari clobbered the stricken Red Bull, inflicting a further blow to Perez's RB18 and damaging his F1-75.
In the dying seconds Perez hits the barriers at Portier and Sainz can't avoid contact#MonacoGP #F1 pic.twitter.com/EpNO9CnhBl

— Formula 1 (@F1) May 28, 2022
Perez had to visit the medical centre after the crash because his crash exceeded the minimum G required for a mandatory visit.
"Just a shame what happened," Perez, who should start third behind Sainz and poleman Leclerc, said in the post-qualifying press conference.
"I think we had more pace than that. But we just couldn't challenge because of the strategy with the tyres, especially that final set, they weren't up to temperature.
"I almost lost it into Turn 1 [Sainte Devote], and in hindsight, we didn't get it right today."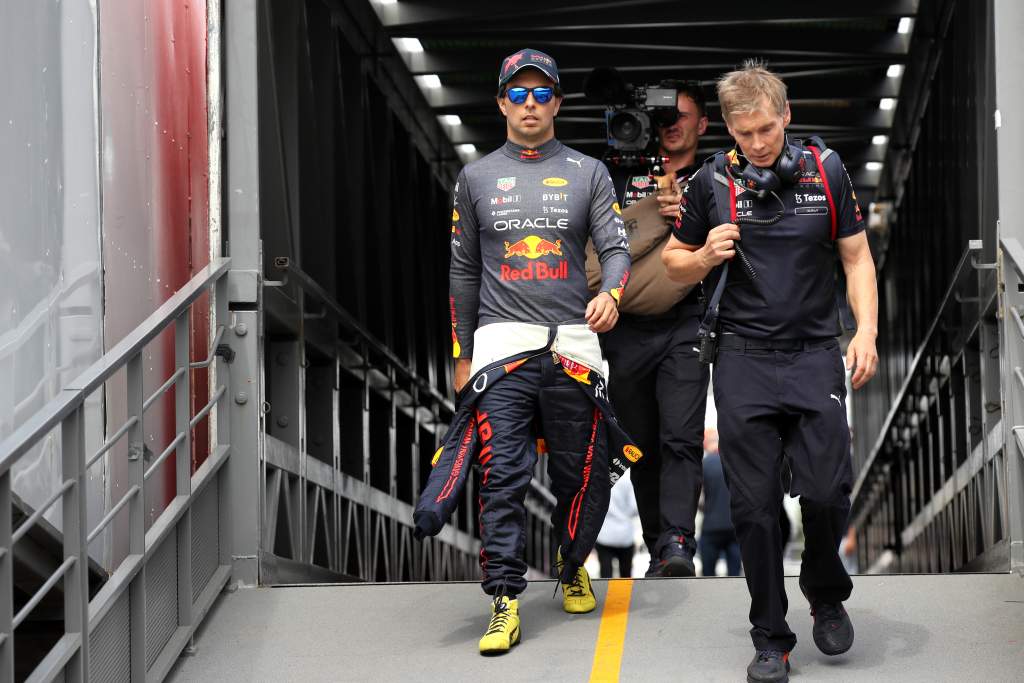 Perez said he was close to making up the time lost from that moment at the first corner before his crash at a turn where he struggled throughout the qualifying session.
"I was trying to anticipate and get quite early on throttle but as soon I touched the throttle, it felt like the rear tyre was not gripping in, and was struggling until I lost it," Perez explained.
"I was actually surprised Carlos hit me at the time.
"Just a shame what happened, and I feel sorry for Carlos and rest of guys but this is Monaco."
Perez admitted the damage to his Red Bull "looked bad" and it was made worse by the secondary contact from Sainz. He said it "should be OK for tomorrow" but didn't expand any further.
---
Get all the Monaco GP qualifying reaction plus full race coverage from F1, MotoGP and the Indy 500 tomorrow on The Race Live Hub
---
Sainz explained the incident from his side, saying he had "no time to save it" once he saw Perez's stricken RB18.
"I was entering Turn 7 [corner before Portier], on my left-hand side, I see a yellow flag coming out and I knew immediately that as soon as I see the yellow flag, the car in front of me had crashed," Sainz said.
"You don't see where he's crashed so you enter the corner without knowing where he's going to be.
"So I just hit the brakes, tried to do the corner radius as tight as possible and just as I was going to manage to avoid him I hit the brake a bit harder and managed to clip him with the back of the car.
"It would have been a pretty good save if I would have saved it, but basically there was no time to save it.
"It's what happens in Monaco."
Sainz was frustrated by his opening Q3 run as he encountered both of the Mercedes cars doing their warm-up laps.
"It was a bit of a pretty scrappy first run at beginning of Q3 but I was looking forward to that final showdown here at Monaco, that's where you keep that extra bit to have a clean run," Sainz explained.
"But again, every year in Monaco it seems a tradition that someone crashes in front of me and you can't complete the lap.
"That is normally the most exciting lap around Monaco, anyway, it is how it is.
"We start P2, a great position to start. Tomorrow anything can happen, like rain."