The novelty of seeing Valtteri Bottas's Alfa Romeo lining up ahead of his former employer Mercedes on 2022 Formula 1 grids isn't quite wearing off yet.
And his Miami Grand Prix qualifying effort was the most impressive so far – not because he's in front of erstwhile team-mate Lewis Hamilton on row three, but because of the odds against which his fifth place was achieved.
Bottas was the first to find out how much the Miami street track can bite when he spun into the wall on his 14th lap of Friday practice and had to miss the rest of the day's running at the tricky new track as a result. Damage to the exhaust and consequently the Ferrari engine's turbocharger meant Alfa Romeo quickly knew it would have too much to do in the two hours between Friday sessions.
🚩 RED FLAG 🚩

Valtteri Bottas loses the back-end of the car and hits the wall 💥

He's out of the car, and on his way back to the paddock#MiamiGP #F1 pic.twitter.com/5Fa7hrs8J6

— Formula 1 (@F1) May 6, 2022
He managed 26 laps of running, but only 14th place, in practice three to get things back on track, then ended up in jeopardy in Q1 as a wobble at Turn 8 forced him to abandon his final lap. His previous time held up for a Q2 place by 0.130s, but he was edged right down to 15th.
From there, though, he was up and away. Sixth in Q2 was followed by his Alfa Romeo qualifying peak so far: fifth in Q3, one place better than his previous benchmark from Bahrain.
"I felt like I had like an obligation to pay back to the team with a good result," said Bottas after qualifying.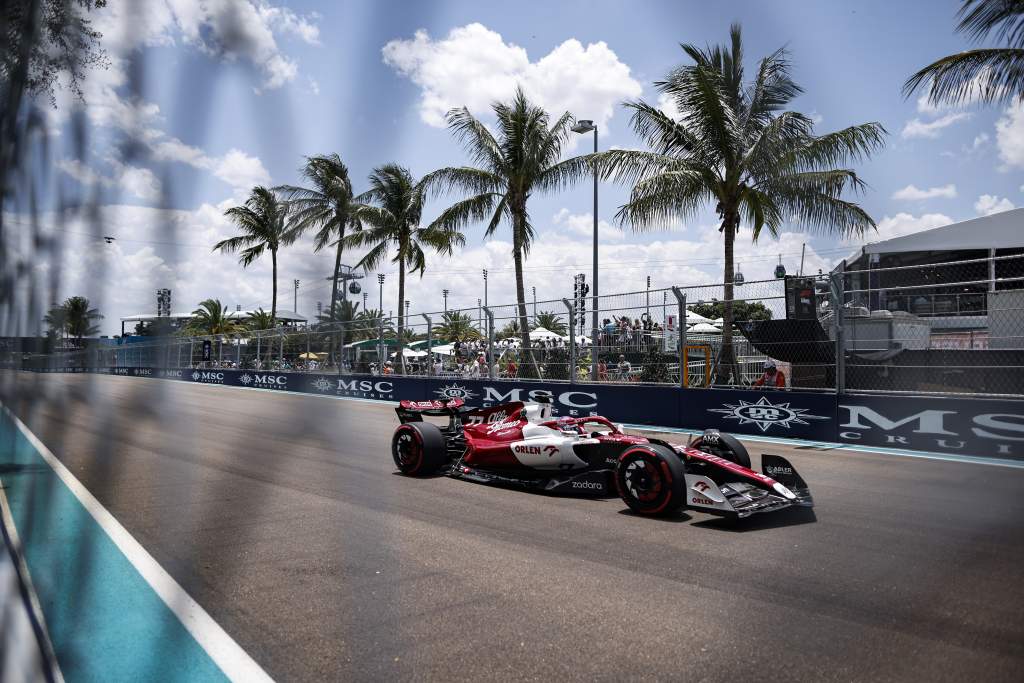 "We can be pleased with the recovery from yesterday because we missed so much running.
"We had a good FP3, focused on priorities and getting set-up right, then it was really up to me to find the rhythm on the lap.
"I could find things here and there. I had catching up to do compared to other drivers. I had the best lap of my weekend so far in Q3.
"It wasn't easy because Q1 was so close and I was [nearly] out, but once I found the right rhythm in getting the tyres ready, things started to click and I found the right way."
Bottas is clearly thriving at Alfa Romeo, both the team environment and its improving and (and perhaps little-to-lose) position in the pecking order proving ideal for getting the best out of him.
Perhaps the most impressive demonstration of this is how he now copes with – and recovers from – adversity.
While rarely lacking in outright pace at Mercedes, that pace could vanish once something had happened to knock him off his stride. Just as it was easy to imagine that, had he still been at Mercedes, his Bahrain start issue would've been followed by an anonymous night making zero progress in the midfield, losing most of a Friday at Mercedes may well have triggered one of his 'lost weekends' where the performance never reappeared and cars got between him and Hamilton.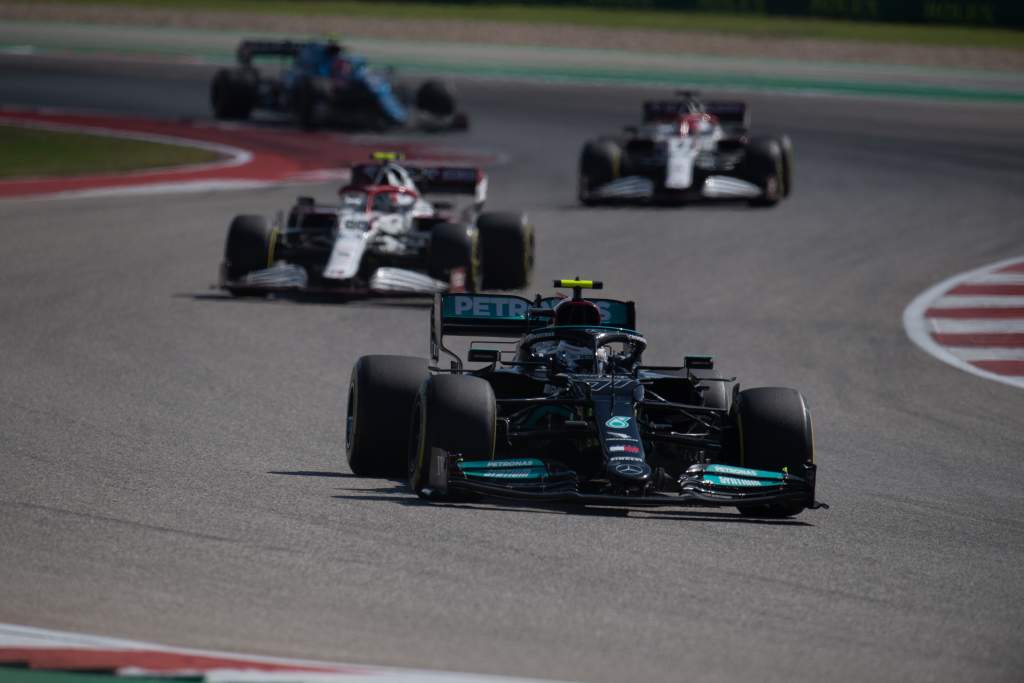 But what Bottas did in Miami on Saturday was also a measure of how the team's car is improving.
He was 0.765% off the outright pace in qualifying, comfortably Alfa Romeo's best performance in this measure so far in 2022 – 1.106% in Bahrain and 1.115% in Saudi Arabia having been its previous highs there.
Bottas said it was "absolutely" the best the car had felt in 2022.
"Coming here, I knew this track layout could be quite OK," he added.
"And it proved that we have a good car in slow-speed corners and we're pretty good on the straights as well.
"We seem to have good stability in slow corners, good overall downforce in slow speed corners.
"There are only one or two high-speed corners and that's definitely not a strength so we still have work to do in those. Straight line, we're quite efficient."
Alfa Romeo brought one of the larger upgrades to the preceding race at Imola, with reprofiled rear bodywork intended to help diffuser performance plus changes to the brake ducts for aero reasons and revised geometry at the front of the floor.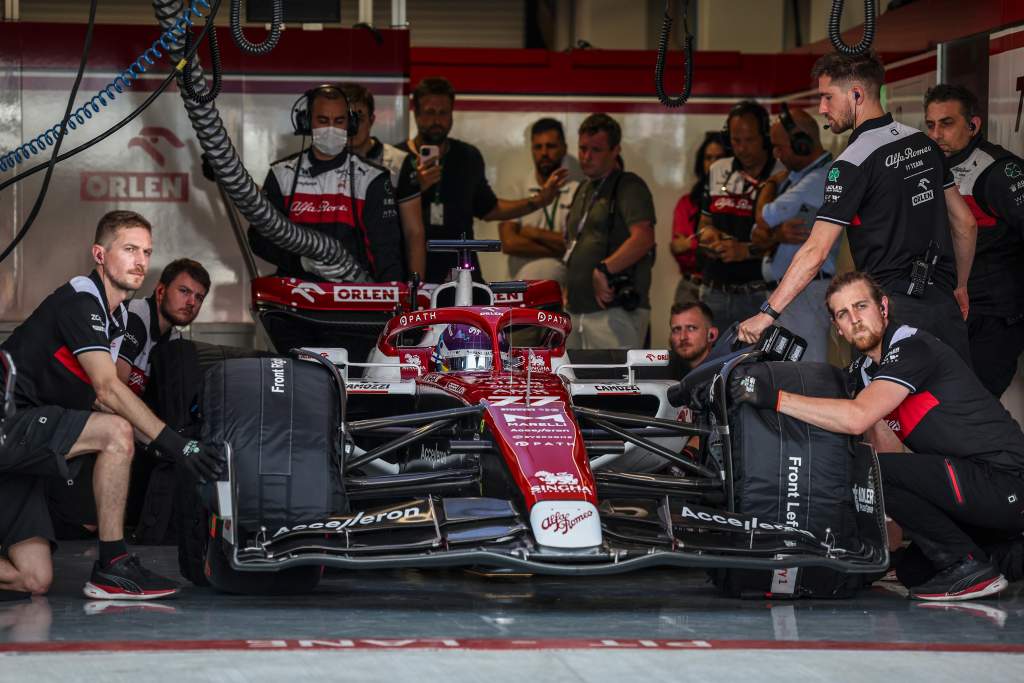 The Miami Saturday performance emphatically proved that upgrade "is working", said the team's head of trackside engineering Xevi Pujolar.
He was confident Bottas's team-mate Zhou Guanyu would've comfortably made Q2, and perhaps even Q3, rather than ending up 17th had he not encountered a mass of traffic on his last Q1 lap – though Zhou did still need a big improvement in the final sector as his messy middle sector meant he was up against it regardless of the traffic.
Pujolar agreed with Bottas's point that the Miami layout was always likely to play to the 2022 Alfa Romeo's strengths, but felt the team had still proved a point about what its car could do and how it could handle a difficult combination of challenges.
"It's a track where we have quite a high content of low-speed corners and on that one we knew that we are reasonably OK," he said, "but the conditions are quite extreme with the temperature so it has been quite difficult for everyone.
"Also in terms of track efficiency and the downforce level it was the first time that we go to such a high level.
"People tried to find the trade-off between top speed and downforce in the low-speed corners. And that has been OK."