Mercedes is one of four Formula 1 teams that will be able to conduct an increased amount of aerodynamic testing during the second half of 2021 thanks to the mid-year readjustment of allowances.
Aston Martin, Alpine and Haas will also benefit from this, while Red Bull, Ferrari, AlphaTauri and Williams will get a reduced amount of testing thanks to being ranked higher in the constructors' championship than they were at the end of last year.
The new-for-2021 aerodynamic testing regulations (ATR) laid out in Appendix 8 of Formula 1's sporting regulations set a limit for windtunnel testing (RWTT) of 40 runs per week and CFD testing (RCFD) of 2000 items per ATR test period.
The year is divided into six ATR periods, the majority of which are effectively eight-week blocks. The block including the summer break covers 10 weeks, but includes two weeks of shutdown. The first block runs from January 1 to the end of week nine, with the last finishing on December 31.
The ATR also acts as an aero development handicap system. The team ranked lowest in the championship is allowed more than the minimum and the highest less with only the team ranked fifth in the constructors' championship operating exactly on the permitted allowance, with each team ranked higher or lower having their allocation adjusted in 2.5% increments.
For the first six months of the year, this was based on last year's constructors' championship finishing position. But the allowances are reset at the end of June based on the current points standings, with the recent Styrian Grand Prix the last race impacting that.
This means that Mercedes, which had the smallest allowance for the first half of the year at 90% of the maximum rises from 288 to 296 windtunnel runs windtunnel runs in that eight week period, with an increase in CFD items from 1800 to 1850. Red Bull goes in the opposite direction thanks to having swapped places with Mercedes in the championship.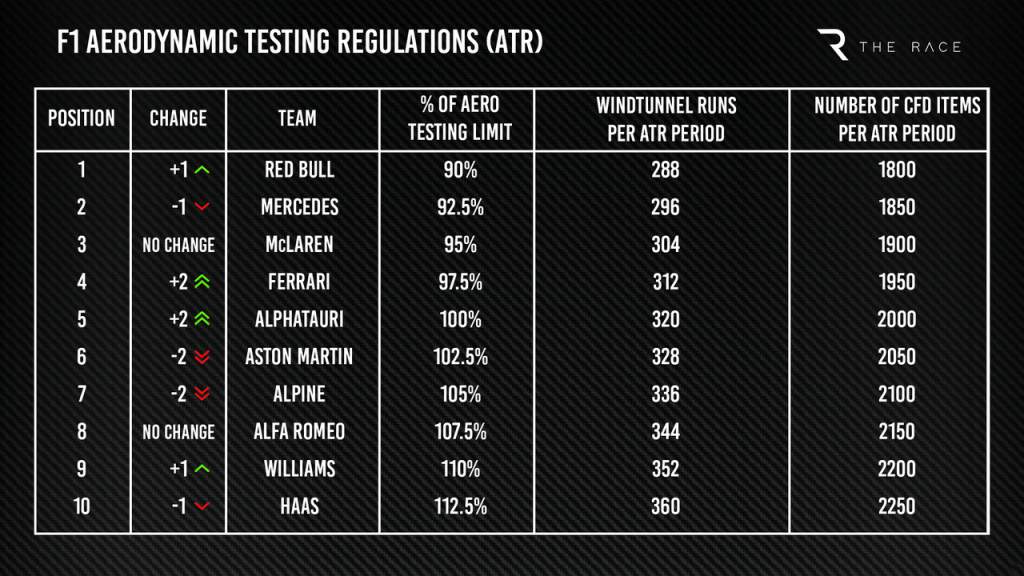 At the other end of the championship table, Williams and Haas swap positions. This means Haas has the biggest allowance at 112.5% of the testing limit.
The biggest changes are in the midfield, with Ferrari and AlphaTauri both climbing two places and both Alpine and Aston Martin dropping two. That means a gain/loss of two windtunnel runs per week and 100 CFD items per eight-week period.
Teams are devoting the vast majority of their aerodynamic testing to the new cars built to the 2022 regulations, meaning that this is unlikely to have a significant impact on this season. But it will influence the research and development programmes for next year's car.
The ATR will be reset again at the end of the year based on the final constructors' championships, but with the increments between teams doubled to 5%.