Regardless of this week's report of a big-money Ferrari bid, the concept of a Mercedes Formula 1 team without Lewis Hamilton driving for it was starting to feel increasingly tangible.
He's 38, his team is currently uncompetitive by its standards, the fix for that will not be quick, he doesn't have anything to prove. His rhetoric about team loyalty is if anything stronger than ever in spite of that adversity, but the logic of the passage of time meant it was starting to feel like it might not be Hamilton who'll be spearheading Mercedes when it's ready to fight for titles again.
The concept of life after Hamilton also feels less unnerving for Mercedes than at any point since it signed him.
There was potential for a bit of F1 narrative poetry had Mercedes introduced its upgrades at Imola, they'd immediately looked game-changing, and George Russell had been the one to showcase that best with a great result.
It would have fitted the Russell/Imola drama storyline that's built since the track's return to the F1 calendar in 2020: crashing out under a safety car that year when on the cusp of his first-ever point in a Williams not really good enough to score; taking out the man he was trying to replace at Mercedes – Valtteri Bottas – in a violent 2021 shunt that enraged Toto Wolff.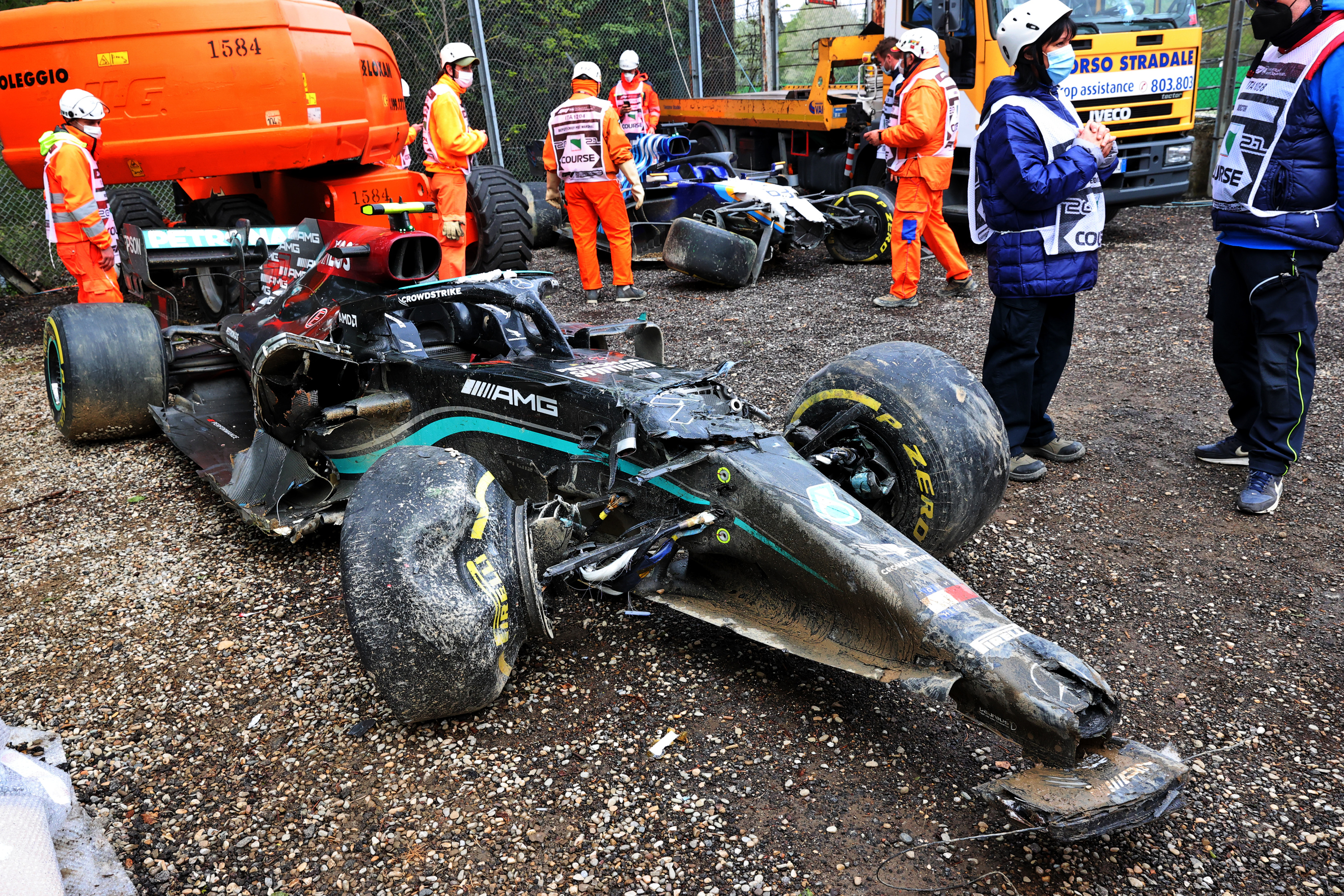 And then last year, Imola was the weekend that triggered the greatest volume of 'what is going on with Hamilton against Russell?' analysis after Russell advanced from 11th on the grid to fourth while Hamilton stayed mired in 13th, prompting suggestions that Hamilton had been toppled at the team just four races into their partnership.
That intra-team power balance question has returned in early-2023, having largely been answered by Hamilton's stronger middle part of 2022.
The current championship table shows Hamilton 16 points ahead of Russell, but the latter's Melbourne engine failure has skewed that. Russell's been in front in three of the five races (including sprints) both have finished, and is 5-1 up in the Mercedes qualifying battle (sprint sessions included).
But that performance trend hasn't felt as significant as the mood trend – Hamilton's admission of feeling a critical 'disconnect' with the 2023 Mercedes that's rooted in its cockpit position being further forward, a design element too fundamental to be changed before next season, and one that had been key to the philosophy Mercedes is now in a multi-stage process of abandoning. Given what Hamilton really wants might not arrive until 2024, Russell has an opportunity to further assert himself.
He always looked like a potentially excellent F1 driver on his way through the junior ranks and his apprenticeship at Williams, but without the juggernaut-level momentum the likes of Max Verstappen and Hamilton himself had from the moment they stepped into a racing car.
Russell has instead found an extra gear every time a bigger opportunity has appeared. He was always likely to impress in that one-off Mercedes call-up in Bahrain in 2020. But looking certain to win before his misfortunes… that was something else. He was always likely to do a decent job against Hamilton. But outscoring him in their first season together… that was something else.
So what's going to happen when Russell gets a Mercedes capable of winning an F1 title? All the evidence so far suggests something special.
Whether Hamilton leaves for Ferrari or (as still seems far more likely) a life away from the F1 grid, Mercedes will be considering how to replace him in the medium term.
Everything Russell's done in the last year and a bit makes that decision far less pressured than it might've been. And means that if the upgrades that arrive in Monaco this weekend start to point Mercedes in the right direction again, it's Russell's form that will be most significant to watch for judging what the rest of F1's 2020s might look like.