McLaren wants to develop its 2023 Formula 1 car less during the season because the "aggressive" rate it has had this year cannot be maintained.
The team started the new era of technical regulations this year on the back foot with brake reliability problems in testing and then discovered some problematic car traits as the season progressed.
McLaren has had impressive high points, such as Lando Norris finishing third at Imola, but has also failed to get either car into the top 10 four times in 16 grands prix having only recorded a single point-less result last year's entire 22-race season.
The team's performance has varied across a range of circuits and conditions but McLaren believes the MCL36 has responded well to development, it just started from too low a base.
McLaren technical director James Key says an "aggressive approach" has meant developing complete packages that bring several tenths of performance but only "last for a duration of five or six races".
"I would say that we've brought a lot to the track and we've got what we wanted from it," said Key.
"However, I think the standards that we've seen within the top three teams show what you've got to be able to achieve.
"If you start the season with a competitive car, you can adapt your development plans from there and do less than what we have done whilst being more focused on the areas that you feel will be the most prolific.
"That's where we want to be next year, as we wouldn't be able to maintain this aggressive level of development because it's full on.
"We can learn a lot from this year, and the team have done a great job to achieve what they have."
Key reckons that the struggles in Bahrain "set the tone and shaped the rest of the season" because McLaren had to resolve its early problems alongside trying to "keep up with the development war that you naturally get with a new set of regs".
McLaren has brought several upgrades to its car as the season progressed, ranging from circuit-specific performance and reliability modifications to the major packages Key talks about.
After sidepod cooling, floor fence and brake ducts revisions for the season opener in Bahrain, the next major package arrived in Spain in May and included new front and rear wings, revised front suspension fairings and front corner internals, new sidepods and a new floor.
Another evolution of the sidepods was introduced in France at the end of July alongside a new diffuser, underfloor and floor edge, while McLaren also readied a low-drag package for the Spa and Monza races after the summer break.
"We've got another new package to come, which we are working on now, and then there will be a few minor ones to follow in the remaining races," said Key.
The implication is that McLaren has had to spend more time and money this year rectifying problems but would enjoy compound gains if it could focus more resources on key areas.
At the same time, Key acknowledges that the leading teams – particularly Red Bull and Ferrari – have simply done a better job of finding performance within the budget cap.
"I suppose I am a little surprised at how two teams have been able to find that extra bit of performance compared to everyone else," said Key.
"It was a tighter field at the beginning of the season, but it's beginning to stretch out now, and I have to say, Ferrari and Red Bull have done an excellent job of exploiting more.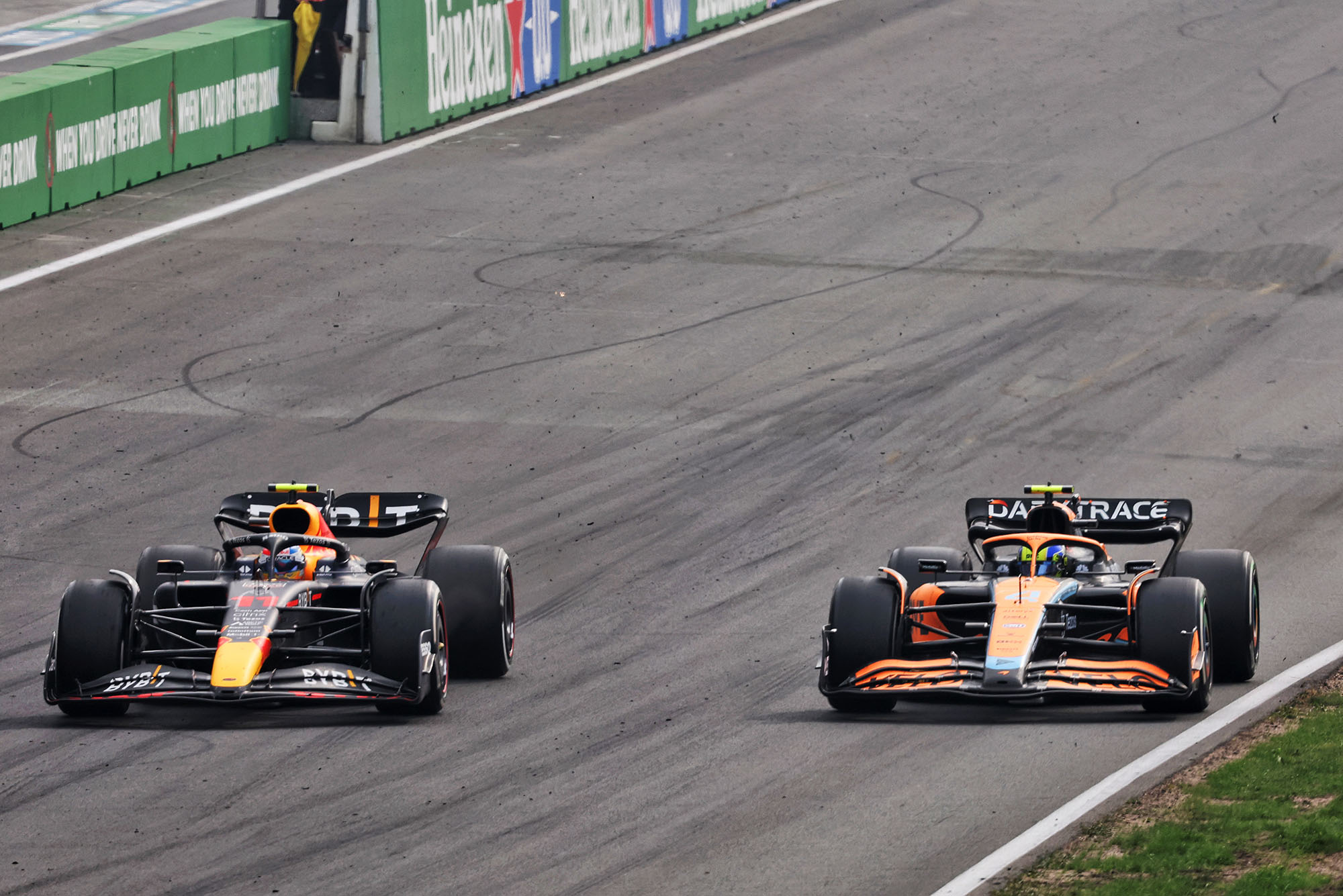 "It shows that even within a cost cap, if you're a big team with an extensive infrastructure and a lot of knowledge and methodology built over many years, it still very much counts.
"It's a level playing field in terms of the budget we've got, but it's not in terms of where we're all coming from – that gives us an excellent reference point to aspire to."
McLaren is working on a new windtunnel and simulator that should both be finished in time to design the 2024 car.
For now, though, McLaren is forced to accept performance regression after a positive trend in recent years chipping away at F1's top teams.
McLaren finished in the top four in the constructors' championship in the last four seasons but is at risk of being overhauled for that spot by Alpine this year and currently trails the Renault works team by 18 points.
Daniel Ricciardo's DNF in the Italian Grand Prix was a blow for McLaren as it cost the team a double points finish on a day Alpine suffered a rare zero score but McLaren is still within striking distance with six races remaining.
"There have been a lot of missed opportunities this season, the car has been quick at some tracks and not so quick at others, and we need to iron some of that out," said Key.
"We need to be more consistent from one race to the next. I'm sure almost every team could say that, but it's been worse this year than it has been in previous years.
"We have more developments coming, which we hope will add more performance to our car.
"Of course, we don't know whether the teams around us will match this, but we hope it will give us some advantage."