On paper, Sochi looks like potentially Lewis Hamilton's most comfortable Formula 1 weekend of the year.
His main title rival Max Verstappen is guaranteed to start from the back, the Mercedes looks the quickest car on the track anyway and team-mate Valtteri Bottas is all set to comply with team orders should they be necessary to secure Hamilton's victory.
What could possibly go wrong? Well, lots actually because this is racing and there are always potential randomisers.
The biggest of these looks likely to be the weather – with heavy rain during the allocated qualifying time forecast as near-100% certain. Race director Michael Masi was advising teams that there would be a genuine effort to hold the qualifying session on Saturday if possible. But if that proves to be unfeasible, it could move to Sunday morning, when the forecast insists it will likely be dry.
Hamilton would surely prefer the dry option – just to keep things simple and thereby maximise his chances of converting the Mercedes' pace around here to the desired result. It was team-mate Bottas who headed both Friday sessions, though, significantly ahead of Hamilton in both, and on both single-lap and long runs.
Bottas is naturally tuned into this track, the venue of his first victory (in 2017) and a place where even in his Williams days he could sometimes qualify among the Mercedes.
"Yes, it's not my strongest track, not my worst either," said Hamilton, "but there are a few tracks on the calendar where Valtteri can be super-exceptional."
That said, Hamilton reckoned the biggest difference between them in Friday running was more one of set-up.
"We deliberately went in quite different directions on set-up," explained Hamilton, "to see which was best. Tonight we'll go through all that and hopefully come back to the right car. For me, the set up sort of migrated in the wrong direction. It was at its best on my first run in FP1.
"But that's OK, we can work on that tonight. Generally, they were good clean sessions, where we got through everything we needed to and ticked the boxes. We've started off on the right foot and a 1-2 for us as a team would be awesome."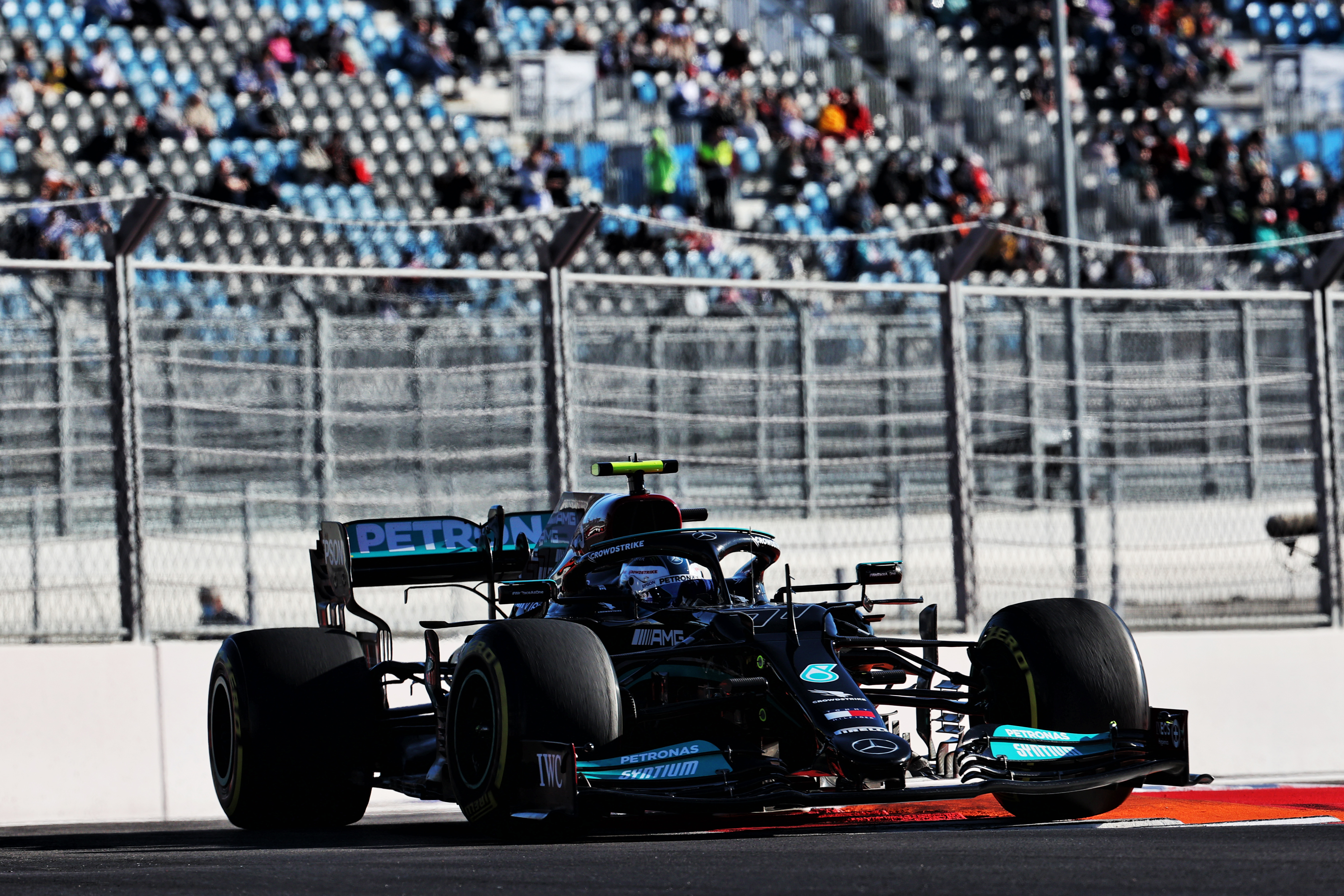 Bottas was just delighting in the pleasure of diving a near perfectly-balanced car around a track he loves. "You can always make improvements," he said. "But based on lap times and feelings it was a very good day. The balance was very good and I could just focus on my driving. In both the short and long runs I felt pretty comfortable."
Asked on Thursday if he would be prepared to accept team orders if they were necessary for enhancing Hamilton's points haul, Bottas agreed that he would. Even though it would be a repeat of his painful experience here in 2018 when he was pulled aside after dominating from the start.
What other randomisers might threaten a Hamilton victory? What about that brake magic button that cost him so dearly in Baku? In FP2 he inadvertently hit it again as he was making a pitstop, locking the front wheels and knocking over his front jack man who thankfully was uninjured.
Then there's the unique Sochi situation of the most advantageous starting slot probably being third, because of the huge tow available from the polesitter all the way through the kink of Turn 1 down to the distant braking zone for Turn 2. That third slot combines the grippy side of the grid with the tow and Bottas last year even appeared to be trying – successfully – to qualify in that position.
Assuming the Mercedes can – as looks likely – lock out the front row, the best defence against a third-place Turn 2 attack might be the strategy Mercedes deployed in 2018 when polesitting Bottas, after getting away in the lead, switched from the natural racing line of the left on the approach of the Turn 1 kink to the right to give second-place-starting Hamilton the tow – and denying it to third-place-starting Sebastian Vettel, who couldn't track Bottas on account of Hamilton already being in place to the Ferrari's right. It worked beautifully. And it may do again.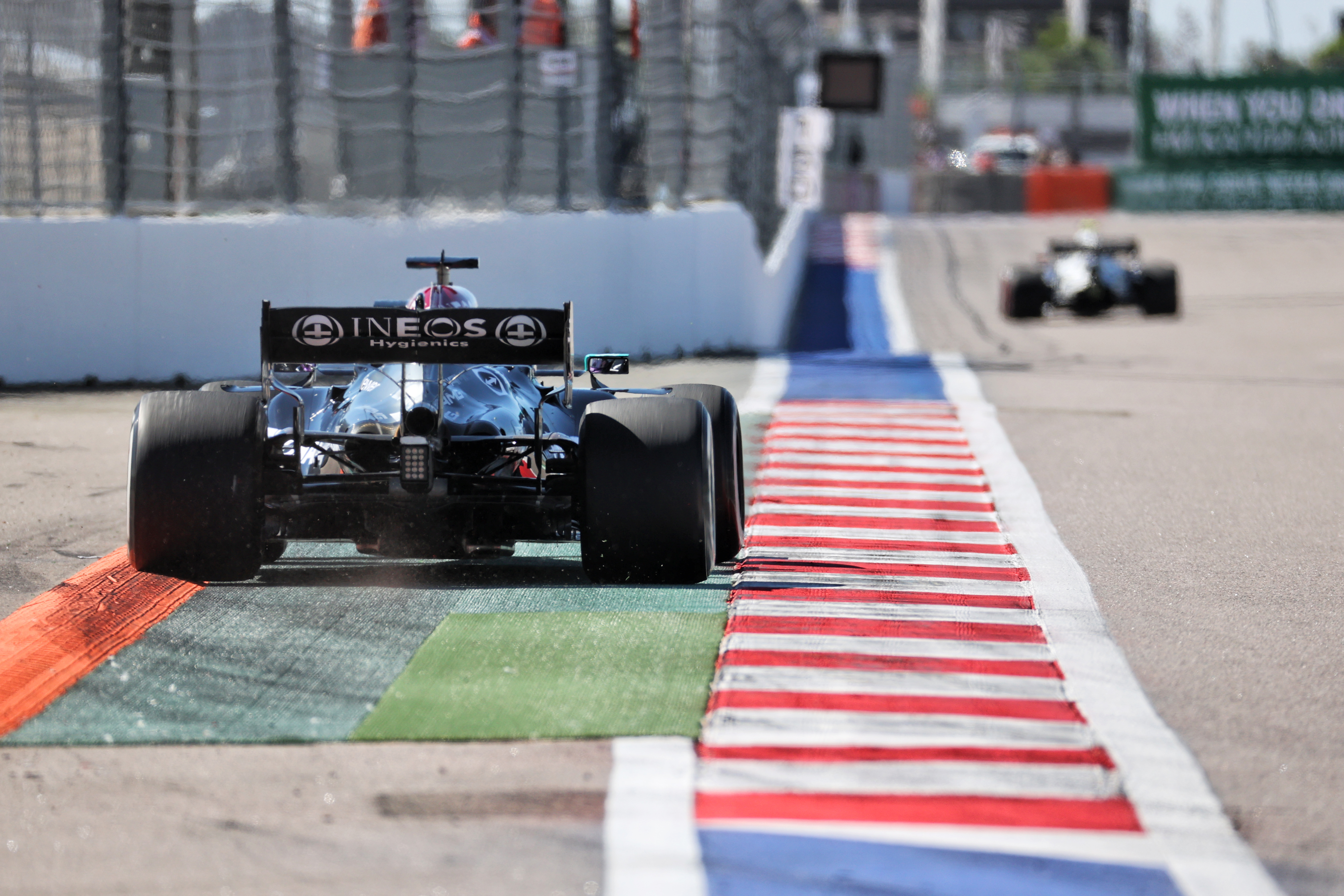 From Red Bull's perspective, given the importance of the start in spoiling Hamilton's opportunity, there will be a lot of pressure upon Sergio Perez to at least qualify as best of the rest behind the Mercedes.
As ever, in practice, he was well off Verstappen's pace but can be expected to leapfrog many of the cars he was behind in FP2. He is therefore another potential randomiser to Hamilton's day – as is Lando Norris' McLaren (fourth quickest in FP2 and invariably stronger in qualifying than in practice).
---
Long Run Averages*
1. Bottas 1m39.681s (M) 5 laps
2. Bottas 1m39.837s (M) 4 laps
3. Verstappen 1m40.14s (M) 10 laps
4. Hamilton 1m40.308s (M) 8 laps
5. Leclerc 1m40.425s (M) 10 laps
6. Vettel 1m40.618s (H) 9 laps
7. Perez 1m40.742s (M) 11 laps
8. Leclerc 1m40.822s (H) 5 laps
9. Alonso 1m40.976s (M) 8 laps
10. Ocon 1m40.977s (M) 10 laps
Adjusted for calculated engine setting differences
---
Tyre degradation, in general, was low. On a single lap, the soft (C5) is around 0.5s faster than the medium (C4) which was in turn around 0.8s faster than the hard (C3). But the soft is prone to graining of the left-front which limits its range. If qualifying is dry Mercedes would be expected to go through Q2 on the medium.
We don't definitively know just how the Red Bull compares on raw pace to the Mercedes here as Verstappen was always going to be taking the three-place grid drop (for Monza) even before it was confirmed that he'd be taking a new power unit (and associated components) and starting from the back.
He was therefore always giving priority to his race set-up. In the morning he was within a couple of hundredths of Hamilton's best time (around 0.2s off Bottas). In the afternoon he didn't use the higher engine settings used by the Mercedes when on their best laps, partly explaining the much-increased deficit of 1s. He was however complaining of a lack of straight-line speed, a worrying trait for someone starting from the back and hoping to make at least the bottom rung of the podium as damage limitation in his championship quest.
"We'll just have to make the best of it," he said, the apparent casualness almost certainly not set to be reflected in how he attacks the race.
"I think they're quicker than us," related Norris about Red Bull. He doesn't believe his McLaren is 'Monza-quick' around here (team-mate and Monza victor Daniel Ricciardo missed most of the afternoon session as his power unit needed to be changed). "This place reveals some of our more weak corners," related Lando, "but we're still pretty quick against Ferrari and AlphaTauri who we are competing against."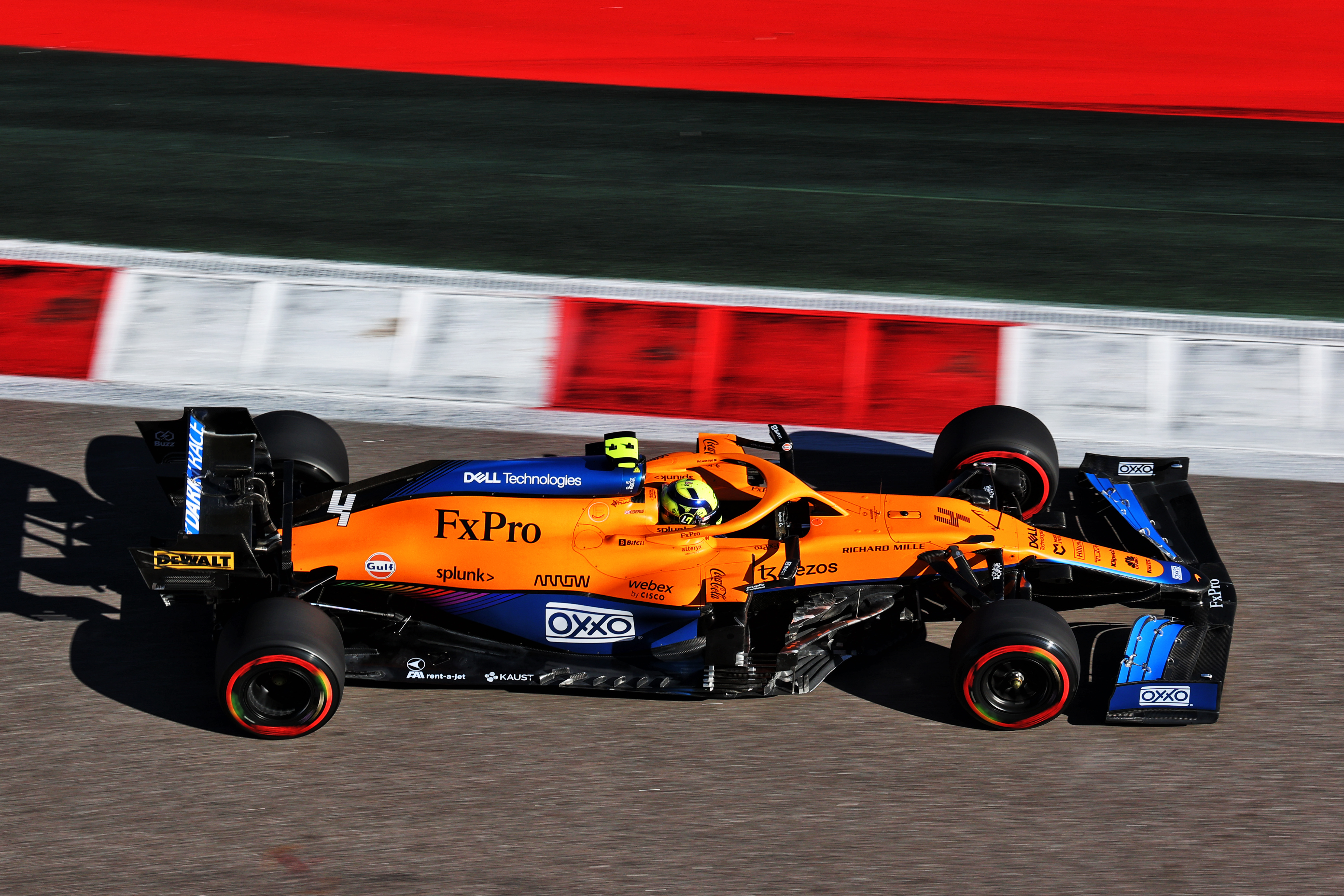 Ferrari's new-spec power unit will be starting at the back alongside Verstappen as Charles Leclerc takes the associated penalties for its introduction.
He spent a lot of time on the soft C5 tyre, which might indicate he doesn't plan on using it in his necessarily busy race. Like Verstappen, he concentrated very much on his race set-up, though his long-run average is very much flattered by his unique use of brand new tyres. Carlos Sainz in the sister car was around 1s off a Mercedes on single lap pace.
Pierre Gasly's AlphaTauri was third-quickest in headline FP2 times but trailing Ferrari, Alpine and McLaren on the longer runs.
Aston Martin concentrated its running on the hard tyres in the long runs and so looked artificially good as the C3 tyre has significantly lower deg than the C4. Vettel was a consistent 1.3s adrift of the Mercedes single lap pace, which would seem set to put it in its usual Q2/Q3 cut-off point in a dry qualifying session.
But therein lies probably by far the most significant factor in determining the outcome of this weekend. If qualifying is run in the rain, that randomising element potentially complicates things for Mercedes. Logically therefore it should be what Red Bull is campaigning for. A switch to the likely dry conditions of Sunday morning for qualifying would probably be Mercedes' preference. That choice could have major championship repercussions.