Where to start with the 2021 Brazilian Grand Prix, probably the most dramatic weekend in a dramatic season and with Lewis Hamilton right at the heart of it? A power unit change grid penalty, being disqualified and thrown to the back for sprint qualifying, passing 15 cars in a 24-lap race on Saturday and winning from 10th on the grid on Sunday, passing Max Verstappen 12 laps from the end.
It was a quite extraordinary performance, one which he described as "maybe my best". He had a super-fast Mercedes and Red Bull was struggling more than usual, but that hardly should have made it feasible to do what he did.
The competitive picture between the two cars had inverted yet again in this crazy see-sawing season. The expectation was it would be pretty evenly matched between them here, with the Red Bull's downforce giving it the advantage in sector 2 and the Mercedes' low drag in sectors 1 and 3, and the time spent in 1 and 3 combined being around the same as that in 2.
But a couple of things unbalanced those scales: Hamilton's new power unit and the Red Bull's front end limitation in how it was using its tyres.
As is well-established by now, Mercedes has been carrying a power unit issue for most of the season's second half. As a consequence, it has been running its engines conservatively but in addition even to that, the drop-off in performance as miles are acquired has proven higher than expected.
Christian Horner reckons the Honda loses only 0.1s of performance between the beginning of its life and the end. The Mercedes loses at least twice that – but is probably more powerful than the Honda when new.
As reported on Friday, even taking Red Bull out of the equation the Mercedes was much, much faster relative to the rest of the field around Interlagos than its seasonal average on a qualifying lap. Its average qualifying advantage over the fastest non-Red Bull team in the season up to Brazil was 0.55%. In Brazil, that margin was out to 0.98%. It was by far the fastest the car has been in qualifying all season relative to the opposition.
Was that all from a fresh engine? If so, it implies the fresh engine is worth around 0.35s over an old one (as the difference between 0.55% and 0.98% faster), which sounds a lot. But perhaps 0.2s of that is the actual difference and the remaining 0.15s is Mercedes running it in a higher mode, with an extra engine in the pool, nothing to lose and a points deficit to overcome.
"[The Honda] engine performance is a very flat line [over its lifetime]," said Verstappen, "whereas theirs seems to give a lot of performance when new. But I think that will revert quite quickly."
Red Bull was suspicious though. Even coming into the weekend, before the fresh power unit was announced, it still believed Mercedes' straightline advantage was more than could be explained by its low-rake concept, that it was doing something with its rear wing. Adrian Newey was in an unofficial discussion with the FIA about it.
It couldn't be bending it back beyond a pre-set load threshold as was common practice before the technical directives about it came into play in France this year. Because there are now markers on the car and rearward-facing cameras to monitor it.
Could teams be finding a way of making the underside of the mainplane – out of sight of the camera – flex so as to dump drag at speed? Maybe even a legal but very clever way. Verstappen was fined €50,000 for touching the Mercedes wing in parc ferme trying to find out.
The rear wings of the top teams (including Red Bull in Mexico and the United States) do seem to be unusually fragile this year. So probably in looking for evidence of that, the FIA technical delegate found Hamilton's DRS gap contravention instead. This muddied the waters considerably as the 0.2mm oversize on the right-hand side will have had next to no measurable effect on lap time, as was confirmed by Hamilton's speed with the replacement wing in the sprint.
If there is a wing trick-related contribution to the Mercedes' step-change in performance in Brazil, it wasn't the DRS gap. Ironically, that may just have diverted attention away from what it might actually really have been.
Hamilton was 9km/h faster through the speed trap than Verstappen in Friday qualifying, which wasn't outrageous. The gap was much bigger (22km/h) during the sprint race but Hamilton was getting very close tows from other cars then. The qualifying difference when each car did its best lap is the significant one and in that comparison, the Red Bull was losing around 0.2s to the Mercedes in sector 1 and 0.16s in sector 3.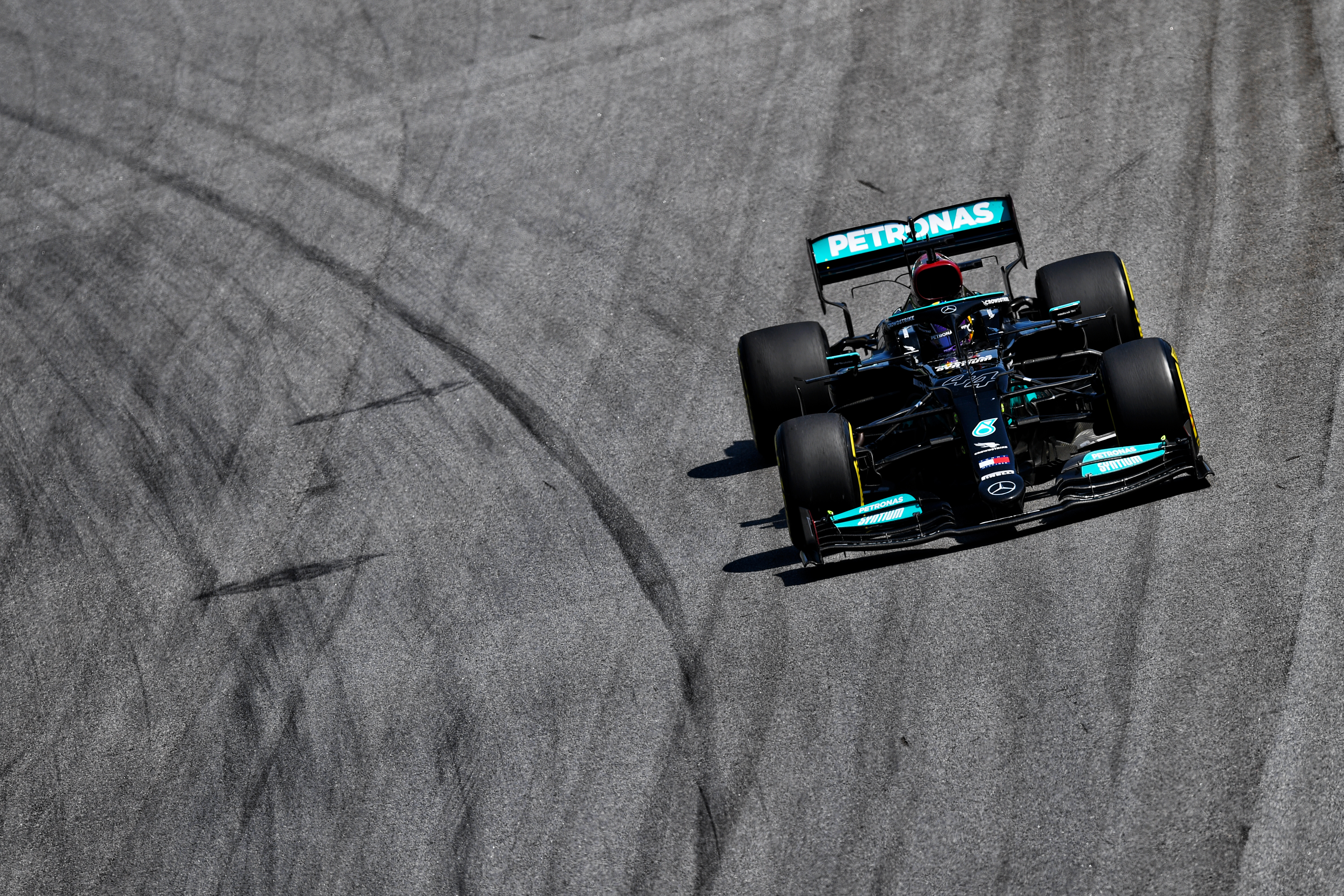 The intrinsically higher downforce Red Bull might have been expected to have made that up through the twists of the middle sector but in qualifying it didn't – and this was all about the Red Bull overheating its front tyres, skimming across the surface in the cool of Friday, overheating the tread while the core remained cool.
The Mercedes, with its stronger front end and weaker rear, was much better balanced in those conditions – and so took 0.145s out of the Red Bull's best in sector 2.
There is still some black art about tyre usage and how it dovetails with aero balance, track temperatures and asphalt type. But Red Bull felt that a bit of understeer in the cool of Friday would probably translate to a good balance in the forecast high temperatures of Sunday.
The sprint race of Saturday was somewhere in between and the Red Bull was much better than it had been in qualifying, even though Verstappen accepted a low-risk second to Valtteri Bottas' Mercedes – which was faster off the line on account of its soft compound tyres and Verstappen's mediums.
On Sunday it was still quite nicely balanced. But, just like every car in the field on a track temperature of 55-degrees C, it needed to be driven to its tyre temperatures. They weren't as extreme as at Austin, but the same process and – at the pace Verstappen set once he took the lead from Bottas at Turn 2 seconds into the race – demanded a two-stop strategy.
With Bottas running out wide at the Senna Esses trying to defend his over-clutch-slipping start, Verstappen hung him out to dry, the Mercedes clattering over the kerbs at an awkward angle and being slow enough through Turn 3 that Sergio Perez was able to slipstream past him into Turn 4, to put Red Bull 1-2 seconds into the race.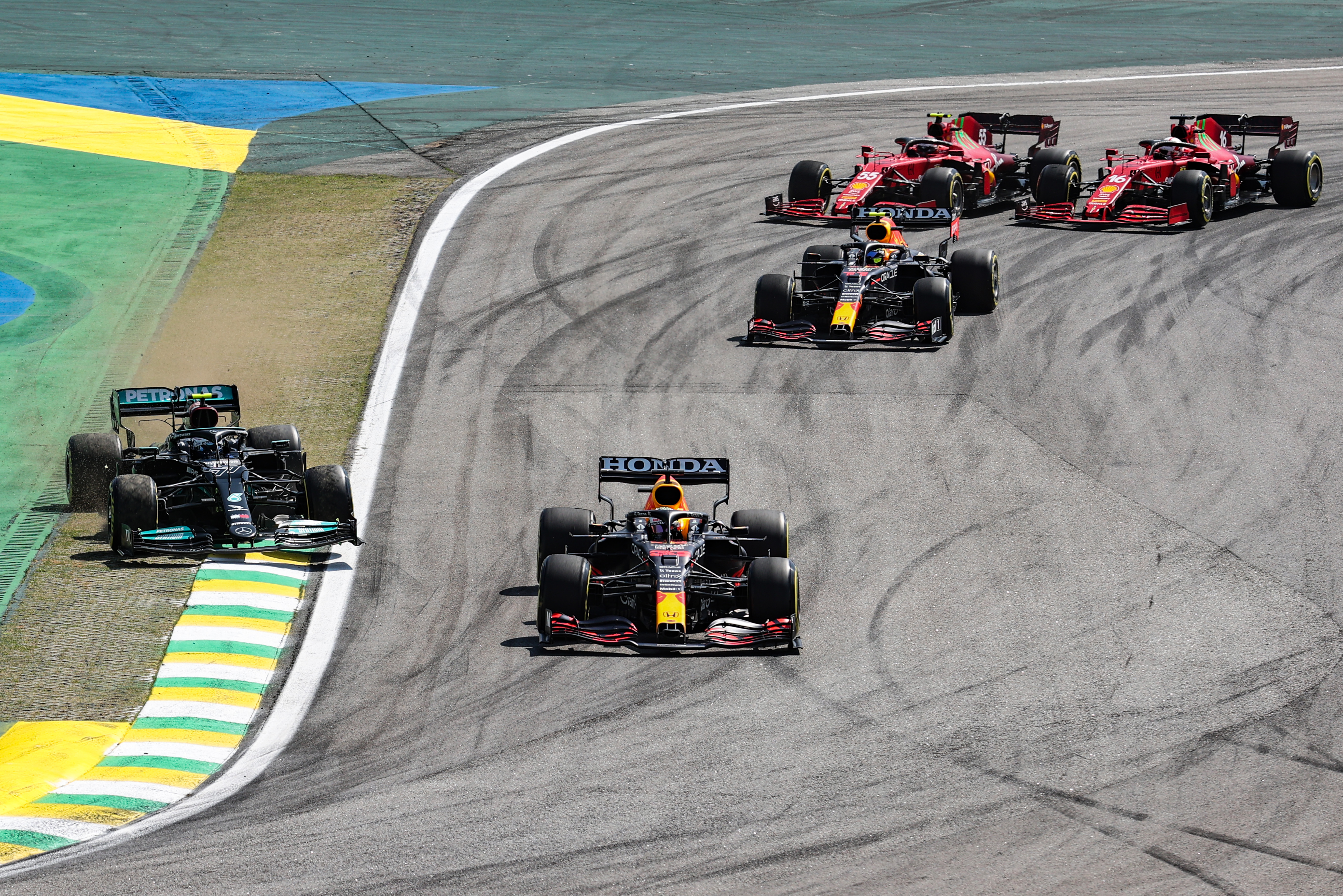 That looked to have put Red Bull in control of its destiny – even with Hamilton on the move from his 10th place grid slot (fifth in the sprint + five-place power unit change penalty).
Lewis was sixth by the end of the opening lap and proceeded to pick off the Ferraris of Carlos Sainz and Charles Leclerc on each consecutive lap before being waved through by Bottas. Lap five and Hamilton was already up to third. That was impressive but perhaps predictable.
It was a Mercedes coming through past some slower cars which weren't about to engage a title contender in battle. The interesting question was whether his performance advantage over the Red Bulls in qualifying would still be there in the race, now that the track temperatures were less punishing to the RB16B's traits.
It couldn't really be called. Not at first, not even when Hamilton was helped by a lap six safety car (for a Yuki Tsunoda/Lance Stroll incident that scattered debris across the track) which put him straight onto Perez's tail rather than over 3s behind. A three-lap VSC almost immediately followed because of more debris but upon the resumption of racing, Hamilton engaged Checo in battle, as Verstappen edged away out front.
He was 3.7s clear by the time Hamilton finally wore Perez down, the passing/repassing on the lap before leaving Perez without enough battery energy to defend Hamilton's lap 19 move into the Senna Esses.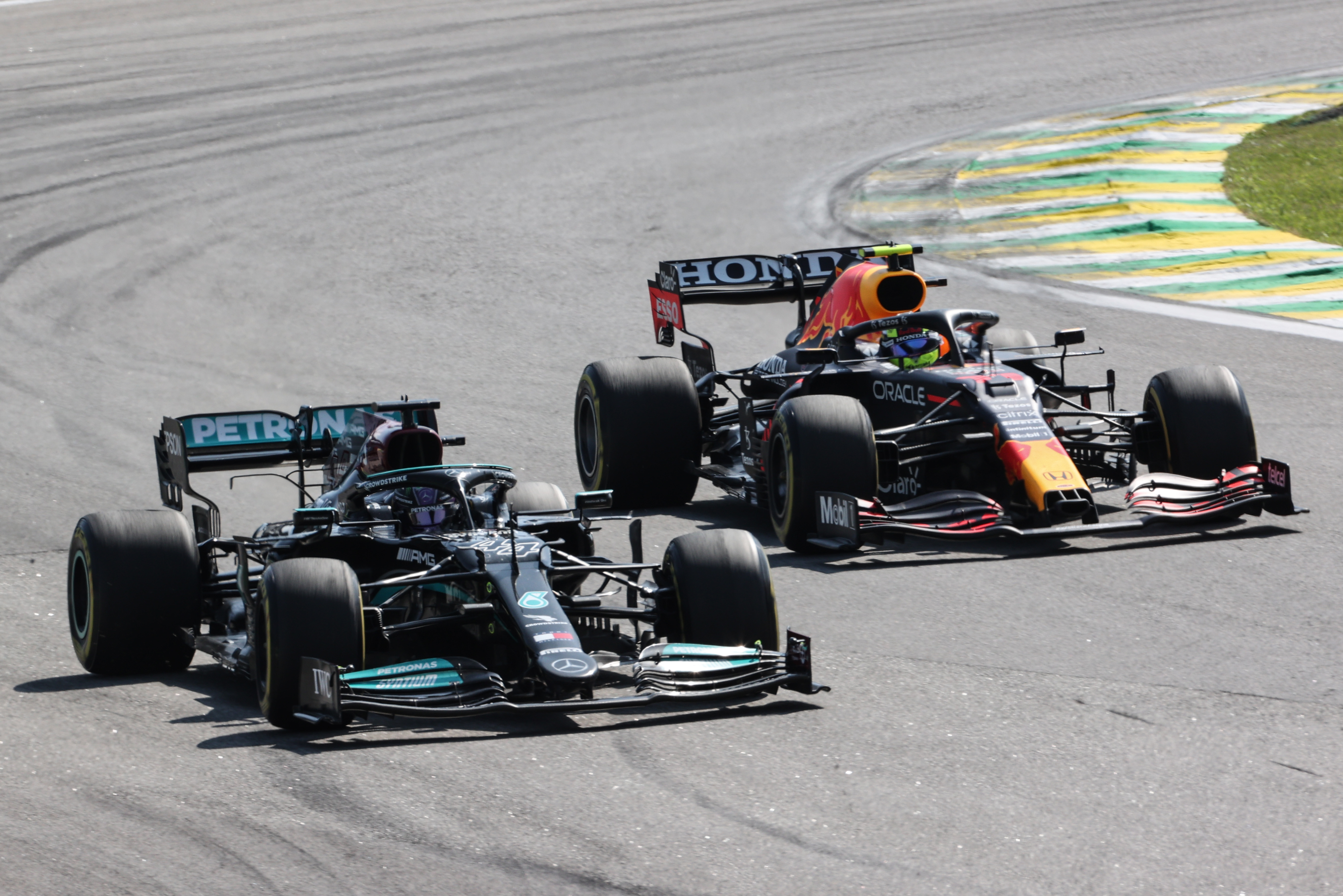 But Hamilton wasn't eating into Verstappen's lead. Both were driving to the temperatures of their medium tyres and hoping to get past 25 laps.
They were well clear of Perez and Bottas and as soon as Hamilton had got Daniel Ricciardo's seventh-placed McLaren out of his pitstop window Mercedes brought him in on lap 26, forcing Red Bull to respond with Verstappen on the next lap.
Mercedes had an educated hunch that the Red Bull would degrade the hards they'd each be switching to faster than it would.
That's how it proved. The undercut effect brought Hamilton to within 1.2/1.3s of Verstappen and without the pace to pass him, they each just settled into tyre conservation for a while. Meanwhile, another VSC just after Perez had pitted allowed Bottas a time-cheap pitstop and vaulted him to third.
With Hamilton a menacing presence in Verstappen's mirrors, Max was paranoid about not letting him undercut up to the second stops, urging the team to bring him in at the earliest opportunity. That was lap 40, with 31 still to go. That was very early – especially for a Red Bull that was still a little unbalanced despite the high track temperatures, with the understeer very visible through the twists of the middle sector.
"Yes, because the Mercedes was so fast in sector 1 and 3, I was having to do my lap time by pushing a bit harder through the middle sector," he explained. "Obviously, that was making the tyre deg quite high."
That was the crux of the difference between the two cars on race day. The Mercedes could do Red Bull times without taking as much from its tyres, partly because of its advantage in the straightline sectors, partly because it was just better balanced. So well balanced was it that Bottas was convinced he could one-stop and after being called in for his second stop radioed that it was a mistake. The wear of the tyres that came off suggested it wasn't. They wouldn't have made it to the end, but the Mercedes' good balance disguised that.
"We chose to go in a different direction on set up this weekend," related Hamilton, "and it really worked." Mercedes' trackside engineering chief Andrew Shovlin made reference to this too and said it had its origins in trying to understand why the team struggled here in 2019 with a car that elsewhere was generally dominant.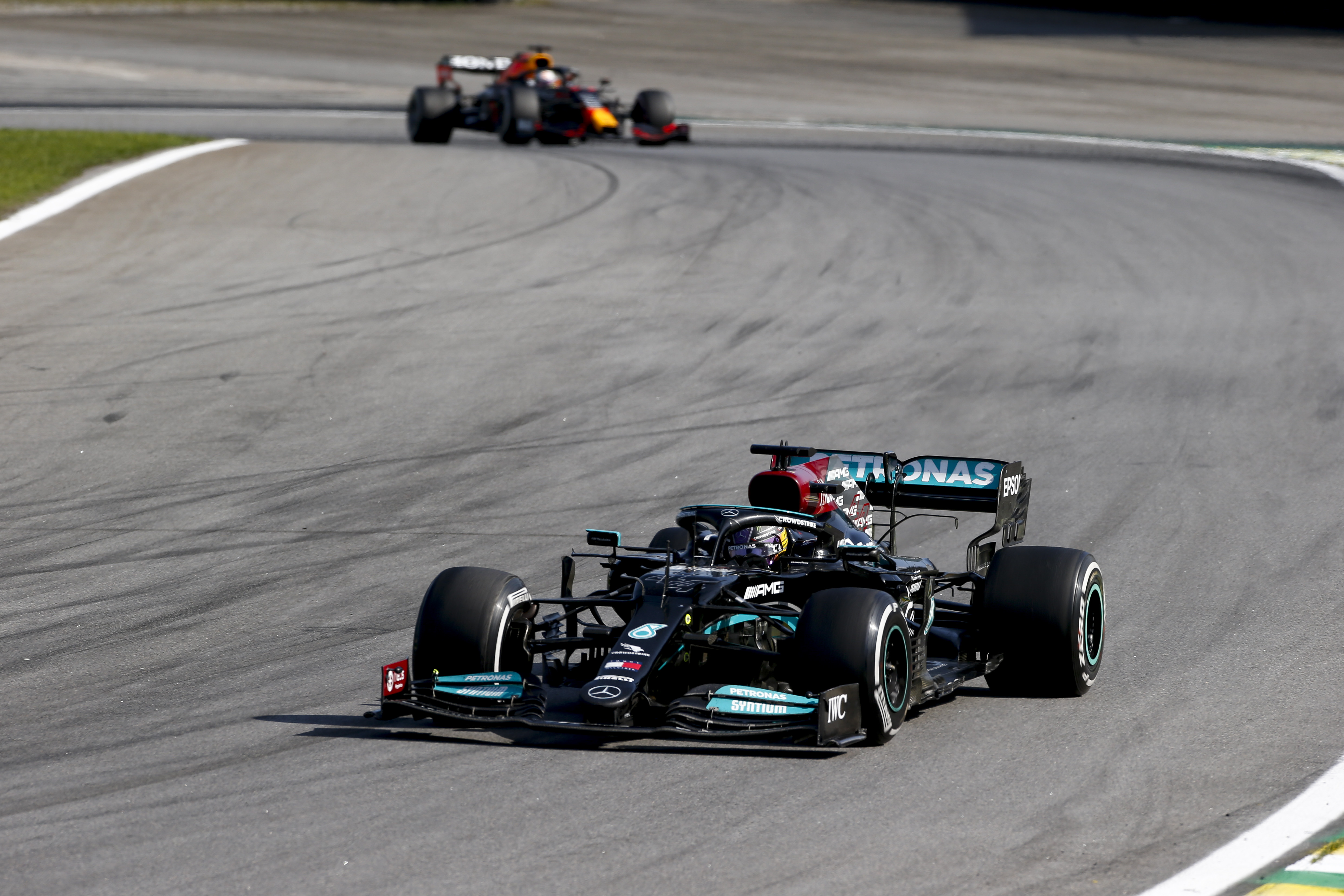 It led to a rethink, perhaps helped by the enhanced diffuser stall the car now has. Certainly, that allows you to use more rear wing than would otherwise be the case, something invaluable in preventing the overheating rear tyres the Mercedes can be vulnerable to.
Hamilton ran another three laps after Verstappen and came out a couple of seconds behind. "They were just faster than us," lamented Verstappen. They were better on the tyres and so could stay fast for longer. "How do you want me to play this?" Verstappen asked. Look after your tyres, he was told.
So Verstappen did as instructed and Hamilton sensed his moment. He was upon him within a lap of rejoining. What to do next? "The difficulty was Max was really quick out of Turn 12 at the bottom of the hill so it wasn't easy to get into the DRS zone," said Hamilton.
But he kept the pressure on. Each lap as they crested the rise Verstappen would demand to know the gap. If it was 1s or more he didn't need to use his full battery deployment. If it was under, he did. So it ran like this for a few laps, Verstappen driving to his tyre temperatures, Hamilton's car clearly more than comfortable at this pace.
Could Verstappen hang on? It seemed unlikely Hamilton wouldn't try something as the race now entered its latter stages with the two world title protagonists duking it out yet again.
On the 48th lap Hamilton got a better run through the Senna Esses and Turn 2 and drafted Verstappen down to Turn 4, Max moving sharply to the inside before moving back across. Hamilton was marginally ahead but on the outside, Max backed off very late from a shallow angle and the Red Bull began to understeer as he made for the apex.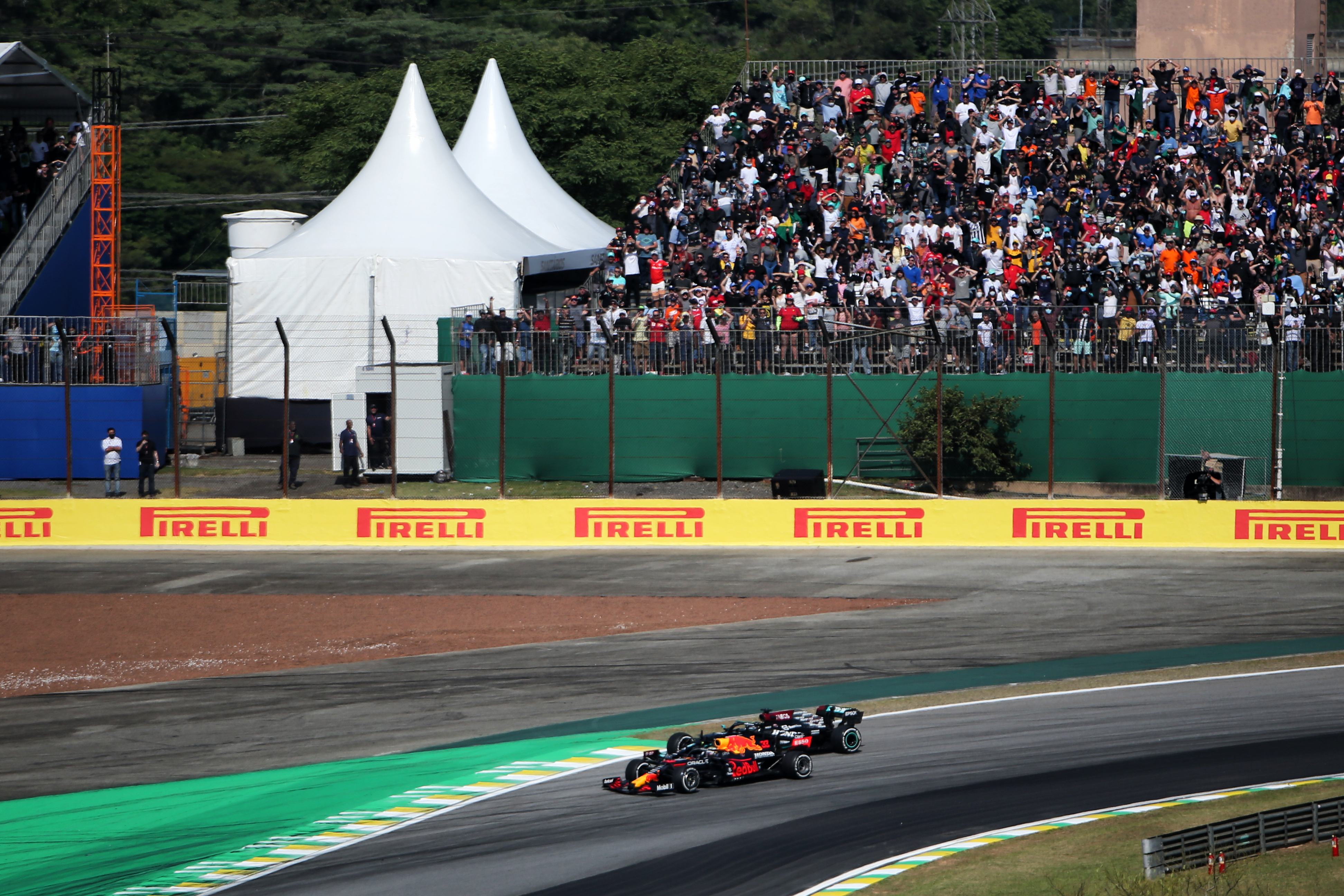 If he'd driven through at the speed the understeer was dictating without driving off track, for sure Hamilton would have been able to stay alongside ahead and have more momentum into Turn 5 and to have overtaken.
But Verstappen kept the speed and drove off track, obliging Hamilton to do the same to avoid contact. The stewards looked at it but let it go. In the hard-edged fight for a world championship, it was probably better not to get involved if the move wasn't an outright foul.
That moment when we all held our breath on Sunday 😮

No quarter given ⚔️#BrazilGP 🇧🇷 #F1 pic.twitter.com/GrN72yzRCP

— Formula 1 (@F1) November 14, 2021
Which it wasn't really. "I haven't looked at it but in the heat of the moment, I didn't really think that much about it," said Hamilton. "It's a hard battle and I wouldn't be expecting anything less."
But he could feel he was quicker, could sense it was just a matter of time. Instead of getting involved, he just stepped back, cleaned up his tyres, got back onto Verstappen's tail and waited for his chance. It was coming, 10 more laps of this and Verstappen's front tyres were beginning to give up.
With Hamilton forcing him on a compromised line through the Esses, Verstappen twitched through Turn 3 and was slow onto the straight. Hamilton this time ran clean around the Red Bull's outside even as Max again aggressively weaved from one side of the track to the next (for which he received a black and white warning flag). The Mercedes was through into the lead, to great cheering from the crowd.
"Once I was past I found I still had plenty of tyre left," said Hamilton. "Which was strange because it's not usually like that."
On this day it was and Verstappen backed off, accepting second as the best that could be achieved on the day. Bottas was a somewhat lonely third. Fourth place Perez, with a big gap to the Ferraris of Leclerc and Sainz, was brought in near the end for a set of softs with which to deprive Hamilton of the fastest lap point.
Pierre Gasly couldn't stay with the red cars but succeeded in fending off both one-stop Alpines ganging up on him, with Fernando Alonso handing eighth place back to Esteban Ocon, as agreed if he couldn't prevent the AlphaTauri passing.
Lando Norris, after a first corner puncture against Sainz, effectively did a one-stop and did well to salvage a point for McLaren. The sister car of Ricciardo went out early with a power unit failure.
Hamilton, having overtaken a total of 24 cars over the two days, had gone from last to first. It was a truly remarkable achievement in which he was at his swashbuckling, 'still I rise' best – as he often is when the odds are stacked against him.